Freeview reception - all about aerials

Brian Butterworth published on UK Free TV
Updated 8th January 2014.


Your ability of receive all the Freeview transmissions depends on the suitability of aerial
the design style,
the "group", and
its physical location.
Standard type - Yagi aerial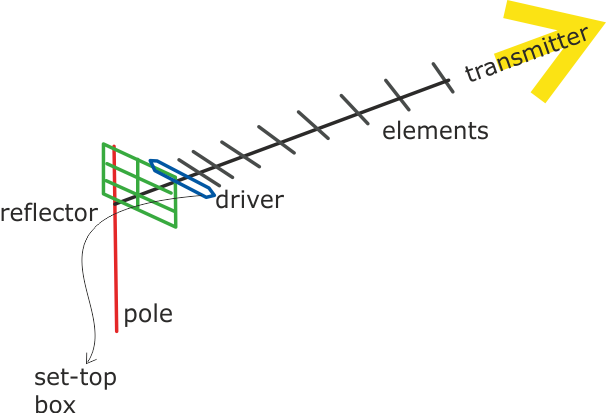 The
standard
type of TV aerial is known as the Yagi aerial. It is mounted on a pole, and consists of a rod with a reflector (shown green) at the back and many spiky elements (in grey) at the front. The connecting
cable
connects to the element nearest the reflector, known as the driver (shown in blue).
These Yagi aerials are directional and so
pick
up signals best from a
transmitter
that the rod points towards. The more elements the aerial has, the better it picks up a
signal
and becomes more directional.
A standard-type aerial is all that is required for
digital
TV
reception
in most places. These antennae have between 10 and 18 elements and a single reflector. These are recommended for new installations for good digital television reception, but will more often than not function perfectly in good reception areas.
Typically these aerials are designed to receive only some transmission frequencies - see "groups" below.
High Gain aerials

These aerials are designed for poor digital reception areas, and have two reflectors. For maximum signal strength, some digital high
gain
aerials have up to 100 elements. Since the
switchover
to digital-only transmissions back in October 2012, most UK households now have good
quality
digital TV signals.
A more expensive aerial is only required where the signal strength is low, but can often provide the whole Freeview reception where it might otherwise be impossible.
The CAI (that represents aerial installers) has four standards for digital TV aerials. The highest standard "1" is for homes on the fringes of coverage areas, intermediate standard "2" is suitable for use within the coverage area; minimum standard "3" is for good coverage conditions.
These aerials can be either
wideband
, or receive only selected frequencies - see "groups" below.
Grid

You may haved used a 'Grid aerial' for
analogue
reception, but as they are generally unsuitable for Freeview reception, they have now generally been replaced by the Yagi type. However in some places a Grid aerial installation may work for Freeview: otherwise replace with a standard Yagi aerial.
Indoor
Indoor aerials
are generally not suitable for Freeview reception. In areas of good signal strength it is often possible to receive some transmissions. Even where an aerial works, people often find that may get interruptions to their viewing (or recording).
Loft mounted
Loft
mounted arrivals are not generally recommended for Freeview reception, as the
roof
tiles and plumbing will degrade the signal. Some compensation for this loss of signal can be made by using
satellite
-grade cable to connect the set top box to the aerial.
Positioning
The best position for a TV aerial is mounted outdoors, as high from the ground as possible, pointing directly at the transmitter. The signal can be blocked by hills and tall buildings. It should be positioned away from any other aerials.
Horizontal or vertical?
The transmitter will either use vertical
mode
which requires the elements of your aerial to be up-down, or horizontal mode which requires them to be level with the ground.
Groups
Both analogue and digital television is transmitted the same group of transmission frequencies (known as
channel
21 through to 60). A coloured marking on the aerial shows the group.

To create the best possible analogue
picture
, TV transmissions from adjacent transmitters have been designated to several different groups of frequencies. By using an aerial that receives only the
channels
in the correct group, the analogue picture can be kept free from
interference
.
To receive Freeview transmissions from the same transmitter it has been sometimes necessary to use frequencies that are not part of the transmitter's normal group. When this has occurred, the aerial will need to be replaced with a "wideband" aerial (also known as group W) - one that covers every group.
As
Ofcom
is planning to move the TV frequencies again - perhaps as soon as 2018 - it may be wise to use a wideband aerial if you can to ensure you can keep viewing Freeview for many years to come.
Comments
Saturday, 23 March 2013

David LLoyd - might be that the lead to your flat is not plugged in right or cable shorted. Job for the fitter to solve. Could also be

Kirky - Does the Bush box say signal strength is low? It might be too high! You have a strong signal. Try buying a cheap attenuator. Or holding the connection not quite connected.

Steve P's 1,173 posts
Steve's:
map
S's Freeview map
terrain
S's terrain plot
waves
S's frequency data
S's Freeview Detailed Coverage

Hi guys,just been reading about aerials on the above page.The bit of info i would like is the bit about keeping aerials apart.After seeing lots of houses with up to three aerials on one mast,does this interfere with the freeview thats recieved by them?. I have one aerial at present and was thinking of adding a second,but i think the mast i have may be too short.The distance from the first aerial is about 3ft higher than the chimney pot.

Adey's 21 posts
Thursday, 28 March 2013

IF IN NEED OF MORE EXPERT ADVISE IN THE BRISTOL AREA- email wayneparker100@hotmail.co.uk TV Aerial specialists since 1972
Thanks
Wayne Parker.

Wayne Parker's 1 post
Saturday, 30 March 2013

Adey - well spaced - say 3ft - or different directions, or different types of ae can live close with no problems.

Why do you want a second?

Steve P's 1,173 posts
Steve's:
map
S's Freeview map
terrain
S's terrain plot
waves
S's frequency data
S's Freeview Detailed Coverage

Hi Steve P,many thanks for your reply.The reason for a second aerial was to feed the bedroom as the first serves the main tv in the lounge.I'm currently on VM but about to made redundant in the next 5 months so have to make cut backs.

Adey's 21 posts
Sunday, 31 March 2013

Adey try splitting the present aerial feed.

Easy if you have a coax from lounge to bedroom?

Steve P's 1,173 posts
Steve's:
map
S's Freeview map
terrain
S's terrain plot
waves
S's frequency data
S's Freeview Detailed Coverage
Thursday, 4 April 2013

Hi
In the last two months my tv picture has started to glitch/break up, more noticeable in the evenings! I had a wide-band aerial fitted at the digital takeover, and it has been flawless up until a couple of months ago!
Yesterday i decided to replace the aerial with a Triax unix 52 and new ct100 cable...and it has made no difference!!
I live in Radcliffe on Trent Nottingham, the aerial is pointing at the waltham transmitter.
Any help/advice would be most appreciated,
Thank you
Rick.

Rick's 3 posts
Rick's:
map
R's Freeview map
terrain
R's terrain plot
waves
R's frequency data
R's Freeview Detailed Coverage
L
Lionel Higman
8:17 PM
Horncastle

My Freeview tells me my nearest transmitter is Belmont and that Belmont is 14.8 km (9.1 m) north-northwest (342 degrees) of my bungalow.
My television aerial looks to me like it is a Digital High Gain Class Two.
I have no reason to suppose it is not wideband.
As far as I can tell it is pointing precisely towards Belmont.
It is mounted horizontally.
I estimate its height above ground level as 24 ft (7.3 m)
It is connected in the loft to a six way splitter.
Five of the output ports are cabled up, but currently only three have televisions attached.
Cables leading away from the splitter look modern to me, but by the time the cable reaches the third television, it is looking distinctly ancient.
Until recently we have had little trouble with reception.
Now (over the last two months) however, although reception is always better on the main television than the others, we can rarely get good reception on all freeview channels on any of them.
When I retune any of the televisions, I sometimes lose reception from some multiplexes altogether.
On one of the secondary televisions, I can virtually guarantee to lose COM5 if I dont have a booster attached when I do the retune.
Questions I am unable to answer for myself are:
Is the aerial too powerful?
Is the aerial not powerful enough?
Does the aerial need to be higher?
Do I need to update any of the cabling (If only to reduce the number of joints)?
Is the problem environmental and one I must live with until the wind direction changes?
Are there other questions I should be asking?
And finally, from sheer curiosity, why is reception from BBCA and BBCB always better than from any other multiplex? Does the BBC get transmission privileges denied to other suppliers?


Lionel Higman's 1 post
Lionel's:
map
L's Freeview map
terrain
L's terrain plot
waves
L's frequency data
L's Freeview Detailed Coverage

Lionel Higman: Under normal circumstances I would have automatically said that the tuners in your receivers are being overloaded by an excessively strong signal, as a booster as such should not really be required when located at just under 10 miles away from such a high powered transmitter as Belmont as I can receive it down in the Stamford area at just over 50 miles away, although admittedly the BBC channels are always superior by them always being radiated from the prime position of the top of the mast, this applying to most stations.

However the fact of you saying that you have to use a booster to receive COM5 makes me rather suspicious that there is a fault on your system, and so if you can access the splitter you should try temporarily connected the input from the aerial directly into the feed to your main TV, in other words bypassing the splitter as its not exactly unknown for the internal power supplies in these devices to fail, and so this possible reason must be eliminated.

jb38's 7,179 posts
Friday, 5 April 2013

Barry W
I live in the Mansfield area of Nottinghamshire
I would like to receive East Midlands broadcast from Waltham transmitter. Could you please advise me which aerial I need to purchase to receive it

Barry W's 1 post
Select more comments
Your comment please