Freeview reception - all about aerials

Brian Butterworth published on UK Free TV
Updated 8th January 2014.


Your ability of receive all the Freeview transmissions depends on the suitability of aerial
the design style,
the "group", and
its physical location.
Standard type - Yagi aerial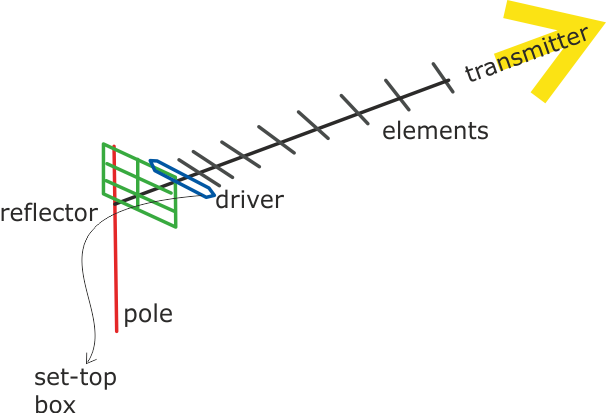 The
standard
type of TV aerial is known as the Yagi aerial. It is mounted on a pole, and consists of a rod with a reflector (shown green) at the back and many spiky elements (in grey) at the front. The connecting
cable
connects to the element nearest the reflector, known as the driver (shown in blue).
These Yagi aerials are directional and so pick up signals best from a
transmitter
that the rod points towards. The more elements the aerial has, the better it picks up a
signal
and becomes more directional.
A standard-type aerial is all that is required for
digital
TV
reception
in most places. These antennae have between 10 and 18 elements and a single reflector. These are recommended for new installations for good digital television reception, but will more often than not function perfectly in good reception areas.
Typically these aerials are designed to receive only some transmission frequencies - see "groups" below.
High Gain aerials

These aerials are designed for poor digital reception areas, and have two reflectors. For maximum signal strength, some digital high
gain
aerials have up to 100 elements. Since the
switchover
to digital-only transmissions back in October 2012, most UK households now have good
quality
digital TV signals.
A more expensive aerial is only required where the signal strength is low, but can often provide the whole Freeview reception where it might otherwise be impossible.
The CAI (that represents aerial installers) has four standards for digital TV aerials. The highest standard "1" is for homes on the fringes of coverage areas, intermediate standard "2" is suitable for use within the coverage area; minimum standard "3" is for good coverage conditions.
These aerials can be either
wideband
, or receive only selected frequencies - see "groups" below.
Grid

You may haved used a 'Grid aerial' for
analogue
reception, but as they are generally unsuitable for Freeview reception, they have now generally been replaced by the Yagi type. However in some places a Grid aerial installation may work for Freeview: otherwise replace with a standard Yagi aerial.
Indoor
Indoor aerials
are generally not suitable for Freeview reception. In areas of good signal strength it is often possible to receive some transmissions. Even where an aerial works, people often find that may get interruptions to their viewing (or recording).
Loft mounted
Loft
mounted arrivals are not generally recommended for Freeview reception, as the
roof
tiles and plumbing will degrade the signal. Some compensation for this loss of signal can be made by using
satellite
-grade cable to connect the set top box to the aerial.
Positioning
The best position for a TV aerial is mounted outdoors, as high from the ground as possible, pointing directly at the transmitter. The signal can be blocked by hills and tall buildings. It should be positioned away from any other aerials.
Horizontal or vertical?
The transmitter will either use vertical
mode
which requires the elements of your aerial to be up-down, or horizontal mode which requires them to be level with the ground.
Groups
Both analogue and digital television is transmitted the same group of transmission frequencies (known as
channel
21 through to 60). A coloured marking on the aerial shows the group.

To create the best possible analogue
picture
, TV transmissions from adjacent transmitters have been designated to several different groups of frequencies. By using an aerial that receives only the
channels
in the correct group, the analogue picture can be kept free from
interference
.
To receive Freeview transmissions from the same transmitter it has been sometimes necessary to use frequencies that are not part of the transmitter's normal group. When this has occurred, the aerial will need to be replaced with a "wideband" aerial (also known as group W) - one that covers every group.
As
Ofcom
is planning to move the TV frequencies again - perhaps as soon as 2018 - it may be wise to use a wideband aerial if you can to ensure you can keep viewing Freeview for many years to come.
Comments
Friday, 12 April 2013

OH dear..thought i may get some help from here!! oh well, ill try somewhere else.

Rick's 3 posts
Rick's:
map
R's Freeview map
terrain
R's terrain plot
waves
R's frequency data
R's Freeview Detailed Coverage

+ UK digital TV reception predictor

Hi Rick - looks like you got overlooked!

If your problem is not aerial/wiring it is either equipment or interference.

You have a decent but not overstrong siognal. Is it amplified at all? If so try removing it. How do you know youe ae is correctly pointed?

Have neighbours had similar experience?

Have you tried a different Freeview tuner/TV ?

Or your TV elsewhere?



(LL145HD)

Steve P's 1,173 posts
Sunday, 14 April 2013

JB38/Steve P: Thanks for your persistence. The splitter can be found at vision-products.co.uk and is a V26-106 6-way Single-port DC Pass Splitter. Having read the full spec, I still don't "know" if it's powered but now suspect it may be as described by Steve P. Below the DC Pass Out port there is a small circular window which looks as if it might have a LED or similar inside it. If it has, it is not "on". The TV it is connected to is an LG (Unlike the other TVs I cannot find the signal info (strenght/Quality etc)). If there is an aerial power facility on it I cannot find it.
There is no box on the Mast. The aerial itself however does have what looks like a small box atttached to the "Driver" which is attached to the cable. Finally, as far as the test is concerned, now I come to re-read the instructions, I find I don't actually understand what it is you are asking me to do!

Lionel Higman's 3 posts

Lionel Higman: Steve P is looking from the angle that because this is a DC pass splitter then you "might" have a mast head or otherwise type of booster fitted between the splitter and the aerial, the booster being powered "via the coax" from a small power supply sited near to the TV, or alternatively powered by the TV itself "if" it has an active aerial power facility.

The reason for the splitter being DC pass is so that it will not block the power from the power supply reaching the mast head amp, and why that the coax from the power supply "has" to be connected into the DC pass out socket, the aerial going to in.

That said though, judging by what you have said is inclined to indicate that you do not have a mast head amp fitted and that the box you see is just a coax termination box, and so although that the splitter is a DC pass type its likely just being used a normal splitter.

By the way, with reference to my description regarding the appearance a log periodic aerial, can it be assumed that your aerial is not that type?

It would also assist if the model number of your TV was known for the purpose of checking its specifications.

jb38's 7,179 posts
Monday, 15 April 2013

+ V26-106 6-way Single-port DC Pass Splitter » Vision Products - Powerful Products. Easy Installation. Excellent Value

That looks as expected - a passive splitter capable of sending DC Power up if needed through the marked route.

I think JB is suggesting you see if yout TV offers this - somewhere in Menu/Setup to on/off.

I've lost track of what your problem is, but try disconnecting all but 1 output and see if that helps. (LL145HD)

Steve P's 1,173 posts
Tuesday, 16 April 2013

Lionel Higman: Just to clarify on a couple of issues which I feel might be causing some confusion.

(1) The Vision device you have in the loft does not in any way amplify the signal, only split it, but though as with all non powered splitters they have a slight attenuation effect on the signal passing through them whereby they should only be used in areas where a strong signal is being received.

The other point being, that although a "DC pass" type splitter has been installed in your loft, this being the only type that can be used in mast head amplifier situations so that it will not block the amps 12 volts supply from a power unit located elsewhere, if indeed not by the TV itself as some can, however it should also be appreciated that just because this type has been fitted does NOT necessarily indicate that you actually have a mast head amplifier, as these type of splitters can be used in any type of situation "where a strong signal is being received".

By the way, the power unit used to feed a mast head amplifier is a two way device, insomuch that as well as injecting 12 Volts DC into the coax that runs up to the mast head amplifier it also extracts the signal coming down the coax as well as isolating the 12 volts from the TV's outlet, this done internally on any TV's (or box) capable of powering an active aerial.

(2) When I had referred to the possibility that there "might" be a bad joint where the coax joins your aerial and which would result in a weak signal, an easy way to test (albeit crudely) for this possibility in "areas where the signal is strong" is to unscrew the coax connector from the aerial and push the coax's copper wire middle (or pin sticking out from the plugs inner polythene section) into the splitters aerial "in" socket cup (in the middle of socket), the idea being that by NOT having the coax's braiding connected the entire cable becomes an aerial, and so if the picture is more stable when only the middle of the coax is used then it points to a defective connection where the coax joins the aerial.

But though, your problem is maybe simply being caused by the signal path from the transmitter being affected by tree induced problems, your area not being one where they are in short supply! and if the aerial test proves negative (no fault indicated) then you should try connecting the aerial straight into the amplifier you had referred to, and with the output from the amplifier going into the splitters input as this will result in all outputs being boosted.

Although maybe you could indicated what's printed on the amp gain wise? and with my suggestion of where to install the amp obviously being totally dependant on whether or not your loft has a power socket.



jb38's 7,179 posts
Tuesday, 30 April 2013
M
maurice newhouse
1:55 PM
Wirral

hello, retuned tv and it told me to set bush digibox to wales . the reception was worse , all cables connected as per diagram. i reversed the cables and fed aerial into fr out and signal strength improved and set to nwest traansmitter as recommende. picture is fine for a while then breaks up . setting cables the correct way and retuning for nwest picture rubbish. post code is ch61 2xl. can you help please ?

maurice newhouse's 2 posts
maurice's:
map
M's Freeview map
terrain
M's terrain plot
waves
M's frequency data
M's Freeview Detailed Coverage

maurice newhouse: You made a posting on a different page yesterday to which I replied:

Freeview signals: too much of a good thing is bad for you | Digital switchover | ukfree.tv - 10 years of independent, free digital TV advice

Obviously you shouldn't feeding the incoming aerial feed into the RF output socket, so something is amiss.

If your aerial points north eastwards then it is directed to Winter Hill and so you should select north west region, if such a setting is available.

The signal strength screen usually gives the UHF channel (frequency) of the tuned channel, so should be able to check whether it is tuned to Winter Hill, or another transmitter.

Check the following five services and see that they are tuned to the Winter Hill channels:

BBC One - C50
ITV - C59
ITV3 - C58
Pick TV - C49
Film4 - C55

You might be picking up Moel-y-Parc whose five channels are 45, 39, 51, 52, 48.

Or Storeton Wales which only broadcasts the first two on C57 and C53, respectively.

Dave Lindsay's 5,724 posts
Wednesday, 8 May 2013

Hi I am discontinuing Sky. Can the dish that I have been using for sky reception still be used for freeview?
I have no idea what I am doing! Just can not afford Sky any more on my pension.
Regards
Harry

Harry Gallagher's 1 post

Harry Gallagher: When you stop paying your subscription to Sky you will continue to receive the free-to-view channels including BBC/ITV/C4/C5/Sky News etc via your Sky box. Subscription channels will of course be blocked.If you have Sky+ the record/playback facility will also be disabled, the box continuing to work as a standard SKY box. If you wish to receive "Freeview" using the in-built tuner in a TV, this would require a normal UHF TV aerial to be connected to the aerial socket of the TV. If you remove the Sky card from the card slot temporarily you will be able to see which channels will continue to be available without subscription.

KMJ,Derby's 1,811 posts
Select more comments
Your comment please