Freeview reception - all about aerials

Brian Butterworth published on UK Free TV
Updated 8th January 2014.


Your ability of receive all the Freeview transmissions depends on the suitability of aerial
the design style,
the "group", and
its physical location.
Standard type - Yagi aerial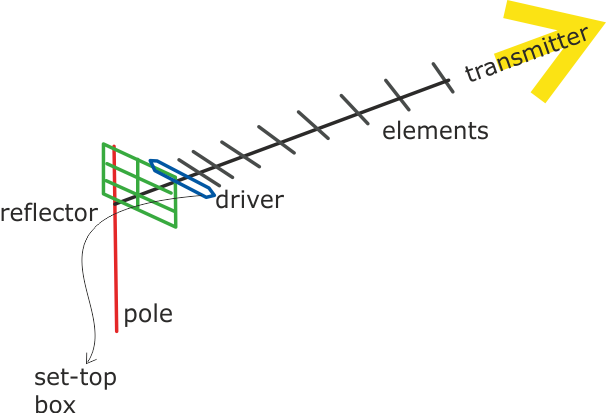 The
standard
type of TV aerial is known as the Yagi aerial. It is mounted on a pole, and consists of a rod with a reflector (shown green) at the back and many spiky elements (in grey) at the front. The connecting
cable
connects to the element nearest the reflector, known as the driver (shown in blue).
These Yagi aerials are directional and so pick up signals best from a
transmitter
that the rod points towards. The more elements the aerial has, the better it picks up a
signal
and becomes more directional.
A standard-type aerial is all that is required for
digital
TV
reception
in most places. These antennae have between 10 and 18 elements and a single reflector. These are recommended for new installations for good digital television reception, but will more often than not function perfectly in good reception areas.
Typically these aerials are designed to receive only some transmission frequencies - see "groups" below.
High Gain aerials

These aerials are designed for poor digital reception areas, and have two reflectors. For maximum signal strength, some digital high
gain
aerials have up to 100 elements. Since the
switchover
to digital-only transmissions back in October 2012, most UK households now have good
quality
digital TV signals.
A more expensive aerial is only required where the signal strength is low, but can often provide the whole Freeview reception where it might otherwise be impossible.
The CAI (that represents aerial installers) has four standards for digital TV aerials. The highest standard "1" is for homes on the fringes of coverage areas, intermediate standard "2" is suitable for use within the coverage area; minimum standard "3" is for good coverage conditions.
These aerials can be either
wideband
, or receive only selected frequencies - see "groups" below.
Grid

You may haved used a 'Grid aerial' for
analogue
reception, but as they are generally unsuitable for Freeview reception, they have now generally been replaced by the Yagi type. However in some places a Grid aerial installation may work for Freeview: otherwise replace with a standard Yagi aerial.
Indoor
Indoor aerials
are generally not suitable for Freeview reception. In areas of good signal strength it is often possible to receive some transmissions. Even where an aerial works, people often find that may get interruptions to their viewing (or recording).
Loft mounted
Loft
mounted arrivals are not generally recommended for Freeview reception, as the
roof
tiles and plumbing will degrade the signal. Some compensation for this loss of signal can be made by using
satellite
-grade cable to connect the set top box to the aerial.
Positioning
The best position for a TV aerial is mounted outdoors, as high from the ground as possible, pointing directly at the transmitter. The signal can be blocked by hills and tall buildings. It should be positioned away from any other aerials.
Horizontal or vertical?
The transmitter will either use vertical
mode
which requires the elements of your aerial to be up-down, or horizontal mode which requires them to be level with the ground.
Groups
Both analogue and digital television is transmitted the same group of transmission frequencies (known as
channel
21 through to 60). A coloured marking on the aerial shows the group.

To create the best possible analogue
picture
, TV transmissions from adjacent transmitters have been designated to several different groups of frequencies. By using an aerial that receives only the
channels
in the correct group, the analogue picture can be kept free from
interference
.
To receive Freeview transmissions from the same transmitter it has been sometimes necessary to use frequencies that are not part of the transmitter's normal group. When this has occurred, the aerial will need to be replaced with a "wideband" aerial (also known as group W) - one that covers every group.
As
Ofcom
is planning to move the TV frequencies again - perhaps as soon as 2018 - it may be wise to use a wideband aerial if you can to ensure you can keep viewing Freeview for many years to come.
Comments
Sunday, 1 September 2013

Steve P:
The reason I ask is that I know a lower strength will cause pixcellation. Too higher strength will also cause pixcellation. Whats the bullseye ?
All is good on my Tv but channel 'Sony SAB' seems to pixelate !!!

Stephen's 2 posts

Stephen: The levels recommended for DTT reception are between 45 to 65 dBuV, however in practice 6dB should always be added above the minimum level to allow for variations in signal strength thereby making the minimum level 51dB, and so the target levels should be between 51dB - 71dB.

It should also be noted that erratic reception can be expected if the minimum signal level falls below 45 dBuV, whereas on the other hand care must be taken to ensure that the level does not exceed 80 dBuV or this is liable to result in picture problems being seen such as severe glitching / freezing or indeed a blank screen due to the excessively high RF level triggering instability in the tuners input / mixer stage.

jb38's 7,179 posts
Monday, 16 September 2013

I have recently replaced Sky tv for freesat, which is working well in my main room.I know I could receive free view using the sky box, but wanted recoding facilities. I have now been given a fully working free view tv, which I had hoped would work in my bedroom as I have a 2nd aerial socket there . No such luck! I then thought I could connect the sky box to it, still to no avail. I get a beautiful blue screen with "no signal" written across it. what do you advise?

GB's 1 post

GB: I think you need to clarify what you mean by a 2nd socket. If its a normal aerial socket, which you connect by pushing in, then the freeview tuner in the tv should pick up something. If it does not, it's not connected properly, or the cable to the aerial is broken, disconnected, etc.

If it is a normal aerial socket, it's not going to work with a sky box - see the most popular questions on this site. If its a connection to your dish, then you can't just connect it to the tv, because that wont work , but you should be able to use the sky box, provided its actually connected properly.
Check the socket - what does it look like? If its a normal aerial socket, check that the socket is attached to something.

MikeB's 2,579 posts
Tuesday, 8 October 2013

we have tv with freeview installed and using an indoor aerial suddenly we can only get a few channels will channel 59 filter help

gel's 1 post

gel :

Assuming you mean an set top aerial and not an aerial in the loft then

NO filter will help as the filter needs to be installed prior to amplification.

All indoor aerials have the amplifier built in which means you have no place to fit the filter.

I can only say that you have been lucky to use a set top aerial all this time as they have a reputation for being rubbish.

Only a proper aerial will do the correct job without issues.





jamie stevens's 207 posts
jamie's:
map
J's Freeview map
terrain
J's terrain plot
waves
J's frequency data
J's Freeview Detailed Coverage
Monday, 4 November 2013

I have BT Vision and have some weeks ago lost my regional TV ie BBC Look East, and ITV Anglia although my aerial faces Tacalneston through the BT Box, although I do get them through Freeview direct to the TV (although TV in back room does not). Everything has been checked BT replaced the box aerial man says the signal strength received is fine. I am on the northern edge of the Tacolneston area and pre digital received analogue from Belmont. The signal from Belmont seems to be overriding the stronger signal from Tacolneston and must be received on the back end of the aerial. Anybody have any suggestions as to solution.?

John Layton's 4 posts

John Layton: Firstly, any receiver that does not have a manual tune function is not fit for purpose in the "real world".

There is quite a simple answer and you might kick yourself when you find out what it is.

All of Tacolneston's channels are high up and Belmont's PSBs (which carry BBC and ITV regional services) are low down. Have your aerial lead unplugged whilst the box is scanning channels up to about 35. As a percentage (if the box gives percentage progress) then that is about 30%.

Once you've completed, check that COM5 (Pick TV) is tuned to C45 and not C53 (which is Belmont). Also check that COM6 (4Music) is tuned to C39 and not C60. This information is usually given on the signal strength screen.

Dave Lindsay's 5,724 posts
Tuesday, 5 November 2013

Dave Lindsay: It seems that the You View boxes dont do manual tuning - for most people its not a big deal (simple setup, etc), but I agree that for a minority, its really useful, and hopefully they will either bring it back in any new model or upgrade via software.

The new Humax 2000 hopefully will - I'm waiting on the review, since its due in very soon...

MikeB's 2,579 posts

Thanks Dave Lindsay

A very useful tip has done the trick...... shame BT TV engineers seem not know how to do it......


John Layton's 4 posts
Select more comments
Your comment please