Freeview reception - all about aerials

Brian Butterworth published on UK Free TV
Updated 8th January 2014.


Your ability of receive all the Freeview transmissions depends on the suitability of aerial
the design style,
the "group", and
its physical location.
Standard type - Yagi aerial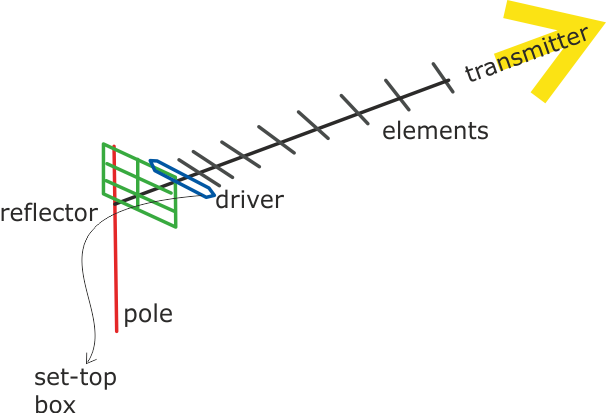 The
standard
type of TV aerial is known as the Yagi aerial. It is mounted on a pole, and consists of a rod with a reflector (shown green) at the back and many spiky elements (in grey) at the front. The connecting
cable
connects to the element nearest the reflector, known as the driver (shown in blue).
These Yagi aerials are directional and so pick up signals best from a
transmitter
that the rod points towards. The more elements the aerial has, the better it picks up a
signal
and becomes more directional.
A standard-type aerial is all that is required for
digital
TV
reception
in most places. These antennae have between 10 and 18 elements and a single reflector. These are recommended for new installations for good digital television reception, but will more often than not function perfectly in good reception areas.
Typically these aerials are designed to receive only some transmission frequencies - see "groups" below.
High Gain aerials

These aerials are designed for poor digital reception areas, and have two reflectors. For maximum signal strength, some digital high
gain
aerials have up to 100 elements. Since the
switchover
to digital-only transmissions back in October 2012, most UK households now have good
quality
digital TV signals.
A more expensive aerial is only required where the signal strength is low, but can often provide the whole Freeview reception where it might otherwise be impossible.
The CAI (that represents aerial installers) has four standards for digital TV aerials. The highest standard "1" is for homes on the fringes of coverage areas, intermediate standard "2" is suitable for use within the coverage area; minimum standard "3" is for good coverage conditions.
These aerials can be either
wideband
, or receive only selected frequencies - see "groups" below.
Grid

You may haved used a 'Grid aerial' for
analogue
reception, but as they are generally unsuitable for Freeview reception, they have now generally been replaced by the Yagi type. However in some places a Grid aerial installation may work for Freeview: otherwise replace with a standard Yagi aerial.
Indoor
Indoor aerials
are generally not suitable for Freeview reception. In areas of good signal strength it is often possible to receive some transmissions. Even where an aerial works, people often find that may get interruptions to their viewing (or recording).
Loft mounted
Loft
mounted arrivals are not generally recommended for Freeview reception, as the
roof
tiles and plumbing will degrade the signal. Some compensation for this loss of signal can be made by using
satellite
-grade cable to connect the set top box to the aerial.
Positioning
The best position for a TV aerial is mounted outdoors, as high from the ground as possible, pointing directly at the transmitter. The signal can be blocked by hills and tall buildings. It should be positioned away from any other aerials.
Horizontal or vertical?
The transmitter will either use vertical
mode
which requires the elements of your aerial to be up-down, or horizontal mode which requires them to be level with the ground.
Groups
Both analogue and digital television is transmitted the same group of transmission frequencies (known as
channel
21 through to 60). A coloured marking on the aerial shows the group.

To create the best possible analogue
picture
, TV transmissions from adjacent transmitters have been designated to several different groups of frequencies. By using an aerial that receives only the
channels
in the correct group, the analogue picture can be kept free from
interference
.
To receive Freeview transmissions from the same transmitter it has been sometimes necessary to use frequencies that are not part of the transmitter's normal group. When this has occurred, the aerial will need to be replaced with a "wideband" aerial (also known as group W) - one that covers every group.
As
Ofcom
is planning to move the TV frequencies again - perhaps as soon as 2018 - it may be wise to use a wideband aerial if you can to ensure you can keep viewing Freeview for many years to come.
Comments
Tuesday, 12 November 2013

Thanks Russ,
I'm in Seaford, just east of Newhaven and so yes, the transmitter at Newhaven must be roughly in line with Brighton Whitehawk (but Rowridge can't be far out either). A recent shift of the loft aerial to a slightly more westerly direction produced a better signal (3 bars in still bright weather.) This makes me think it's Whitehawk rather than Rowridge. Is there a way to find out for sure? Depending on the weather, etc., I can get 40 to 88 DTV channels on retunes. Don't know if this helps but the channel groupings are 24, 27, 22, 48, 43 (ITV), 50 (BBC1). So, I get all the basic Freeview channels plus any extra a 'good day' allows.
On a good day I can get group 38 (which includes Quest).

How would I set up a diplexer for the channel groups you mention? And please could you recommend a diplexer for this situation? Many thanks for taking the trouble to reply,

Frank's 10 posts
R
Russ Dring
1:42 PM
Spalding

Frank: The Rowridge channels are all in Group A and are both Vertical and Horizontal. That is good news in a way because by the look of it you are receiving Rowridge on Channels 24,27. Can you get Meridian South news at 6pm (based in Southampton) best way is to wait for the local weather map at the end of the programme, it will show you Dorset Sussex etc. rather than Kent,Sussex and Essex.
The other channels you list 48,42 and 50 are a mixture of Whitehawk and Newhaven.
Can't think of any other Group A signals, vertically polarised you will pick up. The reason Rowridge is Vertical and Horizontal is to cut down interference from Stockland Hill using the same frequencies but Horizontal.
I'll continue when you have digested this lengthy posting!!

Russ Dring's 48 posts
Russ's:
map
R's Freeview map
terrain
R's terrain plot
waves
R's frequency data
R's Freeview Detailed Coverage

Dick Crabtree: You probably don't get HD due to a lack of Freeview HD equipment. And if you want to split the signal to 3 TV, normally you'd used a splitter, and maybe an amplifier.

I am curious though - do you know which transmitter do you receive your signal from? If not, go to the signal strength option or manual tuning option in the menu, when on both BBC1 and then STV - look for the UHF channel number or frequency.

Presumably you're not allowed a satellite dish either?

Michael's 358 posts
R
Russ Dring
2:00 PM
Eastbourne

Russ Dring: Dick Crabtree I am also curious as to your transmitter? The area in which you live looks extreamly difficult for reception but if you are using an indoor aerial and is set top mounted then in all probability a loft mounted one will work better.
The DUK site say's Angus but could it be Craigkelly?

Russ Dring's 48 posts
Russ's:
map
R's Freeview map
terrain
R's terrain plot
waves
R's frequency data
R's Freeview Detailed Coverage

Thanks Russ. On each and every retune I get a choice of "south" or "south-east". I choose south and get good old Fred Dineage on Meridian. However, surely Whitehawk and Newhaven provide Meridian too?

Frank's 10 posts

Frank: Newhaven is a relay of Heathfield, so carries BBC Southeast and Meridian Southeast. Use a group A + Group E diplexer to add Rowridge to Newhaven. Preferably use a group A aerial for Rowridge. Newhaven is group B, but if you have a wideband aerial in use this would be suitable for the Newhaven signals.

KMJ,Derby's 1,811 posts
R
Russ Dring
6:11 PM
Seaford

Frank: That is good news, no pun intended!
Looks like you are in with a good chance of a good signal from Rowridge.
Use a good quality diplexer A with E feed the current aerial into the E side and preferably a group A aerial into side A. A grouped aerial will give over twice the signal gain of a wideband which you need. Rowridge is slightly South of west accross the sea path so little obstruction.
The tide can affect reception, I remember in the analogue day's when I used Rowridge for BBC2.in Brighton.
Not sure if we are allowed to mention brand names on here but there is a company very similar in name to " intiferance" but, replace the first vowel. They make an XG 8 it can't be beaten.
While perfect reception cannot be guaranteed, I think you're in for surprising results!

Russ Dring's 48 posts
Russ's:
map
R's Freeview map
terrain
R's terrain plot
waves
R's frequency data
R's Freeview Detailed Coverage
R
Russ Dring
6:16 PM
Seaford

Frank: Yes Meridian covers all of the South Coast but the optout regional news splits into Southampton and Maidstone. Southampton covers Dorset,West Sussex, Heathfield and consequently, Newhaven and I think Brighton covers East Sussex and Kent.
BBC South is Sally Taylor, from Rowridge

Russ Dring's 48 posts
Russ's:
map
R's Freeview map
terrain
R's terrain plot
waves
R's frequency data
R's Freeview Detailed Coverage

Russ and KMJ, Derby
Many thanks. I definitely sget Sally Taylor on BBC South and if Brighton doesn't transmit Fred Dineage : ) from Southampton I guess that only leaves Rowridge. From what you say it would be great if Rowridge proves to come to the rescue via the suggested diplexer. I'm not too confident as the ukfree.tv map for Rowridge says no coverage at all for my part of Seafor. However, for the relatively low outlay forf a diplexer and a better digital aerial, I will definitely give this a try when time and good weather allow me to get an aerial outside as this must give me the best fighting chance! Thanks again for all your help.

Frank's 10 posts

Dick Crabtree: The Commercial (COM) channels from Craigkelly, which you are having difficulty with, may require a replacement aerial. At your location they could be intermittent at times, or perhaps all the time, due to the fact that the Auchtermuchty transmitter broadcasts on the same channels. The COM channels from Criagkelly are also lower power to its PSBs.

The point is that the COM channels have inferior coverage to the PSB ones. Transmitters like Auchtermuchty only carry PSB channels and with transmitters like Craigkelly that do carry COM channels, there are some who only get the PSBs reliably.

If your current aerial is a Group A one (red tip) then it might be better to replace it with a Group K one (which spans Group A and Group B). See here for ideas:

Craigkelly Transmitter

Dave Lindsay's 5,724 posts
Select more comments
Your comment please