Freeview reception - all about aerials

Brian Butterworth published on UK Free TV
Updated 8th January 2014.


Your ability of receive all the Freeview transmissions depends on the suitability of aerial
the design style,
the "group", and
its physical location.
Standard type - Yagi aerial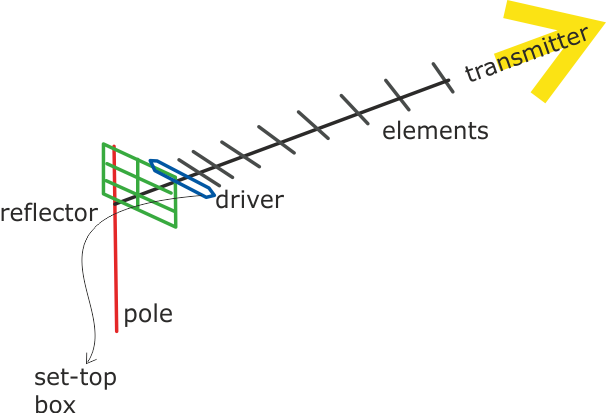 The
standard
type of TV aerial is known as the Yagi aerial. It is mounted on a pole, and consists of a rod with a reflector (shown green) at the back and many spiky elements (in grey) at the front. The connecting
cable
connects to the element nearest the reflector, known as the driver (shown in blue).
These Yagi aerials are directional and so pick up signals best from a
transmitter
that the rod points towards. The more elements the aerial has, the better it picks up a
signal
and becomes more directional.
A standard-type aerial is all that is required for
digital
TV
reception
in most places. These antennae have between 10 and 18 elements and a single reflector. These are recommended for new installations for good digital television reception, but will more often than not function perfectly in good reception areas.
Typically these aerials are designed to receive only some transmission frequencies - see "groups" below.
High Gain aerials

These aerials are designed for poor digital reception areas, and have two reflectors. For maximum signal strength, some digital high
gain
aerials have up to 100 elements. Since the
switchover
to digital-only transmissions back in October 2012, most UK households now have good
quality
digital TV signals.
A more expensive aerial is only required where the signal strength is low, but can often provide the whole Freeview reception where it might otherwise be impossible.
The CAI (that represents aerial installers) has four standards for digital TV aerials. The highest standard "1" is for homes on the fringes of coverage areas, intermediate standard "2" is suitable for use within the coverage area; minimum standard "3" is for good coverage conditions.
These aerials can be either
wideband
, or receive only selected frequencies - see "groups" below.
Grid

You may haved used a 'Grid aerial' for
analogue
reception, but as they are generally unsuitable for Freeview reception, they have now generally been replaced by the Yagi type. However in some places a Grid aerial installation may work for Freeview: otherwise replace with a standard Yagi aerial.
Indoor
Indoor aerials
are generally not suitable for Freeview reception. In areas of good signal strength it is often possible to receive some transmissions. Even where an aerial works, people often find that may get interruptions to their viewing (or recording).
Loft mounted
Loft
mounted arrivals are not generally recommended for Freeview reception, as the
roof
tiles and plumbing will degrade the signal. Some compensation for this loss of signal can be made by using
satellite
-grade cable to connect the set top box to the aerial.
Positioning
The best position for a TV aerial is mounted outdoors, as high from the ground as possible, pointing directly at the transmitter. The signal can be blocked by hills and tall buildings. It should be positioned away from any other aerials.
Horizontal or vertical?
The transmitter will either use vertical
mode
which requires the elements of your aerial to be up-down, or horizontal mode which requires them to be level with the ground.
Groups
Both analogue and digital television is transmitted the same group of transmission frequencies (known as
channel
21 through to 60). A coloured marking on the aerial shows the group.

To create the best possible analogue
picture
, TV transmissions from adjacent transmitters have been designated to several different groups of frequencies. By using an aerial that receives only the
channels
in the correct group, the analogue picture can be kept free from
interference
.
To receive Freeview transmissions from the same transmitter it has been sometimes necessary to use frequencies that are not part of the transmitter's normal group. When this has occurred, the aerial will need to be replaced with a "wideband" aerial (also known as group W) - one that covers every group.
As
Ofcom
is planning to move the TV frequencies again - perhaps as soon as 2018 - it may be wise to use a wideband aerial if you can to ensure you can keep viewing Freeview for many years to come.
Comments
Wednesday, 20 November 2013

Mike: In addition to the response given by jb38, it is worth pointing out that Bilsdale currently has ongoing engineering works which could affect your reception.

Dave Lindsay's 5,724 posts
Friday, 22 November 2013

Just put a Log 36 up (V good price from CPC) but not much difference, BBC 1 HD has gone from 54 to 56%, every channel still on 100% quality but apart from HD pics aren't anywhere near as good as through the sky box.
I was trying to check the cables and at the aerial I get a reading of 0.6 ohm between core and screen but get 5.6 ohm at socket in house, is that anything that might be causing a problem?
I also bought a cheap signal meter but I think it was a waste of money, needle was constantly jumping!
So will see if there is any difference when they finish working on Bilsdale.
Thanks for everything.

Mike's 3 posts

My uncle lives in Leeds LS15 8BT and having bought a new TV keeps losing BBC2. Is this likely to be an aerial problems (he has an old aerial). The previous TV (only about 4 years old) worked perfectly with this aerials

Bill's 1 post
Bill's:
map
B's Freeview map
terrain
B's terrain plot
waves
B's frequency data
B's Freeview Detailed Coverage

Mike: When you measure the coax at the aerial end the reading will be much lower simply because that the aerial itself represents a partial short circuit, whereas when measured at the aerial socket the 5.6 ohm is the total resistance of the inner in series with the screen, i.e: twice the length of the cable.

jb38's 7,179 posts

Mike : On the subject of the aerial, the fact of you only observed fractional differences by changing your aerial rather indicates that it was basically OK in the first place, and that any signal problems you were / are still experiencing is liable to be caused by factors connected with the terrain conditions that exist between the transmitter mast and your aerial, that is even although it might well be partially line-of-sight on a good day!

However, a quick check at your terrain would suggest that your receiving aerial is at a low angle to the mast whereby even at 19 miles away from the transmitter the "main" signal beam from the mast is likely to be passing over the aerial, this being either by direct route or in some cases by the signal being reflected upwards by bouncing off some hilly surface facing towards the source of the transmission, the latter should it apply, adding to the problem by bringing the summer and winter effect into the equation caused by the surface ground conditions changing.

As far as the Sky box generally giving a superior picture is concerned, Sky boxes have a slightly higher video output signal level to that of Freeview and Freesat devices, especially the latter, and this coupled to the relatively glitch free performance of satellite reception gives a less hassle form of viewing in areas where Freeview is inclined to be a bit iffy now and again.

jb38's 7,179 posts

jb38:
One other factor involved in how a picture appears to be is the transmitted bit rate. That differs significantly between Sky, FreeSat and Freeview. At my own location in North Wiltshire, Sky pictures are not as sharp as Freeview, I don't have FreeSat to compare with. In recent years broadcasters have been reducing the bit rate, and hence the amount of data transmitted, to allow more services to be included in a multiplex. You may have noticed that a PVR can now record more than it used to manage even with the same hard disk inside! That's due to the lowering of the bit rate and amount of data transmitted. Less data = less sharpness of the picture. They try to keep the data rate just about high enough to not cause excessive pixelation showing, but you will see some occasionally.

MikeP's 3,056 posts
Saturday, 23 November 2013

Thanks for all the input.
jb38, Not sure if it is what you are referring to but I did point the log 36 up a couple of degrees, from something I read here:
How To Attach / Wire Up Plugs & Aerials
So is the general opinion that 'this is as good as it gets' ?


Mike's 3 posts

Mike: Its certainly possible that it is! but though if the relatively low signal strength being received is accompanied by a reasonably consistent quality indication then you could fit a variable gain booster to lift the signal up to a higher level thereby taking it away from your receivers cut off threshold, this making your reception less vulnerable to possible glitching should variations in the level of the signal received cause it to drop near (or into) the cut off threshold zone.

A suitable booster sold by Argos: page 507 item No 107 / 1533 SLX variable booster @ £11.99.

jb38's 7,179 posts
Sunday, 24 November 2013

Friends in the business and members of recognised Institutes, all tell me that there " ..is no such thing as a digital aerial.." yet you constantly refer to them and have articles about them. Who is right and what is the true story ??

Mike's 10 posts

Mike: You could start here: Aerials, TV Aerial and Digital Aerial

I'm sure that many are more qualified than me to answer the question, but basically, if the aerial works fine with a digital signal, then thats OK, at least at present.

However, some aerials do better than others, and if you've an old aerial, which has been rusting away for years, its possible that its not at its best anyway, so replacement with a newer aerial is possibly desirable anyway.

But if everything is fine at the moment, dont worry.



MikeB's 2,579 posts
Select more comments
Your comment please