Freeview reception - all about aerials

Brian Butterworth published on UK Free TV
Updated 8th January 2014.


Your ability of receive all the Freeview transmissions depends on the suitability of aerial
the design style,
the "group", and
its physical location.
Standard type - Yagi aerial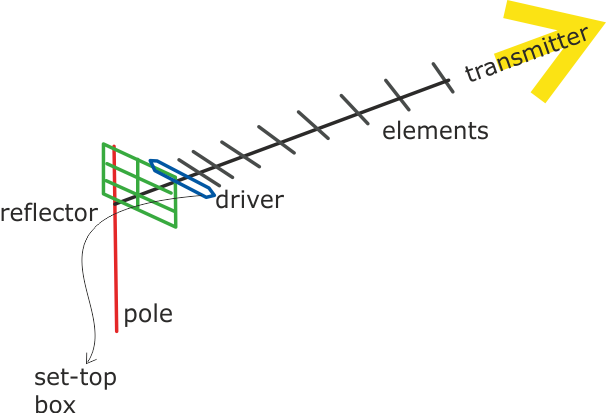 The
standard
type of TV aerial is known as the Yagi aerial. It is mounted on a pole, and consists of a rod with a reflector (shown green) at the back and many spiky elements (in grey) at the front. The connecting
cable
connects to the element nearest the reflector, known as the driver (shown in blue).
These Yagi aerials are directional and so pick up signals best from a
transmitter
that the rod points towards. The more elements the aerial has, the better it picks up a
signal
and becomes more directional.
A standard-type aerial is all that is required for
digital
TV
reception
in most places. These antennae have between 10 and 18 elements and a single reflector. These are recommended for new installations for good digital television reception, but will more often than not function perfectly in good reception areas.
Typically these aerials are designed to receive only some transmission frequencies - see "groups" below.
High Gain aerials

These aerials are designed for poor digital reception areas, and have two reflectors. For maximum signal strength, some digital high
gain
aerials have up to 100 elements. Since the
switchover
to digital-only transmissions back in October 2012, most UK households now have good
quality
digital TV signals.
A more expensive aerial is only required where the signal strength is low, but can often provide the whole Freeview reception where it might otherwise be impossible.
The CAI (that represents aerial installers) has four standards for digital TV aerials. The highest standard "1" is for homes on the fringes of coverage areas, intermediate standard "2" is suitable for use within the coverage area; minimum standard "3" is for good coverage conditions.
These aerials can be either
wideband
, or receive only selected frequencies - see "groups" below.
Grid

You may haved used a 'Grid aerial' for
analogue
reception, but as they are generally unsuitable for Freeview reception, they have now generally been replaced by the Yagi type. However in some places a Grid aerial installation may work for Freeview: otherwise replace with a standard Yagi aerial.
Indoor
Indoor aerials
are generally not suitable for Freeview reception. In areas of good signal strength it is often possible to receive some transmissions. Even where an aerial works, people often find that may get interruptions to their viewing (or recording).
Loft mounted
Loft
mounted arrivals are not generally recommended for Freeview reception, as the
roof
tiles and plumbing will degrade the signal. Some compensation for this loss of signal can be made by using
satellite
-grade cable to connect the set top box to the aerial.
Positioning
The best position for a TV aerial is mounted outdoors, as high from the ground as possible, pointing directly at the transmitter. The signal can be blocked by hills and tall buildings. It should be positioned away from any other aerials.
Horizontal or vertical?
The transmitter will either use vertical
mode
which requires the elements of your aerial to be up-down, or horizontal mode which requires them to be level with the ground.
Groups
Both analogue and digital television is transmitted the same group of transmission frequencies (known as
channel
21 through to 60). A coloured marking on the aerial shows the group.

To create the best possible analogue
picture
, TV transmissions from adjacent transmitters have been designated to several different groups of frequencies. By using an aerial that receives only the
channels
in the correct group, the analogue picture can be kept free from
interference
.
To receive Freeview transmissions from the same transmitter it has been sometimes necessary to use frequencies that are not part of the transmitter's normal group. When this has occurred, the aerial will need to be replaced with a "wideband" aerial (also known as group W) - one that covers every group.
As
Ofcom
is planning to move the TV frequencies again - perhaps as soon as 2018 - it may be wise to use a wideband aerial if you can to ensure you can keep viewing Freeview for many years to come.
Comments
Thursday, 13 March 2014

Rawlinson

DRY wood is a good insulator so not big deal - if a little unprofessional.

At 4 miles you may well be right about reason.

Does it work?

If so don't fix it.

If it is a powerful Tx 4 miles away you may not need an aerial at all. In London I do fine with just a fly lead connected to nothing.

Steve P's 1,173 posts
Steve's:
map
S's Freeview map
terrain
S's terrain plot
waves
S's frequency data
S's Freeview Detailed Coverage
Sunday, 25 May 2014

I have just bought a house which backs directly onto woodland , the trees are 20 to 30ft or more and densly populated and overhang high over my garden fence . The previous owner had broadband Virgin media installed as he claimed that he couldnt get signals through a conventional ariel because of interference from the trees .
The house does have an areil socket and i can see a wire keading to roof but no ariel ! Other houses have ariels but arent quite located right in ' the neck of the woods " as i am.
Is there any way of testing to see if its still the case without having to pay fir a full installation or are there any super booster devices that cater for people close to woods ?

steve's 1 post

steve: unfortunately a booster will not work at all. If the aerial points through the trees it will be affected no matter how much you amplify or 'boost' the signal. The only thing you can do is get as far away from the trees and as high up as possible. Really this is a job for a professional, but if you are a keen DIYer you may be able to do it yourself. Get as much knowledge about your local transmitter as you can.

Andrew Brown's 57 posts
Monday, 26 May 2014

Steve why not call a local installer (careful to get a genuine local not just a referral from a non-geographic number) and ask for advice. 30ft is not high - that's an average semi rooftop. Poles are good!

Our satellite seems to work through trees. I know it's not supposed to!

This lets you enter heights

UK digital TV reception predictor

Steve P's 1,173 posts

Satellite will work through trees just as an aerial will, however it is more likely to be susceptible to interference.
You are absolutely correct Steve P a local installer should be able give you an idea if you can receive a signal or not.
(51.8263,-2.5041)

Andrew Brown's 57 posts
Wednesday, 9 July 2014

Hi, hope you can help please.

I have 4 TVs in my home, one in the sitting room and one in each of the 3 bedrooms. I am currently trying to update each of these TVs, one at a time, as finances allow. I had the old analogue TVs each with a freeview box.

I replaced the first 2 TVs with HD ready TVs in the last year, with no problem at all. Yesterday I bought a 3rd HD ready TV for one of the bedrooms. I attached the aerial connection (it's an outdoor one on the roof) and plugged the TV in and got absolutely nothing, not even the standby light came on. After numerous hours trying to get it to switch on, I eventually gave up and took it back to the shop for a refund.

I then purchased a different make of HD ready TV from a different shop. Again got the aerial connected and plugged the TV in. This time, the red standby light came on, flashing on and off. And that's as far as I got. Nothing, absolutely nothing else happened.

I know for certain the remote controls are working. Nothing is blocking the standby button, I haven't left any sticky film on it by mistake. What is wrong? Is it me or is it the TVs? I'm thinking I'm going to have to take this 2nd TV back to the shop tomorrow. Problem is I'm quickly running out of alternative shops to try and buy a 3rd TV. I'm too embarrassed to go back to the shops where I've already bought the first two TVs.

Joanne's 4 posts

Joanne: I know this sounds strange, but try the TV in a different power socket. You can get a TV dead on arrival, but its unusual. To get two TV's of two different makes...

I dont know what make/model of tv you purchased, but the best thing to do is to try it in a socket which you know works, perhaps one where you already have a TV. The TV should automatically power up when you switch it on, if only for the first time setup, without the need for a remote. I know the remotes can be a pain sometimes - because its not difficult to put them into standby or switch it off - I've done this at work. And check that the power lead is connected properly at the back - Sony's sometimes have seperate power packs, so make sure the power is connected properly.

Ignore the aerial connection if you want - you just want to make sure the thing works. By all means plug in a DVD player, and select the source (you can again do this from the back of the TV - the remote isn't essential) - if that works you know the TV is fine.

Remotes should work OK, although make sure you take the batteries out of their packaging before putting them in the remote - trust me, this has happened.

The original socket could just be loose (but I'd get it checked by a electrician if it does seem to be the problem). My best suggestion is to try the TV you have now - if its works, you know its the socket.

If you try the TV in every room in the house, and it doesn't work, take it back and explain the problem. Where I work, the Technical Support desk would have a look, plug it in, etc, and try to found out what the problem is. We'd want to get it sorted out.

MikeB's 2,579 posts
Thursday, 10 July 2014

MikeB, thanks for your quick reply.

This latest TV I have bought is a Celcus HD TV/DVD combi from Sainsbury's. I have now tried it in both the other rooms where I already have HD ready TVs working. It just wouldn't work in either of those rooms either. I disconnected the existing TVs and put this new one in their place and the blinking red standby button was the only thing I got again.

I know that the remote control for this new TV/DVD combi is working ok because I noticed I could change TV channels on the existing TVs with it, even though the existing TVs are a different brand. I hope you're still following this and I haven't confused you too much!

Joanne's 4 posts

Joanne: Ok - it sounds like you've been unlucky, and the TV has croaked. It does happen - one customer apparently had 5 different TV's in succession (2 Panasonics, 2 Samsungs and a Sony), all of which had a problem. The Sony was delivered, but although boxed and factory sealed, had no stand! Two members of my department drove 60 miles each way to fit one. The general consensus was that she was cursed, and that perhaps the sacrifice of some sort of livestock to the God of TV's might be in order! However, I'm not totally surprised that the problem should be with a Celcus. Its a cheap TV (with a horrible on/off switch) and not a great remote. My advice is to get your money back, and not to buy a TV from a supermarket or somewhere which has/had a catalogue (unless you really know what your looking for). Admittedly, I work for a store which is neither, but we do sell a TV brand which looks exactly the same as the back of a Celcus, and we dont generally recommend them. I also wouldn't bother buying a combi any longer - its only Toshiba (of the well-known brands) who bothers making them any longer, and the back looks horribly similar to the others - I havn't seen a decent combi for some years. I suspect that the combi you bought was about £122 (22in?), but I'm not sure your getting great value for money. Since most TV's are now smart, do you need a DVD? And if you do, you've probably got one spare. Personally, I'd go for a TV with a HD tuner (yours does not - its the panel which is HD Ready), Smart (again - no), with a decent brand name and good remote. For a 22in, our departments go to model is the Samsung 22H5600 http://www.johnlewis.com/…lack . Yes, its about £225, so about £100 more than you paid, but I know its going to work, I know its reliable (hence 5 year warrenty as standard), and a really nice picture. Its HD tuner means you can actually watch HD, and of course being smart, you can stream loads of stuff (which means you really dont need the DVD part). Its more expensive, but a much better set. Anyway, take the TV back, and then go to a proper shop, so you can see what you can get for your money. Brand names you've heard of cost more, but you'll generally get a better set.

MikeB's 2,579 posts

Joanne: Horrible though I was to supermarket TV's, if you do want a better TV for not much more money, then try Richer Sounds - Toshiba 22D1333B | 22 inch LED TV with DVD Player 1080p HD Ready Freeview | Richer Sounds this might do nicely. OK, there's no Freeview HD, and its not smart (but at less than £150, your not going to get HD), but it will be better than the Celcus. They've got some decent LG's as well for about the same price - again basic with no HD tuner, but not bad at all. I'd go for the LG540 if I could All TVs | LCD TVs | Plasma TVs | Televisions | Richer Sounds - £199 for Freeview HD in a 32in. Not smart, but the N575 had a fantastic panel, so I assume this one has the same.

MikeB's 2,579 posts
Select more comments
Your comment please