Freeview reception - all about aerials

Brian Butterworth published on UK Free TV
Updated 8th January 2014.


Your ability of receive all the Freeview transmissions depends on the suitability of aerial
the design style,
the "group", and
its physical location.
Standard type - Yagi aerial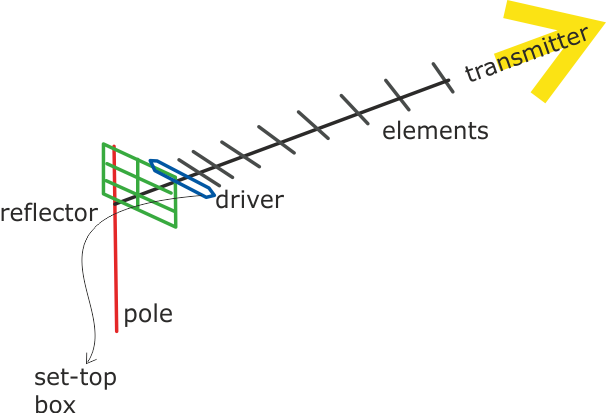 The
standard
type of TV aerial is known as the Yagi aerial. It is mounted on a pole, and consists of a rod with a reflector (shown green) at the back and many spiky elements (in grey) at the front. The connecting
cable
connects to the element nearest the reflector, known as the driver (shown in blue).
These Yagi aerials are directional and so pick up signals best from a
transmitter
that the rod points towards. The more elements the aerial has, the better it picks up a
signal
and becomes more directional.
A standard-type aerial is all that is required for
digital
TV
reception
in most places. These antennae have between 10 and 18 elements and a single reflector. These are recommended for new installations for good digital television reception, but will more often than not function perfectly in good reception areas.
Typically these aerials are designed to receive only some transmission frequencies - see "groups" below.
High Gain aerials

These aerials are designed for poor digital reception areas, and have two reflectors. For maximum signal strength, some digital high
gain
aerials have up to 100 elements. Since the
switchover
to digital-only transmissions back in October 2012, most UK households now have good
quality
digital TV signals.
A more expensive aerial is only required where the signal strength is low, but can often provide the whole Freeview reception where it might otherwise be impossible.
The CAI (that represents aerial installers) has four standards for digital TV aerials. The highest standard "1" is for homes on the fringes of coverage areas, intermediate standard "2" is suitable for use within the coverage area; minimum standard "3" is for good coverage conditions.
These aerials can be either
wideband
, or receive only selected frequencies - see "groups" below.
Grid

You may haved used a 'Grid aerial' for
analogue
reception, but as they are generally unsuitable for Freeview reception, they have now generally been replaced by the Yagi type. However in some places a Grid aerial installation may work for Freeview: otherwise replace with a standard Yagi aerial.
Indoor
Indoor aerials
are generally not suitable for Freeview reception. In areas of good signal strength it is often possible to receive some transmissions. Even where an aerial works, people often find that may get interruptions to their viewing (or recording).
Loft mounted
Loft
mounted arrivals are not generally recommended for Freeview reception, as the
roof
tiles and plumbing will degrade the signal. Some compensation for this loss of signal can be made by using
satellite
-grade cable to connect the set top box to the aerial.
Positioning
The best position for a TV aerial is mounted outdoors, as high from the ground as possible, pointing directly at the transmitter. The signal can be blocked by hills and tall buildings. It should be positioned away from any other aerials.
Horizontal or vertical?
The transmitter will either use vertical
mode
which requires the elements of your aerial to be up-down, or horizontal mode which requires them to be level with the ground.
Groups
Both analogue and digital television is transmitted the same group of transmission frequencies (known as
channel
21 through to 60). A coloured marking on the aerial shows the group.

To create the best possible analogue
picture
, TV transmissions from adjacent transmitters have been designated to several different groups of frequencies. By using an aerial that receives only the
channels
in the correct group, the analogue picture can be kept free from
interference
.
To receive Freeview transmissions from the same transmitter it has been sometimes necessary to use frequencies that are not part of the transmitter's normal group. When this has occurred, the aerial will need to be replaced with a "wideband" aerial (also known as group W) - one that covers every group.
As
Ofcom
is planning to move the TV frequencies again - perhaps as soon as 2018 - it may be wise to use a wideband aerial if you can to ensure you can keep viewing Freeview for many years to come.
Comments
Sunday, 14 December 2014

Log periodic aerials are springing up like mushrooms here in South Cheshire and North Shropshire. Are they in some way technically superior or is it because they are a less attractive perch for birds which mess onto the roof?

brian's 1 post

Brian

It is because they are far more suitable for current and future reception from all transmitters. A 'grouped' Yagi aerial is only suitable for a part of the UHF band used for TV broadcasting. For example, a Group C/D aerial is only of use for channels 49 and above but is not very good below that and it gets worse the lower the channel numbers. Nowadays, most main transmitters not only have the SD multiplexes but also some HD ones which are often (but not always) in the 31-37 range and a Group C/D Yagi aerial would not be much use. A 'wide band' Yagi is not that good either as its reception ability is quite variable across the bands used for TV so some signals will be noticably stronger than others and maybe the ones you want are the weakest - giving rise to reception problems often reported by the set as 'No Signal'.

One of the benefits of a log-periodic are that they have a fairly flat reception characteristic across the whole UHF band from channel 21 to at least channel 60. That means it can be used for reception of all the signals being broadcast currently. The future plans of Ofcom include the idea of putting all terrestrial digital TV (Freeview) into the lower channels range so by fitting a log-periodic you would be able to receive your current programmes as well as being as 'future proof' as is possible - unless the Ofcom plans change in the meantime. Log-periodic aerials are no more nor less susceptible to use by our 'feathered friends' as a roost than any other aerial.

The area you mention is not unusual as these better aerials are appearing all over the country, I had one installed in Wiltshire recently so that our new TV would be able to get all the SD and HD channels now and into the foreseeable future. I chose one because I know they are better having been in the TV industry since 1960.

If you are considering having your aerial changed, I would strongly advise having a log-periodic fitted and ignore any advice about needing a 'digital' aerial as there is no such thing.

MikeP's 3,056 posts
Sunday, 21 December 2014

Many thanks for that
I suspect most of the installations are by a well-known and respected local firm who clearly know their stuff

Presumably by their very nature log-periodic aerials don't come in low-gain, high-gain etc.? They would appear to have the potential for being quite directional, for hereabouts the strongest signal is nearly always the Welsh one yet they have managed to stop it from disturbing the Wrekin signal which comes in with minimal pixellation, and Winter Hill which comes in full blast save when a stand of big trees locally isn't causing it to pixellate
Bay TV from Liverpool seems to come in loud and clear on Freeview #8 so presumably it's being pumped out of Moel-y-Parc and Storeton in all directions and in appropriate directions only from Winter Hill and Wrekin

Brian's 6 posts
Friday, 26 December 2014

my picture keeps breaking up and my recordings are sometimes unwatchable (winter hill) I live on a park site would a wideband aerial improve this my signal strength is 33% on freeview there is no ghosting on my picture I have been looking at the high gain three pronged aerial as in class 1 any help please thanks

Derek Hughes's 1 post

Derek Hughes: A Log periodic aerial used (if necessary) in conjunction with a variable gain booster is a far better bet for DTT reception over what you have looking at. However Winter Hill covers a large area, therefore in order to check your reception possibilities a more precise location is required, this in the form of a post code or one from nearby, e.g: a shop / Post office etc.

You may also find the undermentioned link to be of interest.

Best aerial for indoor outdoor motorhome or caravan log periodic

jb38's 7,179 posts
Sunday, 18 January 2015

I have socket in wall (aerial)what do i need
to get to go in here and into tv?


L Stevenson's 1 post

L Stevenson:

You need a 'flylead' with male coaxial plugs on both ends, such as TV Aerial Coax Flylead Lead Male Plug to Male Plug by: Amazon.co.uk: Electronics (others are available). They come in various lengths and colours and most DIY or electrical stores sell them.

MikeP's 3,056 posts
Friday, 13 February 2015

Does a group B aerial rather than a wide band improve poor reception from the Sutton Coldfield transmitter?

john luke's 3 posts

John Luke

It is unlikely to improve reception if it has the same number of elements as your existing aerial. And it may not be suitable for reception in the near future if the suggested frequency changes are implimented.

The ideal would normally be a log-periodic with at least the same inherent gain as your current aerial as that has the ability to receive the current transmissions and those that may become available in the future.

What is the reason for asking? Do you have reception problems? Remember that sometimes too much signal can be as bad as too little, if you're close to Sutton Coldfield that may be a factor. Ideally we would need a post code, or that of a close-by shop, so that your reception conditions can be assessed by others contributing to this website.

MikeP's 3,056 posts
Thursday, 19 February 2015

Mike P:
Thanks for your reply. We live a long way away from Sutton Coldfield, in the folds of the Cotswold hills postcode GL66PA, but the only terrestrial reception, though weak, is from that transmitter. After switchover the reception improved with good reception except in some meteorological conditions (BBC2 had previously often been snowy with analogue).

The old aerial (presumably Group B?) died a few weeks ago after c. 30 years use. It had 15 cross (X) shaped elements (ie 60 element sections) plus twin reflectors with a c. 2metres long beam
.
The new aerial is a wideband which looks very similar to the Wolsey LTE HG 10 with double looped elements. It is much shorter with larger reflectors. However we cannot receive unpixelated any of the BBC channels.

I was wondering therefore whether installing a wideband aerial had led to the poorer reception?

John

John Luke's 3 posts
Select more comments
Your comment please