Freeview reception - all about aerials

Brian Butterworth published on UK Free TV
Updated 8th January 2014.


Your ability of receive all the Freeview transmissions depends on the suitability of aerial
the design style,
the "group", and
its physical location.
Standard type - Yagi aerial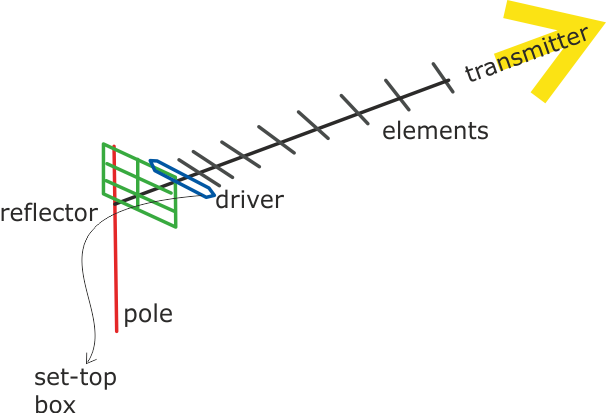 The
standard
type of TV aerial is known as the Yagi aerial. It is mounted on a pole, and consists of a rod with a reflector (shown green) at the back and many spiky elements (in grey) at the front. The connecting
cable
connects to the element nearest the reflector, known as the driver (shown in blue).
These Yagi aerials are directional and so
pick
up signals best from a
transmitter
that the rod points towards. The more elements the aerial has, the better it picks up a
signal
and becomes more directional.
A standard-type aerial is all that is required for
digital
TV
reception
in most places. These antennae have between 10 and 18 elements and a single reflector. These are recommended for new installations for good digital television reception, but will more often than not function perfectly in good reception areas.
Typically these aerials are designed to receive only some transmission frequencies - see "groups" below.
High Gain aerials

These aerials are designed for poor digital reception areas, and have two reflectors. For maximum signal strength, some digital high
gain
aerials have up to 100 elements. Since the
switchover
to digital-only transmissions back in October 2012, most UK households now have good
quality
digital TV signals.
A more expensive aerial is only required where the signal strength is low, but can often provide the whole Freeview reception where it might otherwise be impossible.
The CAI (that represents aerial installers) has four standards for digital TV aerials. The highest standard "1" is for homes on the fringes of coverage areas, intermediate standard "2" is suitable for use within the coverage area; minimum standard "3" is for good coverage conditions.
These aerials can be either
wideband
, or receive only selected frequencies - see "groups" below.
Grid

You may haved used a 'Grid aerial' for
analogue
reception, but as they are generally unsuitable for Freeview reception, they have now generally been replaced by the Yagi type. However in some places a Grid aerial installation may work for Freeview: otherwise replace with a standard Yagi aerial.
Indoor
Indoor aerials
are generally not suitable for Freeview reception. In areas of good signal strength it is often possible to receive some transmissions. Even where an aerial works, people often find that may get interruptions to their viewing (or recording).
Loft mounted
Loft
mounted arrivals are not generally recommended for Freeview reception, as the
roof
tiles and plumbing will degrade the signal. Some compensation for this loss of signal can be made by using
satellite
-grade cable to connect the set top box to the aerial.
Positioning
The best position for a TV aerial is mounted outdoors, as high from the ground as possible, pointing directly at the transmitter. The signal can be blocked by hills and tall buildings. It should be positioned away from any other aerials.
Horizontal or vertical?
The transmitter will either use vertical
mode
which requires the elements of your aerial to be up-down, or horizontal mode which requires them to be level with the ground.
Groups
Both analogue and digital television is transmitted the same group of transmission frequencies (known as
channel
21 through to 60). A coloured marking on the aerial shows the group.

To create the best possible analogue
picture
, TV transmissions from adjacent transmitters have been designated to several different groups of frequencies. By using an aerial that receives only the
channels
in the correct group, the analogue picture can be kept free from
interference
.
To receive Freeview transmissions from the same transmitter it has been sometimes necessary to use frequencies that are not part of the transmitter's normal group. When this has occurred, the aerial will need to be replaced with a "wideband" aerial (also known as group W) - one that covers every group.
As
Ofcom
is planning to move the TV frequencies again - perhaps as soon as 2018 - it may be wise to use a wideband aerial if you can to ensure you can keep viewing Freeview for many years to come.
Comments
Monday, 21 February 2011

Dave sharp: You should put the aerial on the roof where it can have a clear line-of-sight to the transmitter.

This is a much more reliable option than using boosters and amplifiers.

Briantist's 38,899 posts
D
Dave sharp
7:37 PM
Anstruther

Thanks for advice briantist, thing is signal through tv is great but not through pvr. Looking further into the tuners the tv has better capability when dealing with poor signal strength so would replacing the cable with double shielded cable and potential better positioning of aerial be adequate. Putting it outside would prove to be expensive and would rather keep costs down.

Dave sharp's 3 posts
Dave's:
map
D's Freeview map
terrain
D's terrain plot
waves
D's frequency data
D's Freeview Detailed Coverage

Dave sharp: Yes, you should use satellite-grade coaxial cable to preserve the signals.

Also, with switchover happening very shortly, the signals will be considerably better by 15th (Craigkelly) or 22th (Black Hill) June 2011.

Briantist's 38,899 posts
B
Brian Whittington
8:01 PM

I am having problems with my tv. the digital channel keeps freezing, the analogue reception is also bad. any ideas of the cause. we had some heavy winds and heavy rain since last Sunday 13 Feb 2011. any help would be appreciated.

Brian Whittington's 1 post

Brian Whittington: Please can you see the list of suggestions on the Freeview reception has changed? | ukfree.tv - independent free digital TV advice page?

Briantist's 38,899 posts

Postcode is SN40NW (Butts Rd). Fringe(ish) reception on Mendip, Oxford and Salisbury. Often drop one or two channels all together when retuning (Film4 and Film4+1 are usually first to go) and blocking and freezing quite often on others especially in poor weather but not always weather dependant but I do realise weird atmospherics can effect things even when weather (for us humans) is good.
Aerial is pointing at Mendip rather than Oxford as 24months ago (when installed) this gave best reception.
Humax PVR9150t (with latest software updates) is used for all reception with nothing on output of PVR pass-through and TV connected via scart. TV tuning (Samsung LE26R pulls far less channels and less reliable than PVR)
I have followed your retuning guides with no improvement.
Will moving it to Oxford now or a better aerial get me reliable reception? Current aerial is fairly standard digital wideband yagi.
FWIW signal (via Humax built in meter) on Film4 is strength 55% and quality flickering 40 - 80%
BBC1/Channel4/ITV (all) strength 78% and quality solid 100%

Kevin's 17 posts
Kevin's:
map
K's Freeview map
terrain
K's terrain plot
waves
K's frequency data
K's Freeview Detailed Coverage
D
Dave sharp
10:34 PM
Anstruther

Cheers briantist will get some from screwfix tomorrow and give it a go then take it from there
Cheers

Dave sharp's 3 posts
Dave's:
map
D's Freeview map
terrain
D's terrain plot
waves
D's frequency data
D's Freeview Detailed Coverage
Tuesday, 22 February 2011

Dave sharp: Please let me know how you get on.

Briantist's 38,899 posts

Kevin: Basically, no.

You will get better reception from Mendip, but only until April, when the shifting changes caused by switchover will start to degrade the reception from there.

Your Oxford reception is also going to get worse from April too.

If you are going to spend any money, I would recommend you get a Freesat HD box and dish, and use this to fill in your reception holes until 2012.

At some point in 2012, as switchover is finished in the UK, you will get a great Freeview service again.

Briantist's 38,899 posts

Brian,
Thank you for your reply even if it was, sadly, as expected; no criticism meant just recognition of frustration caused by the fringe and overlapping areas I live in.

As current aerial is on standard 75ohmn aerial cable (less than 5 years old) rather than satellite grade would changing to satellite grade and use the XB22WB (with masthead amp? - Humax has masthead amp power as built in) or diplex two good quality narrower band aerials give reliable reception or am I just so far away and it's signal noise rather than strength that is the problem. (Yes I have been doing some reading at www.aerialsandtv.com.)

Costs of my above suggestions are getting very close to HD Freesat + Satellite installation and as Humax PVR9150T isn't HD your original suggestion about going Freesat may still be the best solution!

If I stick with existing setup just how bad will things get after April?
Note channels - strength - quality tonight are:-

24 - 77 - 100
27 - 77 - 100
56 - 63 - 100
62 - 60 - 100
67 - 60 - 100

and Film4+1 still not tuning!

That's added a little confusion and possible option. BBC1 is on Ch27 and ITV is on Ch24 so that means it's picking up the Chiseldon repeater. Whilst this transmitter is vertically polarised it is only 100yds away so no surprise really!

Does that add weight to the suggestion of high quality aerials diplexed. Cost may still shift the balance to Freesat though but my thoughts are repolarise existing aerial to vertical further improving Channels 24 and 27 and then buy a high quality C/D aerial (plus masthead amp?) and target Mendip with that.

You may have guessed that I am reluctant to go Freesat as I just don't like the look of those darn dishes - weird maybe but that's my view.

Finally, if it's worth noting, I am also getting weak BBC1 etc on Ch34

Kevin's 17 posts
Select more comments
Your comment please