Freeview reception - all about aerials

Brian Butterworth published on UK Free TV
Updated 8th January 2014.


Your ability of receive all the Freeview transmissions depends on the suitability of aerial
the design style,
the "group", and
its physical location.
Standard type - Yagi aerial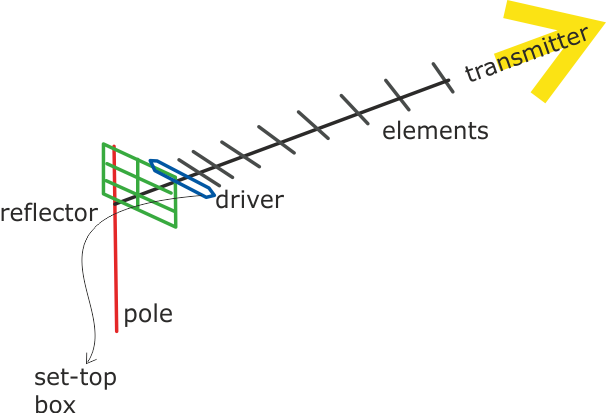 The
standard
type of TV aerial is known as the Yagi aerial. It is mounted on a pole, and consists of a rod with a reflector (shown green) at the back and many spiky elements (in grey) at the front. The connecting
cable
connects to the element nearest the reflector, known as the driver (shown in blue).
These Yagi aerials are directional and so pick up signals best from a
transmitter
that the rod points towards. The more elements the aerial has, the better it picks up a
signal
and becomes more directional.
A standard-type aerial is all that is required for
digital
TV
reception
in most places. These antennae have between 10 and 18 elements and a single reflector. These are recommended for new installations for good digital television reception, but will more often than not function perfectly in good reception areas.
Typically these aerials are designed to receive only some transmission frequencies - see "groups" below.
High Gain aerials

These aerials are designed for poor digital reception areas, and have two reflectors. For maximum signal strength, some digital high
gain
aerials have up to 100 elements. Since the
switchover
to digital-only transmissions back in October 2012, most UK households now have good
quality
digital TV signals.
A more expensive aerial is only required where the signal strength is low, but can often provide the whole Freeview reception where it might otherwise be impossible.
The CAI (that represents aerial installers) has four standards for digital TV aerials. The highest standard "1" is for homes on the fringes of coverage areas, intermediate standard "2" is suitable for use within the coverage area; minimum standard "3" is for good coverage conditions.
These aerials can be either
wideband
, or receive only selected frequencies - see "groups" below.
Grid

You may haved used a 'Grid aerial' for
analogue
reception, but as they are generally unsuitable for Freeview reception, they have now generally been replaced by the Yagi type. However in some places a Grid aerial installation may work for Freeview: otherwise replace with a standard Yagi aerial.
Indoor
Indoor aerials
are generally not suitable for Freeview reception. In areas of good signal strength it is often possible to receive some transmissions. Even where an aerial works, people often find that may get interruptions to their viewing (or recording).
Loft mounted
Loft
mounted arrivals are not generally recommended for Freeview reception, as the
roof
tiles and plumbing will degrade the signal. Some compensation for this loss of signal can be made by using
satellite
-grade cable to connect the set top box to the aerial.
Positioning
The best position for a TV aerial is mounted outdoors, as high from the ground as possible, pointing directly at the transmitter. The signal can be blocked by hills and tall buildings. It should be positioned away from any other aerials.
Horizontal or vertical?
The transmitter will either use vertical
mode
which requires the elements of your aerial to be up-down, or horizontal mode which requires them to be level with the ground.
Groups
Both analogue and digital television is transmitted the same group of transmission frequencies (known as
channel
21 through to 60). A coloured marking on the aerial shows the group.

To create the best possible analogue
picture
, TV transmissions from adjacent transmitters have been designated to several different groups of frequencies. By using an aerial that receives only the
channels
in the correct group, the analogue picture can be kept free from
interference
.
To receive Freeview transmissions from the same transmitter it has been sometimes necessary to use frequencies that are not part of the transmitter's normal group. When this has occurred, the aerial will need to be replaced with a "wideband" aerial (also known as group W) - one that covers every group.
As
Ofcom
is planning to move the TV frequencies again - perhaps as soon as 2018 - it may be wise to use a wideband aerial if you can to ensure you can keep viewing Freeview for many years to come.
Comments
Tuesday, 17 May 2016

Gary Jones: Have you as yet checked if anyone else in your area is experiencing similar difficulties with reception? However stating that you reside in Newport is not sufficient info to enable access to the reception predictor, a facility which can also be used to assess the possibilities of reception from another transmitter, therefore a post code or one from somewhere nearby (e.g: shop/post office) is required.

jb38's 7,179 posts
Wednesday, 1 June 2016

Hi, I have just switched on my 42" bush Tv , all I get is a blue screen with a message saying no signal. I have made sure all cables are in correctly , I've made sure it's source is correct. Does this mean my tv is broken or is it the aerial. Any suggestions would be helpful.

Marie's 1 post

Hi Marie. Surprised I am the first to respond!

Mostly your TV is working because it is producing a legible blue screen. You do not mention any boxes so I assume it's an ordinary freeview TV with a roof aerial.

Is the TV set to show freeview or has it perhaps got back to old analogue somehow? Otherwise, unless the internal freeview tuner is bust there is probably no signal; either aerial bust/moved in winds (very strong yesterday?) or cabling faulty.

Have you looked at the aerial? Jiggled connections?

Next step is to plug a different TV in your aerial or your TV in another aerial.

steve p's 1,173 posts
Monday, 6 June 2016

I wonder why your article on aerials has nothing to say about the log periodic type which is becoming increasing popular these days.

Michael Glaves's 6 posts
Wednesday, 3 August 2016

Hello folks, I just bought a new TV with freeviewHD built in. I tuned it in and even though it found the HD channels, every One of them say no signal. Normal freeview shows perfect. I have a grade 2 wideband aerial in the loft so my question is this. Is it possible to find HD channels but not receive a picture? Is it just a case of moving aerial around or is it the TV? Im in NI and tv is a 43" blaupunkt freeviewHD 1080p led TV.

I should also note that when I retuned, I couldn't pickup any HD channels at all. Does this suggest problems with the signal? Thanks so much.

John Williams's 1 post

John Williams : You may have slightly too much signal which causes the tuner to be overloaded and appear as if the signal is too weak. HD channels are more susceptible to this than SD channels. I overcame this by plugging in an attenuator to the incoming aerial cable to reduce the signal level (see link below). I would suggest buying different strengths, which you can try separately or plug in together inline to reduce the signal strength further if required.

3dB Coax Plug Inline ATTENUATOR: Amazon.co.uk: Electronics

StevensOnln1's 3,569 posts

John Williams:

Further to that said by StevenOnln1, it is good practice to add the attenuator in the outlet end of the flylead that was originally connected into the aerial input socket of the TV but then add a new short flylead from the outlet side of the attenuator feeding to the aerial input socket of the TV. The reason for this is to prevent damage to the aerial input socket of the TV, which can be tricky to repair. Such damage is often caused by the weight of the attenuator with the aerial lead all pulling downwards on the socket - which is not a good idea. This method has been used by TV service professionals for many years. The flylead will cost less than a couple of pounds.



MikeP's 3,056 posts
Monday, 8 August 2016

I have bought Samsung HD tv with freeview. I can pick up BBC freeview channels only.

I have 2 very large, very old aerials in the loft space.

Can someone advise me the type of aerials required. I am in Portsmouth po1 area.

Toby's 1 post

Toby:

Depending on exactly where in Portsmouth you live, I suspect your likely transmitter is Rowridge, on the Isle of Wight. If you look at https://ukfree.tv/transmi…dge, you will see that it covers most of Portsmouth and the surrounding areas. You will note that some multiplexes are transmitted with horizontal polarisation and some with vertical and some with both. It would appear that you will need a Group A aerial set for vertical reception and another set for horizontal reception if you want to receive all the services as LSO, COM7 and COM8 are horizontal only, the rest being both vertical and horizontal.

Do not fall for the scam of a 'digital' aerial as there is no such thing, *all* UHF aerials are able to receive television transmissions irrespective of how the picture and sound information is encoded onto the carrier signal. But aerials are banded, depending on the frequency range you want to receive. For Rowridge most of the signals fall within the Group A band, the exception being COM8 that is right at the top end of the band. The link stated earlier shows the channels and frequencies for all the services and which programmes are on what multiplex.

Hope that helps? If you need any further guidance, please give a full post code, or that of a very nearby shop or post office, so we can identify the reception conditions at your locality.



MikeP's 3,056 posts

MikeP: There is no need for 2 aerials as all multiplexes are transmitted horizontally from Rowridge. PSB1-3 and COM4-6 are also transmitted vertically but not COM7&8 or the Solent local mux.

StevensOnln1's 3,569 posts
Select more comments
Your comment please