Freeview reception - all about aerials

Brian Butterworth published on UK Free TV
Updated 8th January 2014.


Your ability of receive all the Freeview transmissions depends on the suitability of aerial
the design style,
the "group", and
its physical location.
Standard type - Yagi aerial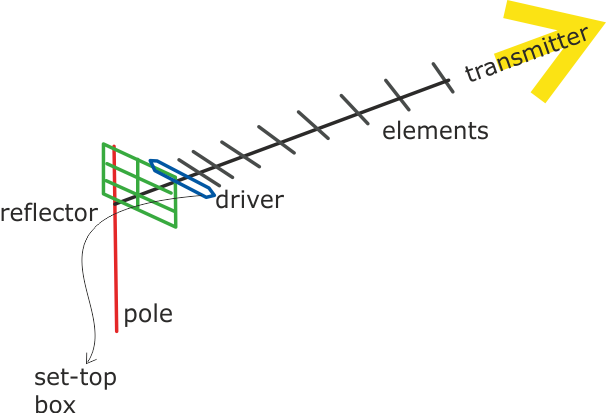 The
standard
type of TV aerial is known as the Yagi aerial. It is mounted on a pole, and consists of a rod with a reflector (shown green) at the back and many spiky elements (in grey) at the front. The connecting
cable
connects to the element nearest the reflector, known as the driver (shown in blue).
These Yagi aerials are directional and so
pick
up signals best from a
transmitter
that the rod points towards. The more elements the aerial has, the better it picks up a
signal
and becomes more directional.
A standard-type aerial is all that is required for
digital
TV
reception
in most places. These antennae have between 10 and 18 elements and a single reflector. These are recommended for new installations for good digital television reception, but will more often than not function perfectly in good reception areas.
Typically these aerials are designed to receive only some transmission frequencies - see "groups" below.
High Gain aerials

These aerials are designed for poor digital reception areas, and have two reflectors. For maximum signal strength, some digital high
gain
aerials have up to 100 elements. Since the
switchover
to digital-only transmissions back in October 2012, most UK households now have good
quality
digital TV signals.
A more expensive aerial is only required where the signal strength is low, but can often provide the whole Freeview reception where it might otherwise be impossible.
The CAI (that represents aerial installers) has four standards for digital TV aerials. The highest standard "1" is for homes on the fringes of coverage areas, intermediate standard "2" is suitable for use within the coverage area; minimum standard "3" is for good coverage conditions.
These aerials can be either
wideband
, or receive only selected frequencies - see "groups" below.
Grid

You may haved used a 'Grid aerial' for
analogue
reception, but as they are generally unsuitable for Freeview reception, they have now generally been replaced by the Yagi type. However in some places a Grid aerial installation may work for Freeview: otherwise replace with a standard Yagi aerial.
Indoor
Indoor aerials
are generally not suitable for Freeview reception. In areas of good signal strength it is often possible to receive some transmissions. Even where an aerial works, people often find that may get interruptions to their viewing (or recording).
Loft mounted
Loft
mounted arrivals are not generally recommended for Freeview reception, as the
roof
tiles and plumbing will degrade the signal. Some compensation for this loss of signal can be made by using
satellite
-grade cable to connect the set top box to the aerial.
Positioning
The best position for a TV aerial is mounted outdoors, as high from the ground as possible, pointing directly at the transmitter. The signal can be blocked by hills and tall buildings. It should be positioned away from any other aerials.
Horizontal or vertical?
The transmitter will either use vertical
mode
which requires the elements of your aerial to be up-down, or horizontal mode which requires them to be level with the ground.
Groups
Both analogue and digital television is transmitted the same group of transmission frequencies (known as
channel
21 through to 60). A coloured marking on the aerial shows the group.

To create the best possible analogue
picture
, TV transmissions from adjacent transmitters have been designated to several different groups of frequencies. By using an aerial that receives only the
channels
in the correct group, the analogue picture can be kept free from
interference
.
To receive Freeview transmissions from the same transmitter it has been sometimes necessary to use frequencies that are not part of the transmitter's normal group. When this has occurred, the aerial will need to be replaced with a "wideband" aerial (also known as group W) - one that covers every group.
As
Ofcom
is planning to move the TV frequencies again - perhaps as soon as 2018 - it may be wise to use a wideband aerial if you can to ensure you can keep viewing Freeview for many years to come.
Comments
Saturday, 25 November 2017

Ashley Woods:

It depends on where you are in relation to your transmitter. If you are very close then a proverbial piece of wet string can be enough - but not reliable. The 'H' aerial is, I presume, either an old Band 1 VHF TV aerial that was used in the days of B&W BBC TV, or it could be a VHF radio aerial or it could be a DAB aerial. If it is the latter then it may well be sensitive enough to get some signals - but I'd be interested to hear what signal strengths you get woith the new TV aerial and the old 'H' aerial, please.



MikeP's 3,056 posts
Saturday, 2 December 2017

Hi MikeP

Thanks for your reply.
You are talking to a real amateur here and i have no test instruments , the TV just says 'signal very good' in respect of both - is there a way of measuring the signals or asking the TV.

I only bought the house this year and the 'H' aerial probably dates from the early 80s when house was built, but im unable to help id further
Ash

Ashley Woods's 2 posts
Sunday, 3 December 2017

Ashley Woods:

Your TV should have a manual tuning system that will display the channel number (note that that is not the same as the programme number) being received as well as the signal strength and quality - it is the strength that is important. Your User Manual for the TV will tell you how to access that feature but make sure you do *not* perform any tuning at this stage. If you can't find the User Manual, you can usually find one on line by doing a search by make and model and usimng 'user manual' as a search criteria.

The 'H' aerial of that age is very likely to be a VHF type for either BBC on Band 1, ITV on Band 3 or else FM Radio on Band 2. Thus it is of little real value to you for TV reception. You should have a good local aerial contractor fit an aerial of the log-periodic type (it is important to ask for that type to be fitted) and do not fall for the 'con' of a 'digital' aerial as there is no such thing.



MikeP's 3,056 posts
Saturday, 30 December 2017

Hi Mike,
I have a new Panasonic TX-24D302B LED Television. It says it has a Frewview HD. However, when I do the first time installation, it is unable to find any channels after the search. I do not have internet and I had thought that the TV comes in with a built in Freeview HD and just needs to install to be able to view the channels. Could you please advise what is the reason and the solution?

Kingshuk's 1 post

Kingshuk: You have plugged an aerial in, haven't you?

Which is your transmitter? or provide a postcode

MB's 16 posts

Kingshuk:

A full post code is required to be able tooffer any advice. There are over 1000 transmitters and you could be trying to use any of them!



MikeP's 3,056 posts

Kingshuk: I was going suggest the same thing - the TV certainly has a Freeview tuner, but you do have to connect to an aerial. The onscreen instructions are normally enough, but reading the manual is something you need to do.

MikeB's 2,579 posts
Thursday, 4 January 2018

Freeview Digital TV Aerial
I live in a rented property and moved into a flat that has a small dish aerial. I was able to view all channels on Freeview digital TV for about a year and few days ago, I lost the reception of BBC channels. It started crackling, screen with black pixels, and loss of sound. I retuned the TV and then completely lost all BBC channels and many more channels. Only ITV, Channel 4 and few more channels are available now. Is it because of the wrong - dish aerial or is it something more than that.

AnandLeo's 2 posts

AnandLeo: A dish is used to receive satellite signals and is not suitable for receiving Freeview. Either you're actually connecting to an aerial on the roof or in the loft somewhere, or you're just receiving a strong signal being picked up by the cable. The cables coming from a satellite dish will have screw connectors, whereas cables from a terrestrial aerial (i.e. one used to receive Freeview) will normally have push connectors. Start by checking the cables and connections that you are using are the correct type and aren't loose or damaged.

StevensOnln1's 3,553 posts

StevensOnln1: Thanks. The connection to the TV is push, not screw, however, I assume it comes from a small dish. I searched and found cheap indoor Freeview antenna on ebay, that should solve the problem hopefully.

AnandLeo's 2 posts
Select more comments
Your comment please