Freeview reception - all about aerials

Brian Butterworth published on UK Free TV
Updated 8th January 2014.


Your ability of receive all the Freeview transmissions depends on the suitability of aerial
the design style,
the "group", and
its physical location.
Standard type - Yagi aerial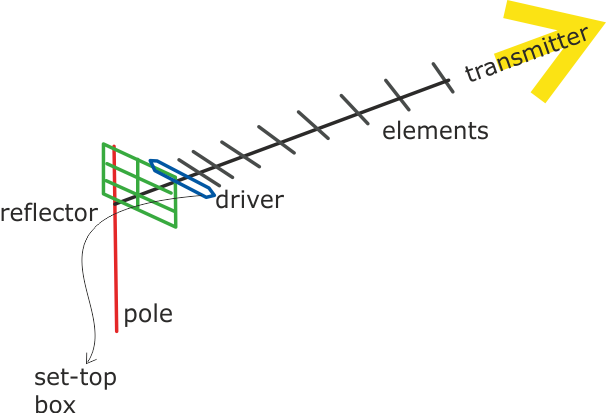 The
standard
type of TV aerial is known as the Yagi aerial. It is mounted on a pole, and consists of a rod with a reflector (shown green) at the back and many spiky elements (in grey) at the front. The connecting
cable
connects to the element nearest the reflector, known as the driver (shown in blue).
These Yagi aerials are directional and so pick up signals best from a
transmitter
that the rod points towards. The more elements the aerial has, the better it picks up a
signal
and becomes more directional.
A standard-type aerial is all that is required for
digital
TV
reception
in most places. These antennae have between 10 and 18 elements and a single reflector. These are recommended for new installations for good digital television reception, but will more often than not function perfectly in good reception areas.
Typically these aerials are designed to receive only some transmission frequencies - see "groups" below.
High Gain aerials

These aerials are designed for poor digital reception areas, and have two reflectors. For maximum signal strength, some digital high
gain
aerials have up to 100 elements. Since the
switchover
to digital-only transmissions back in October 2012, most UK households now have good
quality
digital TV signals.
A more expensive aerial is only required where the signal strength is low, but can often provide the whole Freeview reception where it might otherwise be impossible.
The CAI (that represents aerial installers) has four standards for digital TV aerials. The highest standard "1" is for homes on the fringes of coverage areas, intermediate standard "2" is suitable for use within the coverage area; minimum standard "3" is for good coverage conditions.
These aerials can be either
wideband
, or receive only selected frequencies - see "groups" below.
Grid

You may haved used a 'Grid aerial' for
analogue
reception, but as they are generally unsuitable for Freeview reception, they have now generally been replaced by the Yagi type. However in some places a Grid aerial installation may work for Freeview: otherwise replace with a standard Yagi aerial.
Indoor
Indoor aerials
are generally not suitable for Freeview reception. In areas of good signal strength it is often possible to receive some transmissions. Even where an aerial works, people often find that may get interruptions to their viewing (or recording).
Loft mounted
Loft
mounted arrivals are not generally recommended for Freeview reception, as the
roof
tiles and plumbing will degrade the signal. Some compensation for this loss of signal can be made by using
satellite
-grade cable to connect the set top box to the aerial.
Positioning
The best position for a TV aerial is mounted outdoors, as high from the ground as possible, pointing directly at the transmitter. The signal can be blocked by hills and tall buildings. It should be positioned away from any other aerials.
Horizontal or vertical?
The transmitter will either use vertical
mode
which requires the elements of your aerial to be up-down, or horizontal mode which requires them to be level with the ground.
Groups
Both analogue and digital television is transmitted the same group of transmission frequencies (known as
channel
21 through to 60). A coloured marking on the aerial shows the group.

To create the best possible analogue
picture
, TV transmissions from adjacent transmitters have been designated to several different groups of frequencies. By using an aerial that receives only the
channels
in the correct group, the analogue picture can be kept free from
interference
.
To receive Freeview transmissions from the same transmitter it has been sometimes necessary to use frequencies that are not part of the transmitter's normal group. When this has occurred, the aerial will need to be replaced with a "wideband" aerial (also known as group W) - one that covers every group.
As
Ofcom
is planning to move the TV frequencies again - perhaps as soon as 2018 - it may be wise to use a wideband aerial if you can to ensure you can keep viewing Freeview for many years to come.
Comments
Wednesday, 30 March 2011

Fee: for storm damage you could see whether the buildings insurance covers it.

Aerials aren't actually that expensive, ranging from £22 for a log periodic, £26 for an 18-element Yagi, up to £65 for the whopping great X-type aerials (that very few people need). Parts generally aren't replaceable. (These prices from Online TV FM DAB Aerial sales )

The reflector is the part at the back which ensures that only signals from in front of the aerial are picked up, and it also plays a large role in the gain on the lowest channels. Wideband aerials are often compromised at low frequencies anyway.

Replacement of a like-for-like aerial shouldn't need any extra planning and testing, but the installer will have a standard call-out charge and an hourly labour charge. The charges will probably depend on how accessible the aerial pole is. (RG47SH)

Mike Dimmick's 2,486 posts
M
Mike Dimmick
11:58 AM
Reading

Jon: Could you please provide your full postcode? That allows us to see how good the coverage is where you are.

Was there already a TV in the room before, and was the picture clear on that TV? Is the TV connected to the roof aerial, a loft aerial, or an indoor aerial?

If the same aerial feeds the main downstairs TV, do you get a clear picture when you use the analogue TV functions? If that set has a Freeview tuner, do you get reliable Freeview service on it?

Generally if you're feeding more than one room, you get best results using an amplified splitter, fitted as close to the aerial as possible, with just enough amplification to offset the extra losses from splitting the signal. Adding additional aerials can cause problems with the first aerial - they are designed to be fitted with a lot of free space around them.

If you have enough signal, you can use a passive (unamplified) splitter.

Mike Dimmick's 2,486 posts
Mike's:
map
M's Freeview map
terrain
M's terrain plot
waves
M's frequency data
M's Freeview Detailed Coverage
Sunday, 3 April 2011
G
Graham
1:44 PM
Nottingham

First stupid question about Digital.
What is the difference between Digital cable and the older analogue cable. Reason I am asking that I currently run 4 TVs through an amp/splitter including a single sky and DVD player so all TVs in house can pick up on SKY or DVD or normal TV. I hope that makes sense. Hate to pull out all that cable and have to replace.

Graham's 1 post
Graham's:
map
G's Freeview map
terrain
G's terrain plot
waves
G's frequency data
G's Freeview Detailed Coverage
M
Mike Dimmick
6:33 PM
Reading

Graham: There's no such thing as analogue or digital cable. It's all just 75-ohm coaxial cable.

However, for analogue terrestrial TV in the UHF band, it was normal to use a fairly cheap cable frequently called 'low loss coax'. It probably was 'low loss' compared to the stuff used for 405-line VHF TV, but it's not really that great. The major problem is that the screen - metal strands just beneath the outer insulation - is very sparse. This allows it to pick up a lot of electrical noise.

On analogue TV, a brief bit of electrical noise just causes a bright or dark patch usually just on one line - blink and you missed it. For digital, it usually causes the picture to break up for a frame or two and the sound to cut out or glitch.

It's now recommended to use 'satellite-grade' cable, with a dense braid over copper foil tape screening. This is much less likely to allow interference, and much less signal is dropped over the same length.

If you don't notice any noise on the picture of any of the TVs now, you probably don't need to do anything. Get someone to watch the sets while you turn your thermostat on and off, run the vacuum cleaner, start and stop the cooker (if electric), and just see whether there's any visible noise or patterning.

You should already be able to get reliable digital pictures, if your aerial points to the Waltham or Belmont transmitter. Waltham is most likely. It could also point to the Sutton Coldfield transmitter, but you probably won't get a usable digital signal from there yet (and it's not your best option). If you get BBC East Midlands news, it's probably Waltham. If West Midlands, Sutton Coldfield. If Yorkshire & Lincolnshire (Look North), Belmont.

Switchover dates: Waltham, 17 August; Sutton Coldfield, 7 September; Belmont, 3 August.

Mike Dimmick's 2,486 posts
Mike's:
map
M's Freeview map
terrain
M's terrain plot
waves
M's frequency data
M's Freeview Detailed Coverage
Tuesday, 5 April 2011

We are due to switch over to digital in August this year (postcode S11 7PD). Our aerial is adequate for current analogue (although a bit dodgy on windy days!). We could probably do with upgrading the aerial anyway, but would like to know if it is possible to change the aerial without changing the cable from the roof. This is because the cable enters the house at the roof of a single storey extension and runs all the way down an internal wall to the living room.
As we are planning to move house very soon, and the room has recently been redecorated,we need the simplest possible option.
At the moment we aren't able to get any digital channels using a set-top box (though only a cheapy box!). Is this likely to improve when the analogue signal is turned off, or will we have to bite the bullet and overhaul what we've got completely?

Annie's 6 posts
Annie's:
map
A's Freeview map
terrain
A's terrain plot
waves
A's frequency data
A's Freeview Detailed Coverage
G
Gill Reilly
7:47 PM
Dundee

Hi there, I have had sky services in my house for 6yrs and my TV/sky is received through my sky dish - no ariel. My sky services end this week do I need a digital ariel now for my tv? (my TV is old 6yrs too)or do I also need a new tv? my postcode DD5 3TA. Many thanks GR

Gill Reilly's 2 posts
Gill's:
map
G's Freeview map
terrain
G's terrain plot
waves
G's frequency data
G's Freeview Detailed Coverage

Gill Reilly: When you say your Sky services will end do you mean your sky subscription runs out? If you still have your Sky box you will continue to receive "free to air" channels and with a Sky card inserted a number of "free to view" channels which are encrypted but not part of a Sky subscription package.Note that if you have a Sky+ box the recording/playback facility will not work without a subscription in place.

KMJ,Derby's 1,811 posts
G
Gill Reilly
9:03 PM
Dundee

KMJ Derby,
I've cancelled down my sky and I will still have my box thats great to know that I will still be able to to get free to air channels..thanks again G
p.s. just wondering...if I was to purchase a digital TV with built in free view how would that work with the above mentioned?

Gill Reilly's 2 posts
Gill's:
map
G's Freeview map
terrain
G's terrain plot
waves
G's frequency data
G's Freeview Detailed Coverage

Gill Reilly: To view the output of the Sky box connect it to the tv via the scart socket. If you wish to receive Freeview channels via the tv's internal tuner you will need to connect a UHF tv aerial to the aerial socket on the tv. According to the Digital UK postcode checker you should be able to receive all multiplexes with good reception from the Angus transmitter.

KMJ,Derby's 1,811 posts

Annie: It looks like the best bet at that location is the Sheffield (Crosspool) transmitter. To get all services using this transmitter, you would need a wideband aerial. If Channel 5 analogue is clear, you probably already have a wideband - Sheffield was originally a Group A transmitter (channels 21-35) but C5 was added right at the other end of the UHF band at C67.

If C5 is very snowy or doesn't work, that probably explains why you don't get digital signals now. They're transmitted at the upper end of the band, and require a wideband aerial. You're currently predicted to get excellent results on the BBC channels and on ITV1/ITV1+1/ITV2/C4/C4+1/More4/E4/C5, variable results on Multiplex A and poor results on the other two multiplexes, if you have the right aerial.

If you don't change the aerial, the public service multiplexes (BBC channels and ITV/C4/C5 channels listed above) will work, but the commercial multiplexes won't.

The aerial can be changed without replacing the cable, but it's recommended to do both. The cable normally used for installations before the mid-90s had very little screening and it's likely to pick up electrical noise. On analogue this just causes a bright patch on one line - on digital it causes break-up for several seconds. Also, cable that's been outside for a while tends to deteriorate with exposure to sunlight - the insulation weakends and it starts to let moisture in.

The cable inside the house is less likely to be damaged, so it could be spliced with a new external run, but is still likely to pick up more noise than a new cable would.

I know of a few installers in the Sheffield area. Perhaps you could try A.T.V (Aerials And Television) TV Aerial, DAB Aerial, FM Aerial. or Wright's Aerials (RG47SH)

Mike Dimmick's 2,486 posts
Select more comments
Your comment please