Freeview reception - all about aerials

Brian Butterworth published on UK Free TV
Updated 8th January 2014.


Your ability of receive all the Freeview transmissions depends on the suitability of aerial
the design style,
the "group", and
its physical location.
Standard type - Yagi aerial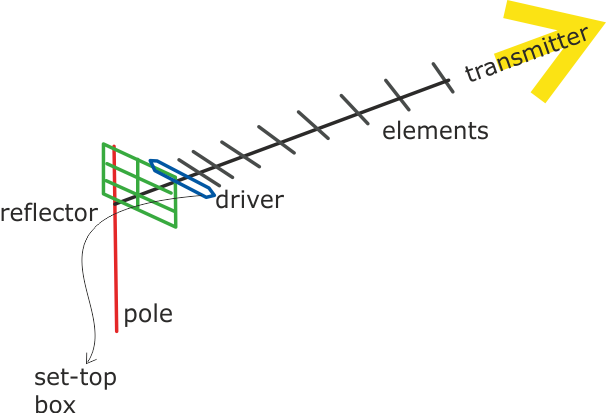 The
standard
type of TV aerial is known as the Yagi aerial. It is mounted on a pole, and consists of a rod with a reflector (shown green) at the back and many spiky elements (in grey) at the front. The connecting
cable
connects to the element nearest the reflector, known as the driver (shown in blue).
These Yagi aerials are directional and so pick up signals best from a
transmitter
that the rod points towards. The more elements the aerial has, the better it picks up a
signal
and becomes more directional.
A standard-type aerial is all that is required for
digital
TV
reception
in most places. These antennae have between 10 and 18 elements and a single reflector. These are recommended for new installations for good digital television reception, but will more often than not function perfectly in good reception areas.
Typically these aerials are designed to receive only some transmission frequencies - see "groups" below.
High Gain aerials

These aerials are designed for poor digital reception areas, and have two reflectors. For maximum signal strength, some digital high
gain
aerials have up to 100 elements. Since the
switchover
to digital-only transmissions back in October 2012, most UK households now have good
quality
digital TV signals.
A more expensive aerial is only required where the signal strength is low, but can often provide the whole Freeview reception where it might otherwise be impossible.
The CAI (that represents aerial installers) has four standards for digital TV aerials. The highest standard "1" is for homes on the fringes of coverage areas, intermediate standard "2" is suitable for use within the coverage area; minimum standard "3" is for good coverage conditions.
These aerials can be either
wideband
, or receive only selected frequencies - see "groups" below.
Grid

You may haved used a 'Grid aerial' for
analogue
reception, but as they are generally unsuitable for Freeview reception, they have now generally been replaced by the Yagi type. However in some places a Grid aerial installation may work for Freeview: otherwise replace with a standard Yagi aerial.
Indoor
Indoor aerials
are generally not suitable for Freeview reception. In areas of good signal strength it is often possible to receive some transmissions. Even where an aerial works, people often find that may get interruptions to their viewing (or recording).
Loft mounted
Loft
mounted arrivals are not generally recommended for Freeview reception, as the
roof
tiles and plumbing will degrade the signal. Some compensation for this loss of signal can be made by using
satellite
-grade cable to connect the set top box to the aerial.
Positioning
The best position for a TV aerial is mounted outdoors, as high from the ground as possible, pointing directly at the transmitter. The signal can be blocked by hills and tall buildings. It should be positioned away from any other aerials.
Horizontal or vertical?
The transmitter will either use vertical
mode
which requires the elements of your aerial to be up-down, or horizontal mode which requires them to be level with the ground.
Groups
Both analogue and digital television is transmitted the same group of transmission frequencies (known as
channel
21 through to 60). A coloured marking on the aerial shows the group.

To create the best possible analogue
picture
, TV transmissions from adjacent transmitters have been designated to several different groups of frequencies. By using an aerial that receives only the
channels
in the correct group, the analogue picture can be kept free from
interference
.
To receive Freeview transmissions from the same transmitter it has been sometimes necessary to use frequencies that are not part of the transmitter's normal group. When this has occurred, the aerial will need to be replaced with a "wideband" aerial (also known as group W) - one that covers every group.
As
Ofcom
is planning to move the TV frequencies again - perhaps as soon as 2018 - it may be wise to use a wideband aerial if you can to ensure you can keep viewing Freeview for many years to come.
Comments
Wednesday, 20 April 2011

Franca - If you plug your postcode in at top left of this page you will get an indication of the likely strength of signal where you are.

"e1w london" makes no sense.

Unless you have a strong signal you will need an aerial on the roof and a good lead down from it to your TV/set top box tuner.

Steve's 1,173 posts
Steve's:
map
S's Freeview map
terrain
S's terrain plot
waves
S's frequency data
S's Freeview Detailed Coverage
Thursday, 21 April 2011
M
Michael O'Pray
12:22 AM
Daventry

I am back to the situation I was in on Sunday night. All the channels that were unwatchable at lunchtime today are now OK at midnight

They are on the ARQB post configuration. Other than discovering that ARQB has the problem channels I couldn't see how the link give me any help?

The inversion effect doesn't seem to explain anything which is occurring


What is it about the lateness of the hour which suddenly give me good reception on those channels which are unwatchable earlier on.

It all suggests that a good signal is possible and it isn't the wrong transmitter or my equipment that is the problem.

So what exactly is happening that is fully explained by good reception late at night.

Does ARQB simply get stronger late at night and if so why.

OR is ARQB still improving the signal without admitting that it still has some way to go in the moderate reception area. The map shows that Daventry is on the yellow/green line.

Could it be that ARQB is still working on its poor signal in Daventry?

I really am no further forward in solving my issue

Michael O'Pray's 11 posts
Michael's:
map
M's Freeview map
terrain
M's terrain plot
waves
M's frequency data
M's Freeview Detailed Coverage

Michael O'Pray. Have you asked any neighbours if they have the same problems?

John's 29 posts
John's:
map
J's Freeview map
terrain
J's terrain plot
waves
J's frequency data
J's Freeview Detailed Coverage

Michael O'P - If you are using the Wrekin, they have been switching a lot of things around so hard to draw inferences. See what happens over the w/end.

If your signal is marginal it is possible that time of day, or rather conditions that change day/night, would be critical.

Steve's 1,173 posts
Steve's:
map
S's Freeview map
terrain
S's terrain plot
waves
S's frequency data
S's Freeview Detailed Coverage

Michael O'Pray: Signal strength usually increases overnight, due to refraction off the atmosphere. This 'tropospheric enhancement' is absolutely normal. The actual effect on your reception depends on whether your local transmitter's propogation is enhanced, or if you start picking up atmospheric signals from a distant transmitter.

Having checked the terrain, I can see that you're in a slightly difficult location. The south face of Borough Hill blocks line-of-sight to Sandy Heath. That means signals are quite a bit lower than they would otherwise be, and higher frequencies are usually worse affected than lower ones. At night, the tropospheric enhancement carries the signal over the terrain and usually that will improve your reception enough to be usable.

Careful re-siting of the antenna might optimize your reception. More height might help a bit, but you'd need a very tall pole to see over the hill. Re-cabling would reduce the amount of signal lost in the cable. Ultimately, though, the only thing that will really help is the power increase in September (and the move to the main antenna that goes with it).

Mike Dimmick's 2,486 posts
M
Michael O'Pray
3:45 PM
Daventry

I switched on this morning at about 11:00am and the poor signal group was fine. This is the first time I have been able to get good reception in the morning. I have just switched on again as of 3:30pm and they are unwatchable again.

So in the 4 hour intervention my cabling hasn't changed, the aerial direction hasn't changed, the weather hasn't changed and it isn't dark.

It seem to me that it is connected to the ARQB signal strength. It is still fluctuating. ARQB can transmit a strong enough signal but cannot currently maintain its strength.

Hopefully ARQB is making progress and will get it right. It would help if there was somewhere I could go to get an admission that signal strength is fluctuating but is being worked on.

PS My aerial points towards Sandy Heath. The Wrekin is miles away in the wrong direction and I don't think it has any relevance to my problem.



Michael O'Pray's 11 posts
Michael's:
map
M's Freeview map
terrain
M's terrain plot
waves
M's frequency data
M's Freeview Detailed Coverage

M O'P - the weather you see may not have changed, but the ionisation of the troposphere certainly will have due to all that sunlight taking effect over time.

The basic problem is almost certainly that the signal is very weak. With analogue a poor picture would get worse/better, but digital is far more "works well"/"does not work at all". Called "the digital cliff".

You might try an aerial amplifier. The experts here will say it will only amplify noise - but experience tells me it sometimes makes a critical difference!

Steve's 1,173 posts
Steve's:
map
S's Freeview map
terrain
S's terrain plot
waves
S's frequency data
S's Freeview Detailed Coverage

Michael O'Pray: When I say 'overnight', that's a simplification. It's due to warm and cool layers in the atmosphere, so it changes as the atmosphere warms and cools. It does take a few hours for the effects of sunlight to alter reception.

The broadcasters have known about the actual radiation pattern of the new aerials since they were put up last year, and the old panels since 1998. ArqB is simply using Mux B's old connection to its old antenna: in fact what they probably did was unplug the Mux B input from that transmitter and plug in the new one for ArqB. They're not allowed to alter anything, and largely they can't alter anything - the whole reason it's up at C67 is because there is no better option, until C48 is freed up by later switchovers. The maximum power is set by the plan and it's the same as the power level used by Mux B so as not to interfere (too much) with other transmitters.

Mike Dimmick's 2,486 posts
M
Michael O'Pray
7:28 PM
Daventry

I don't want to appear to be argumentative or ungrateful for the responses I am getting but if it is affected by the sun and heat alone or in the main then at 11:00 am this morning I'd have thought the overnight cool conditions such as exist at say midnight would have largely gone by 11:00am and the extra heat in the 4 hours to 3:00pm would have been marginal. Certainly it wasn't that much warmer at 3:00pm than at 11:00am.

Or is it the case that the temp in the atmosphere in which the waves travel are affected more than on the ground so the fluctuations are greater than experienced on the ground.

At what height do the digi waves travel?



Michael O'Pray's 11 posts
Michael's:
map
M's Freeview map
terrain
M's terrain plot
waves
M's frequency data
M's Freeview Detailed Coverage

MO'P - It's about what happens 5 miles high, not at ground level where surface heating predominates. And sun heating is only one factor in what happens.

Tropospheric propagation - Wikipedia, the free encyclopedia

Here's a link for your homework!

(LL145HD)

Steve's 1,173 posts
Select more comments
Your comment please