Freeview reception - all about aerials

Brian Butterworth published on UK Free TV
Updated 8th January 2014.


Your ability of receive all the Freeview transmissions depends on the suitability of aerial
the design style,
the "group", and
its physical location.
Standard type - Yagi aerial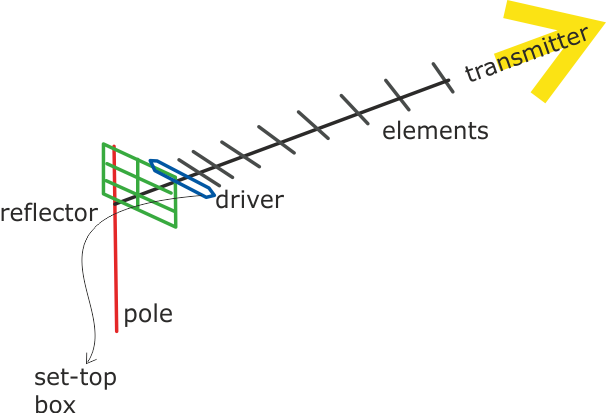 The
standard
type of TV aerial is known as the Yagi aerial. It is mounted on a pole, and consists of a rod with a reflector (shown green) at the back and many spiky elements (in grey) at the front. The connecting
cable
connects to the element nearest the reflector, known as the driver (shown in blue).
These Yagi aerials are directional and so pick up signals best from a
transmitter
that the rod points towards. The more elements the aerial has, the better it picks up a
signal
and becomes more directional.
A standard-type aerial is all that is required for
digital
TV
reception
in most places. These antennae have between 10 and 18 elements and a single reflector. These are recommended for new installations for good digital television reception, but will more often than not function perfectly in good reception areas.
Typically these aerials are designed to receive only some transmission frequencies - see "groups" below.
High Gain aerials

These aerials are designed for poor digital reception areas, and have two reflectors. For maximum signal strength, some digital high
gain
aerials have up to 100 elements. Since the
switchover
to digital-only transmissions back in October 2012, most UK households now have good
quality
digital TV signals.
A more expensive aerial is only required where the signal strength is low, but can often provide the whole Freeview reception where it might otherwise be impossible.
The CAI (that represents aerial installers) has four standards for digital TV aerials. The highest standard "1" is for homes on the fringes of coverage areas, intermediate standard "2" is suitable for use within the coverage area; minimum standard "3" is for good coverage conditions.
These aerials can be either
wideband
, or receive only selected frequencies - see "groups" below.
Grid

You may haved used a 'Grid aerial' for
analogue
reception, but as they are generally unsuitable for Freeview reception, they have now generally been replaced by the Yagi type. However in some places a Grid aerial installation may work for Freeview: otherwise replace with a standard Yagi aerial.
Indoor
Indoor aerials
are generally not suitable for Freeview reception. In areas of good signal strength it is often possible to receive some transmissions. Even where an aerial works, people often find that may get interruptions to their viewing (or recording).
Loft mounted
Loft
mounted arrivals are not generally recommended for Freeview reception, as the
roof
tiles and plumbing will degrade the signal. Some compensation for this loss of signal can be made by using
satellite
-grade cable to connect the set top box to the aerial.
Positioning
The best position for a TV aerial is mounted outdoors, as high from the ground as possible, pointing directly at the transmitter. The signal can be blocked by hills and tall buildings. It should be positioned away from any other aerials.
Horizontal or vertical?
The transmitter will either use vertical
mode
which requires the elements of your aerial to be up-down, or horizontal mode which requires them to be level with the ground.
Groups
Both analogue and digital television is transmitted the same group of transmission frequencies (known as
channel
21 through to 60). A coloured marking on the aerial shows the group.

To create the best possible analogue
picture
, TV transmissions from adjacent transmitters have been designated to several different groups of frequencies. By using an aerial that receives only the
channels
in the correct group, the analogue picture can be kept free from
interference
.
To receive Freeview transmissions from the same transmitter it has been sometimes necessary to use frequencies that are not part of the transmitter's normal group. When this has occurred, the aerial will need to be replaced with a "wideband" aerial (also known as group W) - one that covers every group.
As
Ofcom
is planning to move the TV frequencies again - perhaps as soon as 2018 - it may be wise to use a wideband aerial if you can to ensure you can keep viewing Freeview for many years to come.
Comments
Tuesday, 9 August 2011

I am NOT american.

dont know why the flag says so !

my postcode is: NE66 2XL.
I have an indoor aerial (very old) and freeview box. I get nearly all channels but a few are missing/bad. Do i need a new aerial ? Where is my transmitter ?

Thanks for all your help


steve's 2 posts
steve's:
map
S's Freeview map
terrain
S's terrain plot
waves
S's frequency data
S's Freeview Detailed Coverage

UK digital TV reception predictor

steve - click the links next to your USA flag! Or here
UK digital TV reception predictor
Do you point your ae north or south?

A proper outdoor ae would almost certainly help - but may not be needed in the long run

Steve P's 1,173 posts

steve: Reception predictor indications suggest that you should get good reception from Chatton (13mls)or possibly from Pontop Pike(35mls) although Chatton is the one you are most likely receiving, to check this go into the TV (or boxes) tuning menu / signal check area whilst on BBC1, and if its Chatton you will see Ch40 indicated, however if its Pontop Pike it will be Ch48.

Regarding your aerial, it should be pointing roughly to the left of North for Chatton, and if at all possible would be better mounted externally, even using a gutter mount, as the Chatton transmitter is transmitting on pre switchover power and will be doing until August of next year, so nothing will improve until then.



jb38's 7,179 posts
Wednesday, 10 August 2011

steve: Sorry, but the database I use, FREE IP to Country Database (IPV4 and IPV6) says your IP address is allocated to the US.

Briantist's 38,906 posts
Friday, 12 August 2011

I live in London SW19, got new TV had problems with picture freezing so I upgraded my aerial from old type in loft to new Philex 48 element high gain wideband digital aerial again in the loft. However i could not pick up BBc1,2 or BBC News24, so fitted a booster. Then i was able to receive BBC but lost ITV3 on Channel 10 & Quest on 38. I have disconnected all periferal freeview boxes so just new TV & new aerial & booster fitted. Any ideas, please?

Peter K's 3 posts

Peter K: It depends on your particular location with reference to the distance from the transmitter, which on checking could be as near as 6 miles from Crystal Palace, as where problems are experienced at relatively close distances from a transmitter the use of a high gain aerial does not help the situation, and indeed can make it worse!

This is basically because high gain aerials generally have sharper pick up patterns, this meaning that any obstruction to the signal path will have a much greater effect than a lower gain (and broader pick up) pattern aerial, and to be factually honest about it, sometimes in these type of situations greatly improved results can be obtained with the simplest of aerials (absolute max of 10 elements) when used in conjunction with about a 15db (or even more) amplifier to compensate for the aerials low gain.

High gain multi-element aerials only really come into their own where poor reception is mainly due to sheer distance from the transmitting station, a type of situation that I cannot say is particularly common in the UK, as bad reception is nearly always caused by signal obstructions of one sort or another, that is apart from seasonal atmospheric conditions or engineering works taking place, these generally causing interruptions to the service or periods of weaker signals.


jb38's 7,179 posts

Peter K - surprised you need an aerial at all, unless in a hollow in the ground behind a big building or something.

Do you need one for analogue?

Try your new TV with a set-top aerial only. Or a wire coat hanger.

If you put your postcode in top right there is much useful info linked.

Here too
UK digital TV reception predictor

Steve P's 1,173 posts
Sunday, 14 August 2011

When the change comes in with ariels next year, will I be able to pick up channels 1/5 using a indoor Ariel on this old portable tv in my bedroom?

tony's 1 post

tony - unless you tell us where you are - no idea.

But once digital switch over takes effect your old TV will not tune any channels, because analogue will be switched off - you will need a cheap set-top box. Assuming your TV has a SCART socket.

Steve P's 1,173 posts
Monday, 15 August 2011

tony: Generally speaking, indoor aerials are unsuitable for reliable Freeview reception.

Briantist's 38,906 posts
Select more comments
Your comment please