Freeview reception - all about aerials

Brian Butterworth published on UK Free TV
Updated 8th January 2014.


Your ability of receive all the Freeview transmissions depends on the suitability of aerial
the design style,
the "group", and
its physical location.
Standard type - Yagi aerial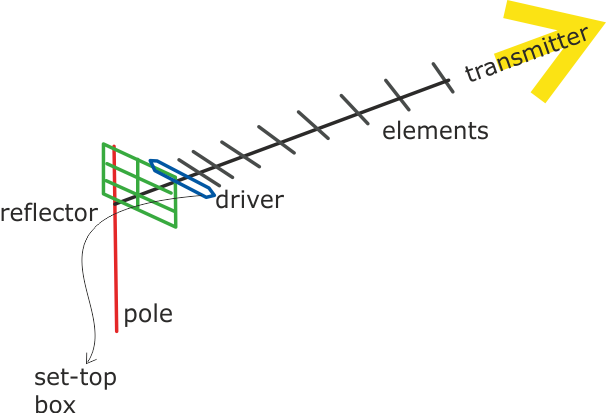 The
standard
type of TV aerial is known as the Yagi aerial. It is mounted on a pole, and consists of a rod with a reflector (shown green) at the back and many spiky elements (in grey) at the front. The connecting
cable
connects to the element nearest the reflector, known as the driver (shown in blue).
These Yagi aerials are directional and so pick up signals best from a
transmitter
that the rod points towards. The more elements the aerial has, the better it picks up a
signal
and becomes more directional.
A standard-type aerial is all that is required for
digital
TV
reception
in most places. These antennae have between 10 and 18 elements and a single reflector. These are recommended for new installations for good digital television reception, but will more often than not function perfectly in good reception areas.
Typically these aerials are designed to receive only some transmission frequencies - see "groups" below.
High Gain aerials

These aerials are designed for poor digital reception areas, and have two reflectors. For maximum signal strength, some digital high
gain
aerials have up to 100 elements. Since the
switchover
to digital-only transmissions back in October 2012, most UK households now have good
quality
digital TV signals.
A more expensive aerial is only required where the signal strength is low, but can often provide the whole Freeview reception where it might otherwise be impossible.
The CAI (that represents aerial installers) has four standards for digital TV aerials. The highest standard "1" is for homes on the fringes of coverage areas, intermediate standard "2" is suitable for use within the coverage area; minimum standard "3" is for good coverage conditions.
These aerials can be either
wideband
, or receive only selected frequencies - see "groups" below.
Grid

You may haved used a 'Grid aerial' for
analogue
reception, but as they are generally unsuitable for Freeview reception, they have now generally been replaced by the Yagi type. However in some places a Grid aerial installation may work for Freeview: otherwise replace with a standard Yagi aerial.
Indoor
Indoor aerials
are generally not suitable for Freeview reception. In areas of good signal strength it is often possible to receive some transmissions. Even where an aerial works, people often find that may get interruptions to their viewing (or recording).
Loft mounted
Loft
mounted arrivals are not generally recommended for Freeview reception, as the
roof
tiles and plumbing will degrade the signal. Some compensation for this loss of signal can be made by using
satellite
-grade cable to connect the set top box to the aerial.
Positioning
The best position for a TV aerial is mounted outdoors, as high from the ground as possible, pointing directly at the transmitter. The signal can be blocked by hills and tall buildings. It should be positioned away from any other aerials.
Horizontal or vertical?
The transmitter will either use vertical
mode
which requires the elements of your aerial to be up-down, or horizontal mode which requires them to be level with the ground.
Groups
Both analogue and digital television is transmitted the same group of transmission frequencies (known as
channel
21 through to 60). A coloured marking on the aerial shows the group.

To create the best possible analogue
picture
, TV transmissions from adjacent transmitters have been designated to several different groups of frequencies. By using an aerial that receives only the
channels
in the correct group, the analogue picture can be kept free from
interference
.
To receive Freeview transmissions from the same transmitter it has been sometimes necessary to use frequencies that are not part of the transmitter's normal group. When this has occurred, the aerial will need to be replaced with a "wideband" aerial (also known as group W) - one that covers every group.
As
Ofcom
is planning to move the TV frequencies again - perhaps as soon as 2018 - it may be wise to use a wideband aerial if you can to ensure you can keep viewing Freeview for many years to come.
Comments
Wednesday, 31 August 2011

Hi there. I have recently moved to Stroud from Chester. I was recieving the full 6 Freeview muxes previously including HD channels, and am now only recieving 2 muxes (BBC A, D3&4) but the digital uk website says I should also be recieving the BBC B (HD) mux as well, and with a strong signal at that.

My aerial is in a loft, but the other 2 muxes are recieving at close to 100% signal strength and quality as I am atop a hill facing the transmitter, only 2 miles away.

Would the signal degradation through the roof tiles be sufficient to degrade the HD mux so that my TV doesn't even pick it up during a manual scan of the frequencies?

Could It perhaps be my aerial type? here's a link to what my aerial model looks like http://www.martleyelectro….jpg

Cheers Guys

Stroud Dave's 1 post

Stroud Dave: Have you tried Wenvoe for the COM muxes? Aerial pointing WSW, set for horizontal polarisation. Regarding the HD mux from the Stroud relay, it might be that the aerial is sited in a null for that frequency and just needs slight repositioning.Otherwise you might have single frequency interference blocking the signal on C50.

KMJ,Derby's 1,811 posts

Stroud Dave: C46 for HD from Stroud, sorry.

KMJ,Derby's 1,811 posts
K
Ken Moverley.
8:30 PM
York

Hi, Have old sony tv model No KD28DX40U.
Have lost signal on channels 3&4 tv, when program tv get all signals.
Class 1 aerial installed. have to get signal from bisdale transmitter area,due to tall trees near house.On the fringe of all areas. Is tv too old or do I need better aerial?

Ken Moverley.'s 1 post
Ken's:
map
K's Freeview map
terrain
K's terrain plot
waves
K's frequency data
K's Freeview Detailed Coverage
R
Richard S
9:13 PM
Chesterfield

jb38 - Thanks for your response.

I have gone through the signal detection as you suggested.

On the external aerial all the MUXs were correctly tuned for Chesterfield. The good news with this is when I looked at the amp to find out the model (its a Fringe 4-way masthead) I found the dial where inserting a screwdriver can turn down the gain. I have done this to the lowest setting and now all the channels have returned, all on 100% signal with the exception of ch23 which is at 80% - I don't know how I had missed this when messing around with it before.

With the loft aerial, my last post was possibly misleading. You were correct originally that I am only missing COM3 on ch40 from this aerial - I guess it is probably best to wait for the power increase to see if this fixes it. It just seems odd that pre-switchover MUX2 was on ch40 at the same power as COM3 and it worked fine.

Thanks again for your advice

Richard S's 23 posts
Richard's:
map
R's Freeview map
terrain
R's terrain plot
waves
R's frequency data
R's Freeview Detailed Coverage
Thursday, 1 September 2011

Ken Moverley.: I'm sure that number rings a bell - sorry to say it's on this list - TVs and boxes that do not support the 8k-mode | ukfree.tv - independent free digital TV advice . You need a Freeview box.

Briantist's 38,908 posts

Ken Moverley.: Bilsdale is yet to switch over, this will happen some time next Autumn. While that TV will not work after switchover, that may not be the source of your current problem.

The Belmont transmitter has just switched over in the last few weeks, so it's possible that signals from that are strong enough to confuse your TV. Some equipment does support 8K mode but can't handle a combination of both modes. In this case, you would have to add a Freeview box.

The prediction for Bilsdale is pretty good, so you should check that the aerial is intact and still pointing the right way. Problems on the lowest channels (and you don't get lower than C21) usually indicate a problem with the reflector, the elements at the back of the aerial.

The TV is also on Digital UK's list of equipment that can't handle a larger Network Information Table at http://www.digitaluk.co.u…tnit , but since that says the TV software would freeze when you retuned, I assume you had the software update that corrected that problem.

Mike Dimmick's 2,486 posts
M
Mike O'Pray
5:45 PM
Daventry

I posted yesterday. It shows up on my posts with a time and date and yet it hasn't appeared here.

What do I need to do to ensure that it is seen?

Thanks

Mike O'Pray

Mike O'Pray's 17 posts
Mike's:
map
M's Freeview map
terrain
M's terrain plot
waves
M's frequency data
M's Freeview Detailed Coverage
M
Mike O'Pray
5:52 PM
Daventry

Here is the post I refer to in my previous note. I have copied and pasted.

Please ignore point 2 as I have discovered that I can get Look East on another channel

However I am curious as to how I get E Mids so well when neither aerial points that way and I am shown as being way out of the range of the Waltham transmitter

Yesterday's post reads:

I get digital from Sandy Heath at the moment but the transmitter strength map shows that I would be slightly better off using Sutton Coldfield.

Assuming that "slightly better off" will be worthwhile, there may be two problems in changing:

1. I have two aerials, one of which points to somewhere in the East Mids( I assume Waltham but I am too far away according to the map although E Mids news comes in strongly) and the other to Sandy Heath.

In analogue days the aerial fitter pointed the aerial N.E. based on a line of high trees quite close to the property interfering with the signal from the S Coldfield area(W Mids).

If I had the aerial moved to point to S Coldfield would the same problem apply to digital?

2. If I want to hear local news for N'pton and Daventry area I need Look East but I take it that as I currently get good digi reception on BBC East then I could simply find the BBC Look East channel when needed?

Essentially my problem was Film 4 and ITV4 reception and todays re-tune based on Sandy Heath has made no difference but there is another re-tune on 14 Sept and then on 23 Nov.

Will these two further re-tunes improve both channels?

Thanks

Mike O'Pray

Mike O'Pray's 17 posts
Mike's:
map
M's Freeview map
terrain
M's terrain plot
waves
M's frequency data
M's Freeview Detailed Coverage

Mike O'Pray: You posted it on the Sutton Coldfield transmitter page, and I replied to it there. The link in 'My Posts' doesn't take you to the right page of comments, it takes you to the latest comments for that transmitter. The correct link is Freeview on Sutton Coldfield TV transmitter | ukfree.tv - independent free digital TV advice .

Mike Dimmick's 2,486 posts
Select more comments
Your comment please