Freeview reception - all about aerials

Brian Butterworth published on UK Free TV
Updated 8th January 2014.


Your ability of receive all the Freeview transmissions depends on the suitability of aerial
the design style,
the "group", and
its physical location.
Standard type - Yagi aerial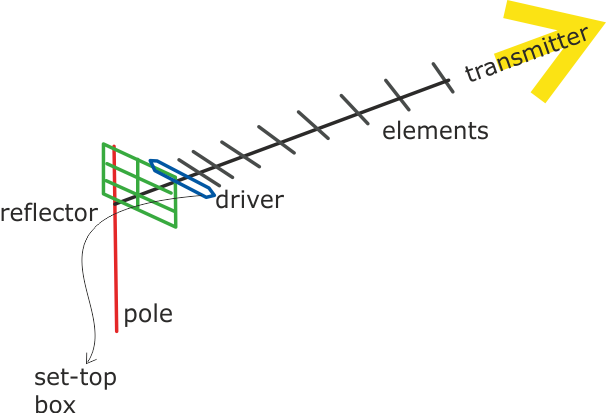 The
standard
type of TV aerial is known as the Yagi aerial. It is mounted on a pole, and consists of a rod with a reflector (shown green) at the back and many spiky elements (in grey) at the front. The connecting
cable
connects to the element nearest the reflector, known as the driver (shown in blue).
These Yagi aerials are directional and so
pick
up signals best from a
transmitter
that the rod points towards. The more elements the aerial has, the better it picks up a
signal
and becomes more directional.
A standard-type aerial is all that is required for
digital
TV
reception
in most places. These antennae have between 10 and 18 elements and a single reflector. These are recommended for new installations for good digital television reception, but will more often than not function perfectly in good reception areas.
Typically these aerials are designed to receive only some transmission frequencies - see "groups" below.
High Gain aerials

These aerials are designed for poor digital reception areas, and have two reflectors. For maximum signal strength, some digital high
gain
aerials have up to 100 elements. Since the
switchover
to digital-only transmissions back in October 2012, most UK households now have good
quality
digital TV signals.
A more expensive aerial is only required where the signal strength is low, but can often provide the whole Freeview reception where it might otherwise be impossible.
The CAI (that represents aerial installers) has four standards for digital TV aerials. The highest standard "1" is for homes on the fringes of coverage areas, intermediate standard "2" is suitable for use within the coverage area; minimum standard "3" is for good coverage conditions.
These aerials can be either
wideband
, or receive only selected frequencies - see "groups" below.
Grid

You may haved used a 'Grid aerial' for
analogue
reception, but as they are generally unsuitable for Freeview reception, they have now generally been replaced by the Yagi type. However in some places a Grid aerial installation may work for Freeview: otherwise replace with a standard Yagi aerial.
Indoor
Indoor aerials
are generally not suitable for Freeview reception. In areas of good signal strength it is often possible to receive some transmissions. Even where an aerial works, people often find that may get interruptions to their viewing (or recording).
Loft mounted
Loft
mounted arrivals are not generally recommended for Freeview reception, as the
roof
tiles and plumbing will degrade the signal. Some compensation for this loss of signal can be made by using
satellite
-grade cable to connect the set top box to the aerial.
Positioning
The best position for a TV aerial is mounted outdoors, as high from the ground as possible, pointing directly at the transmitter. The signal can be blocked by hills and tall buildings. It should be positioned away from any other aerials.
Horizontal or vertical?
The transmitter will either use vertical
mode
which requires the elements of your aerial to be up-down, or horizontal mode which requires them to be level with the ground.
Groups
Both analogue and digital television is transmitted the same group of transmission frequencies (known as
channel
21 through to 60). A coloured marking on the aerial shows the group.

To create the best possible analogue
picture
, TV transmissions from adjacent transmitters have been designated to several different groups of frequencies. By using an aerial that receives only the
channels
in the correct group, the analogue picture can be kept free from
interference
.
To receive Freeview transmissions from the same transmitter it has been sometimes necessary to use frequencies that are not part of the transmitter's normal group. When this has occurred, the aerial will need to be replaced with a "wideband" aerial (also known as group W) - one that covers every group.
As
Ofcom
is planning to move the TV frequencies again - perhaps as soon as 2018 - it may be wise to use a wideband aerial if you can to ensure you can keep viewing Freeview for many years to come.
Comments
Saturday, 17 September 2011

I have had the chance to check what Mike Dimmick said when I wrongly posted on the Sutton Coldfield tramsmitter forum

His advice was to stay with Sandy Heath.It appears from his reply that Film4 and ITV4 have moved to their final resting place on Sept 14th so it looks as if their signal strength and quality is all that it is going to be unless it is still powering up. How many days does it take to get to max power?

I am unsure if Des Collier is replying to my post of 5:35pm but if he is, can Des or any other knowledgeable person explain in simple what his reply means after the word aerial on line two. Specifically what is it that I need to do? Belmont and diplex group A with a group C/D to get all multiplexes means nothing to me.

Sorry but I need a simpler explanation

Thanks

Mike O'Pray

Mike O'Pray's 17 posts

M O'P - he means have two aerials, one good for some channels and another for others, with their signals joined by a "Diplexer" and sent down a single wire to below.

I think he is only using Belmont for illustration. Without your postcode cannot give specific advice.

Steve P's 1,173 posts

Hi,

I looked into my accounts today and after seeing the £50pm I'm paying for virgin thought it was time to return to freeview!
I live in Portsmouth and my setup used to work fine, but now it says no or bad signal and comes back with a 20% signal strength at best. Even the analogue signal
isn't anywhere near crystal, which isn't a great start. Looking at this article my aerial is a class 2 high gain
which I've attempted to line up with Rowridge. Elements forward facing vertically with the reflector
on the rear edge. This was is the loft working ok and I've pointed out the windows in the loft with no improvement. I was going to mount it on the roof but it's
not looking worth it at the moment. The set top box is a Humax Fox F2 which I got in 2005. All was ok a couple years back but now absolutely nothing.
I've had the aerial out and redone the contacts, added a (old) booster but still no go. Any help much appreciated?
I'm trying to reduce costs but stuck with my virgin for the mo.

Cheers

Gary


Gary's 1 post
Gary's:
map
G's Freeview map
terrain
G's terrain plot
waves
G's frequency data
G's Freeview Detailed Coverage

Gary - Rowridge is HORIZONTAL
UK digital TV reception predictor
59dB is a strong signal
Some boxes no longer work due to changed txd standards.
TVs and boxes that do not support the 8k-mode | ukfree.tv - independent free digital TV advice

Steve P's 1,173 posts
Sunday, 18 September 2011
M
Mike O'Pray
12:15 AM
Daventry

Steve P I take it that you mean two different types of aerial. I have two aerials which are the same but pointed in different directions although there is only one wire into the room. So does this indicate a diplex?

My post code is NN11 4HL

When I switched on tonight at about 7:30pm and tuned into ITV4 and Film4 the reception seemed better on both although the picture occasionally froze and there were small blocks in the picture also.

However I then connected the TV to the HDD box and switched to the SCART connection to connect the HDD.

The reception on both ITV4 and Film4 then became perfect and has remained that way all evening.

So is the signal strength still powering up to explain why ITV4 and Film4 were better although not perfect and will the powering up continue until the reception is perfect via the TV alone and if so in how many more days?

Secondly why does connection via the HDD improve the reception to what seems to be a perfectly satisfactory standard?

So via the HDD the problem may be solved but if I connect via the television only will the powering up eventually solve the problem in the next few days?

Thanks

Mike O'Pray's 17 posts
Mike's:
map
M's Freeview map
terrain
M's terrain plot
waves
M's frequency data
M's Freeview Detailed Coverage

M O'P - Different bits of kit can be a bit more or less sensitive so go with the flow!

You seem to be in a cusp of three different transmitters. I don't know the details of the changover but suggest you wait until it is all finished then optimise.

Do you have neighbours who use Freeview to compare notes?

Or a genuinely local TV ae installer?

Steve P's 1,173 posts

I hope I can now assume that the channels giving me ITV4 and Film4 will now stay at the strength I am now receiving today because I am now getting a good picture on both channels via the TV alone without connection to the HDD

So it would seem that since yesterday the signal strength has risen and this is confirmed by the figures that appear under the channels to indicate strength and quality.

However I am still curious about the apparent beneficial effect of the HDD last night.

Any ideas, anyone?

Thanks

Mike O'Pray

Mike O'Pray's 17 posts
Tuesday, 20 September 2011

MoP - All your signals are on the weak side, so your reception is probably very sensitive to changes in "propagation" conditions.

Radio propagation - Wikipedia, the free encyclopedia

Steve P's 1,173 posts

Weak signals may well be the case but what is it about the HDD that improves things? Last night for instance the signal strength via the TV had regressed and ITV4 and Film4 were not really watchable but were fine via the HDD

PS I just tried both channels in the last few minutes and exactly the same thing happened. Blocky and jerky via the TV and perfect via the HDD

I can only conclude that the HDD makes a difference but how?

Finally and just to repeat once more a question I asked on my first post a couple of days ago, is the signal strength still increasing since 14 Sept or is it at max and if so will the further change on 23 Nov make things any better for the two channels in question?

Thanks

Mike O'Pray's 17 posts

MoP - Some devices are a little more sensitive than others.

Dunno about your local timings issue, but presumably they intend change to be improvement. Check the pages for your local transmitters. You may do better with different ones.

Steve P's 1,173 posts
Select more comments
Your comment please