Freeview reception - all about aerials

Brian Butterworth published on UK Free TV
Updated 8th January 2014.


Your ability of receive all the Freeview transmissions depends on the suitability of aerial
the design style,
the "group", and
its physical location.
Standard type - Yagi aerial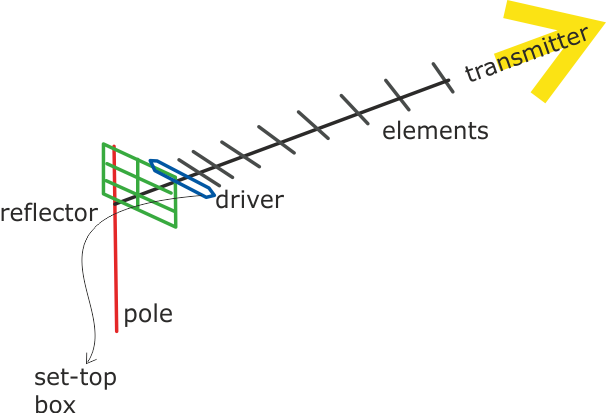 The
standard
type of TV aerial is known as the Yagi aerial. It is mounted on a pole, and consists of a rod with a reflector (shown green) at the back and many spiky elements (in grey) at the front. The connecting
cable
connects to the element nearest the reflector, known as the driver (shown in blue).
These Yagi aerials are directional and so pick up signals best from a
transmitter
that the rod points towards. The more elements the aerial has, the better it picks up a
signal
and becomes more directional.
A standard-type aerial is all that is required for
digital
TV
reception
in most places. These antennae have between 10 and 18 elements and a single reflector. These are recommended for new installations for good digital television reception, but will more often than not function perfectly in good reception areas.
Typically these aerials are designed to receive only some transmission frequencies - see "groups" below.
High Gain aerials

These aerials are designed for poor digital reception areas, and have two reflectors. For maximum signal strength, some digital high
gain
aerials have up to 100 elements. Since the
switchover
to digital-only transmissions back in October 2012, most UK households now have good
quality
digital TV signals.
A more expensive aerial is only required where the signal strength is low, but can often provide the whole Freeview reception where it might otherwise be impossible.
The CAI (that represents aerial installers) has four standards for digital TV aerials. The highest standard "1" is for homes on the fringes of coverage areas, intermediate standard "2" is suitable for use within the coverage area; minimum standard "3" is for good coverage conditions.
These aerials can be either
wideband
, or receive only selected frequencies - see "groups" below.
Grid

You may haved used a 'Grid aerial' for
analogue
reception, but as they are generally unsuitable for Freeview reception, they have now generally been replaced by the Yagi type. However in some places a Grid aerial installation may work for Freeview: otherwise replace with a standard Yagi aerial.
Indoor
Indoor aerials
are generally not suitable for Freeview reception. In areas of good signal strength it is often possible to receive some transmissions. Even where an aerial works, people often find that may get interruptions to their viewing (or recording).
Loft mounted
Loft
mounted arrivals are not generally recommended for Freeview reception, as the
roof
tiles and plumbing will degrade the signal. Some compensation for this loss of signal can be made by using
satellite
-grade cable to connect the set top box to the aerial.
Positioning
The best position for a TV aerial is mounted outdoors, as high from the ground as possible, pointing directly at the transmitter. The signal can be blocked by hills and tall buildings. It should be positioned away from any other aerials.
Horizontal or vertical?
The transmitter will either use vertical
mode
which requires the elements of your aerial to be up-down, or horizontal mode which requires them to be level with the ground.
Groups
Both analogue and digital television is transmitted the same group of transmission frequencies (known as
channel
21 through to 60). A coloured marking on the aerial shows the group.

To create the best possible analogue
picture
, TV transmissions from adjacent transmitters have been designated to several different groups of frequencies. By using an aerial that receives only the
channels
in the correct group, the analogue picture can be kept free from
interference
.
To receive Freeview transmissions from the same transmitter it has been sometimes necessary to use frequencies that are not part of the transmitter's normal group. When this has occurred, the aerial will need to be replaced with a "wideband" aerial (also known as group W) - one that covers every group.
As
Ofcom
is planning to move the TV frequencies again - perhaps as soon as 2018 - it may be wise to use a wideband aerial if you can to ensure you can keep viewing Freeview for many years to come.
Comments
Monday, 2 January 2012

jenny the only solution would be to ask your landlord if you can put an aerial into the bedroom. tell him that you will need to have a cable into the bedroom from the outside this will need a hole through the wall this should be a maximun of 10mm and finished with cable tidys. your landlord should be ok with this because when you leave he gets a free aerial. If you are very lucky he might even pay for it. Hope this helps

Mazbar's 384 posts

Jenny if you post your postcode we can help more; but if you got a good result with the "rabbit's ears" there is a good chance with some other form of internal aerial.

Or possibly even with a wire along the picture rail!

Did you try other locations for the rabbit ears?

Steve P's 1,173 posts

Hello All; any help appreciated.
I live in BD14 (Bradford, West Yorks. Official awitchover sites seem to indicate that I should be using Bilsdale transmitter (not switched over yet & shows Tyne-Tees). I am currently receiving Yorkshire TV & local shows, so I guess I'm on a different transmitter - Bradford West/Idle/Emley?
I get hardly any freeview channels (about 3)and reckon I need to upgrade my aerial. Before I do I would like to know which transmitter I should be aiming at, as the Group/polarisation is different. I think I am currently pointing in the direction of Idle & Bradford West (same direction from my house), definitely not at Emley. Looking at the info on this sit it seems to indicate that Emley would be my best bet. Any ideas?
I would appreciate any advice as I'm clueless. Thanks, Andy

Andy's 1 post
Andy's:
map
A's Freeview map
terrain
A's terrain plot
waves
A's frequency data
A's Freeview Detailed Coverage

Andy: Both Emley Moor and Keighley are indicated as the best possibilities with both being full service Freeview stations, Emley @ 13mls (151 degrees / H polarisation) having the edge over Keighley @ 9mls (338 degrees / V polarisation)

Idle @ 5 mls (37 degrees / V polarisation) is also shown possible but with three of its multiplexes having the status of variable until next September, and with Wharfedale @ 12mls (25 degrees / V polarisation) although indicating as good being only a Freeview light PSB station. (limited channels)

Bilsdale @ 48 mls (34 degrees / H) is really a no go situation until Sep 26th, as up until then only the BBC and SDN (ITV3 etc) is shown as possible, so unless there are any dastardly obstructions between you and Emley Moor I would aim to be receiving from there, possibly using Keighley or Idle as back up choices.

jb38's 7,179 posts

Andy: Have a look at where the aerials are pointing on neighbours' houses. I had a look on Google Streetview and I spotted some on Emley and, I'm surprised (because it's Tyne Tees), some on Bilsdale.

The idea of the predictor is to give an idea of what the likelihood of picking up different transmitters at a particular location is. Because it reckons that Bilsdale is the best of the lot, it therefore considers your area to be a Tyne Tees one. However, because the area isn't flat, what can and can't be picked up could well change from house to house.

As a fellow Yorkshireman, I would assume that you'd probably want to watch Yorkshire TV instead, so Emley (or one of its dependants) is probably going to be your preference, if you can receive from one of them.

There is presumably some reason (the topography) that stops people (or reduces their chances of) receiving from Emley. This plot shows where the ground obstructs your view of Emley Moor transmitter, with the aerial height set at 10 metres:


Terrain between ( m a.g.l.) and (antenna m a.g.l.) - Optimising UK DTT Freeview and Radio aerial location

As you can see, between about half a mile away from you for just over half a mile, the ground is higher than the line of sight between the transmitting aerial and your aerial (if it were at 10m above ground). That could explain why some in the area watch Tyne Tees.

You also do not have line of site with Keighley. However, you do with Idle, but it's only 50W at 4.6miles away. The other thing with Idle is that some of its services are co-channel with Bilsdale's pre-switchover digital services and this is reflected in the prediction until its switchover. That is, you could be liable to poor reception from Idle because some of Bilsdale's digital services use the same frequencies (up until 26th September).

Clearly your chances (particularly of getting Emley) might be reduced if you're in one of those bungalows, due to the aerial being lower down.

Number 37 has two aerials, one is Bilsdale (the lower horizontal one) and the other is vertical in (about) the same direction which I guess is Idle (although Wharfdale's only 9 degrees away so it could be that). The reason for the Bilsdale one could be so as to get analogue Channel 5 (as Idle didn't carry it).

You might need to be prepared to pay a bit more and get a taller mast (for example), such as is fitted on 37 so as to give you a shot, particularly if you're in a bungalow. As I say, what you might need to receive the same signal might vary property by property.


I'm not an aerial installer and these are my thoughts and observations as a technically-minded individual. These are the sorts of things that I would be looking at if I were researching likely possibilities.

Dave Lindsay's 5,724 posts

Andy: Which Freeview channels are you picking up?

You say that you are getting about three of them. Looking at what UHF channels that have been picked up will inform you as to which transmitter that they are coming from.

This page lists what services are broadcast on each multiplex, before switchover and after:

http://www.dtg.org.uk/ind…html

So if you look for BBC One, ITV1, ITV3, Pick TV and Yesterday and check which UHF channel they are on, in so doing, you will have surveyed every multiplex. You will also be able to see which ones you are missing.

Dave Lindsay's 5,724 posts

Dave Lindsay: Re:- "Because it reckons that Bilsdale is the best of the lot", I assume that "if" has accidentally been omitted after "Because"? as the DRG trade view predictor certainly doesn't indicate Bilsdale as a possible on the post code supplied by Andy.

jb38's 7,179 posts

jb38: I meant to say that the predictor reckons that Bilsdale is the best after switchover. From my observations, I believe that it is on this basis on which region it asserts a particular post code is in (even if that post code is surrounded by a different region).

I think that this is probably why Bilsdale is listed at the top on the list of transmitters; because it is the only one that scores all 100s across the board after switchover.

Dave Lindsay's 5,724 posts
D
dennis
6:47 PM
Woodbridge

Hello,
I live in IP12 area and since the digital switch over I have lost channels I could previously get ( film4 dave, yesterday to name 3). I have a standard roof top aerial and a Panasonic t.v. with built in Freeview.I have retuned many times to no avail. Would a high gain aerial make any difference?

dennis's 2 posts
dennis's:
map
D's Freeview map
terrain
D's terrain plot
waves
D's frequency data
D's Freeview Detailed Coverage

dennis: Lots of people in Suffolk are having the same problem since the signal was changed.

It will return on 27th June when the frequency and power of the signal will be increased to that of the others.

The reason for this is so as to fit in with other transmitters that haven't switched yet.

Dave Lindsay's 5,724 posts
Select more comments
Your comment please