Freeview reception - all about aerials

Brian Butterworth published on UK Free TV
Updated 8th January 2014.


Your ability of receive all the Freeview transmissions depends on the suitability of aerial
the design style,
the "group", and
its physical location.
Standard type - Yagi aerial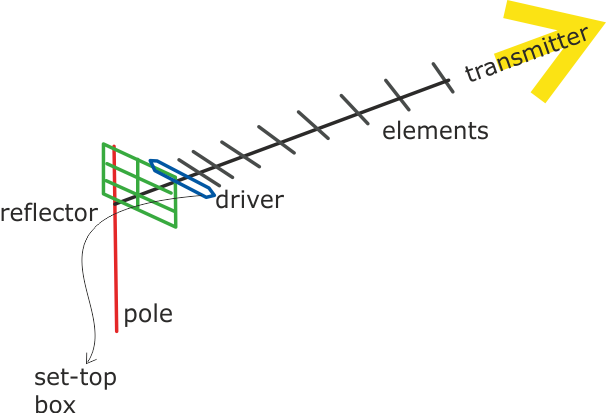 The
standard
type of TV aerial is known as the Yagi aerial. It is mounted on a pole, and consists of a rod with a reflector (shown green) at the back and many spiky elements (in grey) at the front. The connecting
cable
connects to the element nearest the reflector, known as the driver (shown in blue).
These Yagi aerials are directional and so
pick
up signals best from a
transmitter
that the rod points towards. The more elements the aerial has, the better it picks up a
signal
and becomes more directional.
A standard-type aerial is all that is required for
digital
TV
reception
in most places. These antennae have between 10 and 18 elements and a single reflector. These are recommended for new installations for good digital television reception, but will more often than not function perfectly in good reception areas.
Typically these aerials are designed to receive only some transmission frequencies - see "groups" below.
High Gain aerials

These aerials are designed for poor digital reception areas, and have two reflectors. For maximum signal strength, some digital high
gain
aerials have up to 100 elements. Since the
switchover
to digital-only transmissions back in October 2012, most UK households now have good
quality
digital TV signals.
A more expensive aerial is only required where the signal strength is low, but can often provide the whole Freeview reception where it might otherwise be impossible.
The CAI (that represents aerial installers) has four standards for digital TV aerials. The highest standard "1" is for homes on the fringes of coverage areas, intermediate standard "2" is suitable for use within the coverage area; minimum standard "3" is for good coverage conditions.
These aerials can be either
wideband
, or receive only selected frequencies - see "groups" below.
Grid

You may haved used a 'Grid aerial' for
analogue
reception, but as they are generally unsuitable for Freeview reception, they have now generally been replaced by the Yagi type. However in some places a Grid aerial installation may work for Freeview: otherwise replace with a standard Yagi aerial.
Indoor
Indoor aerials
are generally not suitable for Freeview reception. In areas of good signal strength it is often possible to receive some transmissions. Even where an aerial works, people often find that may get interruptions to their viewing (or recording).
Loft mounted
Loft
mounted arrivals are not generally recommended for Freeview reception, as the
roof
tiles and plumbing will degrade the signal. Some compensation for this loss of signal can be made by using
satellite
-grade cable to connect the set top box to the aerial.
Positioning
The best position for a TV aerial is mounted outdoors, as high from the ground as possible, pointing directly at the transmitter. The signal can be blocked by hills and tall buildings. It should be positioned away from any other aerials.
Horizontal or vertical?
The transmitter will either use vertical
mode
which requires the elements of your aerial to be up-down, or horizontal mode which requires them to be level with the ground.
Groups
Both analogue and digital television is transmitted the same group of transmission frequencies (known as
channel
21 through to 60). A coloured marking on the aerial shows the group.

To create the best possible analogue
picture
, TV transmissions from adjacent transmitters have been designated to several different groups of frequencies. By using an aerial that receives only the
channels
in the correct group, the analogue picture can be kept free from
interference
.
To receive Freeview transmissions from the same transmitter it has been sometimes necessary to use frequencies that are not part of the transmitter's normal group. When this has occurred, the aerial will need to be replaced with a "wideband" aerial (also known as group W) - one that covers every group.
As
Ofcom
is planning to move the TV frequencies again - perhaps as soon as 2018 - it may be wise to use a wideband aerial if you can to ensure you can keep viewing Freeview for many years to come.
Comments
Monday, 2 January 2012

Dave Lindsay: Yes! no problem, as I just assumed that what was actually meant didn't come out that way in the text, easy to do in a small reply box facility where you cant preview something before its posted, this being why I always type my answers to whoever out in an e-mail screen then copy and paste them into the reply box, this of course being why I might occasionally accidentally clash with another reply posting as I am not constantly viewing the reply box.

However on the subject of Bilsdale, yes you are quite correct, insomuch that in September it does show a slight edge over Emley in its overall reception qualities, although DRG's forecasts frequently amaze me with what I consider to be the level of educated guesswork involved with the predictions, these based on a limited number of actual on site field tests, that is if at all! as they make forecasts on stations that aren't actually transmitting as yet.

I dare say you have maybe had a look at the line of site between Emley Moor and Andy's location, which I haven't!, but I would like to think that some obstruction must be in evidence at some point along the line, as if DRG can predict that a station (Bilsdale) located at 48 miles away with a PSB erp of 100Kw and a COM erp of 50Kw, can better a station (Emley Moor) at only 13 miles with an erp of 175Kw across all muxes, then there just has to be.

jb38's 7,179 posts
D
dennis
7:37 PM
Woodbridge

Dave Lindsay. Thanks for the help.

dennis's 2 posts
dennis's:
map
D's Freeview map
terrain
D's terrain plot
waves
D's frequency data
D's Freeview Detailed Coverage

Hello

A strange thing happened yesterday evening, our BBC multiplex channels started to get poor reception and by the end of the night eventually lost all signal. I have re- scanned and tried all the unplugging things you suggest but still have no BBC channels. I have had no problems recieving these channels in the past. I am in Perth Scotland.

Might the aerial have gone wrong, I dont think it is a digital one.

Any info appreciated.

Robin's 1 post

Hi robin your aerial could be faulty first things first it has been windy so is your aerial still up and facing the right way, if it the next thing to check is the tv aerial cable for water this gets in when the cable is broken if there is water take the plug out of your tv or set to box and either change the cable from the aerial direct or replace the whole aerial and cable or get an aerial man to do it that is the safest thing to do.

Mazbar's 384 posts
Tuesday, 3 January 2012

... UK digital TV reception predictor

Andy - according to this you have a wide choice of adequate signals. Suggests local terrain issues.

A local ae fitter's knoiwledge may be what you need.

Steve P's 1,173 posts

jb38: I plotted the terrain using Megalithia and the link for Emley Moor is above. The line of sight is obstructed for about a mile just under half a mile away from Andy's location.


Andy: Perhaps you can confirm what you can and can't get and what channels they are on. Also, was there any interference on any analogue channels when they were on, and if so which?

I wonder, if you are on Idle, if could be interference from the pre-switchover digital signals from Bilsdale that is the problem. Bilsdale is in the same direction, albeit different polarisation. The predictor does suggest that reception from Idle will improve on the same date that these signals are turned off from Bilsdale.

Dave Lindsay's 5,724 posts

Dave Lindsay: Well I suppose that possibly confirms why DRG are predicting Bilsdale as having the edge over Emley, I do realise that Megalithia is quite a handy tool for terrain checking etc, but I personally find it a bit of a bind to use with the amount of conversions involved before you can get the results, which up to a point generally reveal what was suspected in the first place.

I cant see the link you refer to though!



jb38's 7,179 posts

Thanks to everyone for their help.
I've checked the channels & I only get the BBC stuff (7 channels on Channel 34). Can I assume from this that I am indeed pointing at Bilsdale? I get no other channels. The thing I don't understand is that I am definitely getting Yorkshire TV, not Tynes Tees - how can this be?
I think I'll call in a man!
Once again, thanks for the suggestions

Andy's 1 post
Andy's:
map
A's Freeview map
terrain
A's terrain plot
waves
A's frequency data
A's Freeview Detailed Coverage

Andy: If your aerial is horizontal and pointing a bit clockwise of north, then it is on Bilsdale. If this is the case, then you have not switched over to digital yet; you still get analogue (including regional programming BBC North East & Cumbria and Tyne Tees). The digital service you are receiving is (presumably) the only low power pre-switchover one you can get. If you are receiving anything with Yorkshire regional programming, then you must be receiving it from elsewhere (not where your aerial is directed), in which case you need to either retune or have an aerial installed on another (Yorkshire) transmitter).

On the other hand, if your aerial is directed at Idle which is the same direction as Bilsdale but aerial vertical, then the lone multiplex that you are getting on your digital receiver is wrong as it is tuned to the Bilsdale one. In which case (if you're on Idle), I would wipe the digital channels stored (maybe there is an option in the menu or maybe you will have to do this by running the auto-tune scan through with the aerial unplugged). Then manually tune in the Idle multiplexes: 24, 21, 27 (HD), 42, 45, 39.

Dave Lindsay's 5,724 posts
Wednesday, 4 January 2012

can you help me please.
(Crystal Palace transmitter)
We have sky downstairs.
However the TV's (not digital TV's) in the bedrooms are all analogue. We have never had an aerial on the roof as have never needed one.
will i need to have pay money i can't afford to have an aerial installed for these TV's to work following the switch in April.

Kind Regards


Sarah's 4 posts
Select more comments
Your comment please