Freeview reception - all about aerials

Brian Butterworth published on UK Free TV
Updated 8th January 2014.


Your ability of receive all the Freeview transmissions depends on the suitability of aerial
the design style,
the "group", and
its physical location.
Standard type - Yagi aerial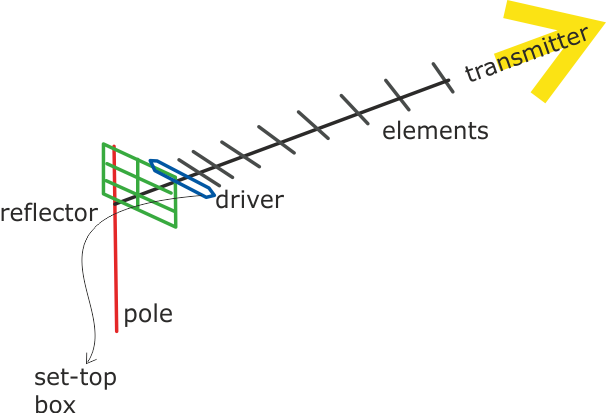 The
standard
type of TV aerial is known as the Yagi aerial. It is mounted on a pole, and consists of a rod with a reflector (shown green) at the back and many spiky elements (in grey) at the front. The connecting
cable
connects to the element nearest the reflector, known as the driver (shown in blue).
These Yagi aerials are directional and so pick up signals best from a
transmitter
that the rod points towards. The more elements the aerial has, the better it picks up a
signal
and becomes more directional.
A standard-type aerial is all that is required for
digital
TV
reception
in most places. These antennae have between 10 and 18 elements and a single reflector. These are recommended for new installations for good digital television reception, but will more often than not function perfectly in good reception areas.
Typically these aerials are designed to receive only some transmission frequencies - see "groups" below.
High Gain aerials

These aerials are designed for poor digital reception areas, and have two reflectors. For maximum signal strength, some digital high
gain
aerials have up to 100 elements. Since the
switchover
to digital-only transmissions back in October 2012, most UK households now have good
quality
digital TV signals.
A more expensive aerial is only required where the signal strength is low, but can often provide the whole Freeview reception where it might otherwise be impossible.
The CAI (that represents aerial installers) has four standards for digital TV aerials. The highest standard "1" is for homes on the fringes of coverage areas, intermediate standard "2" is suitable for use within the coverage area; minimum standard "3" is for good coverage conditions.
These aerials can be either
wideband
, or receive only selected frequencies - see "groups" below.
Grid

You may haved used a 'Grid aerial' for
analogue
reception, but as they are generally unsuitable for Freeview reception, they have now generally been replaced by the Yagi type. However in some places a Grid aerial installation may work for Freeview: otherwise replace with a standard Yagi aerial.
Indoor
Indoor aerials
are generally not suitable for Freeview reception. In areas of good signal strength it is often possible to receive some transmissions. Even where an aerial works, people often find that may get interruptions to their viewing (or recording).
Loft mounted
Loft
mounted arrivals are not generally recommended for Freeview reception, as the
roof
tiles and plumbing will degrade the signal. Some compensation for this loss of signal can be made by using
satellite
-grade cable to connect the set top box to the aerial.
Positioning
The best position for a TV aerial is mounted outdoors, as high from the ground as possible, pointing directly at the transmitter. The signal can be blocked by hills and tall buildings. It should be positioned away from any other aerials.
Horizontal or vertical?
The transmitter will either use vertical
mode
which requires the elements of your aerial to be up-down, or horizontal mode which requires them to be level with the ground.
Groups
Both analogue and digital television is transmitted the same group of transmission frequencies (known as
channel
21 through to 60). A coloured marking on the aerial shows the group.

To create the best possible analogue
picture
, TV transmissions from adjacent transmitters have been designated to several different groups of frequencies. By using an aerial that receives only the
channels
in the correct group, the analogue picture can be kept free from
interference
.
To receive Freeview transmissions from the same transmitter it has been sometimes necessary to use frequencies that are not part of the transmitter's normal group. When this has occurred, the aerial will need to be replaced with a "wideband" aerial (also known as group W) - one that covers every group.
As
Ofcom
is planning to move the TV frequencies again - perhaps as soon as 2018 - it may be wise to use a wideband aerial if you can to ensure you can keep viewing Freeview for many years to come.
Comments
Friday, 13 January 2012
M
Mike
12:48 PM
Biggleswade

I have to say that your explanation about different aerials is somewaht confusing. Firstly you say that Yagi aerials would not normally be used for new digital installions then further down (under grids) you say that a high=gain Yagi should be used! You talk about signal groups, including wideband, but give no examples of what these aerials look like! How can you identify a wideband aerial!!!

Mike's 6 posts
Mike's:
map
M's Freeview map
terrain
M's terrain plot
waves
M's frequency data
M's Freeview Detailed Coverage

Mike: A wideband aerial at first sight does not look any different to a "grouped" aerial. The actual difference would be in the length and spacing of the rods, which affects the frequencies at which the aerial performs correctly. The original yagi design has dimensions which are based on the wavelength of the frequency that it is supposed to receive. A "grouped" aerial is a compromise worked out to cover a small range of frequencies by tweaking the length and spacing of the rods. For example Group "A" covers C21 to C37. A "wideband" aerial is a bigger compromise, designed to cover, in the case of domestic TV reception, the frequencies of C21 to C68. The downside of covering all the available frequencies is a general reduction in the gain for the particular size of aerial. The reference to an aerial not normally fitted in new installations is a type commonly called a "contract" aerial. This is a yagi fitted with a single plate reflector, as in the basic example at the top of the page. The type of yagi which would be fitted is the one shown in the second set of illustrations, the reflector being in two sections. Variations to the yagi design are the tri-boom and X-beam types also depicted in the second set of illustrations. The group of the aerial is often indicated by a coloured plastic stopper inserted at the end of the boom. Red=A, yellow=B, green=C/D, brown=E, grey=K and black=W (wideband). The group is otherwise shown by a sticker, or letter stamped on the aerial.

KMJ,Derby's 1,811 posts

Brian - Mike has a point. The wording below may confuse the uninitiated?


A standard-type aerial is all that is required for analogue TV reception in most places. These antennae have between 10 and 18 elements and a single reflector. These are not recommended for new installations for good digital television reception, but will more often than not function perfectly in good reception areas.


Steve P's 1,173 posts
Sunday, 15 January 2012

Just fitted New TV aerial good reception most channels but no BBC

PETER's 2 posts

PETER: As your query concerns reception it would obviously be of assistance to know your location, preferably in the form of a post code as this would enable signal checking.

However, as the BBC (anywhere) is generally always the guaranteed to receive channel, then unless the transmitter was down when you first scanned I would be inclined to re-set your TV or box and carry out another scan.

jb38's 7,179 posts
Monday, 16 January 2012

Hi, I wonder if someone can help please. I have just moved into a flat (rented) and have three arial cables:
1) Looks like a F connecter
2) Box with both 'TV' and 'Sat' on it. (I've tried the tv and it doesn't work)
3) Normal tv ariel lead.

I want to plug my freeview box in ideally to the f connector lead as it's in the living room, but I can't work out what connector I need to hook it up to the freeview box. (the box has male and female points)

Can anyone advise please? I would be eternally grateful

Many thanks

Joy's 1 post

Joy: The "F" connector you see was likely used by the previous occupier having either Sky or Freesat, obviously this lead not being any use for Freeview, so if that's the only one in the living room then you will require to make some alterations.

Regarding the box referred to, what brand / model do you see printed on it? an when you say "normal TV lead" are you referring to one of the cables, and if so, was it this one you used to try out your Freeview box?

If the box you refer to is indeed an operational Satellite box then you might not require your Freeview box, as all you require to do is couple the box into your TV via the scart connectors.

Anyway, if you could give an update on the model of box further advice can then be given.

jb38's 7,179 posts

jb38 - are you telling Joy to

"Think outside the box"?


Sorry - getting my coat

Steve P's 1,173 posts

PETER:
jb38
thank you for advise will try that.
peter

PETER's 2 posts
Thursday, 19 January 2012

Hi can i get some help from the aerial riggers on this site. I have just come back from a recall i fitted an lp45 log periodic aerial down to a class a splitter in the front room short lead and a run to back room signal strength on all multiplexs is 70 to 77 dbuv after the splitter ( not amplifer) the problem is the picture is breaking up very bad on the samsung own signal strength it is going to 10 on the quality it should be 0. Have changed the aerial to a sr12 yagi type aerial this seems to have cured the problem. What i want to know is what could be causing the problem . Other information no trees in the way and i can see winter hill from the roof cable changed when the job was done last week, any help would go down great .

Mazbar's 384 posts
Select more comments
Your comment please