Freeview reception - all about aerials

Brian Butterworth published on UK Free TV
Updated 8th January 2014.


Your ability of receive all the Freeview transmissions depends on the suitability of aerial
the design style,
the "group", and
its physical location.
Standard type - Yagi aerial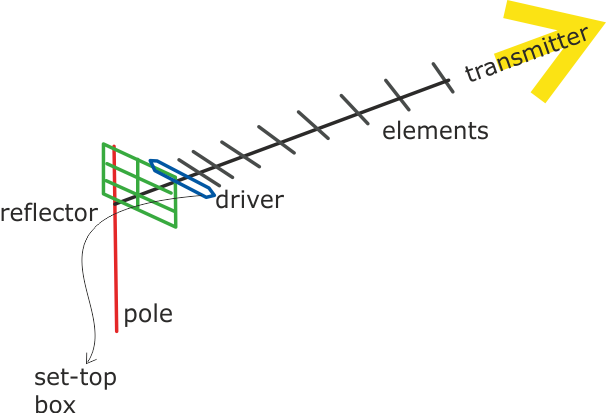 The
standard
type of TV aerial is known as the Yagi aerial. It is mounted on a pole, and consists of a rod with a reflector (shown green) at the back and many spiky elements (in grey) at the front. The connecting
cable
connects to the element nearest the reflector, known as the driver (shown in blue).
These Yagi aerials are directional and so pick up signals best from a
transmitter
that the rod points towards. The more elements the aerial has, the better it picks up a
signal
and becomes more directional.
A standard-type aerial is all that is required for
digital
TV
reception
in most places. These antennae have between 10 and 18 elements and a single reflector. These are recommended for new installations for good digital television reception, but will more often than not function perfectly in good reception areas.
Typically these aerials are designed to receive only some transmission frequencies - see "groups" below.
High Gain aerials

These aerials are designed for poor digital reception areas, and have two reflectors. For maximum signal strength, some digital high
gain
aerials have up to 100 elements. Since the
switchover
to digital-only transmissions back in October 2012, most UK households now have good
quality
digital TV signals.
A more expensive aerial is only required where the signal strength is low, but can often provide the whole Freeview reception where it might otherwise be impossible.
The CAI (that represents aerial installers) has four standards for digital TV aerials. The highest standard "1" is for homes on the fringes of coverage areas, intermediate standard "2" is suitable for use within the coverage area; minimum standard "3" is for good coverage conditions.
These aerials can be either
wideband
, or receive only selected frequencies - see "groups" below.
Grid

You may haved used a 'Grid aerial' for
analogue
reception, but as they are generally unsuitable for Freeview reception, they have now generally been replaced by the Yagi type. However in some places a Grid aerial installation may work for Freeview: otherwise replace with a standard Yagi aerial.
Indoor
Indoor aerials
are generally not suitable for Freeview reception. In areas of good signal strength it is often possible to receive some transmissions. Even where an aerial works, people often find that may get interruptions to their viewing (or recording).
Loft mounted
Loft
mounted arrivals are not generally recommended for Freeview reception, as the
roof
tiles and plumbing will degrade the signal. Some compensation for this loss of signal can be made by using
satellite
-grade cable to connect the set top box to the aerial.
Positioning
The best position for a TV aerial is mounted outdoors, as high from the ground as possible, pointing directly at the transmitter. The signal can be blocked by hills and tall buildings. It should be positioned away from any other aerials.
Horizontal or vertical?
The transmitter will either use vertical
mode
which requires the elements of your aerial to be up-down, or horizontal mode which requires them to be level with the ground.
Groups
Both analogue and digital television is transmitted the same group of transmission frequencies (known as
channel
21 through to 60). A coloured marking on the aerial shows the group.

To create the best possible analogue
picture
, TV transmissions from adjacent transmitters have been designated to several different groups of frequencies. By using an aerial that receives only the
channels
in the correct group, the analogue picture can be kept free from
interference
.
To receive Freeview transmissions from the same transmitter it has been sometimes necessary to use frequencies that are not part of the transmitter's normal group. When this has occurred, the aerial will need to be replaced with a "wideband" aerial (also known as group W) - one that covers every group.
As
Ofcom
is planning to move the TV frequencies again - perhaps as soon as 2018 - it may be wise to use a wideband aerial if you can to ensure you can keep viewing Freeview for many years to come.
Comments
Friday, 20 January 2012

Mazbar I am not onee of you experts but could it be too strong a signal?

Did you try an attenuator?

IIRC you are in Ormskirk? Most of your territory presumably gets a very chunky signal from W Hill?

Steve P's 1,173 posts

Steve p 18db anttenuator still no good found out today the change of aerial has made any differance

Mazbar's 384 posts

Mazbar: On reading your posting there was two little points I wondered about, these being, when you say that the signal on the Samsung is breaking up very badly is this on all channels? and if it isn't, then have you verified (by channel number checking) that the Samsung is receiving all of its compliment of six muxes from Winter Hill and not picking some up from elsewhere? something which isn't entirely impossible on looking at the reception predictions for that area, Moel y Parc and Llanddona being two of the possibilities particularly the former.

Just to clarify, on your latest posting are you meaning that the change of aerial has made no difference? and finally isn't there another TV in the house that can be used to assess performance?



jb38's 7,179 posts

Mazbar: Meant also to include, that although you will probably have them to hand anyway but the multiplexes used by Winter Hill are Ch's 62 - 59 - 54(HD)- 58 - 61 - 55, there is a very local channel called "Men" on 1Kw but you might not receive that at 15mls.

jb38's 7,179 posts
Saturday, 21 January 2012

jb38 all tuned into winter hill and all tvs are showing the fault

Mazbar's 384 posts

KMJ: Thanks for your explanation of aerials, we clearly have a contract one. Delayed response since I couldnt find my way back to section I had posted my original comment!

Mike's 6 posts
Mike's:
map
M's Freeview map
terrain
M's terrain plot
waves
M's frequency data
M's Freeview Detailed Coverage

Mazbar: Well now you have confirmed these important points I suppose you have to look at the situation logically, insomuch that "if" you are certain that your installation is sound but are getting these results from a transmitter that can actually be seen (albeit @ 15 miles) then the problem has to be caused by something out with your control, so in cases like that the first thing to do is enquire with the persons next door neighbours to find out if they have similar problems with reception, if though they don't then apart from some localised interference occurring then the location of your aerial could be unfortunately positioned in a signal dip spot where its subject to reflections, something quite commonly found in 360 degree testing from a mast, this where loft aerials score as they can be moved in the horizontal plane to compensate.

That being said though, if on the other hand the signal is indeed excessive then the attenuator I note that you tried might not be sufficient, so cant you connect a short lead onto the log that you originally fitted (which should have been ok) and couple that straight into the TV? as if you can manage to point in the direction of the station (in same room as TV) then that should pick it up if the signal is a bit over the top.

The other factor is, that if you say this problem is across all channels (multiplexes?) then that effectively excludes RF interference from other distant transmitters, so as you will gather there isn't a straight answer to the problem experienced as it requires a level of on site investigation / testing to determine the exact cause.

jb38's 7,179 posts

Jb going back on sunday the mast is only very short about 2ft as that was all that was needed so i'm going to try a 5 ft mast and replace the coax if this dosnt work god only knows what im going to do

Mazbar's 384 posts

Mazbar: Well although you could try another length of mounting pole I am very doubtful if it will make any difference, especially if the aerial presently has a reasonably clear view towards the transmitter, as signal variations of the beneficial are usually always as the result of making adjustments in the horizontal plane, which of course are not an easy option with a chimney or roof mounted aerial in general.

I would definitely make a couple of local enquiries whilst you are at the location, just in case if by any chance you have unwittingly ventured into a not too obvious black spot for reception, as I did notice when looking at the two reception predictors, both of which always having to be taken with the usual pinch of salt, that the UK Digital TV predictor (ex- Wolfbane) and DTG's are a bit at odds with each other, as although DTG gives a glowing indication for reception at L39 the former indicates Winter Hill with the lowest dBu/Vm of all, even although the TX powers are correct suggesting up to date information.

Another aspect exists though, that of your statement that changing the aerial had made a difference only later to discover that it hadn't, as this would suggest an erratic element attached to the problem, this being the difficulty with what you are attempting as any changes observed may only be temporary, this why its best to check on local reception in case you are flogging the proverbial dead horse!

Would appreciate an update on how you get on.

jb38's 7,179 posts

Jb i work in this road all the time and have never had this type of problem.

Mazbar's 384 posts
Select more comments
Your comment please