Freeview reception - all about aerials

Brian Butterworth published on UK Free TV
Updated 8th January 2014.


Your ability of receive all the Freeview transmissions depends on the suitability of aerial
the design style,
the "group", and
its physical location.
Standard type - Yagi aerial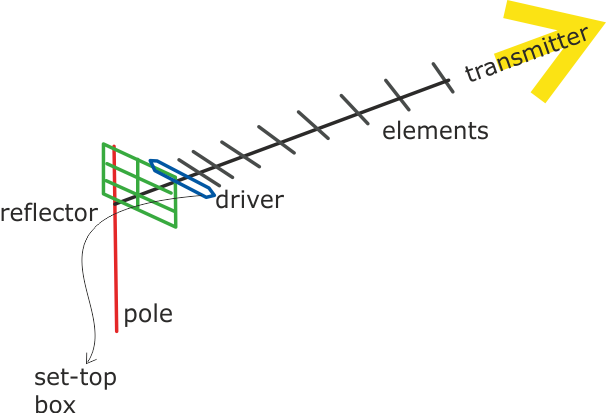 The
standard
type of TV aerial is known as the Yagi aerial. It is mounted on a pole, and consists of a rod with a reflector (shown green) at the back and many spiky elements (in grey) at the front. The connecting
cable
connects to the element nearest the reflector, known as the driver (shown in blue).
These Yagi aerials are directional and so
pick
up signals best from a
transmitter
that the rod points towards. The more elements the aerial has, the better it picks up a
signal
and becomes more directional.
A standard-type aerial is all that is required for
digital
TV
reception
in most places. These antennae have between 10 and 18 elements and a single reflector. These are recommended for new installations for good digital television reception, but will more often than not function perfectly in good reception areas.
Typically these aerials are designed to receive only some transmission frequencies - see "groups" below.
High Gain aerials

These aerials are designed for poor digital reception areas, and have two reflectors. For maximum signal strength, some digital high
gain
aerials have up to 100 elements. Since the
switchover
to digital-only transmissions back in October 2012, most UK households now have good
quality
digital TV signals.
A more expensive aerial is only required where the signal strength is low, but can often provide the whole Freeview reception where it might otherwise be impossible.
The CAI (that represents aerial installers) has four standards for digital TV aerials. The highest standard "1" is for homes on the fringes of coverage areas, intermediate standard "2" is suitable for use within the coverage area; minimum standard "3" is for good coverage conditions.
These aerials can be either
wideband
, or receive only selected frequencies - see "groups" below.
Grid

You may haved used a 'Grid aerial' for
analogue
reception, but as they are generally unsuitable for Freeview reception, they have now generally been replaced by the Yagi type. However in some places a Grid aerial installation may work for Freeview: otherwise replace with a standard Yagi aerial.
Indoor
Indoor aerials
are generally not suitable for Freeview reception. In areas of good signal strength it is often possible to receive some transmissions. Even where an aerial works, people often find that may get interruptions to their viewing (or recording).
Loft mounted
Loft
mounted arrivals are not generally recommended for Freeview reception, as the
roof
tiles and plumbing will degrade the signal. Some compensation for this loss of signal can be made by using
satellite
-grade cable to connect the set top box to the aerial.
Positioning
The best position for a TV aerial is mounted outdoors, as high from the ground as possible, pointing directly at the transmitter. The signal can be blocked by hills and tall buildings. It should be positioned away from any other aerials.
Horizontal or vertical?
The transmitter will either use vertical
mode
which requires the elements of your aerial to be up-down, or horizontal mode which requires them to be level with the ground.
Groups
Both analogue and digital television is transmitted the same group of transmission frequencies (known as
channel
21 through to 60). A coloured marking on the aerial shows the group.

To create the best possible analogue
picture
, TV transmissions from adjacent transmitters have been designated to several different groups of frequencies. By using an aerial that receives only the
channels
in the correct group, the analogue picture can be kept free from
interference
.
To receive Freeview transmissions from the same transmitter it has been sometimes necessary to use frequencies that are not part of the transmitter's normal group. When this has occurred, the aerial will need to be replaced with a "wideband" aerial (also known as group W) - one that covers every group.
As
Ofcom
is planning to move the TV frequencies again - perhaps as soon as 2018 - it may be wise to use a wideband aerial if you can to ensure you can keep viewing Freeview for many years to come.
Comments
Saturday, 25 February 2012
P
peter whiting
11:30 AM
Liphook

peter whiting: yes thanks I just found the transitter pages.

peter whiting's 2 posts
peter's:
map
P's Freeview map
terrain
P's terrain plot
waves
P's frequency data
P's Freeview Detailed Coverage

peter whiting: In general in the UK, main (large area) transmitters are horizontally polarised and relays are vertical, but there are exceptions.

On the basis of the prediction at your location by Digital UK Tradeview (click the link next to your posting), you are likely to be getting your TV from Rowridge.

Rowridge is the only main station in the UK to have a vertical element and this will be introduced at switchover for the Public Service Broadcaster (PSB) services and on 18th April for the commercial (COM) services.

Rowridge is presently horizontally polarised only. The strength (power) of the PSBs will match the coverage of the current analogue both horizontally and vertically. The vertical components of the PSB signals will be introduced at their respective switchover dates. They are 7th March for BBC A (which carries all BBC standard definition TV and radio) and 21st March for D3&4 (which carries ITV1, C4, C5 and some others) and BBC B (which carries all HD services including those of ITV and C4).

The COMs will remain on low power 18th April on which date they will move to their final switchover channels and the vertical elements will be introduced.

The power of the PSBs will be 200kW horizontally and vertically, but the power of the COMs will be 50kW horizontally and 200kW vertically. Thus, those living further away from the transmitter might find that switching their aerials from horizontal to vertical will improve reception of the COMs.

The idea is that in order to receive PSBs no changes need be made to aerials. In some circumstances, changes need be made, but this will only affect reception of the COMs.

Dave Lindsay's 5,724 posts

how to receive HD freeview on a already built in freeview inside a tv?This tv is mounted into the wall and i have not been able to receive my free 50 channels.
Do i require a indoor aerial or do i need outdoor aerial. we already have skybox and a cable connection to the tv in the lounges.
Please can you advise me how to connect my hd freeview?


JASBIR's 1 post

JASBIR: The answer depends on the model of TV you are using plus whether or not the Sky box you are using is an HD type?

You will also have to provide your location (pref: post code) so that your reception possibilities can be checked on.

Further advice given based on reply.

jb38's 7,179 posts
Sunday, 26 February 2012

Hello
I've purchased a Panasonic TV which states that it is 'Full HD'so I assumed that I would be able to receive a HD picture via the Freeview unit within the TV - but this is not so.
Can someone explain the difference between a HD Ready TV and A Full HD TV.
I am in an area which can receive a good quality digital signal.
Thanks for any views you are able to give.

DE's 2 posts

De there are lots of different types of hd full hd is 1080p , hd ready can be 720, 1080i if you want freeview hd it will say freeview hd on the box otherwise you will have to get an external box of either sky hd or freesat hd or freeview hd hope this helps ps just check bbc 1 hd is on channel number 50 on freeview so check that first

Mazbar's 384 posts

DE To receive HD TV you need both

A Screen which can display it, and
A tuner which can detect and convert the HD transmissions.

The standards for the tuner were only recently set, so a lot of TVs capable of displaying HD signals have inbuilt tuners that only do standard definition.

If that is you you need a HD tuner box

Unless the TV can be upgraded? Anyone know if this is ever done?

Steve P's 1,173 posts

DE: It would have been of assistance if you had stated the model number of the Panasonic TV in question plus of course your location, this for purposes of verifying that you are actually in an area where HD is presently being transmitted, because not everywhere has it as yet.

jb38's 7,179 posts

After a retune to attempt to cure recent problems with pixellation i can no longer tune in to the hd channels. Signal and quality levels of 80%+ type 2 hi gain aerial being used aimed at tacolnston 25 miles away.
Any idears

cal wale's 1 post

cal wale: See:

Freeview signals: too much of a good thing is bad for you

Dave Lindsay's 5,724 posts
Select more comments
Your comment please