Freeview reception - all about aerials

Brian Butterworth published on UK Free TV
Updated 8th January 2014.


Your ability of receive all the Freeview transmissions depends on the suitability of aerial
the design style,
the "group", and
its physical location.
Standard type - Yagi aerial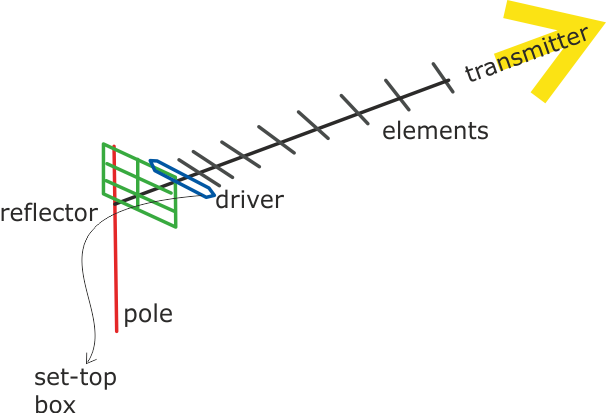 The
standard
type of TV aerial is known as the Yagi aerial. It is mounted on a pole, and consists of a rod with a reflector (shown green) at the back and many spiky elements (in grey) at the front. The connecting
cable
connects to the element nearest the reflector, known as the driver (shown in blue).
These Yagi aerials are directional and so pick up signals best from a
transmitter
that the rod points towards. The more elements the aerial has, the better it picks up a
signal
and becomes more directional.
A standard-type aerial is all that is required for
digital
TV
reception
in most places. These antennae have between 10 and 18 elements and a single reflector. These are recommended for new installations for good digital television reception, but will more often than not function perfectly in good reception areas.
Typically these aerials are designed to receive only some transmission frequencies - see "groups" below.
High Gain aerials

These aerials are designed for poor digital reception areas, and have two reflectors. For maximum signal strength, some digital high
gain
aerials have up to 100 elements. Since the
switchover
to digital-only transmissions back in October 2012, most UK households now have good
quality
digital TV signals.
A more expensive aerial is only required where the signal strength is low, but can often provide the whole Freeview reception where it might otherwise be impossible.
The CAI (that represents aerial installers) has four standards for digital TV aerials. The highest standard "1" is for homes on the fringes of coverage areas, intermediate standard "2" is suitable for use within the coverage area; minimum standard "3" is for good coverage conditions.
These aerials can be either
wideband
, or receive only selected frequencies - see "groups" below.
Grid

You may haved used a 'Grid aerial' for
analogue
reception, but as they are generally unsuitable for Freeview reception, they have now generally been replaced by the Yagi type. However in some places a Grid aerial installation may work for Freeview: otherwise replace with a standard Yagi aerial.
Indoor
Indoor aerials
are generally not suitable for Freeview reception. In areas of good signal strength it is often possible to receive some transmissions. Even where an aerial works, people often find that may get interruptions to their viewing (or recording).
Loft mounted
Loft
mounted arrivals are not generally recommended for Freeview reception, as the
roof
tiles and plumbing will degrade the signal. Some compensation for this loss of signal can be made by using
satellite
-grade cable to connect the set top box to the aerial.
Positioning
The best position for a TV aerial is mounted outdoors, as high from the ground as possible, pointing directly at the transmitter. The signal can be blocked by hills and tall buildings. It should be positioned away from any other aerials.
Horizontal or vertical?
The transmitter will either use vertical
mode
which requires the elements of your aerial to be up-down, or horizontal mode which requires them to be level with the ground.
Groups
Both analogue and digital television is transmitted the same group of transmission frequencies (known as
channel
21 through to 60). A coloured marking on the aerial shows the group.

To create the best possible analogue
picture
, TV transmissions from adjacent transmitters have been designated to several different groups of frequencies. By using an aerial that receives only the
channels
in the correct group, the analogue picture can be kept free from
interference
.
To receive Freeview transmissions from the same transmitter it has been sometimes necessary to use frequencies that are not part of the transmitter's normal group. When this has occurred, the aerial will need to be replaced with a "wideband" aerial (also known as group W) - one that covers every group.
As
Ofcom
is planning to move the TV frequencies again - perhaps as soon as 2018 - it may be wise to use a wideband aerial if you can to ensure you can keep viewing Freeview for many years to come.
Comments
Tuesday, 17 April 2012

Did you look under the carpet?

If you give a few clues where you are and what you did and why and what you had before it will be a start.

Steve P's 1,173 posts

My area has recently switched to digital and at the time of changeover the advisor helped me retune my television. However it seems i have to re-tune on at least a daily basis as it takes forever to change channels and sometimes even to get the menu on. Also the EPG channel is a waste of time because the only time i'm likely to get any programme information is for about an hour after re-tuning
My question has to be is the rception just rubbish or would a different ariel be the answer. I seem to be about half way between Meridian and Reading

Mrs Black's 1 post

Mrs Black: Its difficult for anyone to assist you without knowing your location (pref: post code or one from nearby) as this will enable your signal levels to be assessed plus have knowledge of the transmitter you are receiving from.

It could possibly be that your TV requires a reset (or default setting) to be carried out before another auto-tune, so maybe you could indicate the brand / model of TV in question.

jb38's 7,179 posts

Mrs B - I presume you are in the London region that started changing on 4 April and switches analogue off tomorrow - which I think means from midnight tonight.

So try retunung tomorrow when the digital signal will be stronger.

Meridian is part switched, if that is what you use. You should have had a booklet through the door appropriate for where you are.

Steve P's 1,173 posts
Wednesday, 18 April 2012

I have two older tv upstairs, I've installed the Dion digital box. I've got the tune with carriers ok. But no signal available....... or broken pics &/or sound

Does this mean that I have to sort out the aerial? It is an old one and may be pointing to Reigate.

On the 4th April I've managed to have one TV working ok and the other pixelled up! On 5th April nothing. I waited until today and it is as mentioned above.

How much am I expected to pay for someone to change the direction - and, be my luck, tell me my aerial had it (which I would believe being correct). But it works!! Also can I have in the roof although all my neighbours have their aerials with extra mast?

Please, please, let me know what's next


Nikki's 1 post

I have a proline TV purchased only 3 years ago and a brand-new goodmans freeview box today. I live in Guildford and have today attempted the switch over several times to no avail.

I have carried out the first time installation, unplugged the aerial and left for 30 seconds but still no joy, just says no channels found.

I have called digitalUK and they weren't able to shed any light, only to contact the freeview box supplier in case it were a problem with this, but I have now tried it on 2 different freeview boxes.

I live in a flat if that helps!

Andy's 1 post

Nikki - or ANYONE - London finalised its changeover today so you DO need to retune - and they may spend some time finalising things esp. with relays.

Andy - have you ever received digital signals? What are you using for an aerial? What is your postcode?

Steve P's 1,173 posts
Thursday, 19 April 2012

Hi

I live in a marginal freeview reception area for the Divis transmitter in N Ireland.

I was able to get about half of the freeview channels. BBC1,2,3,4 UTV1 & ITV4 etc but the channel 5 pluses 5USA etc.

I recntly ungraded my aerial to a Televes DAT75(a monster aerial).

I can now recieve all of the channels at reasonable quality except those on C33 which shows about a 50% signal strength and 5% signal quality and badly pixellated or no picture at all.

I have tried the aerial with and without a mast head booster and it does not seem to make much difference.

Any suggestions as to the cause of the problem and a solution.

All sugestions gratefully received.

thanks

Regards

Sean

Sean MacIntyre's 1 post

The larger the aerial the more critical it is to point it right.

Which is tricky if you are judging by what you see, because of delayed response.

Is it group A ?

Some work recently. See:
Freeview on Divis TV transmitter | ukfree.tv - independent free digital TV advice

Steve P's 1,173 posts

Sean MacIntyre: Or perhaps the problem is not sufficient signal from Divis, but interference from another station.

Another thing to point out is that C33 and Mux A on C23 is in 64QAM mode which isn't as robust as the rest which are 16QAM. From what you say, these would appear to be the two that you're having difficulties with.

Dave Lindsay's 5,724 posts
Select more comments
Your comment please