Freeview reception - all about aerials

Brian Butterworth published on UK Free TV
Updated 8th January 2014.


Your ability of receive all the Freeview transmissions depends on the suitability of aerial
the design style,
the "group", and
its physical location.
Standard type - Yagi aerial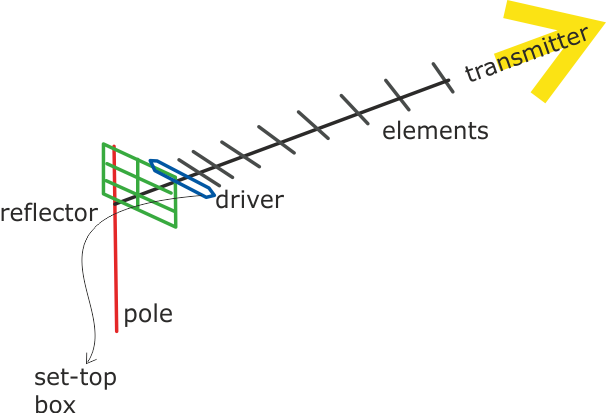 The
standard
type of TV aerial is known as the Yagi aerial. It is mounted on a pole, and consists of a rod with a reflector (shown green) at the back and many spiky elements (in grey) at the front. The connecting
cable
connects to the element nearest the reflector, known as the driver (shown in blue).
These Yagi aerials are directional and so pick up signals best from a
transmitter
that the rod points towards. The more elements the aerial has, the better it picks up a
signal
and becomes more directional.
A standard-type aerial is all that is required for
digital
TV
reception
in most places. These antennae have between 10 and 18 elements and a single reflector. These are recommended for new installations for good digital television reception, but will more often than not function perfectly in good reception areas.
Typically these aerials are designed to receive only some transmission frequencies - see "groups" below.
High Gain aerials

These aerials are designed for poor digital reception areas, and have two reflectors. For maximum signal strength, some digital high
gain
aerials have up to 100 elements. Since the
switchover
to digital-only transmissions back in October 2012, most UK households now have good
quality
digital TV signals.
A more expensive aerial is only required where the signal strength is low, but can often provide the whole Freeview reception where it might otherwise be impossible.
The CAI (that represents aerial installers) has four standards for digital TV aerials. The highest standard "1" is for homes on the fringes of coverage areas, intermediate standard "2" is suitable for use within the coverage area; minimum standard "3" is for good coverage conditions.
These aerials can be either
wideband
, or receive only selected frequencies - see "groups" below.
Grid

You may haved used a 'Grid aerial' for
analogue
reception, but as they are generally unsuitable for Freeview reception, they have now generally been replaced by the Yagi type. However in some places a Grid aerial installation may work for Freeview: otherwise replace with a standard Yagi aerial.
Indoor
Indoor aerials
are generally not suitable for Freeview reception. In areas of good signal strength it is often possible to receive some transmissions. Even where an aerial works, people often find that may get interruptions to their viewing (or recording).
Loft mounted
Loft
mounted arrivals are not generally recommended for Freeview reception, as the
roof
tiles and plumbing will degrade the signal. Some compensation for this loss of signal can be made by using
satellite
-grade cable to connect the set top box to the aerial.
Positioning
The best position for a TV aerial is mounted outdoors, as high from the ground as possible, pointing directly at the transmitter. The signal can be blocked by hills and tall buildings. It should be positioned away from any other aerials.
Horizontal or vertical?
The transmitter will either use vertical
mode
which requires the elements of your aerial to be up-down, or horizontal mode which requires them to be level with the ground.
Groups
Both analogue and digital television is transmitted the same group of transmission frequencies (known as
channel
21 through to 60). A coloured marking on the aerial shows the group.

To create the best possible analogue
picture
, TV transmissions from adjacent transmitters have been designated to several different groups of frequencies. By using an aerial that receives only the
channels
in the correct group, the analogue picture can be kept free from
interference
.
To receive Freeview transmissions from the same transmitter it has been sometimes necessary to use frequencies that are not part of the transmitter's normal group. When this has occurred, the aerial will need to be replaced with a "wideband" aerial (also known as group W) - one that covers every group.
As
Ofcom
is planning to move the TV frequencies again - perhaps as soon as 2018 - it may be wise to use a wideband aerial if you can to ensure you can keep viewing Freeview for many years to come.
Comments
Sunday, 22 April 2012

many thanks to you, stephen p, your advice is noted, and i will just use the lead i made, as it is getting a very good signal.
used the ceefax test page, and there were no blocks missing at all, indicating i was getting a very good signal

paul's 2 posts

I have a HD TV and get all the channels except the HD ones! Chan 50 51, 52 etc do not appear on the list when I retune? The antenna is fairly new.

Bob's 1 post
Bob's:
map
B's Freeview map
terrain
B's terrain plot
waves
B's frequency data
B's Freeview Detailed Coverage

Surprised the ceefax test page is still going - it must die with analogue. Assuming you mean the one they set up to allow some prediction without a digital tuner being used.

The digital pic you get/don't get and the strength indication will be a far better measure.

Stephen P's 1,173 posts

Bob - Are you sure your TV has an HD TUNER?

Most are just "HD Ready" with a SD tuner, as the HD standard was only recently set.

If not, you need a box!

Stephen P's 1,173 posts

Hi, I cheekily have 2 questions please - live in TW15 and just had the digital switch.
1. We had a Bush TV with one of the first On-Digital built in boxes - we used to get most of the Freeview channels but now get none. Tried a new digi box but TV reverted to trying its in built one and got nothing - can we do anything with it?
2. Today, we bought a new E-Motion TV with in built tuner and Freeview but it is struggling to pick up channels and some are still "blocking". My wife blames this on me lagging our loft with that silver foil insulation stuff (it's an old indor loft aerial). Do we need a new external aerial?
Thanks in advance

Alan Band's 1 post

Hi all.

We live near Orpington (BR5) and had problems receiving some Digi Channels on odd occasions. C22 has been missing for about a year now.

Despite assurances on this site and from the Chief Technologist of Arqiva (at a recent IET Lecture on Digi-switchover), that it would all be OK after 18 April - when all the Digi Channels would be transmitting at equal strength - we still can't get Freeview C22 (now called ArqA) at all(Zero Signal strength indicated) on our Panasonic Integrated Digital TV, and a very bad quality (plently of pixelation and freezing) via our Sony Digi HDD/DVD recorder.

All other Digi Channels are OK. Level 8/9 on the TV and 75 to 85% on the HDD.

Is it worth getting the roof aerial looked at, or could I just be in a bad location for one frequency ?

Andy H's 7 posts
C
Carol
8:24 PM
St. Albans

Since the digital switchover, reception on IT3, More 4, ITV4,
5* Chanel5 +1, plus others, is alost impossible particularly in the evening. We are tuned to Sandy ( on the edge) as are on the side of a hill and unable to receive Crystal Palace transmissions. Post Code AL4 8JN. New aerials installed to receive digital TV to retirement community of 50 homes. Can you offer any advice.

My Thanks



Carol's 1 post
Carol's:
map
C's Freeview map
terrain
C's terrain plot
waves
C's frequency data
C's Freeview Detailed Coverage

Andy H: Your problem could possibly be caused by an excessively high level of signal being received as you could be located as close as 8 miles away from Crystal Palace, and an excessive level of signal will causing partial blocking in the TV's tuner and especially sensitive types as are used in Panasonic TV's.

If you have one lying around for a test try using a set top aerial (normal type not amplified) and see how that goes after having retuned the TV, should the situation be improved then purchase a variable attenuator of zero - 20dB and that should reduce the signal to an acceptable level.

There could of course be a problem with your aerial, but at distances such as yours from a transmitter the power of Crystal Palace anyone that uses a roof aerial always has to suspect overload problems existing, as the signal readings seen are very likely to be totally inaccurate by the measuring circuitry being distorted by the excessive signal level.

jb38's 7,179 posts

In Herne Hill (3 miles north of CP) I need no aerial at all - any bit of wire stuck in the TV Ae socket will do. Currently just got a short flylead plugged in.

Stephen P's 1,173 posts

Stephen P: Interesting to know that Stephen, as I personally like to hear reception reports from actual people in various locations as it gives a much better idea of the situation over that seen in a reception predictor containing elements of guess work involved, educated or not!

jb38's 7,179 posts
Select more comments
Your comment please