Freeview reception - all about aerials

Brian Butterworth published on UK Free TV
Updated 8th January 2014.


Your ability of receive all the Freeview transmissions depends on the suitability of aerial
the design style,
the "group", and
its physical location.
Standard type - Yagi aerial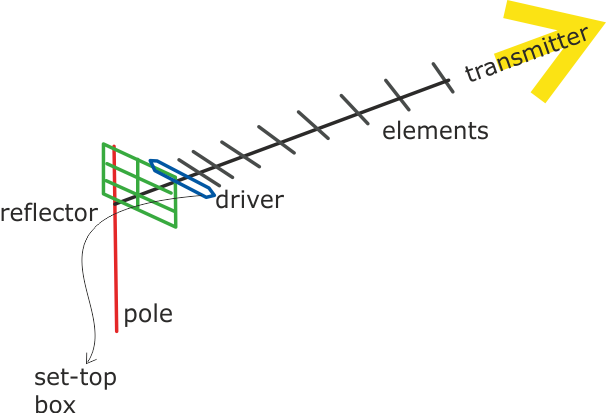 The
standard
type of TV aerial is known as the Yagi aerial. It is mounted on a pole, and consists of a rod with a reflector (shown green) at the back and many spiky elements (in grey) at the front. The connecting
cable
connects to the element nearest the reflector, known as the driver (shown in blue).
These Yagi aerials are directional and so pick up signals best from a
transmitter
that the rod points towards. The more elements the aerial has, the better it picks up a
signal
and becomes more directional.
A standard-type aerial is all that is required for
digital
TV
reception
in most places. These antennae have between 10 and 18 elements and a single reflector. These are recommended for new installations for good digital television reception, but will more often than not function perfectly in good reception areas.
Typically these aerials are designed to receive only some transmission frequencies - see "groups" below.
High Gain aerials

These aerials are designed for poor digital reception areas, and have two reflectors. For maximum signal strength, some digital high
gain
aerials have up to 100 elements. Since the
switchover
to digital-only transmissions back in October 2012, most UK households now have good
quality
digital TV signals.
A more expensive aerial is only required where the signal strength is low, but can often provide the whole Freeview reception where it might otherwise be impossible.
The CAI (that represents aerial installers) has four standards for digital TV aerials. The highest standard "1" is for homes on the fringes of coverage areas, intermediate standard "2" is suitable for use within the coverage area; minimum standard "3" is for good coverage conditions.
These aerials can be either
wideband
, or receive only selected frequencies - see "groups" below.
Grid

You may haved used a 'Grid aerial' for
analogue
reception, but as they are generally unsuitable for Freeview reception, they have now generally been replaced by the Yagi type. However in some places a Grid aerial installation may work for Freeview: otherwise replace with a standard Yagi aerial.
Indoor
Indoor aerials
are generally not suitable for Freeview reception. In areas of good signal strength it is often possible to receive some transmissions. Even where an aerial works, people often find that may get interruptions to their viewing (or recording).
Loft mounted
Loft
mounted arrivals are not generally recommended for Freeview reception, as the
roof
tiles and plumbing will degrade the signal. Some compensation for this loss of signal can be made by using
satellite
-grade cable to connect the set top box to the aerial.
Positioning
The best position for a TV aerial is mounted outdoors, as high from the ground as possible, pointing directly at the transmitter. The signal can be blocked by hills and tall buildings. It should be positioned away from any other aerials.
Horizontal or vertical?
The transmitter will either use vertical
mode
which requires the elements of your aerial to be up-down, or horizontal mode which requires them to be level with the ground.
Groups
Both analogue and digital television is transmitted the same group of transmission frequencies (known as
channel
21 through to 60). A coloured marking on the aerial shows the group.

To create the best possible analogue
picture
, TV transmissions from adjacent transmitters have been designated to several different groups of frequencies. By using an aerial that receives only the
channels
in the correct group, the analogue picture can be kept free from
interference
.
To receive Freeview transmissions from the same transmitter it has been sometimes necessary to use frequencies that are not part of the transmitter's normal group. When this has occurred, the aerial will need to be replaced with a "wideband" aerial (also known as group W) - one that covers every group.
As
Ofcom
is planning to move the TV frequencies again - perhaps as soon as 2018 - it may be wise to use a wideband aerial if you can to ensure you can keep viewing Freeview for many years to come.
Comments
Monday, 23 April 2012

jb39 - SE24 9QP if you want to compare.

Soome years ago I had the place let out whilst I was abroad. New tenant phoned and asked where the aerial sockets were. It took me some time to recall that we did not need aerials at all for analogue!

Stephen P's 1,173 posts
Stephen's:
map
S's Freeview map
terrain
S's terrain plot
waves
S's frequency data
S's Freeview Detailed Coverage

Hi JB38

Thanks for the suggestion.

I've already tried an attenuator and re-connecting the old loft aerial we used for the analogue signal. We put up a roof aerial because digi reception - pre 04 April switchover - on the loft aerial was NBG.

Neither the attenuator (12dB) or the use of the loft aerial made any difference.

A set-top aerial isn't any good as we have a hill between us and CP, so we need height to see over it. Most of us around here have had to use 10ft poles on the chimney for our Digi aerial.

I'll see what a 20dB attenuator does.

Andy H's 7 posts

Andy H: If you have a sizable Hill between the transmitter and your location then I can understand why you had trouble receiving the 20kw signal prior to the 4th when the BBC mux (and only) switched to 200kw operation, but when reception is via over a hill its not necessarily the case that the higher the aerial the better chance there is of reception as elements of reflected signal come into the equation, albeit I am aware that "the higher the better" its a commonly held belief amongst many aerial installers, whereas in reality when dealing with this type of situation obtaining the best spot necessitates signal tests to be carried out starting from about 12 feet from the ground upwards and signal checking to either side of the vertical at each test position.

Of course this is inclined to be time consuming and so more suited to a person finding the best position for themselves, as aerial installers cannot really afford to spend excessive time on a job.

By the way, if you have tried a set top aerial "since" the switchover on the 18th and it hasn't improved the situation then its not really worth purchasing an attenuator, as a set top is a positive test of whether a signal is over the top or not.


jb38's 7,179 posts

Stephen P: Your post code says it all!! and the reason why your reception is so good with what you are using, that is even although you are just on the verges of being inside of the umbrella effect that exists around a mast where the main beam is effectively over your head.

jb38's 7,179 posts
Tuesday, 24 April 2012

jb38 - AND on a hillside facing the direction of the Tx!

Stephen P's 1,173 posts

Stephen P: Even better! as your reception as such will of a standard as though you were linked directly into the transmitter whereby its virtually impossible to experience signal glitches of any sort.

jb38's 7,179 posts
Friday, 27 April 2012

I live in Totton, Southampton and since this switch over on 18th I have had problems getting ITV4 5*, and even Ch5 whereas before all this mucking about I could easily get SKY news, Dave, Yesterday and all of the above channels. Really is a pain in the butt but do realise we needed to clear channels for money making enterprises!

Fuming's 2 posts

Fuming: I can think of two possible solutions.

Firstly a bit of attenuation to bring down the level of signals coming down your aerial cable.

One of the issues you have is that Rowridge now transmits all channels horizontally and vertically. However, horizontally the Commercial ones (the ones that you're having difficulty with) aren't as strong. Vertically they are of equal strength. The Public Service ones are the same vertically and horizontally.

It may be the case that the high power Public Service signals are acting to make your receiver less sensitive which is causing issues with picking up the weaker ones. Reducing the level of all signals at the input "may" be a solution.

Failing that, switching your aerial from horizontal to vertical should do the trick.

I suggest the attenuation route first as it's the cheapest if you would have to get someone in to alter your aerial. It isn't forced to work, but based on your distance from the transmitter may well help.

You can get variable attenuators from sources such as eBay. One such example is:

1-20dB variable digital tv aerial signal attenuator | eBay

Dave Lindsay's 5,724 posts
Saturday, 28 April 2012

Fu-Ming - if you just want to moan, you have done so.

If you want help, provide your full postcode and an indication of the equipment and aerials you are using.

Stephen P's 1,173 posts
Sunday, 6 May 2012

In the Portsmouth area of Gosport. trying to set up all channels on.a freeview box in a small bedroom TV. Im.completely missing line 2? (ITV,Channel 4, channel 5 ITV 2) Have bought a signal booster which first off gave me BBC1 BBC2 and the rest but cant get these missing channels. having read through peoples posts, would it be safe saying the indoor aerial in the loft is too small or pointed in the wrong direction?the only thing that makes me think this isnt right is because the other two TVs in the house work fine?
note i havent been in the loft yet.

thanks for your help
Simon

simon Jacobs's 1 post
Select more comments
Your comment please