Whole house digital TV

Brian Butterworth published on UK Free TV
Here are some examples of how to make your home fully digital.
Sky+ with multiroom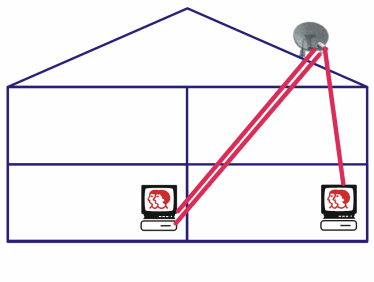 The device on the end of the "arm" of your
satellite
dish
is an LNB. Because the
digibox
sends
power
to the LNB, you can not just split the
cable
onto two input. When you buy a Sky+ package from Sky, it comes with a "quad LNB", which has four outputs. The engineer runs two cables from the dish to the Sky+ box.
You can then run one each to a digibox by up to four televisions. You can either do this though "Sky multiroom" (as shown, with Sky+ in one room and another digibox elsewhere), or by doing it yourself.
Sky+ boxes require a constant authorisation
signal
from Sky over the satellite path. The moment you disconnect
the box
from the satellite inputs or you stop paying Sky the 10 per month the Sky+ box will stop working as a
personal video recorder
, and act like a normal digibox. You can't use the box to record, playback or pause without a Sky
subscription
.
Freesat multiroom - no Freeview
It's not possible to use it to receive
Freeview
, but you can get the
Freesat
service. All you need is either a new DVB-S (digital video broadcasting - satelite) box, or an old Sky Digibox. You can use a Quad LNB to supply digital satellite signals to digiboxes in each room.
Sky and Freeview
It will always be better to use a higher classification
aerial
alone, rather than a less able one with an
amplifier
. With digital signals, it is far more important to get good
quality
reception
for the set-top box, rather than increase the signal's power as this will simply be ignored by the digital
receiver
.
For many people Freeview is used on the main and second TV, in addition to subscription Sky on the first.
Cable and Freeview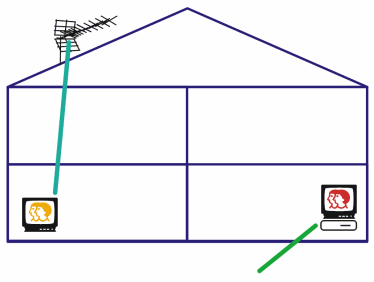 Or you might have NTL/Telewest cable on the main TV, with Freeview for the secondary televisions.
Sky with RF second TV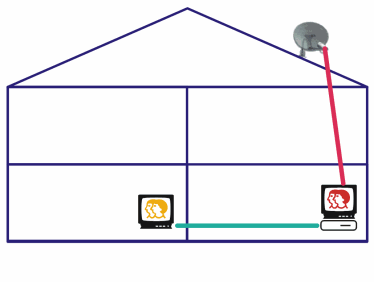 If you connect a second TV to a digibox by using the "
RF output
", this does not require a separate connection to the dish, but you can only watch the same channel from the digibox on both TVs. With Sky digiboxes, you can also use your remote control with a IR receiver by the second TV.
Freesat media center
The PC version of Sky+, such as Media Center:
you can buy as large a hard drive as you want
it's much better than Sky+
you've more chance of HD working
you can share the recorded channels to a local area network, play them on a Xbox360 and burn them to DVD
it records the digital signal, so the playback quality is perfect.
The specification for the Elonex Artisan LX, and it says it comes with the "Hauppauge WinTV Nova-T" cards. The "T" suffix denotes the DVB-T (digital
terrestrial
) version of the
card
. A
satellite version of the card
is available (Elonex may supply these instead of the "-T" cards)?
Wireless networks should be up to the job of sharing the recorded TV programmes to the local network, but it is my personal experience that they are not. You might find it works better by connecting your new Media Centre computer to the wireless router using a cat5 (twisted pair Ethernet) patch cable.
Freeview media center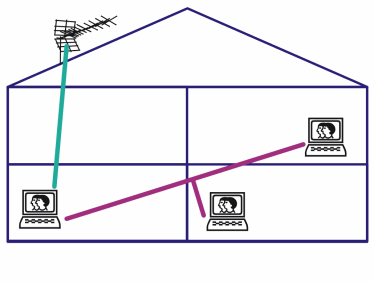 The Freeview media center is easier to setup, as you can just use a simple splitter to provide the UHF Freeview signals to two receiver cards (or a dual-headed card).
Once again the recorded programmes can be watched by using a simple file share, or by using an XBox360.
Freeview everywhere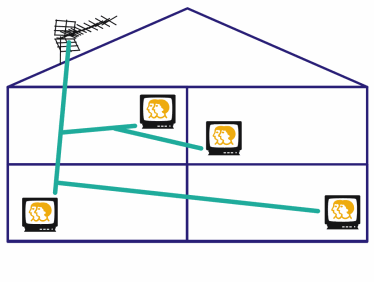 If the Freeview signal is strong, you can usually just split the aerial cable where convenient to supply a digital television signal to many digital televisions or set-top boxes.
Freeview and Sky everywhere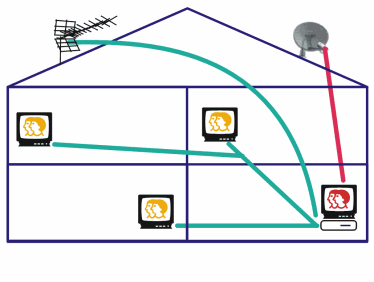 In good signal areas, it will be possible to feed the aerial signal first the the Sky digibox, and then on to integrated televisions or Freeview boxes, adding in the ability to watch one Sky channel around the home.
Freeview everywhere with masthead amplifier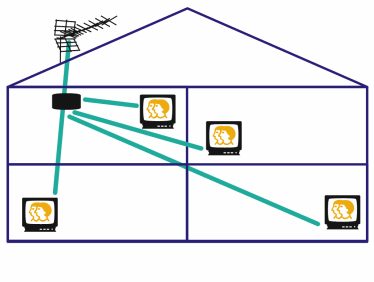 Another possibility is that you are passing the incoming aerial signal though some other device (such as a VCR) that is either filtering or producing it's own signal. If this is the case, see if plugging the aerial directly into one Freeview box will allow you to see these channels. If this works, then you can use a
masthead
amplifier to boost the signal for each digital television or set-top box.
Comments
Wednesday, 23 January 2013

Catherine: Wiring two aerial leads to the same set of terminals is a no no. The first thing you need to do is to try connecting one cable to the aerial and see what sort of signal you get; then do likewise for the other.

This will allow you to ascertain whether the aerial is any use as wiring two leads without a proper splitter could be your issue.

Dave Lindsay's 5,724 posts

Catherine: For information on this subject, see A.T.V (Aerials And Television) TV Aerial, DAB Aerial, FM Aerial.

You can either get a distribution amplifier that is powered from the mains directly; that is the mains lead goes directly into it and therefore requires a local socket to plug it into. Or you can get remotely-powered ones which are the sort you put outside on the aerial mast; these require a power supply to be sited, usually adjacent to one of the TVs with the low voltage being fed up the aerial lead to the amp.

As you can get condensation in the loft it is maybe a good idea to not have mains appliances up there if you can avoid it. For that reason, either use a remotely powered amp in the loft or site a mains-powered one somewhere within the living quarters, ensuring appropriate ventilation etc.

This is an example of the remote type I am thinking of:

A.T.V (Aerials And Television) TV Aerial, DAB Aerial, FM Aerial. onlinesplittersandamps.html#4WayMHamp


You are predicted to have an excellent signal from Redruth transmitter at 16 miles away. You would be able to see it were it not for Treringey Round.

Dave Lindsay's 5,724 posts

Catherine: The link to the amplifier when wrong. Here it is:

Online TV Splitters, Amps & Diplexers sales

You may find that an unpowered 4-way splitter will do. I would stick to the fully-screened types with f-connectors:

Online TV Splitters, Amps & Diplexers sales

If you find that it isn't good enough, you might like to have a Plan B which is to replace it with a powered amplifier.


Replacing the cable with double-screened such as Webro WF100 will reduce losses, although I'm not sure how important this, particularly if replacing a length of cable that is plastered into the wall and requires a lot of work:

Satellite, Television, FM, DAB, Aerial, Coaxial Cable, Plugs, Sockets, Connectors & Leads


The current aerial will give you an idea of the sort of signal area you are in. Clearly I can't say for certain, but if you are in a good area then a Log 40 or DM Log will do:

Online TV FM DAB Aerial sales

You may be able to utlise the existing loft bracket and pole, or get another.

Or you may find that the current aerial works fine - once you've corrected the bodged connection. Again, if it proves not to work once you have your distribution system installed, you can always swap the aerial.

Dave Lindsay's 5,724 posts

Catherine: A further thought regarding use of a mast-head amplifier with separate power supply: some devices (TVs and set-top boxes) have the ability to send power up the aerial lead to run an amplifier. This would mean that there would be no need for a separate power supply, but it would mean that the device would have to be powered on in order to watch any TV fed from the amp.

I'm not an aerial professional and haven't looked into this deeply. As an example the Humax HD-FOX T2 can provide 5V (when activated). However, the amplifier I directed you to on the ATV site is a 12V one, so you would have to see what voltage and maximum current rating your device could support and then look for a suitable amp.

The above is if you decide to go down the route of using a powered amplifier - not entirely sure that it's necessary.

Dave Lindsay's 5,724 posts

Dave Lindsay: just had a look at the atv site what a mark up for doing nothing I charge only slightly more for supply and fitting some of the items

Mazbar's 384 posts

Mazbar: Thanks for that. It's a good point that the ATV site gives useful information, but that it might be worth looking around for parts once you know what you are looking for.

Dave Lindsay's 5,724 posts
Monday, 26 August 2013

Hi there, we are about to move into a new build home and have had sky boost to all rooms wired as an extra so we can watch the sky channel that is on the main tv in other rooms.

However we also want the ability to watch free view channels in all the other rooms and have therefore booked a guy to install a digital aerial ( all TVs have built in free view). My question is how will this work? Looks like there is only one tv aerial point in the other rooms, just don't understand how the other TVs can get free view or sky channel.

Any explanation would be grateful received .

Thank you

Heather's 1 post

Heather: The TV aerial feeds into the Sky box. The output of the Sky box splits and feeds all other rooms.

All other rooms then have access to the Sky box and the incoming aerial feed.

For you to be able to view the Sky box in other rooms, each TV must have an analogue tuner, or otherwise there must be an analogue tuner adjacent to them.

So, if the house has one aerial socket in each room whose cable originates in the loft, the cable from the lounge (assuming that is where the Sky box is) will feed the signals (Freeview and Sky) up to the loft. Therefore the aerial installer will have to run another cable from the roof to the lounge for the incoming aerial feed.

Dave Lindsay's 5,724 posts

Heather: And in addition to that said by Dave Lindsay, although the chances are that the sockets fitted in the other rooms will be as standard, but it would be prudent to check them out just to make sure that they are normal female coax sockets and "not" a short threaded stub, this type being for satellite purposes and which can sometimes be found to have been fitted in new properties, although usually more so when of the apartment variety.

jb38's 7,179 posts
Monday, 21 April 2014

I just bought a new tv and cabinet. Previously I had access to digital tv in all rooms. However, having disconnected and reconnected I seem to have no signal in other rooms. Currently I have an aerial socket and then dual aerial cables attached to my sky box. Any ideas on what I am missing or have forgotten to do?

Doug's 1 post
Select more comments
Your comment please