Whole house digital TV

Brian Butterworth published on UK Free TV
Here are some examples of how to make your home fully digital.
Sky+ with multiroom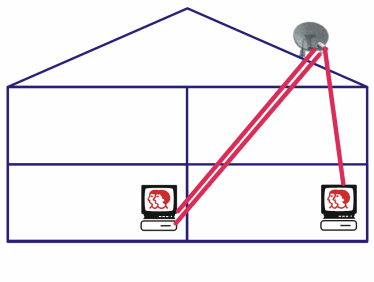 The device on the end of the "arm" of your
satellite
dish
is an LNB. Because the
digibox
sends
power
to the LNB, you can not just split the
cable
onto two input. When you buy a Sky+ package from Sky, it comes with a "quad LNB", which has four outputs. The engineer runs two cables from the dish to the Sky+ box.
You can then run one each to a digibox by up to four televisions. You can either do this though "Sky multiroom" (as shown, with Sky+ in one room and another digibox elsewhere), or by doing it yourself.
Sky+ boxes require a constant authorisation
signal
from Sky over the satellite path. The moment you disconnect the box from the satellite inputs or you stop paying Sky the 10 per month the Sky+ box will stop working as a
personal video recorder
, and act like a normal digibox. You can't use the box to record, playback or pause without a Sky
subscription
.
Freesat multiroom - no Freeview
It's not possible to use it to receive
Freeview
, but you can get the
Freesat
service. All you need is either a new DVB-S (digital video broadcasting - satelite) box, or an old Sky Digibox. You can use a Quad LNB to supply digital satellite signals to digiboxes in each room.
Sky and Freeview
It will always be better to use a higher classification
aerial
alone, rather than a less able one with an
amplifier
. With digital signals, it is far more important to get good
quality
reception
for the set-top box, rather than increase the signal's power as this will simply be ignored by the digital
receiver
.
For many people Freeview is used on the main and second TV, in addition to subscription Sky on the first.
Cable and Freeview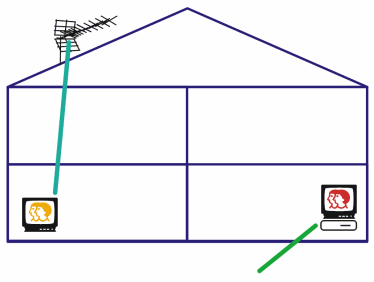 Or you might have NTL/Telewest cable on the main TV, with Freeview for the secondary televisions.
Sky with RF second TV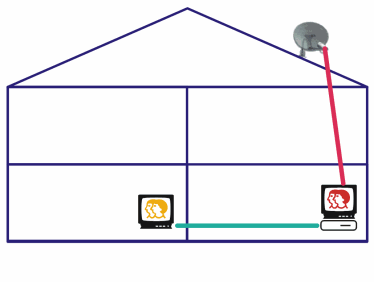 If you connect a second TV to a digibox by using the "
RF output
", this does not require a separate connection to the dish, but you can only watch the same channel from the digibox on both TVs. With Sky digiboxes, you can also use your remote control with a IR receiver by the second TV.
Freesat media center
The PC version of Sky+, such as Media Center:
you can buy as large a hard drive as you want
it's much better than Sky+
you've more chance of HD working
you can share the recorded channels to a local area network, play them on a Xbox360 and burn them to DVD
it records the digital signal, so the playback quality is perfect.
The specification for the Elonex Artisan LX, and it says it comes with the "Hauppauge WinTV Nova-T" cards. The "T" suffix denotes the DVB-T (digital
terrestrial
) version of the
card
. A
satellite version of the card
is available (Elonex may supply these instead of the "-T" cards)?
Wireless networks should be up to the job of sharing the recorded TV programmes to the local network, but it is my personal experience that they are not. You might find it works better by connecting your new Media Centre computer to the wireless router using a cat5 (twisted pair Ethernet) patch cable.
Freeview media center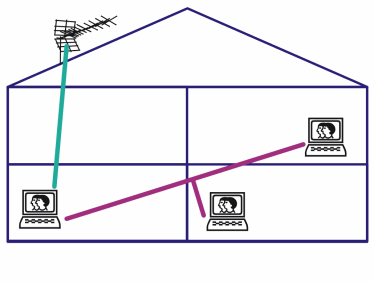 The Freeview media center is easier to setup, as you can just use a simple splitter to provide the UHF Freeview signals to two receiver cards (or a dual-headed card).
Once again the recorded programmes can be watched by using a simple file share, or by using an XBox360.
Freeview everywhere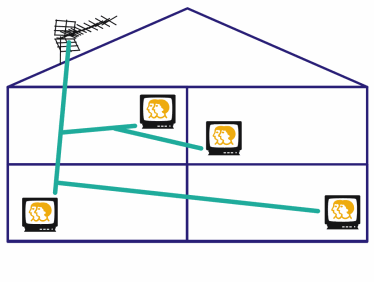 If the Freeview signal is strong, you can usually just split the aerial cable where convenient to supply a digital television signal to many digital televisions or set-top boxes.
Freeview and Sky everywhere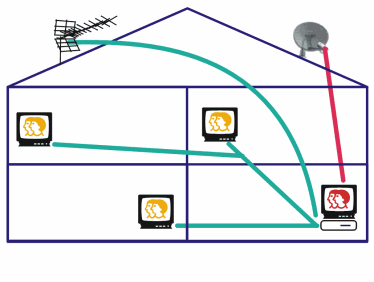 In good signal areas, it will be possible to feed the aerial signal first the the Sky digibox, and then on to integrated televisions or Freeview boxes, adding in the ability to watch one Sky channel around the home.
Freeview everywhere with masthead amplifier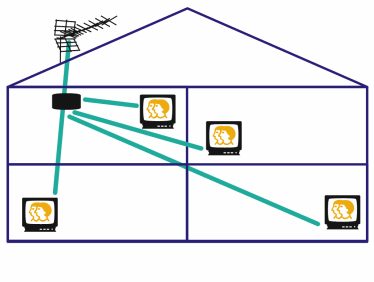 Another possibility is that you are passing the incoming aerial signal though some other device (such as a VCR) that is either filtering or producing it's own signal. If this is the case, see if plugging the aerial directly into one Freeview box will allow you to see these channels. If this works, then you can use a
masthead
amplifier to boost the signal for each digital television or set-top box.
Comments
Wednesday, 16 March 2011
W
w sanders
4:01 PM
Castleford

Good idea LES thanks,never thought about recorder to. I take it that the dish size isnt an issue then?p.s are these LNBs easy to fit they look fairly straight forward?

w sanders's 3 posts
w's:
map
W's Freeview map
terrain
W's terrain plot
waves
W's frequency data
W's Freeview Detailed Coverage
Monday, 18 April 2011

I have been told that I need to replace my booster with a digital booster as the picture breaks up on the TV in the kitchen. We have 7 other TVs and this is the only one we have a problem with. Have swapped TVs and problem remains. Am I being misled?

Teresa's 2 posts

Teresa: In most situations you will probably find just removing the booster will remove the problem.

Briantist's 38,908 posts

Thanks - will try that - cheaper than the £215 + VAT I was quoted!

Teresa's 2 posts

Teresa: A booster should cost from £8 to about £20.

Briantist's 38,908 posts
Tuesday, 19 April 2011

How can I get a signal to a 2nd TV in another room through granite walls without loads of aerial wires .I have an aerial in the loft for the main Tv. Is there some kind of wireless router that can direct a signal to the 2nd TV to enable it to be used for freeview channels? Both TVs have built in Freeview so don't need boxes.

Jools Maxwell's 1 post

Jools Maxwell: An aerial wire is what is required. Devices such as wireless video senders will only take the picture from the first box and display it on a second one.

Briantist's 38,908 posts
Monday, 9 May 2011

Hi, we live in PE11 Spalding area, and have sky plus in main room and sky multiroom in second room (both these tvs are freeview) and have a further 3 tvs with freeview all run off one aerial with a powered splitter in the loft. Our digital tv signal changes where we either lose bbc channels or itv channels, I have cleared all channels and search for new ones as first time installations but can't get all channels. Not 100% sure whether pointing at Waltham transmitter, is it worth moving aerial to see if we can get a better signal?

Amanda's 2 posts
Amanda's:
map
A's Freeview map
terrain
A's terrain plot
waves
A's frequency data
A's Freeview Detailed Coverage
Wednesday, 11 May 2011
R
Russ Dring
5:46 PM
Peterborough

Amanda,
I too live in Spalding PE11 2RX but use Sandy Heath, a transmitter which, some sites say we cannot receive, I have perfect reception on 5 sets and also freeview HD on 2 of them, the other sets do not have HD tuners. Where exactly are you live?
Sandy Heath could be a possibility for you as Waltham does not provide local news and does not have HD until D.S.O.in August.

Russ Dring's 48 posts
Russ's:
map
R's Freeview map
terrain
R's terrain plot
waves
R's frequency data
R's Freeview Detailed Coverage

Amanda: Can you please check the Single frequency interference | ukfree.tv - independent free digital TV advice page?

Briantist's 38,908 posts
Select more comments
Your comment please