Whole house digital TV

Brian Butterworth published on UK Free TV
Here are some examples of how to make your home fully digital.
Sky+ with multiroom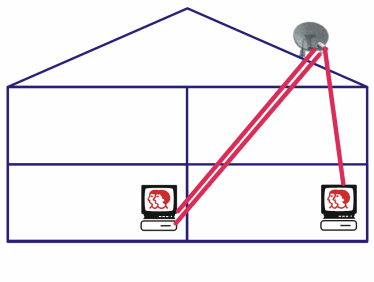 The device on the end of the "arm" of your
satellite
dish
is an LNB. Because the
digibox
sends
power
to the LNB, you can not just split the
cable
onto two input. When you buy a Sky+ package from Sky, it comes with a "quad LNB", which has four outputs. The engineer runs two cables from the dish to the Sky+ box.
You can then run one each to a digibox by up to four televisions. You can either do this though "Sky multiroom" (as shown, with Sky+ in one room and another digibox elsewhere), or by doing it yourself.
Sky+ boxes require a constant authorisation
signal
from Sky over the satellite path. The moment you disconnect the box from the satellite inputs or you stop paying Sky the 10 per month the Sky+ box will stop working as a
personal video recorder
, and act like a normal digibox. You can't use the box to record, playback or pause without a Sky
subscription
.
Freesat multiroom - no Freeview
It's not possible to use it to receive
Freeview
, but you can get the
Freesat
service. All you need is either a new DVB-S (digital video broadcasting - satelite) box, or an old Sky Digibox. You can use a Quad LNB to supply digital satellite signals to digiboxes in each room.
Sky and Freeview
It will always be better to use a higher classification
aerial
alone, rather than a less able one with an
amplifier
. With digital signals, it is far more important to get good
quality
reception
for the set-top box, rather than increase the signal's power as this will simply be ignored by the digital
receiver
.
For many people Freeview is used on the main and second TV, in addition to subscription Sky on the first.
Cable and Freeview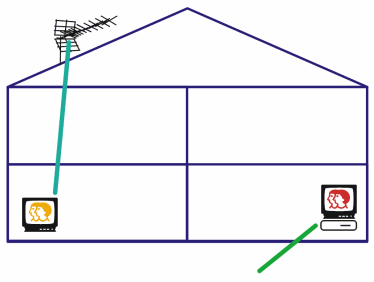 Or you might have NTL/Telewest cable on the main TV, with Freeview for the secondary televisions.
Sky with RF second TV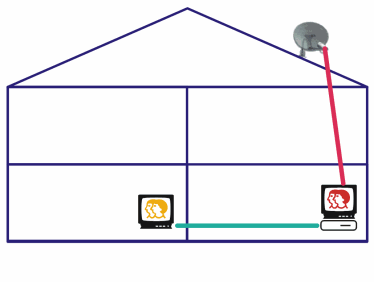 If you connect a second TV to a digibox by using the "
RF output
", this does not require a separate connection to the dish, but you can only watch the same channel from the digibox on both TVs. With Sky digiboxes, you can also use your remote control with a IR receiver by the second TV.
Freesat media center
The PC version of Sky+, such as Media Center:
you can buy as large a hard drive as you want
it's much better than Sky+
you've more chance of HD working
you can share the recorded channels to a local area network, play them on a Xbox360 and burn them to DVD
it records the digital signal, so the playback quality is perfect.
The specification for the Elonex Artisan LX, and it says it comes with the "Hauppauge WinTV Nova-T" cards. The "T" suffix denotes the DVB-T (digital
terrestrial
) version of the
card
. A
satellite version of the card
is available (Elonex may supply these instead of the "-T" cards)?
Wireless networks should be up to the job of sharing the recorded TV programmes to the local network, but it is my personal experience that they are not. You might find it works better by connecting your new Media Centre computer to the wireless router using a cat5 (twisted pair Ethernet) patch cable.
Freeview media center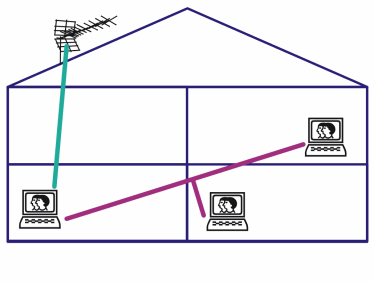 The Freeview media center is easier to setup, as you can just use a simple splitter to provide the UHF Freeview signals to two receiver cards (or a dual-headed card).
Once again the recorded programmes can be watched by using a simple file share, or by using an XBox360.
Freeview everywhere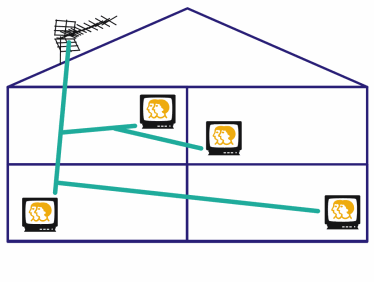 If the Freeview signal is strong, you can usually just split the aerial cable where convenient to supply a digital television signal to many digital televisions or set-top boxes.
Freeview and Sky everywhere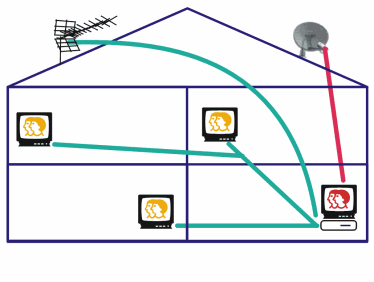 In good signal areas, it will be possible to feed the aerial signal first the the Sky digibox, and then on to integrated televisions or Freeview boxes, adding in the ability to watch one Sky channel around the home.
Freeview everywhere with masthead amplifier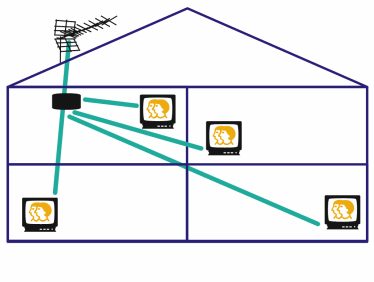 Another possibility is that you are passing the incoming aerial signal though some other device (such as a VCR) that is either filtering or producing it's own signal. If this is the case, see if plugging the aerial directly into one Freeview box will allow you to see these channels. If this works, then you can use a
masthead
amplifier to boost the signal for each digital television or set-top box.
Comments
Thursday, 2 June 2011

i have just bought my son a new tv for his room with built in freeview, we have sky+ in front room so roof top aerial not connected to anything anymore. He can only recieve analogue signal no signal recieved on digital! Grr! Do i need to run cables up to new tv or would a booster be the answer. I am a complete technophobe so any help would be appreshiated!

lisa's 1 post
Friday, 3 June 2011

lisa: You need to connect the rooftop aerial to the Freeview set.

Briantist's 38,907 posts

Hello

I have recently bought a HDTV with built-in Freeview. When I connect it to the TV aerial, I can receive digital channels.

I would like to make this TV portable as its a 19" one, i.e., I would like to move it around and receive the digital channels. The main aerial connection is in my dining room only.

Any idea how I can make viewing digital channels portable?

Thanks

izrr's 1 post

izrr: You will need a cable to connect the set to the aerial point, as reliable Freeview reception requires a rooftop aerial.

Briantist's 38,907 posts
Sunday, 5 June 2011
K
Kevin Reader
2:38 PM
Leigh-on-sea

Hi. Brain picking time! Near Southend-on-Sea Essex with lousy digital and weak analogue reception on existing aerials. We are in marginal signal area for both Crystal Palace and Bluebell Hill. Would hope to feed aerial signal all over house using something like Labgear MSA282 or SLX 27824F, (probably in the loft to keep aerial cable short). CP would like group A, BH needs W (narrowing a bit in 2012) and has no analogue ch5, so its harder to try both. Do you reckon a mast head amp, or a (variable?) preamp in loft would be needed? And how mad an aerial?! Obviously come 2012 the amplification might need reducing. (ps. I know its a lot of guess work, but web advice is so conflicted, and installers saddle up around here!).

Kevin Reader's 2 posts
Kevin's:
map
K's Freeview map
terrain
K's terrain plot
waves
K's frequency data
K's Freeview Detailed Coverage

Kevin Reader: To be honest, I would suggest you spend your money on getting Freesat.
You will get a signal from Sudbury (or Rouncefall) on 6th/20th July 2011, but only Freeview Light. From
27th Jun 2012 you will also get the SDN multiplex from Sudbury.
I would think you would be wasting money trying Freeview and go straight for Freesat, see Compare Freeview Light and Freesat TV | ukfree.tv - independent free digital TV advice for the channel details.

Briantist's 38,907 posts
K
Kevin Reader
8:23 PM
Leigh-on-sea

I must admit Brian, its been confusing to research freeview, as we are weak for all transmitters until the power up. So money spent on big aerial + amp now could easily fall fowl of the 10x power boost in 2012! Even the 2012 channel prediction only offers us half the channels or "variable" service. A lot of houses do seem to have upgraded aerials so either its possible or they've been "sold a pup". ho-hum. Whereas I could nab a dish kit from £25... The only thing was its far easier to get selectable channels all over the house on Freeview, if you can get a reliable signal in the first place :(

Ironically, this all started because SHMBO wanted to watch a program on "Yesterday" and thats only on freeview and paid Sky. Sigh.

Kevin Reader's 2 posts
Kevin's:
map
K's Freeview map
terrain
K's terrain plot
waves
K's frequency data
K's Freeview Detailed Coverage

Kevin Reader: You can always watch Yesterday here - TVCatchup - Never Miss A Show Again .

You, and indeed almost everyone, will get the three public service multiplexes, but I would think that spending money trying to get the multiplexes with marginal reception could be money poorly spent.

Briantist's 38,907 posts
Tuesday, 7 June 2011

Hi

Dad just had a new ariel and a freeview box installed re over 75 help, for his tv in the lounge.

How do I get his tv in the kitchen and one in his bedroom to work on digital, the tv's both have freeview built in.

Analogue ariel came in to the house and was then split in the house to go the the three tvs, but could not get digital.
Carol

Carol's 1 post

Carol: You should be able to use a splitter and cables to take the aerial signal to the other two sets, just as you did with analogue.

Briantist's 38,907 posts
Select more comments
Your comment please