Whole house digital TV

Brian Butterworth published on UK Free TV
Here are some examples of how to make your home fully digital.
Sky+ with multiroom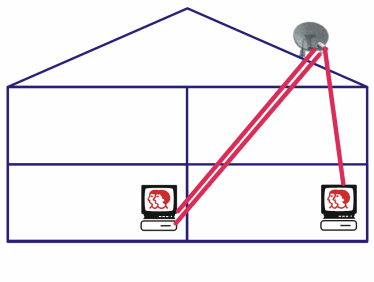 The device on the end of the "arm" of your
satellite
dish
is an LNB. Because the
digibox
sends
power
to the LNB, you can not just split the
cable
onto two input. When you buy a Sky+ package from Sky, it comes with a "quad LNB", which has four outputs. The engineer runs two cables from the dish to the Sky+ box.
You can then run one each to a digibox by up to four televisions. You can either do this though "Sky multiroom" (as shown, with Sky+ in one room and another digibox elsewhere), or by doing it yourself.
Sky+ boxes require a constant authorisation
signal
from Sky over the satellite path. The moment you disconnect the box from the satellite inputs or you stop paying Sky the 10 per month the Sky+ box will stop working as a
personal video recorder
, and act like a normal digibox. You can't use the box to record, playback or pause without a Sky
subscription
.
Freesat multiroom - no Freeview
It's not possible to use it to receive
Freeview
, but you can get the
Freesat
service. All you need is either a new DVB-S (digital video broadcasting - satelite) box, or an old Sky Digibox. You can use a Quad LNB to supply digital satellite signals to digiboxes in each room.
Sky and Freeview
It will always be better to use a higher classification
aerial
alone, rather than a less able one with an
amplifier
. With digital signals, it is far more important to get good
quality
reception
for the set-top box, rather than increase the signal's power as this will simply be ignored by the digital
receiver
.
For many people Freeview is used on the main and second TV, in addition to subscription Sky on the first.
Cable and Freeview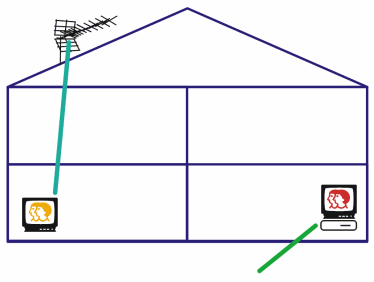 Or you might have NTL/Telewest cable on the main TV, with Freeview for the secondary televisions.
Sky with RF second TV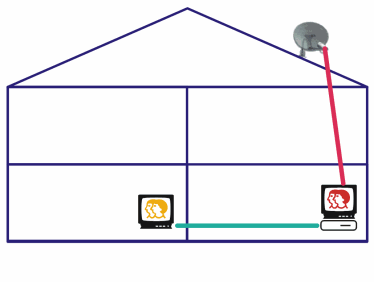 If you connect a second TV to a digibox by using the "
RF output
", this does not require a separate connection to the dish, but you can only watch the same channel from the digibox on both TVs. With Sky digiboxes, you can also use your remote control with a IR receiver by the second TV.
Freesat media center
The PC version of Sky+, such as Media Center:
you can buy as large a hard drive as you want
it's much better than Sky+
you've more chance of HD working
you can share the recorded channels to a local area network, play them on a Xbox360 and burn them to DVD
it records the digital signal, so the playback quality is perfect.
The specification for the Elonex Artisan LX, and it says it comes with the "Hauppauge WinTV Nova-T" cards. The "T" suffix denotes the DVB-T (digital
terrestrial
) version of the
card
. A
satellite version of the card
is available (Elonex may supply these instead of the "-T" cards)?
Wireless networks should be up to the job of sharing the recorded TV programmes to the local network, but it is my personal experience that they are not. You might find it works better by connecting your new Media Centre computer to the wireless router using a cat5 (twisted pair Ethernet) patch cable.
Freeview media center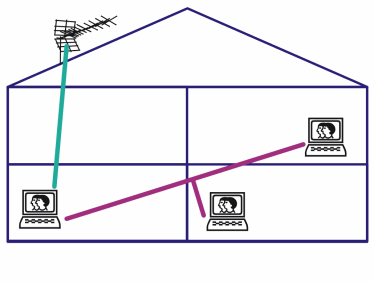 The Freeview media center is easier to setup, as you can just use a simple splitter to provide the UHF Freeview signals to two receiver cards (or a dual-headed card).
Once again the recorded programmes can be watched by using a simple file share, or by using an XBox360.
Freeview everywhere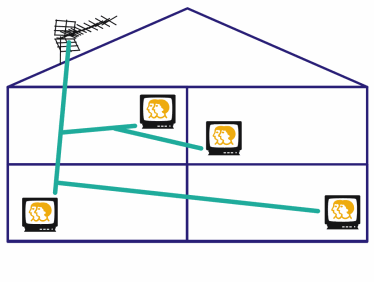 If the Freeview signal is strong, you can usually just split the aerial cable where convenient to supply a digital television signal to many digital televisions or set-top boxes.
Freeview and Sky everywhere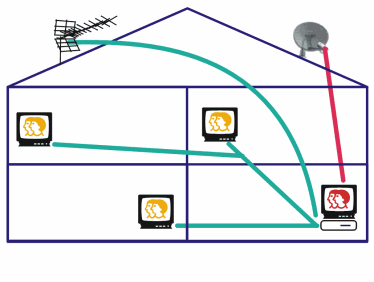 In good signal areas, it will be possible to feed the aerial signal first the the Sky digibox, and then on to integrated televisions or Freeview boxes, adding in the ability to watch one Sky channel around the home.
Freeview everywhere with masthead amplifier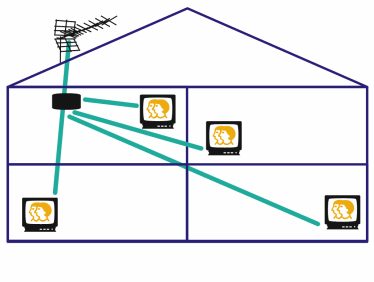 Another possibility is that you are passing the incoming aerial signal though some other device (such as a VCR) that is either filtering or producing it's own signal. If this is the case, see if plugging the aerial directly into one Freeview box will allow you to see these channels. If this works, then you can use a
masthead
amplifier to boost the signal for each digital television or set-top box.
Comments
Tuesday, 25 October 2011

jgked: Because the wallplates are rubbish? See Satellite, Television, FM, DAB, Aerial, Coaxial Cable, Plugs, Sockets, Connectors & Leads for one installer's opinion on using them and the sort that should be used, if you're going to.

Predicted reception from Wenvoe is already poor, probably due to interference on 42/45/49 from a nearby relay transmitter, and additional signal loss of the wallplate, or noise pick-up, could well push some channels into being too noisy to decode.

Mike Dimmick's 2,486 posts
Wednesday, 26 October 2011

Catherine:

There are several ways to distribute signals around your house, depending on whether the various TVs will be used to watch the same or different programs.

Let me describe my own case, in which I want to be able to follow the same signal wherever I am in the house.

I have several DVRs, some on Freeview and some on Freesat, to maximise my options.
Their outputs go into a Scart switch network so that I can choose which of the recorders to watch.

The output from this Scart network goes to the living room TV and to a VCR, which I use purely as a modulator. This means I use it to create a secondary RF signal that I can distribute round the house with co-ax cable, using splitters and amplifiers as necessary.
I can watch recordings or live signals as appropriate.

I also have a DAB radio in the system, and a separate stereo sound network fed from the same Scart network, because the modulated signals on the co-ax don't send stereo.

In theory, I could also play a tape over the co-ax network, but in reality all my VCRs seem to have lost their ability to play tapes without damaging them. But this at least lets me make some use of the VCR's technology.

I can also link a DVD player into the Scart network, the details of which are rather complex. At one time I had a single electronic Scart switch with a remote control, but that turned out to be unreliable, so now I use a cascade of 3-way mechanical switches. It's a bit awkward, but it works.

If you want more details, email me and I'll send you a diagram. "A diagram is worth a thousand words!"

Derek McLean's 10 posts

There is a further complicating factor in the above.

One of the DVRs is an HD one. So I have it connected to the living room TV with an HDMI cable, which by-passes the Scart network.

It all works rather well, apart from the 37" Panasonic full HD TV that I bought last year, which doesn't respond well to picture movement, despite having a 100Hz refresh rate. It can also have some unpleasant colours. But that's another story.

I would be interested to know if anybody has found a reliable multi-way Scart switch, either mechanical or electronic. The one I had was a 5-way Thor with an additional audio (phono) input that was perfect for my DAB. In principle, it was great. But one input after another just failed for no apparent reason.

Most of my 'other' TVs are old 14" portable CRTs, apart from a cheap 19" LCD in my bedroom that actually has a better picture than the Panasonic!

Derek McLean's 10 posts
Saturday, 19 November 2011

whats the easiest way to get freesat in my bedroom,ionly have it in the front room at the moment.

stuart's 1 post
Monday, 21 November 2011

If you only want to watch the same channel all around the house, you could buy an RF modulator and use that from your scary socket at the back of your Freesat device.
However, if you want towatch separate channels in each room then you will need to install a multi-way LNB on your sat dish and install cables to each Freesat box in each room.

Robert Welsh's 16 posts
Tuesday, 14 February 2012

Help.
WE have sky multi room and one of our skybox's started to break down and smelt of burning so we disconnected it and now the other TV's in the house that operate through Freeview either built into the TV or with a Freeview Box won't pick up any signal at all. We did a fresh install and search for channels but nothing found. Why is this? We still have another Sky Box connected to a different TV in the house.

Andy's 1 post

Andy: Its a bit difficult to fathom out exactly what method has been used to connect the various devices together as you are referring to both satellite as well as Freeview reception (via a normal aerial) and you haven't mentioned if all the TV's in the other rooms in the house could watch Freeview as well as Sky.

However one thought has crossed my mind which may (or may not) apply, being, that you might have been using the Sky box (now disconnected) as a feed through for the Freeview signal, so if the faulty Sky box had a co-ax plug going into its normal aerial input socket then couple this into the co-ax lead that was previously plugged into the Sky boxes RF1 (or 2) output, as that will allow the link to operate.

You will require a female to female connector to couple the two co-ax plugs together.

jb38's 7,179 posts
Friday, 16 March 2012

Postcode CT11 7RU

Hope you can shed some light on this please.

I have a wideband aerial pointed at Dover digital reception is not great but works my set up is as follows aerial to sky box via a cheap labgear one output booster and a rf2 output from sky box up to another tv which works fine but for some reason every now and again the BBC mux C68 go missing at a fairly consist time of about between 19:00-20:00 ish,then they come back and stay on ok it seems to be the only time it happens and signal reported by the tv dipps to 40% from a stable 50% signal signal quality good.
so what i have done is fit a vairable m/head amp and it has increased the signal to 95% and no problems so the next step I did seeing as my signal looked good(tested with a cheap slx dtv checker all the green lights on ) was to run the feed into a antiference 4 way f splitter and then run three feeds to three different tvs and terminated the fourth feed hoping that with the signal improved it would work but the same problem comes back the bbc mux c68 from Dover goes off for a while on all tv's around 19:30 last night and then comes back and is fine the the rest of the night still with less than 50% signal compared with just over 50% during the day hopefully when switchover day comes it will go away but out of interest could you help tell me why this happens ? is it just a marginal signal issue many thanks in advance

kev's 2 posts
kev's:
map
K's Freeview map
terrain
K's terrain plot
waves
K's frequency data
K's Freeview Detailed Coverage
Sunday, 25 March 2012

kev: Your location isn't good being down the hill from the old flour mill. That's a big chunk of metal. Try pointing the aerial at the Ramsgate transmitter [51°20'6"N 1°25'21"E]after 27 June. Its at the top of the flats off the Plains of Waterloo, transmitting analogue at the mo. Ideally the aerial should be group A. Have you got the TV link kit for the Sky box? When the switchover comes the end of June the Dover signal strength will go up so you may not need all those boosters. Your setup seems rather complex and a diagram would help.

Kris's 2 posts
Kris's:
map
K's Freeview map
terrain
K's terrain plot
waves
K's frequency data
K's Freeview Detailed Coverage
Saturday, 31 March 2012

Kris thanks for the info,I have fixed it now prior to DSO I found out by accident you can find the bbc MUX on C45 Dover B transmitter that hold the signal steady just fine at the mo.Its a bit weird because the boxes or tv refuse to use that channel and alway find C68 but a manual tune has sored it cheers.

kev's 2 posts
Select more comments
Your comment please