Indoor aerials

Brian Butterworth published on UK Free TV
We have tested a number of indoor aerials, to investigate how well they work for Freeview reception.
Simple stick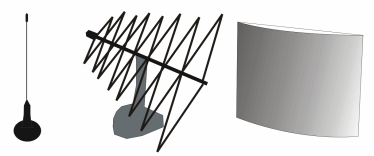 The first is a small 20cm high simple stick aerial, costing a few pounds. This was found to give adequate reception of (16QAM-
mode
) Freeview
channels
in strong
signal
areas, especially outside.
However, unless it can be placed in direct sight of the
transmitter
an only unsatisfactory signal can be received.
Indoor Yagi
The second form of aerial is of the Yagi design of around 30cm length, costing around 10.
This aerial was slightly better than the simple stick design, largely because it can be directed to point at the transmitter and be positioned horizontally or vertically as required.
However, in poor signal areas the
64QAM
channels were not received, and the aerial required good placement to get an uninterrupted Freeview signal.
Indoor Panel aerial
This was found to have around the same reception
quality
as the Indoor Yagi type, and cost around the same.
Indoor digital aerial with booster
Costing 25-30, the improvement of the signal provided by a modern internal TV aerial. Typically able to boost the signal by 36dB, this type of aerial when well positioned provided stable, uninterrupted Freeview reception on all channels.
Comments
Monday, 2 January 2012

Many thanks for all the helpful comments and advice , i will try and see what happens and report back ! Kind Regards to All - Mark !

Mark's 3 posts
Mark's:
map
M's Freeview map
terrain
M's terrain plot
waves
M's frequency data
M's Freeview Detailed Coverage
Tuesday, 3 January 2012

Hi,
I have T.V with Digital reception in 4 room's.
I have just purchased a T.V for my conservatory and it works with my SKY channel on Analog, but when I switch it to Digital it comes on for 10 seconds on any channel, then goes to a black screen????

Do I need a booster in my conservatory? I have one in the loft space with an aerial.

Thanks Gavin

Gavin's 1 post

Gavin: With regards to the booster query, its impossible to answer that question without knowledge of your location (pref: post code) this to enable an assessment to be made of the signal levels expected at your location.

That said though, can you recover from the blank screen if you select a channel? or if not can you get access the menu? as if you can, then go into the tuning menu / signal check indicator to see what level is shown along with the Mux channel involved, as even if the signal is too low to resolve a picture its level will still be indicated.

The other point is the method you have used to feed each of the TV plus the link to the Sky box, as it should be done via a multi-outlet (x6) powered splitter.

jb38's 7,179 posts
Wednesday, 4 January 2012
B
Barbara
9:48 PM
Milton Keynes

My Toshiba Regza has two scart sockets. I want to connect a hard drive, a set top box and a dvd/vcr player. All have scart 21-pin cables.

I am not sure what to connect and where.

Thanks.

Barbara's 1 post
Barbara's:
map
B's Freeview map
terrain
B's terrain plot
waves
B's frequency data
B's Freeview Detailed Coverage
Thursday, 5 January 2012

Barbara: Well as far as the set top box and DVD / VCR combi device is concerned they each have their own scart inputs on your TV, but when you mention hard drive what exactly is it? (model number) as they are not so straightforward to connect into a TV and are done so via a USB socket facility, so maybe you could also mention the model of TV involved.

Another point is that "if" its possible to connect a hard drive into your TV, it (the hard drive) has to be formatted in a particular way, this different to that of when purchased.

jb38's 7,179 posts
Wednesday, 25 January 2012

hi i have a flat screen tv/dvd combined in my bedroom it has freeview channels also but i cant get any channels at all on my tv should i buy an indoor aerial

kerry's 2 posts

kerry: Its quite impossible to say whether an indoor aerial would have any chance of working or not when you havent indicated your location, this preferably in the form of a post code as it would enable the signal strength expected in your area to be checked on.

The other point is, when you say "it has Freeview channels also" are you indicating that Freeview is received elsewhere in the house?

jb38's 7,179 posts
Thursday, 26 January 2012

my location is wn4 9rz i dont have freeview elsewhere in the house i meant it has the channels stored in the tv just cant view any at the minute

kerry's 2 posts
kerry's:
map
K's Freeview map
terrain
K's terrain plot
waves
K's frequency data
K's Freeview Detailed Coverage

kerry: Well although Skelmersdale is located at only 6 miles away from you its not shown as being possible to receive on the trade predictor, Winter Hill at 11 miles away indicated as the best.

However, although Winter Hill is maybe indicated as best on DUK's site indications seen on another predictor gives me doubts about the advisability of purchasing an aerial of the type you mention, as same room aerials are always hit and miss as they can be affected by so many things, so isn't it possible for you to borrow one from someone purely for a test? as it doesn't need to be any of the so-called "super power" types that one can see advertised with fanciful claims attached to them, a standard ordinary one is quite suffice.

By the way Winter Hill is located at 32 degrees from you, that is roughly One O'clock from due North.

Another thing I wondered about is whether or not its possible for you to have an aerial in the loft?

jb38's 7,179 posts

Hi
ive just moved to a new flat, there is an arieal point in the room but my tv could not pick up a single channel so im guessing its not connected or dosent work. its the only one in the flat and wanted to know if I can use some kind on indoor ariel, if it helps i live in norwich

Emma's 1 post
Emma's:
map
E's Freeview map
terrain
E's terrain plot
waves
E's frequency data
E's Freeview Detailed Coverage
Select more comments
Your comment please