Indoor aerials

Brian Butterworth published on UK Free TV
We have tested a number of indoor aerials, to investigate how well they work for Freeview reception.
Simple stick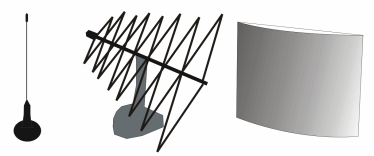 The first is a small 20cm high simple stick aerial, costing a few pounds. This was found to give adequate reception of (16QAM-
mode
) Freeview
channels
in strong
signal
areas, especially outside.
However, unless it can be placed in direct sight of the
transmitter
an only unsatisfactory signal can be received.
Indoor Yagi
The second form of aerial is of the Yagi design of around 30cm length, costing around 10.
This aerial was slightly better than the simple stick design, largely because it can be directed to point at the transmitter and be positioned horizontally or vertically as required.
However, in poor signal areas the
64QAM
channels were not received, and the aerial required good placement to get an uninterrupted Freeview signal.
Indoor Panel aerial
This was found to have around the same reception
quality
as the Indoor Yagi type, and cost around the same.
Indoor digital aerial with booster
Costing 25-30, the improvement of the signal provided by a modern internal TV aerial. Typically able to boost the signal by 36dB, this type of aerial when well positioned provided stable, uninterrupted Freeview reception on all channels.
Comments
Thursday, 16 May 2013

Ian: In that case then the aerial as such does not come into the equation, however I think that the best policy is to explain how the system should work.

If you are viewing Freeview on the TV and you press AV and select HDMI on the TV's remote control, then provided that the Philips box is NOT in standby you should see the boxes main menu on the TV screen, if though you had pressed AV then selected HDMI when the Philips box was in standby, on some TV's this will result in a no or lost signal warning because that's exactly what it is, i.e: nothing is being picked up via the HDMI lead.

The other point being, that "before" you pressed the LIB (HDD) button on the Philips boxes remote control for the purpose of selecting one of your previously recorded programmes then you should have been seeing the Freeview programme channel that the Philips box happened to be sitting on, in other words Freeview "via the boxes tuner", if though you pressed TV on the TV's remote control then this would switch you back over to viewing Freeview "via the TV's tuner" and so on toggling between the two devices.

Do you find it works in this way? and if not then at what point does the no or lost signal come on?

jb38's 7,179 posts
Friday, 17 May 2013

Ian: Just to reiterate on a point previously mentioned, if the TV's aerial is being fed via the box and on the TV's remote control pressing AV / HDMI results in the lost or no signal warning "even although the Philips is switched on" then this can indicate that the box has lost its channels, that is provided that you have scanned and stored them in the first place at your present location? or if not that your previous flat was not terribly far away from your present location and in the same TV coverage area.

It would also be of assistance if you could provide the model number of your TV.

jb38's 7,179 posts

I have scanned and stored the new channels here - 21 TV and 11 radio. And the box is not on standby when I'm toggling between the two devises, and I can see the channel the box is 'sitting on'.

On the set up menu there is a "signal quality" which when pressed shows "Channel UHF30" and two bars > Signal Strength - the bar is approx 60%, and Signal Quality is approx. 40%. Not sure if that explains anything??

The TV is a Panasonic Plasma - Model No. TX-P37X10B

I really appreciate the time you are spending on this query.

Ian's 11 posts

Ian: A small problem exists with being able to give an opinion on what you have reported insomuch that on checking back I dont see you having indicated your whereabouts, this preferably being in the form of a post code or one from somewhere nearby, e.g: a shop / post office, as this will then enable me to check the details of the transmitter that covers your area plus the channels it operates on.

By the way the 60 / 40% indication is inclined to be a little low for reading obtained on a Panasonic, these brands generally tending to give slightly higher than actual levels, however a more accurate opinion can be given if you provide the info requested.

jb38's 7,179 posts

I live in London SW12 therefore quite well situated for Crystal Palace

Ian's 11 posts

Ian: You certainly are! as you could be as close as 4 miles away from the transmitter.

The levels mentioned on Ch30 are from the HD transmitter but you could try checking your reception from all the six mux transmitters used by Crystal Palace, this being done by selecting each of the following programmes in turn and noting the indications obtained, as these programmes represent each of the six transmitters.

BBC1 - ITV1 - BBC1 HD - ITV3 - Pick TV - Film 4

By the way, the main point of signal checking is to ensure that the quality of the signal is not suffering from any significant variations in level as that's when glitches can appear on the picture, but as far as the levels in general are concerned you can leave your box on one of the signal check channels whilst you are experimenting with your aerial in different positions, although if you find a really good spot its always best to ensure that this holds good for all six TX channels.




jb38's 7,179 posts

Not quite sure what you mean....but, I went to HD Recorder > Settings > Set-up > Signal Quality Test > Ch UHF 22, 23, 25, 26, 28, 30 - these were the only channels that showed anything, and they were all approx. 60% Signal Strength and between 80% - 100% for Signal Quality.

Ian's 11 posts

Ian: I should have really included the actual transmitter channel number used by the programme channels I had listed, although if you had selected one of the programmes and selected the "signal quality" test menu the transmitter channel number used by that programme would normally be seen. (normally as unable to check at this present time) However the transmitter channels used by Crystal Palace are as follows / 23 (BBC) / 26 (ITV1) / 30 (HD services) / 25 (ITV3 etc) / 22 (Pick TV etc) / 28 (Film 4 etc)

jb38's 7,179 posts

Okay - so at least I'm getting good signals, even though they do not appear to be reaching the TV!

Ian's 11 posts

Ian: I am beginning to suspect that the Philips box might actually have developed a fault as you quite simply should not be experiencing all of these problems.

However forgetting the box for the time being and concentrating solely on the TV, fully appreciating that your TV by being an HD Ready type cannot resolve a picture on mux Ch30 the HD transmitter, but though can you receive all of the other "programme channels" (NOT mux channels) mentioned? i.e: BBC1, ITV1, ITV3 (10), Pick TV (11), Film 4 (15), numbers in brackets being EPG programme guide numbers, not mux channels.

Of course remembering that you only require to check if that mentioned can be "viewed" or not (not signal checked) by selecting them from the programme guide, but though as these programme channels do represent five (HD excluded) of the six multiplex transmitters used by Crystal Palace this then indicates that you will receive the full compliment of programmes transmitted by Crystal Palace.

jb38's 7,179 posts
Select more comments
Your comment please