Indoor aerials

Brian Butterworth published on UK Free TV
We have tested a number of indoor aerials, to investigate how well they work for Freeview reception.
Simple stick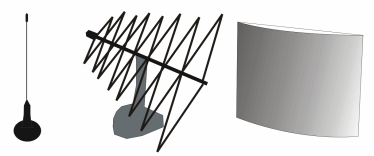 The first is a small 20cm high simple stick aerial, costing a few pounds. This was found to give adequate reception of (16QAM-
mode
) Freeview
channels
in strong
signal
areas, especially outside.
However, unless it can be placed in direct sight of the
transmitter
an only unsatisfactory signal can be received.
Indoor Yagi
The second form of aerial is of the Yagi design of around 30cm length, costing around 10.
This aerial was slightly better than the simple stick design, largely because it can be directed to point at the transmitter and be positioned horizontally or vertically as required.
However, in poor signal areas the
64QAM
channels were not received, and the aerial required good placement to get an uninterrupted Freeview signal.
Indoor Panel aerial
This was found to have around the same reception
quality
as the Indoor Yagi type, and cost around the same.
Indoor digital aerial with booster
Costing 25-30, the improvement of the signal provided by a modern internal TV aerial. Typically able to boost the signal by 36dB, this type of aerial when well positioned provided stable, uninterrupted Freeview reception on all channels.
Comments
Sunday, 10 November 2013

I tried putting aeriel in loft but no signal strength also outside but still the same also used splitter off tv next room any ideas

darren's 1 post
darren's:
map
D's Freeview map
terrain
D's terrain plot
waves
D's frequency data
D's Freeview Detailed Coverage
Tuesday, 19 November 2013

Please can you advise simply what I should do to get back my channel 3 , 4 , 5 etc reception on freeview with my loft mounted aerial. It disappeared just 3 days ago - no previous problems with any channels

Trevor Page's 1 post

Trevor Page: a postcode would be helpful, but in the meantime check all the connections.

MikeB's 2,579 posts
Thursday, 17 July 2014

I am leaving sky but have a recordable DVD player .How can I connect this up through my sky box to record when I moved here the sky eng messed it all up and sometimes it records but not others .

ann.farrar's 1 post

ann.farrar: you can connect it by scart lead.

sharealam's 225 posts
Thursday, 30 October 2014
G
Graham
12:22 PM
Carrickfergus

Hello
I have recently bought a 32 inch Samsung tv which states that it is freeview ready. I connected the old aerial which I used with the old tv (via a set top clarity box). The old aerial which is indoor give good reception on a good range of channels. However I don't get UTV or CH4, or CH5 (note that I do not use the old clarity set top box now). My postcode is BT38 7NJ. I am not quite sure which transmitter my signal comes from as there are Black Mountain, Carmoney, and Whitehead. I am a bit puzzled as I expected the new TV to pick up on all channels. I have retuned it a dozen times but I still don't get these three channels. Is there anything obvious about this. The signal quality test reads 100, and the signal test strength reads 95 on a lot of the other freeview channels.

Graham's 3 posts
Graham's:
map
G's Freeview map
terrain
G's terrain plot
waves
G's frequency data
G's Freeview Detailed Coverage

Graham: If the indoor aerial referred to is of the "same room" type, then nothing can really be guaranteed as far as reception is concerned, although loft mounted aerials are generally OK provided that said aerial is not facing into a water tank.

However, the Divis transmitter @ 12 miles away is indicated as being the main station that covers your area, the three channels you report as missing being transmitted on Mux C21 from this station, and so go into your TV's tuning menu and select "manual" tune, entering C21 into the box then pressing search or scan, should the missing channels be received during the manual scan, then they will (or should) be automatically added into the programme guide.

jb38's 7,179 posts
Tuesday, 6 December 2016

What type of indoor aerial will work at postcode TA248RE
Thank you for your help
Andrew

andrew Rose's 1 post

andrew Rose:

None! You need an aerial outside above the roof, usually they are mounted on the chimney stack. Aerials in the room are very ineffective and suffer from all sorts of problems! Even people moving in the room will cause reception variations.

Have an aerial fitted outside to get best results. It needs to be a Group A or a log-periodic type (that covers all current and future channels) with good quality cabling. You will likely not need any sort of amplifier to work with your local Freeview 'Lite' transmitter. It uses channels 22, 25 and 28 to transmit the signals, see Which Freeview channels does the Wootton Courtenay transmitter broadcast? for more details.



MikeP's 3,056 posts
Wednesday, 14 December 2016

Hi! I just got a loop intern aerial and I cannot manage to find any channels at all. The thing is that my TV is also new and I don't have other equipments to test reception so I am not sure who to blame. Should I be easily receiving freeview channels with an indoor aerial in my post code G40 1DU? Thanks very much! Cheers.

Gui's 1 post
Gui's:
map
G's Freeview map
terrain
G's terrain plot
waves
G's frequency data
G's Freeview Detailed Coverage
Select more comments
Your comment please