Indoor aerials

Brian Butterworth published on UK Free TV
We have tested a number of indoor aerials, to investigate how well they work for Freeview reception.
Simple stick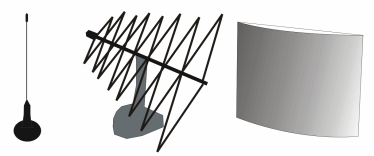 The first is a small 20cm high simple stick aerial, costing a few pounds. This was found to give adequate reception of (16QAM-
mode
) Freeview
channels
in strong
signal
areas, especially outside.
However, unless it can be placed in direct sight of the
transmitter
an only unsatisfactory signal can be received.
Indoor Yagi
The second form of aerial is of the Yagi design of around 30cm length, costing around 10.
This aerial was slightly better than the simple stick design, largely because it can be directed to point at the transmitter and be positioned horizontally or vertically as required.
However, in poor signal areas the
64QAM
channels were not received, and the aerial required good placement to get an uninterrupted Freeview signal.
Indoor Panel aerial
This was found to have around the same reception
quality
as the Indoor Yagi type, and cost around the same.
Indoor digital aerial with booster
Costing 25-30, the improvement of the signal provided by a modern internal TV aerial. Typically able to boost the signal by 36dB, this type of aerial when well positioned provided stable, uninterrupted Freeview reception on all channels.
Comments
Wednesday, 14 December 2016

Gui: Look at the digitaluk and terrain links below your question - your 22km from Black Hill. Thats not bad, but its an indoor aerial, which are normally pretty rubbish.

Indoor aerials work as well as they can - but at least try to get it as high as possible, and point it in the right direction. Then try tuning in the TV. Frankly, it might be OK, but if you can ask a neighbour to borrow their aerial for 10min while you tune it in, your better off than using the portable one initially.

MikeB's 2,579 posts
Friday, 15 December 2017
E
Emma Wilkinson
9:14 AM
Tonbridge

I want to put a tv in the kitchen but can't find an indoor aerial that gives me a decent signal. Our postcode is TN12 5AZ so should be able to get a signal from Bluebell Hill but signal is so weak cannot watch anything, even using aerials with up to 9 mile range. Main tv is via sky, bedroom tv is via attic aerial, pointed towards Bluebell Hill. Any suggestions?

Emma Wilkinson's 1 post
Emma's:
map
E's Freeview map
terrain
E's terrain plot
waves
E's frequency data
E's Freeview Detailed Coverage

Emma Wilkinson:

As you are some 16km away from the Bluebell Hill transmitter an indoor aerial will be useless, as you have discovered.

The best solution is to have an active splitter added into the cable from your existing loft aerial with a new feed added down to the kitchen. That will allow both TVs to receive from Bluebell Hill without needing another aerial (which could have planning consent requirements). A local aerial contractor would do this for you - at a price. It's not something that an inexperienced amateur should attempt unless they are certain they know what to do and have the necessary tools, equipment and knowledge.



MikeP's 3,056 posts
Thursday, 24 May 2018

I have just got a new tv for my summer house, I have a inside Ariel but not good reception what else can i try

A stewart's 1 post

A Stewart:

You need an external aerial fitted so that it can receive good signals and feed them into your Summer House. Indoor aerials are only of any possible use close to the main transmitter.



MikeP's 3,056 posts
Sunday, 17 June 2018

i stay approx one mile from moncrieffe hill masst do i need an ariel and what stations will i receive

james petrie's 2 posts

James Petrie:

Put your full post code into the Digital UK website at Digital UK - Coverage checker amd that will show you the available transmitters in that area. It will also tell you the channel numbers to tune to. If you then go to Digital UK | Channel listings and find that transmitter, it will tell you what programmes are available from it.



MikeP's 3,056 posts
Thursday, 27 September 2018
I
I MACKAY
9:26 PM
Bathgate

I have just connected up to Freeview and tuned my television but cannot get Channel 87 which is one that I want. My Postcode is EH47 7BX and nearest transmitter is Blackhill in North Lanarkshire. I have an loft aerial which allowed me to view 87 prior to us switching to SKY in 2016.

Can you advise?

I MACKAY's 1 post
I's:
map
I's Freeview map
terrain
I's terrain plot
waves
I's frequency data
I's Freeview Detailed Coverage
Friday, 28 September 2018

I MacKay:

Programme 87 carries Keep it Country on the COM7 HD multiplex. To get that you need to have a wideband aerial aimed at the Black Hill transmitter on a bearing of 264 degrees. The transmitter is only 18km away so should give good reception on all 8 multiplexes.

Assuming that your aerial is a wideband type and that your TV is Freeview HD equipped, then you should be getting programme 87 amongst others. If your TV is nopt a Freeview HD type, so merely HD capable, it will not get any of the HD services from Freeview.

If your equipment meets the requirements, then check all the aerial connections. If there are coaxial plugs/sockets then unplug those and refit them. That should clear any corrosion/ovidation from the contacts that is a well known cause of some problems.




MikeP's 3,056 posts
Monday, 23 August 2021

Having had recent problems with intermittant signal I extended the (indoor-loft) aerial and made sure it was pointing directly to the Kilvey Hill mast (swansea) This has had the strange affect of now receiving BBC channels from the South West area.
Until the last few weeks I have received good reception from the Kilvey Hill mast. It is approx 16 miles away and has a direct line of sight.

Carl Lewis's 2 posts
Select more comments
Your comment please