Indoor aerials

Brian Butterworth published on UK Free TV
We have tested a number of indoor aerials, to investigate how well they work for Freeview reception.
Simple stick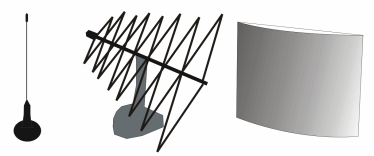 The first is a small 20cm high simple stick aerial, costing a few pounds. This was found to give adequate reception of (16QAM-
mode
) Freeview
channels
in strong
signal
areas, especially outside.
However, unless it can be placed in direct sight of the
transmitter
an only unsatisfactory signal can be received.
Indoor Yagi
The second form of aerial is of the Yagi design of around 30cm length, costing around 10.
This aerial was slightly better than the simple stick design, largely because it can be directed to point at the transmitter and be positioned horizontally or vertically as required.
However, in poor signal areas the
64QAM
channels were not received, and the aerial required good placement to get an uninterrupted Freeview signal.
Indoor Panel aerial
This was found to have around the same reception
quality
as the Indoor Yagi type, and cost around the same.
Indoor digital aerial with booster
Costing 25-30, the improvement of the signal provided by a modern internal TV aerial. Typically able to boost the signal by 36dB, this type of aerial when well positioned provided stable, uninterrupted Freeview reception on all channels.
Comments
Tuesday, 24 August 2021

Carl Lewis:

AFAIK and can find out, there's no engineering or faults at Kilvey Hill and the BBC haven't reported anything in the last 5 days affecting their channels.

There has been however, some "Tropospheric Ducting" around periodically in recent times which causes signals from more distant transmitters (both in the UK and Europe) to travel further than normal. See
How does good weather affect my television? | Help receiving TV and radio
and Effect of tropospheric ducting on Freeview | Help receiving TV and radio
for some simplistic explanations.
This could be an issue over the next few days.

Now, signals also travel quite readily across water and unfortunately there is a transmitter in North Devon at Carhampton that shares the 3 same UHF channels for its PSB multiplexes as Kilvey Hill. This (IMHO) was bad planning by Arqiva/OFCOM and it came to light during the 700MHz Clearance program in 2019.
If you've also happened to have retuned, there are also several other N.Devon transmitters you may get under such conditions.

So check again that your aerial points at Kilvey Hill and the aerial rods (or squashed Xs) are Vertical. Check in your TV's tuning section that your are correctly tuned to Kilvey Hill's UHF channels which are -
C21, C24, C27, C25, C22, C28 in the order BBCA/PSB1, D3&4/PSB2, BBCB HD/PSB3, SDN/COM4, ArqA/COM5, ArqB/COM6.
If all that is correct and you still have problems , then try turning your aerial slightly so it's not pointing at N.Devon as much (I cant suggest which way as you haven't given a full postcode so I'd know your direction for Kilvey Hill!).


Chris.SE's 3,939 posts
Select more comments
Your comment please