No digital TV for some until after the Olympics

Brian Butterworth published on UK Free TV
There will be as much digital television in parts of the North East of England at the the closing ceremony of the 30th Olympics as there was in Ancient Greece.

Those people served by the transmitters in Chatton, Rothbury, Wooler, Aislaby, Bainbridge, Bilsdale, Castleton, Eston Nab, Grinton Lodge, Guisborough, Limber Hill, Peterlee, Ravenscar, Romaldkirk, Rookhope, Rosedale Abbey, Skinningrove, West Burton and Whitby won't be watching the Olympics on Freeview.

The whole of Northern Ireland and the Channel Islands will be as late as 2013.

Can it really take longer to convert to digital television than to plan and build the Olympics?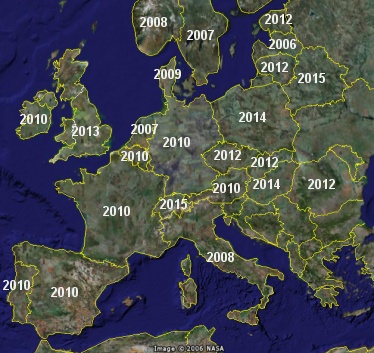 We will be beaten by Andorra 2008, Austria 2010, Belgium 2010, Denmark 2009, Finland 2007, France 2010, Germany 2010, Ireland 2010, Italy 2008, Latvia 2006, Lithuania 2012, Japan 2011, Netherlands 2007, Norway 2008, Portugal 2010, South Korea 2010, Spain 2010, Sweden 2007, Taiwan 2010 and USA 2009.

The UK will be level with Australia 2012 (not 08), Czech Republic 2012, Estonia 2012 and Romania 2012.

Only Belarus 2015, China 2015, Hungary 2014, Malaysia 2015, Poland 2014 and Switzerland 2015 will convert after the UK.

How the United Kingdom started the digital television race first and will finish later than our competitors?
Comments
Your comment please