How to receive Freeview on your PC

Brian Butterworth published on UK Free TV
If you want to watch digital television, one of the way to do this is use your PC. There are three main options, starting at around only 20.
Option 1: USB box
If you have a laptop computer, or do not wish to take your computer apart to fit a
card
into it, the most straightforward way is to use a USB box.
Once you have purchased the box, you first need to
install
some software on your computer. This will come on the CD with your USB package, or you can download the latest software from the company's web site. As a general rule, the on-line software will be a more up-to-date version.
You then plug the box into your
roof
-mounted
aerial
connection, and attach the USB
cable
to one of the USB ports on your computer. If you have USB 2 ports you should use these to get the best possible results.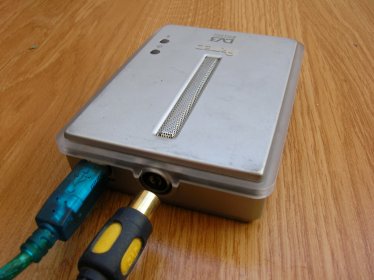 Now start the "Digital TV" software. The first time you use it, you will need to
scan
for the
Freeview
channels
. This can take several minutes (a lot longer than a Freeview set-top box).
Once this has completed, you will be able to select from the Freeview channels that are available in your area.
The software that comes with these boxes has two drawbacks: the channel numbers are not the
standard
Freeview ones (in the example,
BBC News
24 is on channel 2 rather than channel 80), and there are no
interactive services
. This means you cannot view
BBC Parliament
at all, or have the graphical screens when listening to the radio channels.
On the plus side, these boxes do support the full 14 day Freeview programme guide. You can use you PC as a PVR (
personal video recorder
) as the software will record the Freeview transmission and
save
them as MPEG-2 (.mpg) files.
Option 2: PCI card
Another option is to use a PCI card. This will keep the equipment within your PC, but does require the confidence to open up your PC.
To install a PCI card you MUST first ensure that your computer is unplugged from the
mains
. It is not enough to switch it off using the button on the front; you must ensure that it is disconnected from the mains.
Locate a free PCI slot - you will need a screwdriver to remove any blanking plate.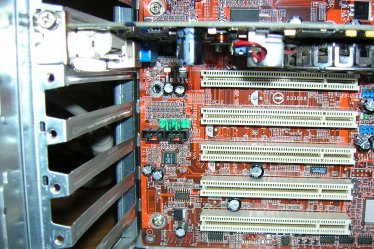 You must ensure that after seating the card firmly in the slot that your digital TV card is securely fastened into the slot. The thick television aerial cables are sturdy and can easily rip out a card that is not firmly fixed.
Once you have replaced the case of the computer, you can then attach the aerial connection to the appropriate connection.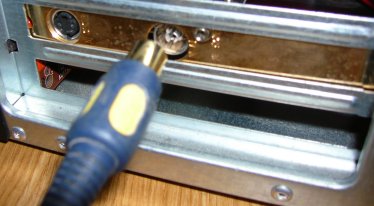 The software installation and operation of the digital television software is otherwise identical to a USB box.
Option 3: Media Center
Microsoft
Windows XP Media Center Edition
2005 has full personal video recorder support, and if you have this version of Windows you do not need to install any software, just one or two PCI cards.
One requirement is that you must have installed some DVD playing software before you can watch the programmes.
The set-up is slightly more complicated than the above, but this results in a easy-to-use programme guide and sophisticated recording facilities.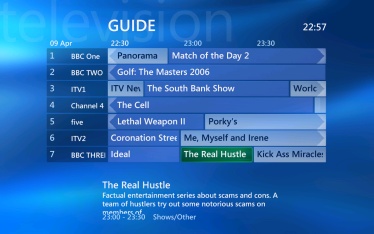 Another advantage of using the Media Center software is that all your recorded TV can be watched by any other PC connected to your home
network
and by any Xbox 360 you may have.
There is now full support for the Freeview digital radio channels, but there are no red button text facilities. However, there is a full BBC News player in Media Center's Online Services menu.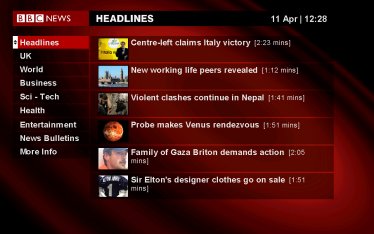 Comments
Tuesday, 30 August 2011
A
Andy Thomson
7:54 PM
Ongar

xVENUSx: There are various receivers (both digital and analogue) available that will connect to a Mac via USB. There are single and twin tuner models and even versions designed to convert external video to Mac compatible formats. They normally come with their own portable aerial, but I have mine connected to the main aerial feed distributed round my house. The software that runs them is called EyeTV and has an EPG, channel guide and recording facilities (to the Mac's hard drive). There was also an offer of a free year's subscription to the TVTV service, but I don't know if that is still running.

Andy Thomson's 3 posts
Andy's:
map
A's Freeview map
terrain
A's terrain plot
waves
A's frequency data
A's Freeview Detailed Coverage
Tuesday, 13 September 2011

No Freeview channels on my Evesham e box i-series.
Up until mid August all was ok but since switch over of Waltham transmitter 31st August, despite endless attempts to retune no services being found. My Media Centre runs Windows XP 2005 Media Centre Edition. It has 2 Black Gold DVB-T tuners.
I have rooftop terrestrial aerial which gives good freeview pictures on my Samsung tv.
I would like to continue to use my e box to record programmes but am totally at a loss as to what the problem might be. My postcode is LE8

Any help/suggestions would be most appreciated.

Geo's 1 post

Geo: I think you're screwed, as there was only a roll-up for Vista to make work Media Centre work with 8k mode - Switch over and PC-based systems | ukfree.tv - independent free digital TV advice .

Windows 7 Media Center is probably what you need at this point.

Briantist's 38,907 posts
Tuesday, 4 October 2011
B
Bruce Clarke
7:59 PM
Oxford

Since the Oxford switchover (I'm at OX44 7TP), my Freecom DVB-T USB Stick no longer tunes into Mux 2 (ITV, C4 etc). This was on an XP SP3 desktop using an amplified portable aerial that works fine with a Freeview box. I've been in touch with Freecom support, and got TotalMedia 3 and the latest drivers.

I know you will say the aerial won't work, but it also won't tune on my XP SP3 laptop via the rooftop aerial that gives a full strength signal on Mux 2 on the TV. This is with both TM3 and MCE. I've tried turning off wireless on my wi-fi router, as well as the wireless mouse on my desktop in case that caused interference on Mux 2.

I understand the way Mux 2 is transmitted makes it more prone to interference, but it looks to me like the hardware is incompatible. Freecom are no longer actively supporting the DVB-T USB Stick.

Any other ideas welcome thanks.

Bruce Clarke's 10 posts
Bruce's:
map
B's Freeview map
terrain
B's terrain plot
waves
B's frequency data
B's Freeview Detailed Coverage
Friday, 14 October 2011

Bruce Clarke: You will need to upgrade to Windows 7 to have the support you require.

Briantist's 38,907 posts

Thanks Briantist, I was beginning to come to that conclusion. My laptop and desktop aren't really up to running Win7. Might try another cheapo USB stick till I can afford to get a new PC.

Bruce Clarke's 10 posts
Saturday, 15 October 2011

Bruce Clarke: It doens't really matter what USB device you use, it the XP WMC software that can't cope.

Win7 will usually run as well or better than XP on the same hardware.

Briantist's 38,907 posts

Thanks, I may try upgrading the laptop to Win7, as it was designed to run with Vista when it was delayed, so shipped with XP. I won't bother trying another USB stick.

I'm down on the south coast this weekend, and tried tuning the laptop to the Rowridge transmitter via a good in-roof aerial. It got the ITV Mux OK, but the BBC 1 Mux went awol this time!

Bruce Clarke's 10 posts
Monday, 17 October 2011

Bruce Clarke: Rowridge is running in 2k mode, so you won't have any problems, it only switched-over transmitters that are problematic.

Briantist's 38,907 posts
Wednesday, 19 October 2011

That's strange, I wonder why it didn't pick up the BBC1 Mux? I've pretty much given up on it, as neither of my PCs are worth upgrading to Win 7 (the laptop could be, but it's a Sony Vaio, and it looks like driver problems are likely to ensue.).

Bruce Clarke's 10 posts
Select more comments
Your comment please