Do I need to buy a booster?

Brian Butterworth published on UK Free TV
With analogue television, it has often been necessary to buy an amplifier to improve the quality of the television picture, or to supply a steady on several televisions fed from the same aerial.

Many people have asked if it necessary to investing in a signal booster for Freeview.

"Analogue television" means is that the sound and pictures are broadcast using signals that are an "analogue" of the input. The sound and picture are transmitted from the source as electrical signals, then as radio waves and then back to sound and picture again.

In an analogue television camera, the image is scanned 25 times a second from side to side, from top to bottom and back. Where a lot of light is scanned, a high voltage is produced. Where no light is scanned, no voltage is produced. The output voltage is the same ratio to amount of light at scanned.

Leaving aside the technically, this signal is sent to the transmitter. The transmitter emits a radio wave on a known frequency, which is varied by the incoming voltage.




A microphone also converts the sound vibrations it picks up into a voltage, which when sent to the transmitter is added to another radio transmission frequency.

The signals are received by a television aerial pointing at the transmitter and converted back to very weak electrical signals. The sound is amplified and sent to a loudspeaker, and a picture created on the TV screen.

So on an analogue television, if the incoming signal is weak then the picture is dull as the background noise (the snow scene seen when an analogue television is not tuned) makes the picture less watchable.

The best analogue television set equipped with a great TV aerial located near to a high powered transmitter will produce brilliant pictures and clear sound. A poor set with an inadequate aerial or substandard cable will not.

If a weak signal is fed to a booster device, this will make the picture appear better on the television set or sets. It is often worth the investment.
Digital television
In a
digital
studio, the voltages from the cameras and microphones are not sent directly to the transmitter. It is converted into a stream of numbers inside a computer. The input voltage relates directly to the number in the computer. By sampling the input at a regular frequency, it is therefore possible to both store and transmit the information digitally this is what computers are good at.
It is therefore possible to take these numbers and generate a sound and picture output from them. However, the amount of information generated is over 240Mb/s, 30 times the rate of the fastest broadband connection.
Buy using computational techniques on this information the data can be compressed to as low as 2Mb/s, with as little as 6Mb/s being required for a good quality picture. These data compression techniques are called "lossy" because the reconstructed images are not identical to the originals, but look virtually similar to human eyes.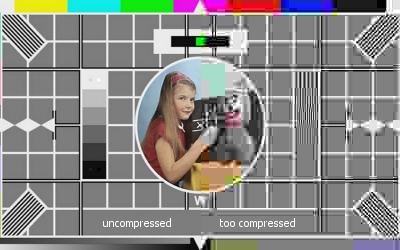 Digital television uses the same transmission frequencies as analogue uses, known as
C21
to
C68
. The digital data is sent using a system called COFDM (Coded Orthogonal Frequency-Division-Multiplexing) which can carry data at a rate of 18Mb/s or 24Mb/s. Several television
channels
and some
radio stations
can be multiplexed together to produce exactly this amount of data.
At the
receiver
, it must be able to decode every single bit from these transmission multiplexes. A single error is impossible to correct for, so the decoder must have no errors.
Until
switchover
happens, the Freeview signals are being broadcast at very, very low
power
levels. However the COFDM system and sensitive digital equipment will, as long as the signal can be found and decoded there will be pixel-perfect reconstruction of the television channel. If the signal is drowned out by
interference
(especially from analogue transmissions) then no picture or sound will be output.
If the TV aerial installation you have provides you with all the Freeview channels, there is nothing to worry about.
If you are missing some channels because the signal is just too weak the best place to start is by improving the aerial, see
Freeview reception - All about aerials
. A bigger, higher, better designed aerial will always be the most sensible way to get perfect
reception
.
If you want to supply a signal to several sets, where the incoming signal is being "split" to serve several Freeview boxes, a
masthead
amplifier will be effective. This is because the signal is already of good quality and is being repeated for several sets.
However, if you are not getting a good signal from your aerial, a booster by the TV set will probably not
help
as this will simply boost the background interference as much as the Freeview signal.
In circumstances where an amplifier that has improved a picture on an analogue, it may be unsuitable for Freeview reception. Sometimes they will block one or more
multiplex
, where disconnecting the amplifier will restore the channels.
Comments
Sunday, 10 July 2011

Sue B: Your post code indicates that you should be getting good reception across the board from either the Mendip or Wenvoe transmitters, especially Mendip albeit this only by a small factor on Mux's A-C-D, with the reception not forecast as changing even after the final upgrading is finished in 2013.

A way to check what station you are receiving from being, go into the sets tuning menu / signal check area whilst on BBC1, if you see Ch61 showing its Mendip, whereas if its Ch41 its Wenvoe.

All that being said though, its generally better NOT to be receiving TV signals across water, as depending on circumstances fluctuations of the signal can occur, and so in theory Mendip is the preferable signal.

To clarify your situation maybe you could come back regarding the BBC1 channel you are receiving the signal from.

jb38's 7,179 posts

Sue B: Just to further clarify, even although the trade predictor shows good reception being possible across the board a margin of error always applies, as three Mux transmitters on each station are on much lower power than the main BBC / ITV ones, Mendip's being Ch62-Ch56-Ch67 and Wenvoe's being Ch42-Ch45-Ch49, so on any station other than the main BBC or ITV channels that gives problems go into the tuning menu / signal check area "whilst on the channel" concerned and observe its Mux channel number, it will in most cases be on one of the channels mentioned.

The lower power referred to being much more applicable in Mendip's case.

jb38's 7,179 posts
Monday, 22 August 2011

Great article,
I am in the Talconeston transmitter area and up to 17th August i had all 6 muxes and every channel over Freeview.

On Aug 17th the DSO started and i lost half of my channels.(retuning has not brought them back)

The final switchover (when analogue is turned off) will be on the 23rd Nov.

So judging by this article because i had all the channels before the 17th Aug

[quote]If the TV aerial installation you have provides you with all the Freeview channels, there is nothing to worry about. [/quote]

does this mean on the 23rd Nov all my channels will return when analogue is switched off and the digital signal is ramped up


Thanks for any information you can provide, i am missing my channels already and still have another 3 months to go :(

donny's 8 posts

oh i forgot to add that my postcode is
NR3 1PF
and my transmitter is Talconeston

donny's 8 posts
donny's:
map
D's Freeview map
terrain
D's terrain plot
waves
D's frequency data
D's Freeview Detailed Coverage

donny: Basically yes! although indications suggest that you should be able to get all channels at present, but predictors (even trade ones) can be far from being accurate as local problem spots cant really be catered for.

It would have been interesting to know what channels you cant get though! (just a few!)

jb38's 7,179 posts

Hi jb38
Many thanks for the swift and informative reply my friend.

Since Aug 17th i have lost the following channels (there may be more)

Sky News, Sky 3 & Sky 3+1, Dave, Dave Ja Vous, E4+1 and i have also lost all the Adult channels (Babestation, etc)

donny's 8 posts

After reading the plethora of great information on this site i believe i may have found the problem.

On August 17th
Multiplex C (PICK TV, Dave, Really, E4+1, Big Deal, Create and Craft, Price Drop TV, Gems TV 1, PICK TV +1, Daystar TV, Food Network and Sky News) from C61 to C68

When i scan i set it to talconeston so the TV only needs to scan those frequencies
(a full scan of all frequencies takes 20 mins or so)

I think i will try a full scan of every frequency and see if i get multiplex C back.

donny's 8 posts
Tuesday, 23 August 2011

donny: Sorry for not getting back quicker, but yes, you could give that a try, although sometimes its best to scan first without the aerial connected so that you are starting off with a fresh memory, then re-connecting the aerial and carrying out a dedicated channel scan on the Mux transmitter you have problems with, as if you receive what you want you can then just add to it. (dependant on the facilities offered on your particular devices tuner, as some are very basic)

Remember though, and as you may well have read anyway, that Mux Ch66 & Ch68 are reported as being very weak in certain areas, including ones that can actually see the transmitter.

Would appreciate an update on what you find.


jb38's 7,179 posts
Wednesday, 7 September 2011
K
kevin standbridge
6:14 PM

Hi,

I have had a new Samsung UE46d7000 led tv for a month, I use Freeview and until 3 days ago I got all channels plus 4 HD channels. I have now lost all 4 HD channels and despite retuning, can't seem to get them back. I rang Samsung who said I have a weak signal in my Area SG13 (hertford) but I dont understand why all of a sudden it would stop, as my changeover doesn't happen until Apr 2012.

Any suggestions appreciated.

Thanks
Kevin (SG13 he)

kevin standbridge's 1 post

kevin standbridge: Please can you see Single frequency interference | ukfree.tv - independent free digital TV advice and also Freeview reception has changed? | ukfree.tv - independent free digital TV advice ?

Briantist's 38,899 posts
Select more comments
Your comment please