Freesat reception - all about dishes

Brian Butterworth published on UK Free TV
Satellite reception has both advantages and disadvantages compare with terrestrial (aerial) reception.

By using much higher frequencies (gigahertz, compared to terrestrial televisions megahertz) more transmission channels called transponders (the satellite equivalent of multiplexes) can be provided. For example, there are only six Freeview multiplexes, but Sky or Freesat users can access two hundred satellite transponders.

Aside from exceptional weather conditions (very heavy rain for example) digital satellite provides stable pictures and audio. Where Freeview transmitters are no more than 732 metres above sea level, the geostationary satellites used for television are 35,800,000 metres above the equator so reception is possible even where buildings, trees and hills make terrestrial reception impossible.





The downside of the transmitters being 22,300 miles up in the air is that the signals are very, very weak - so standard TV aerial is of little use. When the signals are sent to the satellites, huge dish transmitters are used to uplink the signal to the satellite. These are tens of metres from side to side, and feature an emitter that generates the signal, which is first bounced of a mirror (called a reflector) and then off the surface of the parabolic dish.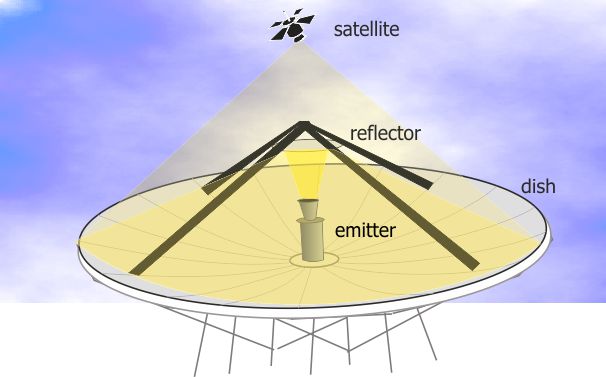 There are many satellites in the sky over the equator. Often these are in clusters over a particular position, for example there are four used for UK television are at 28.2 degrees east. There is another cluster over the 19.2 degrees east positions that are used for German television.

To receive these very weak signals from the satellite, it is necessary to use a dish for reception too. By using a reflective dish, this concentrates the signals onto a small device called a LNB. This is held in front of the dish by a metal arm.




The size of dish for reception is typically much smaller; often 60cm to 100cm in diameter, but the exact size depends upon the transmitting satellite transponder. To keep the transmission power levels down to levels that can be powered by the satellite's solar panels, each beam is focused on a particular area of the Earth's surface. If you are trying to receive the signal at the centre of this zone, a small dish is required. At the outer edges, you may need a 5 metre dish. Maps of these zones are provided by the satellite companies, and are called satellite footprints.

When the dish is installed it must be aligned carefully as the signal is very weak. The installer needs to know the inclination and the azimuth from the ground location to the satellite. If you install yourself you will find that there are markings on the dish that are used to point the dish in the correct position. It is important that the view of the satellite will not be blocked, so must take into account leaves growing on trees and potential building works.

For many people the LNB will have a single cable connected to it, however if you have Sky+ or a multi-room installation the LNB package will actually contain four receivers a quad-LNB. Unlike terrestrial television where you can split the aerial cable to feed more than one Freeview box or television set, with satelite reception you cannot. So, a Sky+ box with two receivers (so you can watch one thing and record another) has two cables connecting the box to the dish.

The cable that connects the dish to the receiver must be satellite grade cable. Whilst this looks superficially like the cable used to connect and aerial to a television, a higher grade cable is required for satellite reception.

Here is an image of a co-axial cable. This sort of cable is used to connect any type of receiving aerial to the reception equipment.




RG6, PF100 and PH100 are all types of coax cable that are suitable for the very weak signals that are received by a satellite dish. (The power is the same as you would receive from a one-bar electric heater on the moon).

The conductor in the centre passes the signals received from the dish to the set-top box. This is made from steel in RG6 cable, and from copper in the RF100 and PH100 types. This makes RG6 less suitable in the UK where rain can damage the cable.

The shielding is responsible for keeping unwanted external interference from damaging the signal. In the cheaper cable this will be a foil wrap, in better specified cables this is a braid (or mesh) of copper wires. The sheild in the RF100 covers 58% of the cable.

The non-conducting layer between the shield and the conductor is called the dielectric. This can be either a solid (RG6), foam (RF100) or air-spaced (PH100) dielectric. This makes the cables progressively more flexible (ie bendy without damage).
Comments
Thursday, 6 June 2013

chad:
I assume you mean an LNB? Any LNB designed for reception of Sky or Freesat will work with your Humax Satellite receiver when mounted on a suitable dish aimed at the satellite carrying the desired services. If you need to buy a dish, perhaps look at Amazon but there are other suppliers. To aim you dish, there is some good advice at The Art of Aiming a Satellite Dish - UK Camp Site Articles

MikeP's 3,056 posts

chad: In addition to that said by MikeP, if you are referring to one of these LNB's thats fitted with a red and green LED to assist finding a satellite such as are supplied along with portable sat dish kits of the type that fit on a tripod then yes! as LNB's will work with any Sky of Freesat system.

The only snag about these being, that they cannot distinguish between a satellite positioned at 19.2 degrees over those used for Sky and Freesat at 28.2 degrees and although these may appear on paper to be well separated, however in practice they only represent a nudge away from each other.

jb38's 7,179 posts
Monday, 10 June 2013
E
E SABERTON
4:21 PM
Bournemouth

Hi I have a humax freesat box which has suddenly started to want rebooting after I have watched a recording and try to change to watching tv no signal comes on screen . so I then have to reboot. can you help me please?

E SABERTON's 19 posts
E's:
map
E's Freeview map
terrain
E's terrain plot
waves
E's frequency data
E's Freeview Detailed Coverage
Wednesday, 12 June 2013

Hello

I have just moved house and the previous owner had sky installed. He has left the chimney mounted dish in situ together with a small amplfication box (uses f connectors) which he used to provide sky to 4 separate points (lounge, kitchen, study and bedroom). I would like to use the dish and existing cabling to feed freesat hd signals to 3 of the 4 points. Could I do that simply by buying three Freesat HD equipped TVs or am I being too optimistic?!

Thanks

Jerry Smith's 1 post
M
MikeB
2:30 PM
Peterborough

Jerry Smith: Not optimistic, but it will cost you a great deal of money!

Freesat equiped TV's are not common, and tend towards the middle high end of the market, and the smallest they've ever been made in is 32". The only 32" being made this year with Freesat is the Samsung 32" Six series - which is currently £599. Its actually a very nice TV (400hz screen, etc), but is a little over the top for a bedroom TV. Other than that its 40" plus.

I would start by looking to see if you have an aerial, aerial points and the strength/ quality of your Freeview signal, since every TV sold for at least the past five years should have a Freeview tuner built in. If you get a decent signal, and even better, have a number of extra points, then you have the choice of either Freeview or Freesat, and of course you can use your existing equipment immediately with no extra cost.

Check your TV's to see if any of them have Freesat built in. About 4 years ago, a fair number of Panasonics had them, and some LG's (there was only one Sony). Samsung started putting them in in the 8000 & 7000 series, and then the 6 series a couple of years back. If they have one, then they are good to go.

Its slightly strange that the previous owner had what sounds like Sky multi-room, but only had one connection into the living room - if you want to record/watch on Freesat or Sky you need two cables (one for each tuner) - so your fine to watch using a Freesat box, but you'd have to have an extra cable coming in to use a Humax Freesat PVR (the de facto standard).

If you do want to use the connections from the dish, you'll need to buy a Freesat box, which connects to the coax from the dish, and then uses scart or (even better) HDMI to your TV. They are around £70, depending on the brand. A recorder can start from £150ish, but the Humax Freetime (basically You View but Freesat) is £249, but a PVR does need two connections.

Bottom line - if you've got Freeview, then use that first, and you can attach Freesat tuners as well if you want. If you've got (or are buying) a TV with Freesat in, then thats useful as well, but its not essential. And if you want to record on Freesat (in the lounge), you'll need two cables coming in, not one. If your reception on Freeview is awful, then the dish will be very useful.


MikeB's 2,579 posts
MikeB's:
map
M's Freeview map
terrain
M's terrain plot
waves
M's frequency data
M's Freeview Detailed Coverage

Jerry Smith: Completely apart from the advice given by MikeP as far as your various options are concerned and purely centring on the dish, how many coax cables can you see connected to the underside of the dishes LNB?

And with regards to the connection points in the other rooms, are these screwed type male "F" connectors or standard female coax sockets?




jb38's 7,179 posts

Les Nicol, I have the same problem as Ken Sims, I just had my dish realigned by a sky fitter, he said its fine now, wasn't far out anyway, but there is a small tree in line of sight about 15ft away, like ken, mine worked fine until the leaves grew, now signal quality is up and down, picture is pixelating all the time, would cutting the tree down solve this? Thanks, Paul

paul sankey's 1 post
Tuesday, 9 July 2013

Hi, if I add another t.v aerial from my sky dish, will the signal half or be reduced?

Peter's 1 post

Peter: You cannot add another TV aerial from a Sky dish as aerials as such are not involved as these are associated with Freeview reception.

But though if you are meaning that you intend to use another Freesat box or TV from the dish then the signal does not get reduced as the dishes LNB output ports are completely isolated from each other.

jb38's 7,179 posts
Friday, 12 July 2013

Hi All,
My problem is that I have problems with reception in my secondary box in the bedroom. The main one in the living room (only across the hall) has never been interrupted or lost signal but the one in the bedroom does it often. I have checked all cables, spliters in the loft. I have replaced the box, the cable - everything and it will spring to life and last one day or one week and then totally lose all signal without warning!! It is a total nightmare and I am finding it impossible to isolate the problem. I live on a small Scottish island so getting anyone to look at it is all but impossible.
Any advise much appreciated.

Elaine Campbell's 1 post
Select more comments
Your comment please