Loft aerials

Brian Butterworth published on UK Free TV
One of the most common problems people have with Freeview reception relates to the use of "loft" aerials.

Because the analogue TV transmitter network uses very high power transmissions (the total ERP for the UK is 64 megawatts) many people have installed their TV aerial in places such as lofts, or have used other Indoor Aerials.

The effect on that roof tiles and walls have on analogue TV signals is that the picture will degrade slightly. Making the signal slightly weaker will add a 'snow' element to the picture which is mildly irritating. The picture quality drops, but it is usually possible to make out the picture, as demonstrated here: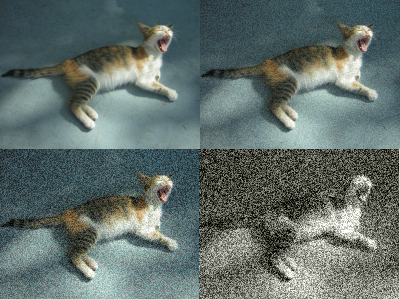 Many people have preferred this slight loss in picture quality for the perceived benefits of a loft-mounted aerial. Loft aerials are much easier and somewhat safer to install, and the aerial is shielded from wind and rain that can cause damage to rooftop aerials. In some places (such as New Towns) TV aerials have been previously banned from rooftops.

However, the BBC and others state that Freeview reception demands a roof-top aerial. The existing (pre Digital Switchover) Freeview signals are at very low power levels. The use by ITV, Channel 4 and five of "64QAM" mode for their transmission multiplexes to provide more channel choice results in a very lower chance of reception of these channels (multiplex 2 is ITV1, ITV2, ITV3, ITV4, CITV, Channel 4, More4, E4, Film4+1; multiplex A carries five, five Life and five US) with a loft-mounted aerial.

By comparison with the image above of how analogue signals look as the signal grow weaker, digital TV reception will continue to give perfect pictures and sound as the power level drops off, until suddenly the level drops below what the COFDM system can cope with. At this point the picture will become blocky and freeze whilst the sound will appear to come and go. Another tiny drop in signal level will result in no picture or sound and a message saying that "no signal is being received". As the signal can vary with weather conditions, people often find that a loft aerial will work when installed and then suddenly stop some months later.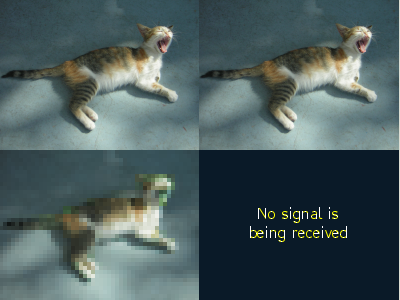 After switchover
After switchover new digital signals will replace the existing analogue and digital ones. The new digital signals will be at much higher levels that the current ones (for most people) and this will
help
with reception. However, all six multiplexes will switch to the
64QAM
mode that causes the problems indicated above.
Due to our Climate Change commitments (Kyoto Protocol), the signal levels for these new digital will not be as high as those currently used for analogue. For this reason you should not depend on the increase in power levels after switchover compensating for having a loft aerial.
Wherever possible you should use a rooftop aerial. If this is impossible, you may find that connecting your aerial to your Freeview box or integrated digital television using
satellite
-grade coaxial
cable
will compensate for the loss.
Comments
Saturday, 2 June 2012
T
Tom Farrell
9:35 PM
Gloucester

Hi, we have been having trouble with reception over past few weeks, at first I put it down to old set top boxes and old TVs, but having read this thread it seems there is more to it.
Our aerial is in the attic and though we are quite close to the Much Marcle booster (or is it a transmitter??) postcode GL19 3LP we are still having problems. I installed a new set top box, but after setting up it lasts about 45 mins before breaking up again. Do I need a new aerial, or to move existing one outside?

Tom Farrell's 1 post
Tom's:
map
T's Freeview map
terrain
T's terrain plot
waves
T's frequency data
T's Freeview Detailed Coverage
Wednesday, 6 June 2012

hi there, i fitted a loft aerial for my freeview tv last year and its been working perfectly until very recently, tv says 'no signal' almost every evening and picture drops out! very annoying, its mounted on a pole as high as possible in the loft, we live in a grade 1 listed house so cant put it outside! any help/suggestions much appreciated, justin.

Justin's 1 post

Justin: This type or query really requires your location to be known (pref: post code or one from nearby) as its impossible to assess the signal levels expected at your location without this knowledge.

However what you have reported does suggest that you might be located in an area with a somewhat lower signal strength that's prone to being interfered with by atmospheric conditions.

jb38's 7,179 posts
Thursday, 7 June 2012
M
Mark Fletcher
11:44 PM
Halifax

Justin.Unless you leave a full postcode preferably,or at least a nearby location as such,none of us on here will be able to give you valuable assistance as such.

Mark Fletcher's 673 posts
Mark's:
map
M's Freeview map
terrain
M's terrain plot
waves
M's frequency data
M's Freeview Detailed Coverage
Friday, 8 June 2012
M
Mark Fletcher
12:00 AM
Halifax

Andrew,Middlesborough.If you are unallowed a rooftop aerial,then the best bet is to wait until DSO comes to Bilsdale on Wednesday 26 September 2012 (DSO2),DSO1 two weeks prior on Wednesday 12 September 2012.I would opt in this instance a loft aerial,either a Log 40 or an X-Beam XB10K.

Mark Fletcher's 673 posts
Mark's:
map
M's Freeview map
terrain
M's terrain plot
waves
M's frequency data
M's Freeview Detailed Coverage
Monday, 11 June 2012

I have finally sorted the problem with my loft aerial.

Since Emley Moor switchover last Semptember I've had an issue with the reception on my Sony RDR-HXD870. The picture was freezing for a second or so every so often. It was worst on the COM channels (maybe every 10 or 15 minutes on those).

I tried it with the Panasonic TU-CT41 set-top box and Hauppauge WinTV-HVR-900 USB stick turned on, with all three tuned to the same channel and only the Sony skipped.

The aerial was a 10 element wideband contract bought from Argos around 15 years ago. The downlead was 10 metres of solid-core coax with silver foil and 10 silver strands for screening. All this worked fine prior to switchover.

I replaced the aerial with a DM Log and the cable with Webro WF100, mounting the new aerial in the same place as the old one. It didn't make any difference.

I tried turning it a little off-beam and moved it further down the loft and the problem persisted.

There is another aerial in the loft which serves another room, and the Sony worked perfectly with it. This aerial looks like it could be a Philex SLx 32:
Philex Electronic (UK) Ltd. Homepage



My aerial was attached to an "L" shaped pole fixed to one of the rafters.

The solution was to use a straight pole fixed to the top of one of the joists so as to give more clearance between the sloping roof and the back of the aerial. Previously there was around a foot and now there are two or three feet. The aerial is therefore now a little further forward than it used to be.

Whilst the Philex aerial is also mounted on the rafters, which means it doesn't have much clearance between its back and the roof, it does have a very large reflector, so I guess that this was the reason why it worked.


Why might this problem have manifested itself with the post-switchover signal? (DN31NJ)

Dave Lindsay's 5,724 posts

The direction to the transmitter is about 30 degrees off being perpendicular with the ridge.

Dave Lindsay's 5,724 posts
Dave's:
map
D's Freeview map
terrain
D's terrain plot
waves
D's frequency data
D's Freeview Detailed Coverage
Friday, 13 July 2012
P
Patricia
11:30 PM
Templecombe

I have a french box and dish and recieve tv that way. All well until last weekend / beginning of this week. Some change happened (don't exactly know what) but now there is no ITV4, and More4 and +1, E4 and +1 are "scrambled"? Postcode BA8 0RS What's going on?

Patricia's 6 posts
Patricia's:
map
P's Freeview map
terrain
P's terrain plot
waves
P's frequency data
P's Freeview Detailed Coverage
Monday, 27 August 2012

We just moved into a new house. We have an aerial for our sons TV that was working fine in the old house. It's got a booster in it apparently. But sometimes he gets nothing at all, no picture or sound. Then he will get all the channels for a few hours before it goes blocky and says No Signal. His aerial is sitting on his window sill. Our nearedt site is called Black Hill, our coverage is supposed to be really good. Our normal TV is Virgin. Is there anything we can do to get better reception? We use his tv to help him fall asleep as he gets frightened without a bit of light and yes I've tried a night light. Lol but he feels he's too old for a baby light.

Debbie Black's 1 post
Select more comments
Your comment please