Loft aerials

Brian Butterworth published on UK Free TV
One of the most common problems people have with Freeview reception relates to the use of "loft" aerials.

Because the analogue TV transmitter network uses very high power transmissions (the total ERP for the UK is 64 megawatts) many people have installed their TV aerial in places such as lofts, or have used other Indoor Aerials.

The effect on that roof tiles and walls have on analogue TV signals is that the picture will degrade slightly. Making the signal slightly weaker will add a 'snow' element to the picture which is mildly irritating. The picture quality drops, but it is usually possible to make out the picture, as demonstrated here: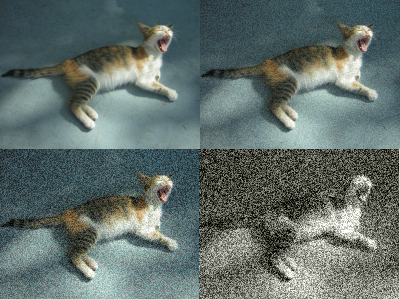 Many people have preferred this slight loss in picture quality for the perceived benefits of a loft-mounted aerial. Loft aerials are much easier and somewhat safer to install, and the aerial is shielded from wind and rain that can cause damage to rooftop aerials. In some places (such as New Towns) TV aerials have been previously banned from rooftops.

However, the BBC and others state that Freeview reception demands a roof-top aerial. The existing (pre Digital Switchover) Freeview signals are at very low power levels. The use by ITV, Channel 4 and five of "64QAM" mode for their transmission multiplexes to provide more channel choice results in a very lower chance of reception of these channels (multiplex 2 is ITV1, ITV2, ITV3, ITV4, CITV, Channel 4, More4, E4, Film4+1; multiplex A carries five, five Life and five US) with a loft-mounted aerial.

By comparison with the image above of how analogue signals look as the signal grow weaker, digital TV reception will continue to give perfect pictures and sound as the power level drops off, until suddenly the level drops below what the COFDM system can cope with. At this point the picture will become blocky and freeze whilst the sound will appear to come and go. Another tiny drop in signal level will result in no picture or sound and a message saying that "no signal is being received". As the signal can vary with weather conditions, people often find that a loft aerial will work when installed and then suddenly stop some months later.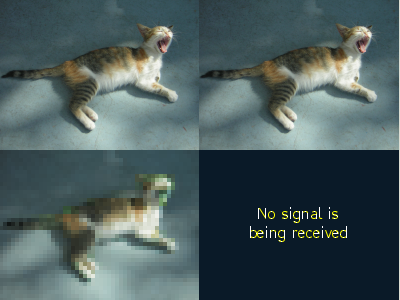 After switchover
After switchover new digital signals will replace the existing analogue and digital ones. The new digital signals will be at much higher levels that the current ones (for most people) and this will
help
with reception. However, all six multiplexes will switch to the
64QAM
mode that causes the problems indicated above.
Due to our Climate Change commitments (Kyoto Protocol), the signal levels for these new digital will not be as high as those currently used for analogue. For this reason you should not depend on the increase in power levels after switchover compensating for having a loft aerial.
Wherever possible you should use a rooftop aerial. If this is impossible, you may find that connecting your aerial to your Freeview box or integrated digital television using
satellite
-grade coaxial
cable
will compensate for the loss.
Comments
Tuesday, 19 March 2013

I have a loft aerial and my digital signal has been fine but of late has started playing up when i change channels its fine and a while later i will change channel and service not running will appear ,next the picture will appear but without sound.I have to turn t.v. off for 30 secs and put it back on and its fine.This is worse in the evening and is getting on my nerves now.our main television is cable but the prob television isnt.any imput would be appreciated.

pamela dudley's 2 posts

pamela dudley: You problem is possibly being caused by the signal level received being on the weak side and not really high enough above your TV minimum cut off level.

However its not really possible for anyone to offer advice without having knowledge of either your post code or one from somewhere nearby e.g: a shop, this being used to access info on the station involved.





jb38's 7,179 posts
Friday, 5 April 2013

We have just installed a new digital aerial in the roof as have been watching freeview channels through sky since switchover, and ow want to watch freeview on a new television ot connected to sky. We have placed the new aerial in the loft in the same location as the old aerial, but do not appear to be receiving a signal. Any ideas?

Karen's 1 post
Saturday, 6 April 2013

Karen: Unfortunately what you have said requires a certain amount of clarification, insomuch if new roof aerial has been installed then why are you also using one in the loft? or are you meaning that the loft aerial has been installed purely to be able to watch "freeview" on a second TV thats not connected to the Sky box in the living room?

The other point being, are you able to watch freeview via the roof aerial on the TV that "is" connected into the Sky box as well as being able to view Sky programmes?

But though as your query involves reception then a post code or one from nearby is required such as a shop or a post office, should the latter be near!

jb38's 7,179 posts
Thursday, 18 April 2013

Wow. What a useful place you've made! We've just had solar panels installed and would like to move our (Freeview) roof aerial into the loft to reduce shading. We're virtually line-of-sight to the Sandy transmitter - might the signal be strong enough to penetrate a slate roof in our case? Alternatively do you think we could take the old aerial off the pole? Is it still receiving anything useful?

sarah's 2 posts
sarah's:
map
S's Freeview map
terrain
S's terrain plot
waves
S's frequency data
S's Freeview Detailed Coverage

sarah: By being located at just over 8 miles away from Sandy I don't really think that you have anything whatsoever to worry about by moving the aerial into the loft, that is so long as its not sited close to any control equipment that "may" have been installed associated with the panels which can cause intermittent glitches on the picture.

But though, you would be much better purchasing a log periodic type aerial and fitting that in the loft, these being much easier to position by having an overall length of only 3' 6" / 14" wide, an example of the type referred to in the link.

Online TV FM DAB Aerial sales

jb38's 7,179 posts

jb38, that's very reassuring; I'll look at the log type aerial and assess local installers. Thank you!

sarah's 2 posts
Thursday, 6 June 2013

Hi we have intermittent problems with our freeview, we live in verwood Dorset and the roof aerial is old but huge and on a pole because we are a bungalow. We are pointing at the IOW transmitter. There is some kind of booster and a powered splitter in the loft. At about 9 pm the signal cuts out, every day! It can be inconsistent at other times and cut out too. Could the amplifier or the aerial be on their last legs or can any one suggest anything else I can check please?

Muz's 3 posts
Muz's:
map
M's Freeview map
terrain
M's terrain plot
waves
M's frequency data
M's Freeview Detailed Coverage

Muz: The line of sight from the Rowridge transmitter (@ 25 mls / 121 degrees) is indicated as being blocked from roughly just under 2 miles out from your location although problems could possibly start from roughly 10 miles out dependant upon the nature of the terrain in that area, however as you have mentioned that your aerial is old is it still mounted horizontally or has it been changed to vertical, that is elements facing up and down? because Rowridge is a dual polarity transmitter but with its maximum power output on the commercial channels only being radiated on vertical transmissions, that is 50Kw horizontal whereas 200 Kw vertical.

As far as checking is concerned, the best check of all is to make some local enquiries with a neighbour etc for the purpose of determining if the problem is also being experienced by others, as this saves needless checking of your own system.

jb38's 7,179 posts
Sunday, 9 June 2013

thanx jb38,
the arial it mounted with the spikes horizontal. Should I rotate 90 degrees do you think? everyone else in the neighbourhood seem to be similar to how mine is at the moment.
BTW most also seem to have dishes (sky)
cheers Muz.

Muz's 3 posts
Select more comments
Your comment please