Loft aerials

Brian Butterworth published on UK Free TV
One of the most common problems people have with Freeview reception relates to the use of "loft" aerials.

Because the analogue TV transmitter network uses very high power transmissions (the total ERP for the UK is 64 megawatts) many people have installed their TV aerial in places such as lofts, or have used other Indoor Aerials.

The effect on that roof tiles and walls have on analogue TV signals is that the picture will degrade slightly. Making the signal slightly weaker will add a 'snow' element to the picture which is mildly irritating. The picture quality drops, but it is usually possible to make out the picture, as demonstrated here: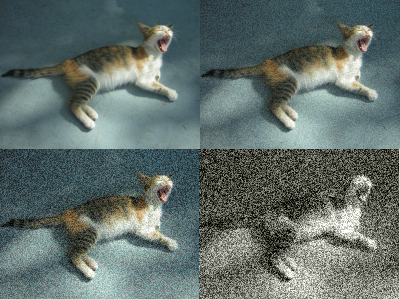 Many people have preferred this slight loss in picture quality for the perceived benefits of a loft-mounted aerial. Loft aerials are much easier and somewhat safer to install, and the aerial is shielded from wind and rain that can cause damage to rooftop aerials. In some places (such as New Towns) TV aerials have been previously banned from rooftops.

However, the BBC and others state that Freeview reception demands a roof-top aerial. The existing (pre Digital Switchover) Freeview signals are at very low power levels. The use by ITV, Channel 4 and five of "64QAM" mode for their transmission multiplexes to provide more channel choice results in a very lower chance of reception of these channels (multiplex 2 is ITV1, ITV2, ITV3, ITV4, CITV, Channel 4, More4, E4, Film4+1; multiplex A carries five, five Life and five US) with a loft-mounted aerial.

By comparison with the image above of how analogue signals look as the signal grow weaker, digital TV reception will continue to give perfect pictures and sound as the power level drops off, until suddenly the level drops below what the COFDM system can cope with. At this point the picture will become blocky and freeze whilst the sound will appear to come and go. Another tiny drop in signal level will result in no picture or sound and a message saying that "no signal is being received". As the signal can vary with weather conditions, people often find that a loft aerial will work when installed and then suddenly stop some months later.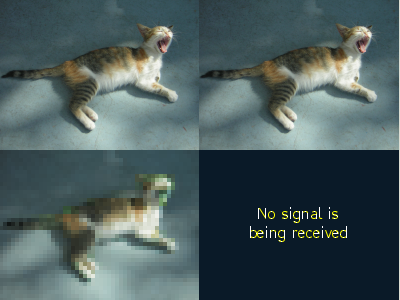 After switchover
After switchover new digital signals will replace the existing analogue and digital ones. The new digital signals will be at much higher levels that the current ones (for most people) and this will
help
with reception. However, all six multiplexes will switch to the
64QAM
mode that causes the problems indicated above.
Due to our Climate Change commitments (Kyoto Protocol), the signal levels for these new digital will not be as high as those currently used for analogue. For this reason you should not depend on the increase in power levels after switchover compensating for having a loft aerial.
Wherever possible you should use a rooftop aerial. If this is impossible, you may find that connecting your aerial to your Freeview box or integrated digital television using
satellite
-grade coaxial
cable
will compensate for the loss.
Comments
Monday, 23 May 2011

JT: You can just use a splitter, like this -
4Way F Splitter : Aerial Splitters : Maplin
.

Briantist's 38,899 posts
Thursday, 26 May 2011
S
Steve Robinson
7:03 PM
Bourne

Hi,

I have recently moved house in the PE10 area. I used to get all the freeview channels on my Sony Bravia TV. However, I have moved to a newer property some 1 1/2 miles away and when I originally tuned the TV it wouldnt recognise the arial. I have purchased a booster and plugged this into the arial connector in the living room and it seems to have worked. HOWEVER when I have tuned the TV I have lost a lot of the freeview channels such as Dave, Pick TV (was Sky3) etc etc. I have tried re-tuning several times, but cant seem to get it to work......

can anyone out there help..???

Steve Robinson's 1 post
Steve's:
map
S's Freeview map
terrain
S's terrain plot
waves
S's frequency data
S's Freeview Detailed Coverage

Steve Robinson: Your aerial is probably pointing at the Belmont transmitter, where you can only get limited services until 23rd November 2011.

If you want all the channels before then, your aerial will have to be moved to point at the Waltham transmitter.

Briantist's 38,899 posts
Monday, 30 May 2011

Hi Briantist,
My problem is we have just purchased a JVC TV with a built in HD Freeview Tuner. I have tuned the TV to the Sutton Coldfield Transmitter and have all the usual digital channels except the HD channels? I have tried manual tuning without success, as i was going through the channels to 48 signal strength very good, 50 no signal, 51 signal very good so I search for channels but no HD ones.
Could I have the wrong aerial???

Peter's 3 posts

Peter: It is not likley to be the "wrong aerial". Freeview HD, until switchover, comes from the Lichfield (Channel 5 analogue) transmitter and is provided on C34
at 4,000W.

Briantist's 38,899 posts
Tuesday, 7 June 2011

I live in lincoln,ln5 area. My freeview digital tv only picks up BBC 1,2 and 3. How do i know which way to point my ariel to get more channels.Is an old aerial,how do i know which aerial to buy to replace it. I dont know which transmitter is where or what i should be able to pick up from them. Am worried once analogue turns off will only have these 3 channels.

samantha salt's 1 post

samantha salt: Please can you provide a full postcode?

Briantist's 38,899 posts
Saturday, 25 June 2011

Hi Briantist
I live on the Isle of man, grid ref 54.088471,-4.753561. A few months ago I attached a new sony bravia with built in HD freeview to an old "in loft" aerial. Reception is perfect but channel selection limited (all the bbc offerings then just a couple of others). There is only one transmitter on the island, does it not provide a full service or do I need to upgrasde the aerial?
Many thanks (54.088471,-4.75)

Simon's 2 posts
Saturday, 16 July 2011
R
Robin
11:09 AM
Huddersfield

I have a Technik TV with built in Freeview. I have just upgraded my aerial to a Philex SLX48DW Digital aerial in my loft and have it pointed at Emley Moor transmitter which is in sight some 5 miles or so away. When first installed yesterday 15th July (fine weather)I picked up over 100 channels. Today in poor weather (rain but only light wind)I can only receive 54 channels and no BBC, though ITV is fine.
Does bad weather usually have such a marked effect or are there issues with Emley Moor? BBC reception was poor before I upgraded the aerial, having originally been relatively OK. What solution can you recommend please?

Robin's 1 post
Robin's:
map
R's Freeview map
terrain
R's terrain plot
waves
R's frequency data
R's Freeview Detailed Coverage
Sunday, 17 July 2011

Simon: There are no full-service Freeview transmitters on the Isle of Man. If you want more channels, you will need to use Freesat. See Compare Freeview Light and Freesat TV | ukfree.tv - independent free digital TV advice .

Briantist's 38,899 posts
Select more comments
Your comment please