Loft aerials

Brian Butterworth published on UK Free TV
One of the most common problems people have with Freeview reception relates to the use of "loft" aerials.

Because the analogue TV transmitter network uses very high power transmissions (the total ERP for the UK is 64 megawatts) many people have installed their TV aerial in places such as lofts, or have used other Indoor Aerials.

The effect on that roof tiles and walls have on analogue TV signals is that the picture will degrade slightly. Making the signal slightly weaker will add a 'snow' element to the picture which is mildly irritating. The picture quality drops, but it is usually possible to make out the picture, as demonstrated here: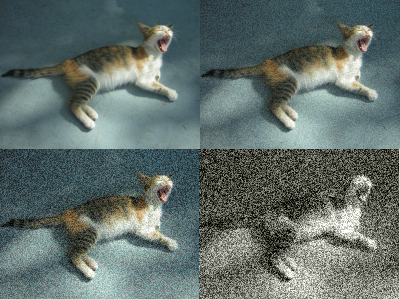 Many people have preferred this slight loss in picture quality for the perceived benefits of a loft-mounted aerial. Loft aerials are much easier and somewhat safer to install, and the aerial is shielded from wind and rain that can cause damage to rooftop aerials. In some places (such as New Towns) TV aerials have been previously banned from rooftops.

However, the BBC and others state that Freeview reception demands a roof-top aerial. The existing (pre Digital Switchover) Freeview signals are at very low power levels. The use by ITV, Channel 4 and five of "64QAM" mode for their transmission multiplexes to provide more channel choice results in a very lower chance of reception of these channels (multiplex 2 is ITV1, ITV2, ITV3, ITV4, CITV, Channel 4, More4, E4, Film4+1; multiplex A carries five, five Life and five US) with a loft-mounted aerial.

By comparison with the image above of how analogue signals look as the signal grow weaker, digital TV reception will continue to give perfect pictures and sound as the power level drops off, until suddenly the level drops below what the COFDM system can cope with. At this point the picture will become blocky and freeze whilst the sound will appear to come and go. Another tiny drop in signal level will result in no picture or sound and a message saying that "no signal is being received". As the signal can vary with weather conditions, people often find that a loft aerial will work when installed and then suddenly stop some months later.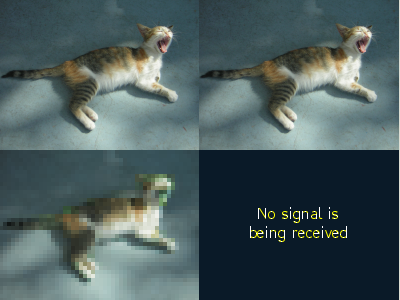 After switchover
After switchover new digital signals will replace the existing analogue and digital ones. The new digital signals will be at much higher levels that the current ones (for most people) and this will
help
with reception. However, all six multiplexes will switch to the
64QAM
mode that causes the problems indicated above.
Due to our Climate Change commitments (Kyoto Protocol), the signal levels for these new digital will not be as high as those currently used for analogue. For this reason you should not depend on the increase in power levels after switchover compensating for having a loft aerial.
Wherever possible you should use a rooftop aerial. If this is impossible, you may find that connecting your aerial to your Freeview box or integrated digital television using
satellite
-grade coaxial
cable
will compensate for the loss.
Comments
Wednesday, 10 August 2011
C
chris
9:16 PM
Sutton Coldfield

hello i'm chris and i live in the B73 6RN area sutton coldfield, i have freeview in the bedroom and the aerial is in the loft.
my picture keeps on freezing on all channels but mostly on ITV. when i tune the tv the signal is very low can anyone help.

chris's 3 posts
chris's:
map
C's Freeview map
terrain
C's terrain plot
waves
C's frequency data
C's Freeview Detailed Coverage
Thursday, 11 August 2011

Hi JB38,
I am at OX4 2GG. I think I may need to get an aerial installed in my loft, as I don't think there is one at the moment. Do you have any recommendations for what type of aerial I should get or where I should buy it from? I am not sure yet if there is a cable up there or not (there is an aerial socket in my living room, but I am not sure if the previous owners have taken the cable as well as the aerial with them). Can you recommend a good quality aerial for my tv (Samsung flatscreen with built-in freeview). Bearing in mind that Oxford is due to switchover in a month's time.
thanks
Steph

Steph's 2 posts
Steph's:
map
S's Freeview map
terrain
S's terrain plot
waves
S's frequency data
S's Freeview Detailed Coverage

Steph: As you are only 4 miles away from the transmitter a standard log periodic type aerial would be perfectly suffice for your requirements, as well as it being exceedingly easy to position in a loft by it not having any reflector elements, although for ease of purchase the Argos 535-6443 @£12.99 would also be OK albeit being slightly more awkward to mount.

jb38's 7,179 posts
Sunday, 14 August 2011

Hello, i see no mention of polarity on this site. For Pitlochry should the aerial be vertical or horizontal? maybe it is not important.
Thanks.......Phil

phil joy's 1 post

phil joy: It should be vertically mounted, with the importance for this being greater the further the distance away a person is from the transmitter.

jb38's 22 posts
Monday, 15 August 2011

phil joy: Pitlochry digital TV transmitter | ukfree.tv - independent free digital TV advice page says:

"To receive signals from this transmitter, the aerial must be mounted for vertical polarization - the elements going from top to bottom. "


Briantist's 38,908 posts
C
chris
8:59 PM
Sutton Coldfield

why can't i get a response on this site i live in the B73 6RN area sutton coldfield, i have freeview in the bedroom and the aerial is in the loft.
my picture keeps on freezing on all channels but mostly on ITV. when i tune the tv the signal is very low can anyone help.

chris's 3 posts
chris's:
map
C's Freeview map
terrain
C's terrain plot
waves
C's frequency data
C's Freeview Detailed Coverage
Tuesday, 16 August 2011
Tim
12:30 PM
Walton On The Naze

chris: According to Digitsl UK tradeview, you should be getting a very good signal. I too use a loft aerial for Freeview in the bedroom, and receive a good quality signal from all but the weakest muxes off the Sudbury transmitter. Have you got the correct aerial - Group B, horizontal, and is it pointing directly at the transmitter (21 degrees from your location)? Maybe there are other things in the signal's path that affect it (buildings etc.), if so you may need to install an outdoor aerial. Hope that helps.

Tim's 34 posts
Tim's:
map
T's Freeview map
terrain
T's terrain plot
waves
T's frequency data
T's Freeview Detailed Coverage

chris: Just to add to what has been said, the fact that you are having this type of problem at only four miles away from the transmitter can mean that its an aerial positioning problem, that is in the horizontal sense and not height, so try moving it a few feet either way in the loft whilst at the same time making sure its always pointing at 21 degrees, as indeed as was previously mentioned by Tim.

Try a signal strength / quality check on Mux Ch41 (BBC1) then the same on Ch44 (ITV1), as both of them should be very similar if the aerial is positioned correctly, a loft mount aerial generally being perfectly satisfactory at this distance (and further!) provided that no major obstructions exist between it and the transmitter.

Also make sure that the aerial isn't facing into a water tank, or even sitting along the side of one unless its about 4 feet away, or a little over a metre in metric terms. Another thing that can seriously reduce a loft aerials signal is if its correct alignment position means it facing through a number of adjoining properties walls.



jb38's 7,179 posts

chris: You may have a short circuit on your coax (either at the aerial end or at the plug that goes into your TV).
Alternatively, your TV may have decided that the signal from SC is too high, and has tuned itself to The Wrekin. Do you have any programme numbers in the 800s? If so, these might correspond to the correct transmitter and give better reception.
Try checking the coax cable and make sure that the channels you are receiving have the correct UHF channel numbers corresponding to SC.

Jim F's 141 posts
Select more comments
Your comment please