Loft aerials

Brian Butterworth published on UK Free TV
One of the most common problems people have with Freeview reception relates to the use of "loft" aerials.

Because the analogue TV transmitter network uses very high power transmissions (the total ERP for the UK is 64 megawatts) many people have installed their TV aerial in places such as lofts, or have used other Indoor Aerials.

The effect on that roof tiles and walls have on analogue TV signals is that the picture will degrade slightly. Making the signal slightly weaker will add a 'snow' element to the picture which is mildly irritating. The picture quality drops, but it is usually possible to make out the picture, as demonstrated here: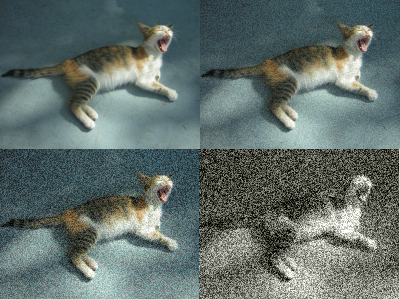 Many people have preferred this slight loss in picture quality for the perceived benefits of a loft-mounted aerial. Loft aerials are much easier and somewhat safer to install, and the aerial is shielded from wind and rain that can cause damage to rooftop aerials. In some places (such as New Towns) TV aerials have been previously banned from rooftops.

However, the BBC and others state that Freeview reception demands a roof-top aerial. The existing (pre Digital Switchover) Freeview signals are at very low power levels. The use by ITV, Channel 4 and five of "64QAM" mode for their transmission multiplexes to provide more channel choice results in a very lower chance of reception of these channels (multiplex 2 is ITV1, ITV2, ITV3, ITV4, CITV, Channel 4, More4, E4, Film4+1; multiplex A carries five, five Life and five US) with a loft-mounted aerial.

By comparison with the image above of how analogue signals look as the signal grow weaker, digital TV reception will continue to give perfect pictures and sound as the power level drops off, until suddenly the level drops below what the COFDM system can cope with. At this point the picture will become blocky and freeze whilst the sound will appear to come and go. Another tiny drop in signal level will result in no picture or sound and a message saying that "no signal is being received". As the signal can vary with weather conditions, people often find that a loft aerial will work when installed and then suddenly stop some months later.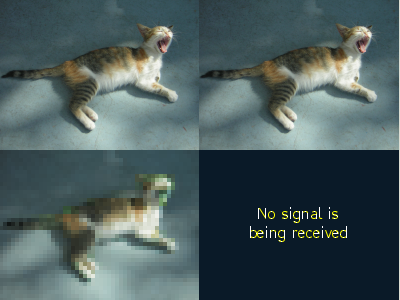 After switchover
After switchover new digital signals will replace the existing analogue and digital ones. The new digital signals will be at much higher levels that the current ones (for most people) and this will
help
with reception. However, all six multiplexes will switch to the
64QAM
mode that causes the problems indicated above.
Due to our Climate Change commitments (Kyoto Protocol), the signal levels for these new digital will not be as high as those currently used for analogue. For this reason you should not depend on the increase in power levels after switchover compensating for having a loft aerial.
Wherever possible you should use a rooftop aerial. If this is impossible, you may find that connecting your aerial to your Freeview box or integrated digital television using
satellite
-grade coaxial
cable
will compensate for the loss.
Comments
Wednesday, 17 August 2011

thank you all so much for your info i will get back to you with a result

chris's 3 posts
Tuesday, 30 August 2011

Help with the following question/problem would be appreciated:-
I live approx 8 miles from the Sandy Heath transmitter. I have a Samsung BluRay/Hard-drive Combi Unit (BD-C8900M/XEU)connected to a Sony TV, both with Freeview.
Since digital change over the picture on the TV (and when recorded on box hard drive) pixelates randomly, only when the RF aerial is connected via the Samsung box. (I have the aerial connection directly from a digital "W" type aerial in the loft with no in series connectors or splitters in the line). Then a HDMI cable from the Samsung box to the TV and also a RF gold type connection from the box RF outlet to the TV RF inlet).
Have tried 3 different aerials, ( linked and separate), boosters and also on advice of Samsung Repair Centres also tried a variable attenuator as they considered the signal could be too strong. (2 Repairs Centres have not found any fault with my Samsung unit). However if the existing RF aerial is plugged directly into the TV only, all works fine, as does a Ferguson TV top box in another room. I have tried all combinations via the Samsung box but still get the pixilation. It is almost like tuners in different units are calibrated to different sensibility levels.
Why should the signal have degraded since digital switch over? Samsung do not currently accept anything wrong with their box, but it keeps pixelating.
I am in an old cottage and do not want to put an aerial on the roof.
Any suggestions??


Dave G's 2 posts
Dave's:
map
D's Freeview map
terrain
D's terrain plot
waves
D's frequency data
D's Freeview Detailed Coverage

Dave G: The obvious question would be, on what channel are you recording? If it is one from the PSB channels, you may be experiencing too strong a signal. If however, you are viewing/recording one of the PSB channels, it is probably down to too weak a signal. If this to be the case, this should improve as and when these channels go full-power.

LutonFan's 382 posts

Dave G- Sorry, the second paragraph should state COM channels.

LutonFan's 382 posts
Wednesday, 31 August 2011

LutonFan: Thanks for your response. COM channels tend to be worst, but also occurs on BBC channels. There was a notification recently that for the Sandy Heath transmitter we should retune again today, so maybe it might improve.

Dave G's 2 posts
Dave's:
map
D's Freeview map
terrain
D's terrain plot
waves
D's frequency data
D's Freeview Detailed Coverage
Sunday, 4 September 2011

hi, I'm having a nightmare trying to get an ariel, please help someone, I am in a corner house and i cant have a satelite dish as my neighbours bigger 3 storey is blocking my signal, i have been told a loft ariel is the best way to go but i have brought so many and had to take them back, does anyone know whats best for a practicaly no signal area?

sandra's 2 posts

sandra: You would really have to provide your post code for an answer of any accuracy, this required for signal checking purposes.

jb38's 7,179 posts
Monday, 5 September 2011
S
sandra
12:03 PM
Milton Keynes

hi,my post code is mk6 2js, when i go on to other sites they say i should be able to get a reception but they havent taken into account the trees out the back and my neighbours house, i am waiting for virgin to get back to me as when i went to look at cable tv my house number was not listed with them either, but i didnt want to have a monthly charge, i wanted freeview, any ideas?....thanks...

sandra's 2 posts
sandra's:
map
S's Freeview map
terrain
S's terrain plot
waves
S's frequency data
S's Freeview Detailed Coverage
Wednesday, 7 September 2011

sandra: Loft aerials are not recommended for Freeview reception. If you have with issues with trees, the aerial need to be mounted on a pole on the roof high enough up to see over the trees.

Briantist's 38,899 posts
Tuesday, 13 September 2011

More tests need to be done, especially on 28th Sep after, when Lark Stoke changes some commerical channels and puts power up, but I thought best also now post my Lark Stoke one here also, as on the very subject:

Great news tests show despite 24 miles from Coventry, even in the loft, using a log A group aerial and a 23db gain amplifier that I can get channels 23, and looks like 26, first worked through the bathroom window, so tried the loft.
I assumed it was 20 miles, measured on an old map, around 24 miles from me, wow.
So it seems, when they switch the arq and sdn channels, if I use another aerial I have, should be able to get them, not bothered about the bbc and usual lot, I have on freesat anyway, so cool :).

Not boasting, reason for posting is to give people hope and an idea, so if someone like me searching in future, it shows and proves what one can do.

Waltham 43 miles away and I do okay, has toy be out side, poles joined and 12 foot or so, and about 8 feet above the guttering say, and get 95% and 100% strength and quality on ch 61 at 50,000 and around 55% to 70% and up to 100% sometimes on quality on channel 57 at 25,000 kws.

So at only 1,260kws at 24 miles away, think no chance, especially in the loft, but no, it can be done, obviously depends what and where you are, I'm missing according to map, Kenilworth just and Stratford and Warwick, so mostly going over open space fact clips warwick castle it seems.

Anyway as I say I do so hope that helps anyone thinking oh no, can not get what I was on Allesley Park or other small relay transmitter, well now maybe you can, on another one, glitch free, not like 12 plus years ago, better transmission and boxes and amps now, so good luck anyone, tinker around, give it a go and you just might never know, :).

Billy's 50 posts
Select more comments
Your comment please