Loft aerials

Brian Butterworth published on UK Free TV
One of the most common problems people have with Freeview reception relates to the use of "loft" aerials.

Because the analogue TV transmitter network uses very high power transmissions (the total ERP for the UK is 64 megawatts) many people have installed their TV aerial in places such as lofts, or have used other Indoor Aerials.

The effect on that roof tiles and walls have on analogue TV signals is that the picture will degrade slightly. Making the signal slightly weaker will add a 'snow' element to the picture which is mildly irritating. The picture quality drops, but it is usually possible to make out the picture, as demonstrated here: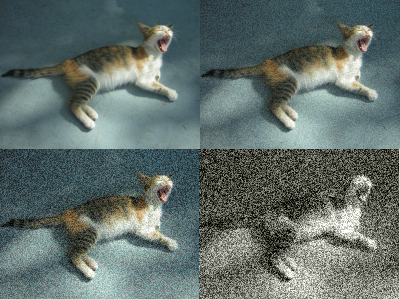 Many people have preferred this slight loss in picture quality for the perceived benefits of a loft-mounted aerial. Loft aerials are much easier and somewhat safer to install, and the aerial is shielded from wind and rain that can cause damage to rooftop aerials. In some places (such as New Towns) TV aerials have been previously banned from rooftops.

However, the BBC and others state that Freeview reception demands a roof-top aerial. The existing (pre Digital Switchover) Freeview signals are at very low power levels. The use by ITV, Channel 4 and five of "64QAM" mode for their transmission multiplexes to provide more channel choice results in a very lower chance of reception of these channels (multiplex 2 is ITV1, ITV2, ITV3, ITV4, CITV, Channel 4, More4, E4, Film4+1; multiplex A carries five, five Life and five US) with a loft-mounted aerial.

By comparison with the image above of how analogue signals look as the signal grow weaker, digital TV reception will continue to give perfect pictures and sound as the power level drops off, until suddenly the level drops below what the COFDM system can cope with. At this point the picture will become blocky and freeze whilst the sound will appear to come and go. Another tiny drop in signal level will result in no picture or sound and a message saying that "no signal is being received". As the signal can vary with weather conditions, people often find that a loft aerial will work when installed and then suddenly stop some months later.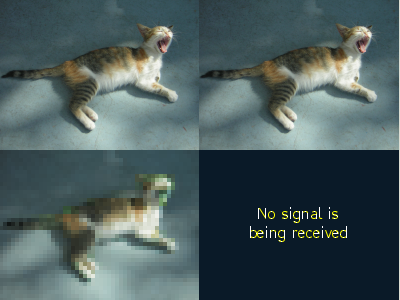 After switchover
After switchover new digital signals will replace the existing analogue and digital ones. The new digital signals will be at much higher levels that the current ones (for most people) and this will
help
with reception. However, all six multiplexes will switch to the
64QAM
mode that causes the problems indicated above.
Due to our Climate Change commitments (Kyoto Protocol), the signal levels for these new digital will not be as high as those currently used for analogue. For this reason you should not depend on the increase in power levels after switchover compensating for having a loft aerial.
Wherever possible you should use a rooftop aerial. If this is impossible, you may find that connecting your aerial to your Freeview box or integrated digital television using
satellite
-grade coaxial
cable
will compensate for the loss.
Comments
Tuesday, 24 January 2012

Chris: As you are indicated as being located at only 8 miles away from Crystal Palace your recently purchased aerial is totally over the top for reception, that is even at present, and come April 18th when the station switches to high power is liable to cause complete blocking of reception by overloading your tuners input.

I feel that you are possibly trying to overcome problems that are basically outwith your control and introducing others in the process, as an aerial more along the lines of a log 40 at the very most should be suffice fot your needs, especially so when switchover takes place.

jb38's 7,179 posts
Thursday, 22 March 2012
D
David Brine
12:54 PM
Christchurch

My postcode is BH23 5AS from Rowridge with a loft wide band aerial. Before switchover reception was limited but since 21st March all SD channels are perfect. However NO HD channels on either my SONY BRAVIA KDL40W5810 or Samsung LE32A456C2D with built in freeview tuners. I read the comments on loft aerials but before drastic action I wonder whether the TV tuners will pick up the HD. the Sony has also a Freesat tuner and this picks up the HD channels ok directly connected from my Satelite dish which I want to remove because more freeview channels.

David Brine's 1 post
David's:
map
D's Freeview map
terrain
D's terrain plot
waves
D's frequency data
D's Freeview Detailed Coverage

David Brine: The specification on Sony's website says 'Digital Terrestrial Tuner (MPEG-2): YES', which makes me think that it isn't Freeview HD compatible. HD pictures are compressed with the newer MPEG-4 AVC/H.264 standard - they're also broadcast with the newer DVB-T2 standard, not DVB-T as the others are.

The user manual on the Samsung website is dated 5 June 2008, which is before the DVB-T2 specification was completed. The manual doesn't mention DVB-T or DVB-T2 at all, but my guess is that the design is too old to be compatible.

I don't think you have to remove the satellite dish connection to use the Freeview tuner on the Sony. You simply select Digital for Freeview, or Satellite for Freesat, from the Cross-Media Bar (XMB). You may find that picture quality is slightly better on Freesat even for those channels that are available in SD on both Freeview and Freesat. Just remember that the channel numbers are different on the two platforms (yes, Freesat numbers start at 101, rather than 1, but also the Freesat numbers aren't necessarily 100 plus the Freeview channel number).

Mike Dimmick's 2,486 posts
Tuesday, 10 April 2012
A
Andrew
11:26 PM
Middlesbrough

I'm about 12 miles from the Bilsdale transmitter and it is on a bearing of 168 degrees from me . I am not allowed a roof mounted aerial. I can get 23 freeview digital channels on my new bedroom TV but this is with the aerial cable dangling through the loft hatch and straight into the bakc of the TV on the landing! I'managed to get the old inner wall coaxial cabling up into the loft from the bedroom, leaving a string in place, and will hope to replace with decent coaxial cabling but I know that can be tricky. Even though my aerial may then be adequate I would like to replace it to get the best possible result first time around. Do you have an aerial suggestion please? Many thanks.

Andrew's 1 post
Andrew's:
map
A's Freeview map
terrain
A's terrain plot
waves
A's frequency data
A's Freeview Detailed Coverage
Wednesday, 11 April 2012

Andrew: See www.aerialsandtv.com

Dave Lindsay's 5,724 posts
Tuesday, 17 April 2012
G
Geoff Nice
5:34 PM
Bungay

Is it Possible to have an Aerial too Powerful ? I fixed one in my Sister-in-Laws Loft, 36 elements, Its a 22" Samsung TV, It doesn't work properly, Reception poor, Its on Tachelston Transmitter not more than 20 Miles (My estimate) Post Code is NR35 2EU Would it be worth buying a Meter to get the correct position, I understand this is very important.


Geoff Nice's 3 posts
Geoff's:
map
G's Freeview map
terrain
G's terrain plot
waves
G's frequency data
G's Freeview Detailed Coverage
Thursday, 19 April 2012

Geoff it would be wise aerials in loft's are only in general for specialist undertaking as so often to get a decent quality you have to get a top aerial and although it may not be that expensive by the time you have had a booster installed for the whole house and the time taking to get it all right it invariably ends up expensive

NICK ADSL UK's 72 posts
Friday, 20 April 2012

Geoff Nice: A large number of aerial elements
will not help at all if the signal is not there in the first place.If you had some trace of signals,they would improve it,but
not otherwise.I presume you have tried different positions within your loft.(Not just elevations,but actual locations)

dennis starr's 18 posts
Thursday, 17 May 2012

Hi... we have recently moved into a property that has been here since 1960s, apparently has loft aerials, however I am not entirely sure... i have connected my freeview box to an indoor aerial with built in signal booster, and also to the main aerial socket on my wall (the thing with white case and circular hole for the aerial jack to be inserted)... anyway... i have VERY VERY poor signal quality with both of them connected and if i remove one connection, and am left with the main aerial socket still connected to the freeview box i get NOTHING, ZILCH, NADA nothing lol any advice on how to rectify this? is a problem that my local authority should fix for us? (we rent our property through a local housing association) any help and advice would be greatly appreciated :-)

Steven Ellson's 1 post

Steven Ellson: As this is a reception query then its essential to have knowledge of your location, a post code or one from nearby, as you could be located anywhere from John O Groats to Lands End.

But regarding your aerial, are you meaning that you have an indoor aerial of the set top type that has a booster built in?

jb38's 7,179 posts
Select more comments
Your comment please