Why V's DAB TV failed

Brian Butterworth published on UK Free TV
In a country where decreasingly few homes have just four or five TV channels to watch, the introduction of a mobile phone with a similar number of channels can never really have been predicted to be a success.


It turns out that providing BBC One, ITV-1, Channel 4, E4 and an ITV News loop was never going to make people part with a few hundred pounds for the handset and a fiver a month for channels which are free-to-air in every home.

Many handsets got returned almost immediately because the broadcasters had not the rights to allow their programmes to be distributed this way. In particular football fans who rushed out to get ITV-1 football coverage instead got a "we cannot broadcast this programme" message felt cheated enough to demand a refund.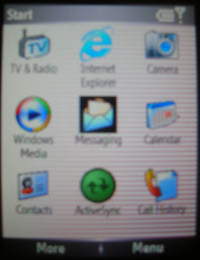 The Lobster 700TV phone is a rather excellent handset in many ways. The Windows Smartphone software is incredibly easy to use. By connecting to an Exchange Server, my phone numbers and contacts were all on my phone before I reached the car park. The phone is well integrated, speedy and includes everything you would expect, including predictive text entry, fast dialling, and lots of applications.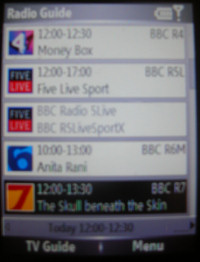 The DAB radio included in the phone is excellent, and includes a seven-day programme guide with colour channel icons and a reminder facility. However the DAB and TV software does not function as the other applications on the phone - the "back" button is used to turn of the radio or TV, elsewhere it just goes to the previous screen, as with a web browser.

The other rather major fault with the Lobster 700TV is a lack of memory: in particular the phone does not have memory card slot.

However, there are several major faults with the device which no amount of calling Virgin could get resolved. It seems amazing to spend two million pounds promoting a device and then not have a customer feedback system to improve the customer's lot.

The first problem is the TV function. It's unbelievably awful: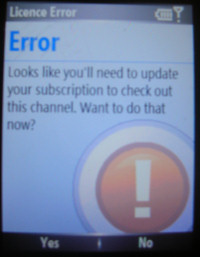 - To watch TV you need to retrieve a licence for the five TV channels. This is done over WAP and takes nearly ten minutes to do, which wouldn't be so bad if you didn't have to do it once a month. This means you can't catch a programme when it starts if you need to "re-licence". Not what you expect from a TV!

-The picture quality is awful, is not widescreen, and cannot be rotated to fill the whole screen.

-By not using the "forward error correction" protocols that DAB radio uses, the TV is much more prone to stopping. Every time it does this (and it can be every ten seconds) it stops the TV, rechecks the licence and then has to start several second of buffering each time. By comparison the DAB radio makes a momentary squelching noise and carries on.

-Use of the TV takes up all the phone's resources so it is hard to do something else such as look up a contact whilst listening to the TV's audio.

-Too much of the five channels have output that is blocked because of right's issues.

-It is impossible to get good reception whilst in transit as the "Faraday cage" effect of a car or train blocks the signal. In places where you would often want to watch, such as a railway station platform local interference blocks TV reception.

-Who in their right mind would pay 60 a year for such a rubbish service?

-What is the point of having an electronic programme guide, but not enough memory to record the transmitted programmes? When the phone rings and you take a call you miss the TV programme - in the 21st Century I expect at least modest PVR facilities so the TV programme would be paused and resumed when the call finishes.

-A modest PVR that could record programmes whilst the phone is sat in a good reception area and then replay them in bad areas (trains, tunnels, cars) would have provided an excellent facility, sadly 100% missing.

There are also other serious problems with the phone. In particular it makes many "WAP chat" calls which use the phone's GPRS facilities without requiring any use action other than leaving the phone on.

At one point I was being charged 5 per day for no service - every one of the thirty calls I put into Virgin customer service told me that I was pressing the "internet button" on the phone - but there isn't one! I guess I'm not the only person who resents having to pay 1800 a year just to own a phone, but disabling the Virgin WAP service (the only option that resolved the problem) means the TV channels cannot be licensed and hence watched.

So it's no TV, or a fiver a day - for a service that includes BBC One, a channel that must be provided without subscription by law.
What does this mean for mobile TV?
Other companies have taken a different route - by providing programmes as downloads. This is a very inefficient use of mobile phone bandwidth and hence expensive for customers to use. This is a terrible way to deliver broadcasts. However, there is
hope
, but not yet. DVB-H, the "handheld" version of
Digital
Video
Broadcasting can provide 30 or more channels at quarter-resolution using the
standard
TV UHF frequencies and can be implemented using the existing TV transmitters.
It has been suggested that
UHF Channel C36
be cleared from the current use - testing RADAR systems, and a "mobile
Freeview
" service be created for use on all handsets. However,
Ofcom
do not consider that they can do this until digital television
switchover
is complete - at the end of 2012.
Comments
Your comment please