Freeview reception has changed?

Brian Butterworth published on UK Free TV
From time to time people find that their Freeview box, integrated set (idTV) or Personal Video Recorder (PVR) has lost many channels without any apparent changes.
There are a number of factors to consider
Freeview is broadcast on
digital
multiplexes. This means that, once broken down into a stream of bits, each television channel is combined into a single transmission of 1s and 0s. This means that
reception
is of the
multiplex
first if this is lost it affects all the channels in the multiplex in the same way.
The
signal
strength received by the box or TV for a particular multiplex from a given
transmitter
determines if the data can be received or not. So, a poor signal results in no data, an adequate signal in perfect data and a low signal in either none or all.
Poor digital signal levels do not result, as they do with old-fashioned
analogue
television, in a sub-
standard
picture or sound. Poor signals often result in a perfect data-stream, but are prone to periods of no reception. Sometimes this will be for hours, but can also be several times a minute when caused by induction from fridges, freezers, central heating systems, two-stroke scooters, baby monitors and so on.
If you have lost ALL your Freeview channels
First disconnect the
aerial
lead from the Freeview box or TV set and reconnect it and then follow
this reset procedure
to
scan
for channels again. If this does not result in
services
being restored, check the
Freeview transmitters page
to see if there are any
engineering
problems with your local transmitter.
How to check all cables, connectors and aerials
The RF connectors need to be in very good condition to work. There are two general types:
Factory-fitted connectors are very reliable as they cannot easily be taken apart, but they can be damaged by wear and tear. On the female-type the central section is often composed of two parts which can often be forced apart, resulting in a poor connection you can push them back together if this has happened with a pair of tweezers. On male connectors if the central pin is damaged, you will need a new
cable
. If there are any loose partials in the connector, remove them.
Another problem with these cables is that quite easy to sprain the connector at the back which causes little obvious external damage, but disconnects the internal connection. This happens often when a set-top box is pushed backwards into a cabinet.
Hand made cables can also suffer from similar problems to factory made ones and they are also prone to accidental damage from a cable being pulled. If such a connector is not firmly attached to the cable, the connector may need refitting.
Cables
Make a visual check of the cables. There are a few basic checks:
If the cable has been slashed or cut, it will not be very effective or reliable. If such a cable is fitted externally, this can allow rainwater to enter the cable and this will reduce the signal levels.
You can easily damage an RF cable by crushing it, for example in a door. If the outside of the cable has a permanent kink in the cable or has been very tightly looped, this could be the site of damage.
Aerial
For reliable and effective Freeview reception, a
rooftop aerial
is required. It is hard to make a visual check of such an aerial without putting yourself in potential danger.
You can make a visual check of the route between the aerial and the transmitter. Any form of obstruction will damage the digital signals. In particular trees coming into leaf, as these will leech the signal before it reaches your aerial. This applies to both trees adjacent to the aerial and at a distance.
Another common problem in cities is building work. A large crane will often change position many times during the day, and if this is between your aerial and the transmitter this can reduce the signal levels in an unpredictable way.
If your system uses a
booster
, the
power
may have failed. Check the fuse to the power to the
booster
.
Weather problems
There are two main weather problems that effect Freeview reception.
The
Inversion Effect
: please see
What is the Inversion Effect and why does it effect my Freeview TV reception?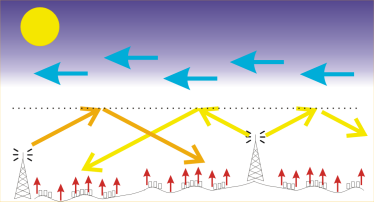 Wind: high winds sometime can dislodge the aerial this results in a poor signal.
Rain: poor or old cables can fill with water and this results in a poor signal. If this happens, the cables will require replacement.
Comments
Monday, 25 July 2011

ps Thanks again for sharing your wisdom :)

Nicci's 7 posts
Nicci's:
map
N's Freeview map
terrain
N's terrain plot
waves
N's frequency data
N's Freeview Detailed Coverage
Thursday, 28 July 2011

Is it the communual aerial? Well, I've knocked on a good 20+ doors over the last couple of days and left a note if no-one answered asking them to let me know if they are having any problems with their freeview reception. Apart from the person directly above me, I have not had any other replies. One person I spoke to watched TV using Skype and has been having problems/missing channels via this method. Would this be using the same aerial as digital/freeview? I'm confused! :/ I presumed that digital/freeview would have it's own aerial?

As for everyone else in the block I am guessing they either 1) are not having problems 2) do not have/use freeview (using Sky or an alternative to freeview) 3) they are not around 4) they can't be bothered to reply 5) they do not have a television (a couple of doors I knocked on and answered did not have television).

What next people? Is it just a case of waiting until switchover in September now. Which is rubbish and means no ITV1, Channel 4, Channel 5 and others on this channel grouping for basically two months! Not a happy bunny!

Nicci's 7 posts
Friday, 29 July 2011

Nicci: Sorry to jump in here, but if you are using a communal aerial system, then you will be paying someone for this.

Normally if there is a problem you contact the "managing agent" for the building and ask them to repair the system for which you are paying.

Briantist's 38,906 posts
Saturday, 30 July 2011

Wonder if you can help. I am on the Bucks & Oxon transmiter and have been experiencing constant problems with CH68 for well over a year now. In the evenings there is no reception (breaking up) and when I look at the diagnostics on my tv it says there is no signal. The other channels are fine apart from the signal strength being 100% but the quality only being 45-50%.

If I view ITV on my BT Vision live TV it is normally better, but this afternoon this was bad as well.

Quite often I can only watch ITV on analogue which is switching off in September.

What is causing this?

Thanks

Lynne Talbott's 5 posts
L
Lynne Talbott
8:45 PM
Tring

I have just re tuned my tv and am now on the Cambs & Beds transmitter. However when I checked which transmitter I was on using this site it came up as Calbeck for 2 of my frequencies (CH29 and CH24).

ITV now seems to be okay but BBC has gone (no signal on Cambs & Beds)

Lynne Talbott's 5 posts
Lynne's:
map
L's Freeview map
terrain
L's terrain plot
waves
L's frequency data
L's Freeview Detailed Coverage
Sunday, 31 July 2011

Lynne Talbott: The signal on C24 is Mux D3+4 from Sandy Heath (Cambs & Beds) and the one on C29 is MuxD from Oxford. It is highly unlikely that any signals from Caldbeck would ever be received in your area, even with an inversion. It would appear that your receiver is the type that stores the channels on the first frequency it finds, then puts regional variations, and possibly duplicates, in the 800s of the channel list.You might find BBC Oxford is in the 800s, as could ITV1 (Meridian) also be. If you wish to store all the channels from the Oxford transmitter in the normal positions in the channel list it will be necessary to do a manual tune for each of the Oxford frequencies after first clearing the channel list by doing a factory reset or a complete scan with no aerial connected. As the Oxford version of Mux2 on C68 is giving reception problems, you might prefer to enter C24 from Sandy Heath at the present time to get a working set of channels. After DSO stage2 at Oxford you should be able to receive a working Mux D3+4 for Bucks & Oxon. Possible reasons for C68 not working currently are (1) interference from a VCR or Sky box with the RF modulator set to C68, or (2) if you have a booster on the aerial the signal on C68 is now too strong - I noticed you said your signal strength is 100% which would be far too high on many boxes. The important factor for digital TV is good signal quality, which if this is 100% is excellent.

KMJ,Derby's 1,811 posts
L
Lynne Talbott
2:14 PM
Tring

KMJ - thank you for your reply and your help. It did say Caldbeck but when I checked again to add my favourites CH24 now says Cambs & Beds and there is also Bucks & Oxon as you said (for BBC channels).

I do have the 800s as you say which is CH68 etc and these do not work well at all, however, now I have the ITV channels on CH24 they are receiving a good signal.

Rather than retune and risk losing my ITV again, I'm going to keep as is until digital switchover and see what happens. I don't have EPG with CH24 but I'll live with that as I can view this through BT Vision.

Thanks for your help



Lynne Talbott's 5 posts
Lynne's:
map
L's Freeview map
terrain
L's terrain plot
waves
L's frequency data
L's Freeview Detailed Coverage

Hi

We are currently having problems receiving a few channels, and from having a read of this site it seems they are all on Multiplex 2 (ITV etc). We use the Pontop Pike transmitter and apparently have good coverage, however it looks like a tree could be blocking a direct route to the transmitter (hard to tell, it's 19 miles south-east of us). We just bought a new aerial for one of the TVs and it has made no difference. Does anyone have any possible suggestions? Could be ask the council to do something about the tree?

Thanks

Lee (55.1360,-1.6024)

Lee Oxley's 2 posts

Lee Oxley: It really depends on how far away the tree is located from you, as although trees can be dastardly at killing RF signals this effect somewhat diminishes the further away they are from the receiving aerial.

Another point is that high gain aerials are affected worse than types with less gain, as generally the higher the gain the sharper the pick up pattern, this making any obstructions to the signal path have more of an impact. (only mentioned in case it applies!)

I suspect that you have used a letter rather than a numeral in the post code, so am unable to check what your reception possibilities are.

jb38's 7,179 posts
Monday, 1 August 2011

jb38: Thanks for the response. The tree is no more than 20m from the house.

I'm afraid I'm not sure what the aerial gain is, and my dad in his wisdom has already disposed of the box! I do know it is wideband, and received UHF channels 21-68 (or something like that).

I actually used long/lat to determine my position, but my post code is NE22 6HH if this will help.

Thanks. (55.1360,-1.6024)

Lee Oxley's 2 posts
Select more comments
Your comment please