Freeview reception has changed?

Brian Butterworth published on UK Free TV
From time to time people find that their Freeview box, integrated set (idTV) or Personal Video Recorder (PVR) has lost many channels without any apparent changes.
There are a number of factors to consider
Freeview is broadcast on
digital
multiplexes. This means that, once broken down into a stream of bits, each television channel is combined into a single transmission of 1s and 0s. This means that
reception
is of the
multiplex
first if this is lost it affects all the channels in the multiplex in the same way.
The
signal
strength received by
the box
or TV for a particular multiplex from a given
transmitter
determines if the data can be received or not. So, a poor signal results in no data, an adequate signal in perfect data and a low signal in either none or all.
Poor digital signal levels do not result, as they do with old-fashioned
analogue
television, in a sub-
standard
picture or sound. Poor signals often result in a perfect data-stream, but are prone to periods of no reception. Sometimes this will be for hours, but can also be several times a minute when caused by induction from fridges, freezers, central heating systems, two-stroke scooters, baby monitors and so on.
If you have lost ALL your Freeview channels
First disconnect the
aerial
lead from the Freeview box or TV set and reconnect it and then follow
this reset procedure
to
scan
for channels again. If this does not result in
services
being restored, check the
Freeview transmitters page
to see if there are any
engineering
problems with your local transmitter.
How to check all cables, connectors and aerials
The RF connectors need to be in very good condition to work. There are two general types:
Factory-fitted connectors are very reliable as they cannot easily be taken apart, but they can be damaged by wear and tear. On the female-type the central section is often composed of two parts which can often be forced apart, resulting in a poor connection you can push them back together if this has happened with a pair of tweezers. On male connectors if the central pin is damaged, you will need a new
cable
. If there are any loose partials in the connector, remove them.
Another problem with these cables is that quite easy to sprain the connector at the back which causes little obvious external damage, but disconnects the internal connection. This happens often when a set-top box is pushed backwards into a cabinet.
Hand made cables can also suffer from similar problems to factory made ones and they are also prone to accidental damage from a cable being pulled. If such a connector is not firmly attached to the cable, the connector may need refitting.
Cables
Make a visual check of the cables. There are a few basic checks:
If the cable has been slashed or cut, it will not be very effective or reliable. If such a cable is fitted externally, this can allow rainwater to enter the cable and this will reduce the signal levels.
You can easily damage an RF cable by crushing it, for example in a door. If the outside of the cable has a permanent kink in the cable or has been very tightly looped, this could be the site of damage.
Aerial
For reliable and effective Freeview reception, a
rooftop aerial
is required. It is hard to make a visual check of such an aerial without putting yourself in potential danger.
You can make a visual check of the route between the aerial and the transmitter. Any form of obstruction will damage the digital signals. In particular trees coming into leaf, as these will leech the signal before it reaches your aerial. This applies to both trees adjacent to the aerial and at a distance.
Another common problem in cities is building work. A large crane will often change position many times during the day, and if this is between your aerial and the transmitter this can reduce the signal levels in an unpredictable way.
If your system uses a
booster
, the
power
may have failed. Check the fuse to the power to the
booster
.
Weather problems
There are two main weather problems that effect Freeview reception.
The
Inversion Effect
: please see
What is the Inversion Effect and why does it effect my Freeview TV reception?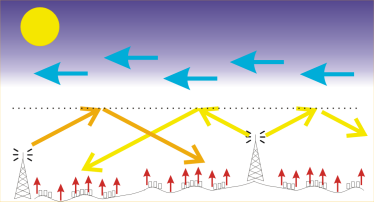 Wind: high winds sometime can dislodge the aerial this results in a poor signal.
Rain: poor or old cables can fill with water and this results in a poor signal. If this happens, the cables will require replacement.
Comments
Saturday, 16 June 2012
D
Derek
4:42 PM
Colchester

At the moment I can't receive Yesterday, Film 4, ITV4,etc. On checking my TV the signal for those channels is weak.
My postcode is CO5 9JG and the nearest transmitter is at Sudbury.
Do you know if this signal will be improved before the end of the month?

Derek's 1 post
Derek's:
map
D's Freeview map
terrain
D's terrain plot
waves
D's frequency data
D's Freeview Detailed Coverage

Derek: Yes. The strength of the Commercial channels will (finally) increase. This will happen in the early hours of 2th when you will need to do a full retune.

Dave Lindsay's 5,724 posts
Monday, 18 June 2012
K
KAREN SMITH
8:07 PM
Rochester

Hi
My post code is ME3 9EA. I can get all the Freeview channels and the picture is very good but I keep losing the BBC Channels and have to keep re-tuning. And I mean daily. Also I can get the TV Guide for all Freeview channels including BBC 4 but not for any of the other BBC Channels.
Do you think this will sort itself out after the 2nd phase of the switchover?
To be honest, I was quite happy before the switchover and if I'd had a say, I would have voted NO.

KAREN SMITH's 1 post
KAREN's:
map
K's Freeview map
terrain
K's terrain plot
waves
K's frequency data
K's Freeview Detailed Coverage
Tuesday, 19 June 2012

KAREN SMITH: If you are receiving Freeview from Bluebell Hill (at 7 miles) then your problem could be caused by the signal you receive from the BBC mux being excessively high, as the BBC (and only BBC) is transmitting on 20Kw whereas ITV is only on 4Kw, so needless to say that if you are using any form of booster then this has to be by-passed.

Should though you not be using one then purely for a test try a set top aerial, but if you cannot access one then try the test using a short piece of wire (about 18") pushed into the aerial socket of your TV or box, if either test stops the BBC from vanishing then you will require to purchase an attenuator to place in line with the aerial socket on your receiving device, one rated at about 6db or thereabouts being suffice.

It should be noted that "if" this is the problem then it will get worse on the 27th when all muxes start transmitting on high power.



jb38's 7,179 posts

KAREN SMITH: Make sure you do a full reset, deleting all the existing channel information. Many boxes/TVs have two stores for channels, a temporary one and a permanent one, with the temporary store cleared when you turn the power off. If scanned for channels, some of them don't overwrite channels they already have in the permanent store, putting them only in the temporary store. You may have one of these.

To do a full reset, look for an option called something like 'First Time Installation', 'Full Retune', 'Factory Reset', 'Default Setting', or 'Virgin Mode'. It may be on a System or Software Update menu rather than on the tuning menu. Some manufacturers have provided specific information for the model at TV Re-tune .

If it still doesn't store the channels properly, it may have a limited amount of permanent channel memory. In this case, do the full reset with the aerial unplugged. When it completes the scan, do a manual retune and tune in C46 first, then C24, C27, C42 and C39. You can ignore C45 as it only carries duplicates of some BBC services, and Sky Sports 1 and 2 which are only viewable on BT Vision or Top-Up TV equipment with a suitable viewing card.

Next Wednesday, you should repeat the same process.

Mike Dimmick's 2,486 posts
Saturday, 23 June 2012

Hi. Continuing from my previous problem. I managed to retune the digital tv (from Channel 30 upwards) and got back all the missing bbc channels. However the signal breaks up making these bbc channels un-viewable. Note that other channels are fine. Any ideas? The aerial is still pointing towards Tacolneston.

Mark Hayman's 4 posts

Mark Hayman: The problem you might be having is that even although your TV is tuned to Tacolneston the tuner is still likely to be sensing the presence of a strong RF signal in the locality and being from Thetford's relay, as tuner inputs being wideband are not affected by channel selection, and a strong RF signal being sensed will cause the tuners auto-gain circuit to automatically reduce its sensitivity to avoid and overloading situation occurring, and with this unfortunately affecting all channels including the one you prefer to receive from, Tacolneston.

Its not terribly easy to overcome problems like that without experimenting with alternative aerial positions, and so the obvious question would be to ask where your aerial is installed? and secondly was your aerial originally installed for Tacolneston with it being mounted horizontally and facing approximately 64 degrees? whereas the Thetford relay is @ 1 mile / 278 degrees with the aerial being mounted vertically.

jb38's 7,179 posts
Wednesday, 27 June 2012

Since the last retune date I have lousy reception each day in that it will be either BBC or ITV. Meaning one of them will be viewable whilst the other gives a 'No or bad reception'.

I live in Havant (PO9) and have a new arial fixed on the chimney which points to Rowbridge and my box is a Humax.

Ruth's 1 post
Thursday, 28 June 2012
M
Mark Fletcher
12:13 AM
Lytham St. Annes

Ruth,Havant.Is your new outside aerial facing Rowridge polarised horizontally or vertically.And if so is it a group A (red tipped),a group K semi-wideband (grey tipped) or a group W wideband (black tipped) aerial.Have a look tomorrow (too dark now) at the colour tips,at your location which is officially a poor signal area (over 30 miles from home to mast) if its coloured black then your group W wideband aerial (if it is ?) is the wrong aerial to use on an all group A transmitter such as Rowridge in a poor/marginal aera itself.And at the same time if the polarity is horizontal it should be vertical polarisation for better results.
If you leave a full postcode,not a partial one,we should be able to give you more assistance as such,this is to ascertain the reception possibilities in your locality.

Mark Fletcher's 673 posts
Mark's:
map
M's Freeview map
terrain
M's terrain plot
waves
M's frequency data
M's Freeview Detailed Coverage
Tuesday, 10 July 2012
D
Daniele Wiseman
9:14 PM
Altrincham

I'm so pleased I've stumbled across this site. I've been so dissatisfied with the response from BT! I am in WA15 9AR and our television comes through a BT Vision box to a brand new Samsung TV. We also have two smaller Toshiba TV's in the house, one connected to the aerial and one with an indoor aerial. The Toshiba connected to the aerial works perfectly all the time. All TV's have Freeview. The main TV has suddenly stopped working during the day. I sort of ignored it because I wondered if it was the Digital Switchover. But this started end May (or at least that's when I noticed it due to having to take some time off work)During the day (not first thing in the morning) all channels show the message Freeview signal low level or poor quality. If we switch BT Vision off, the TV shows No Signal for it's built in Freeview as well. Scanning for channels reveals 0 channels. At teatime, we might get 17 channels, it's usually 7-8pm before we get all our channels back and then it's fine all evening. BT had me reboot, check cables etc. No crane. Weather been OK compared to rest of the country. So could be aerial but I can't afford to pay for them to come out if it's not and as TV works in the evening I don't know enough to be persuaded it is the aerial and am leaning towards the signal. Can you help? We've missed so much including Wimbledon and my kids have exhausted recorded TV!

Daniele Wiseman's 6 posts
Daniele's:
map
D's Freeview map
terrain
D's terrain plot
waves
D's frequency data
D's Freeview Detailed Coverage
Select more comments
Your comment please