Freeview reception has changed?

Brian Butterworth published on UK Free TV
From time to time people find that their Freeview box, integrated set (idTV) or Personal Video Recorder (PVR) has lost many channels without any apparent changes.
There are a number of factors to consider
Freeview is broadcast on
digital
multiplexes. This means that, once broken down into a stream of bits, each television channel is combined into a single transmission of 1s and 0s. This means that
reception
is of the
multiplex
first if this is lost it affects all the channels in the multiplex in the same way.
The
signal
strength received by the box or TV for a particular multiplex from a given
transmitter
determines if the data can be received or not. So, a poor signal results in no data, an adequate signal in perfect data and a low signal in either none or all.
Poor digital signal levels do not result, as they do with old-fashioned
analogue
television, in a sub-
standard
picture or sound. Poor signals often result in a perfect data-stream, but are prone to periods of no reception. Sometimes this will be for hours, but can also be several times a minute when caused by induction from fridges, freezers, central heating systems, two-stroke scooters, baby monitors and so on.
If you have lost ALL your Freeview channels
First disconnect the
aerial
lead from the Freeview box or TV set and reconnect it and then follow
this reset procedure
to
scan
for channels again. If this does not result in
services
being restored, check the
Freeview transmitters page
to see if there are any
engineering
problems with your local transmitter.
How to check all cables, connectors and aerials
The RF connectors need to be in very good condition to work. There are two general types:
Factory-fitted connectors are very reliable as they cannot easily be taken apart, but they can be damaged by wear and tear. On the female-type the central section is often composed of two parts which can often be forced apart, resulting in a poor connection you can push them back together if this has happened with a pair of tweezers. On male connectors if the central pin is damaged, you will need a new
cable
. If there are any loose partials in the connector, remove them.
Another problem with these cables is that quite easy to sprain the connector at the back which causes little obvious external damage, but disconnects the internal connection. This happens often when a set-top box is pushed backwards into a cabinet.
Hand made cables can also suffer from similar problems to factory made ones and they are also prone to accidental damage from a cable being pulled. If such a connector is not firmly attached to the cable, the connector may need refitting.
Cables
Make a visual check of the cables. There are a few basic checks:
If the cable has been slashed or cut, it will not be very effective or reliable. If such a cable is fitted externally, this can allow rainwater to enter the cable and this will reduce the signal levels.
You can easily damage an RF cable by crushing it, for example in a door. If the outside of the cable has a permanent kink in the cable or has been very tightly looped, this could be the site of damage.
Aerial
For reliable and effective Freeview reception, a
rooftop aerial
is required. It is hard to make a visual check of such an aerial without putting yourself in potential danger.
You can make a visual check of the route between the aerial and the transmitter. Any form of obstruction will damage the digital signals. In particular trees coming into leaf, as these will leech the signal before it reaches your aerial. This applies to both trees adjacent to the aerial and at a distance.
Another common problem in cities is building work. A large crane will often change position many times during the day, and if this is between your aerial and the transmitter this can reduce the signal levels in an unpredictable way.
If your system uses a
booster
, the
power
may have failed. Check the fuse to the power to the
booster
.
Weather problems
There are two main weather problems that effect Freeview reception.
The
Inversion Effect
: please see
What is the Inversion Effect and why does it effect my Freeview TV reception?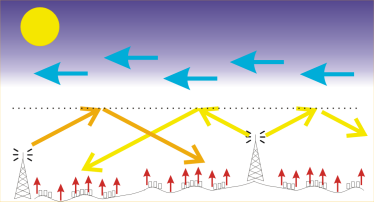 Wind: high winds sometime can dislodge the aerial this results in a poor signal.
Rain: poor or old cables can fill with water and this results in a poor signal. If this happens, the cables will require replacement.
Comments
Thursday, 12 December 2013

John Dyas
Weather doesn't have to be 'extreme' to cause reception problems. The most common cause is a high pressure area causing a temperature inversion (warm air below cold air instead of the other way) and that creates conditions whereby RF signals travel further than usual, so we get French TV, etc. It doesn't even have to be warm weather here for it to happen either!

MikeP's 3,056 posts
J
John Dyas
9:56 PM
St. Leonards-on-sea

Interesting, thanks. Never happened before though. Tonight it all went pear shaped again from around 5pm. Watched some recorded stuff then checked a few minutes ago and its all back to normal. It is weird. Thanks again to you guys for your invaluable input. Now if someone can just tell me how to enable Flash on my TV,s built in web browser......

John Dyas's 6 posts
John's:
map
J's Freeview map
terrain
J's terrain plot
waves
J's frequency data
J's Freeview Detailed Coverage

Hi all
My 83 yr old mum has generally poor reception at bn2 9pl. There is supposedly a communal digital aerial on her roof and she has quite an old free view box. Recently she is losing bbc channels for hours at a time. Any ideas? It's so near Xmas and she's getting worried she will miss out on her Xmas tv viewing.

Jenni's 1 post
Jenni's: ...

Jenni : The Streetview photos of the building, taken August 2012, show a grid type aerial on the south end of the building and it appears to be pointing to Brighton Central transmitter, which is on the roof of Theobald House. Unless there is something between the receiving aerial and transmitting aerial it would seem inconceivable that poor reception could ensue.

Slightly anti-clockwise of this is the high-power Rowridge transmitter, which is on the Isle of Whight. It is possible that the TV is incorrectly tuned to the signal from Rowridge, which may explain why the signal is poor.

Over the last couple of days there have been lift conditions which cause signals from distant transmitters to carry much further. For example there have been reports of broadcasts from France being received in the UK.

This could explain why the signal was lost, and particularly so if your mother's TV is tuned to the weaker Rowridge signal.

Bring up the signal strength screen on BBC One. It should say that it is tuned to UHF channel 41 (634MHz). Do the same for ITV - it should be UHF channel 47 (682MHz).

If BBC is C24 (498MHz) then it is tuned to Rowridge. ITV from Rowridge is on C27 (522MHz).

If you find either tuned to Rowridge then run the automatic tuning scan through and have the aerial out for the first 30% of the scan (or until it gets past UHF channel 30) so as to miss out Rowridge. Then check that it is tuned to Brighton Central.

I assume here that the aerial is directed to Brighton Central. It would appear that reception from Whitehawk Hill might be out of the question owing to the building on the opposite side of the road.

Dave Lindsay's 5,724 posts

Jenni: Before you proceed, ensure that the aerial is still as shown on Streetview: BN2 9PL - Google Maps

If the TV is tuned to the transmitter to which the aerial faces, and there is no issue with your mother's receiver or aerial lead then any issues with reception are down to the aerial system. Therefore you should speak to the party responsible, once you've checked that the TV is tuned correctly.

Dave Lindsay's 5,724 posts
Saturday, 14 December 2013

My Top-Up TV box keeps crashing - I've done a factory reset but it still keeps crashing, anyone any ideas?

Will's 20 posts
Monday, 23 December 2013

BN25 1ER

we have lived here for over a year and hardly receive any channel. At the moment the only we receive are bbc1 and2. Apart from the 5 channels =bb3 and 4, e4 and more 4, we do not have anything and have to reset the tv every month. We feel cheated as we are poor and cannot afford fresat. Can you help?

annick's 1 post
annick's:
map
A's Freeview map
terrain
A's terrain plot
waves
A's frequency data
A's Freeview Detailed Coverage

annick: The short answer is that there is a two-tier system which means a small proportion of viewers only get the Public Service Broadcaster (PSB) channels.

This is because the Commercial (COM) broadcasters are allowed to pick and choose which transmitters to broadcast from, them choosing those which cover the most people for least cost (the basic law of capitalism). This gives them coverage of 90% of the population whereas the PSBs cover 98.5%, so there are approximately 10% of terrestrial TV viewers who are without the COMs. The cost to the Commercial broadcasters to serve this extra 8.5% of the population is about that which it costs them to serve the current 90%, so it's easy to see why they don't bother. The PSBs have an obligation to provide a Public Service which is why they install small transmiters such as Newhaven to fill in the coverage.

In your general area it is hit and miss as to whether the COM channels can be received from Whitehawk Hill, which is adjacent to Brighton Racecourse, or Rowridge of the Isle of Wight.

However, as you would appear to be using a communal aerial system you are bound by what it provides.

What is the reason for retuning? If it's tuned incorrectly in the first place then it would surely be better practice to correct it then. Or does the TV retune itself periodically, something which needs seeing if it can be addressed?

You will know if you have any of the COM channels. Check for these three services: 10 - ITV3, 11 - Pick, 18 - 4Music. If you do then you might have an outside chance of receiving some degree of service, possibly from Whitehawk which is on about the same bearing as the Newhaven transmitter you get PSB channels from, this meaning that the aerial effectively points at both.

Dave Lindsay's 5,724 posts
Tuesday, 24 December 2013

Have lost my HD channels. Tried a retune and now they have disappeared from my on screen TV guide.
My transmitter is Bacup

Chris's 1 post
Saturday, 28 December 2013
P
Paul L
12:08 PM
St. Albans

Having issues in AL4 9SP - My main TV and the TV in the 2nd bedroom has good quality pictures, but the reception in mine and my Dad's room often freezes or breaks up - BBC 2 is not existent on both sets and the HD channels and Film 4 are almost unwatchable. We are pointing at Chrystal Palace transmitter.

We have an Ariel on the roof with a mast head amplifier feeding the signal to all the sets trough separate cables.

Paul L's 1 post
Paul's:
map
P's Freeview map
terrain
P's terrain plot
waves
P's frequency data
P's Freeview Detailed Coverage
Select more comments
Your comment please