Freeview reception has changed?

Brian Butterworth published on UK Free TV
From time to time people find that their Freeview box, integrated set (idTV) or Personal Video Recorder (PVR) has lost many channels without any apparent changes.
There are a number of factors to consider
Freeview is broadcast on
digital
multiplexes. This means that, once broken down into a stream of bits, each television channel is combined into a single transmission of 1s and 0s. This means that
reception
is of the
multiplex
first if this is lost it affects all the channels in the multiplex in the same way.
The
signal
strength received by the box or TV for a particular multiplex from a given
transmitter
determines if the data can be received or not. So, a poor signal results in no data, an adequate signal in perfect data and a low signal in either none or all.
Poor digital signal levels do not result, as they do with old-fashioned
analogue
television, in a sub-
standard
picture or sound. Poor signals often result in a perfect data-stream, but are prone to periods of no reception. Sometimes this will be for hours, but can also be several times a minute when caused by induction from fridges, freezers, central heating systems, two-stroke scooters, baby monitors and so on.
If you have lost ALL your Freeview channels
First disconnect the
aerial
lead from the Freeview box or TV set and reconnect it and then follow
this reset procedure
to
scan
for channels again. If this does not result in
services
being restored, check the
Freeview transmitters page
to see if there are any
engineering
problems with your local transmitter.
How to check all cables, connectors and aerials
The RF connectors need to be in very good condition to work. There are two general types:
Factory-fitted connectors are very reliable as they cannot easily be taken apart, but they can be damaged by wear and tear. On the female-type the central section is often composed of two parts which can often be forced apart, resulting in a poor connection you can push them back together if this has happened with a pair of tweezers. On male connectors if the central pin is damaged, you will need a new
cable
. If there are any loose partials in the connector, remove them.
Another problem with these cables is that quite easy to sprain the connector at the back which causes little obvious external damage, but disconnects the internal connection. This happens often when a set-top box is pushed backwards into a cabinet.
Hand made cables can also suffer from similar problems to factory made ones and they are also prone to accidental damage from a cable being pulled. If such a connector is not firmly attached to the cable, the connector may need refitting.
Cables
Make a visual check of the cables. There are a few basic checks:
If the cable has been slashed or cut, it will not be very effective or reliable. If such a cable is fitted externally, this can allow rainwater to enter the cable and this will reduce the signal levels.
You can easily damage an RF cable by crushing it, for example in a door. If the outside of the cable has a permanent kink in the cable or has been very tightly looped, this could be the site of damage.
Aerial
For reliable and effective Freeview reception, a
rooftop aerial
is required. It is hard to make a visual check of such an aerial without putting yourself in potential danger.
You can make a visual check of the route between the aerial and the transmitter. Any form of obstruction will damage the digital signals. In particular trees coming into leaf, as these will leech the signal before it reaches your aerial. This applies to both trees adjacent to the aerial and at a distance.
Another common problem in cities is building work. A large crane will often change position many times during the day, and if this is between your aerial and the transmitter this can reduce the signal levels in an unpredictable way.
If your system uses a
booster
, the
power
may have failed. Check the fuse to the power to the
booster
.
Weather problems
There are two main weather problems that effect Freeview reception.
The
Inversion Effect
: please see
What is the Inversion Effect and why does it effect my Freeview TV reception?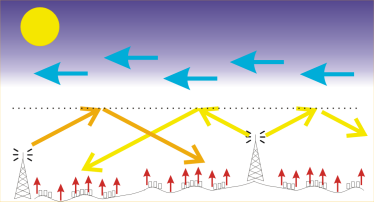 Wind: high winds sometime can dislodge the aerial this results in a poor signal.
Rain: poor or old cables can fill with water and this results in a poor signal. If this happens, the cables will require replacement.
Comments
Friday, 25 July 2014

M: You could start with a postcode....

MikeB's 2,579 posts
E
Elliott
2:49 PM
Stourport-on-severn

M: We are at DY13 8LP and for the last few days BBc1 keeps freezing then shutting down. A few seconds later it will restart. This doesn't happen on other channels and is very annoying. Any ideas?

Elliott's 1 post
Elliott's:
map
E's Freeview map
terrain
E's terrain plot
waves
E's frequency data
E's Freeview Detailed Coverage
C
Cliff Sinclair
8:30 PM
Leicester

am at le3 9rs
all has been fine until have recently lost ITV 3 and Drama
system says no service running
reset box, reinstalled box - no change

any ideas?
cheers

Cliff Sinclair's 3 posts
Cliff's: ...

Cliff Sinclair: As the page above explains, the first thing to do is check your system for faults. Loose aerial lead (or busted?), is your aerial OK, etc

You should be fine for Waltham (your closer than I am), so it could be that your aerial circuit has a problem, and its that mux which is showing the first syptoms.

Elliot: Which transmitter are you tuned into? Depending on the direction of your aerial, your fine for the Wrekin, Malvern or Sutton Coldfield. But your just 1km from Kiddeminsters transmitter - which might explain why BBC breaks up, the signal muct be very high.

MikeB's 2,579 posts
C
Cliff Sinclair
10:26 PM
Leicester

MikeB:
thanks Mike - you must never sleep!!!
working through the cabling etc now and probably in the light tomorrow.
If I don't get back its because I am embarrassed to have found something that i should have got off my behind to find and not immediately asked!
Thanks for your help




Cliff Sinclair's 3 posts
Cliff's:
map
C's Freeview map
terrain
C's terrain plot
waves
C's frequency data
C's Freeview Detailed Coverage

Cliff Sinclair: Dont be embarrassed - frankly, TV's generally work until they dont, and we seldom have to deal with that.

As for sleep - depends if the kids keep waking me up...

MikeB's 2,579 posts
C
Cliff Sinclair
11:11 PM
Leicester

Cliff Sinclair:
would you believe....
i now have some interesting additional channels?
I am sat in central Leicester watching 'the boot room ' on Notts TV channel 8 (which i have been told im not supposed to get.) More HD channels (BBC News, al jazeera, community, C4+, BBC 4) and a load of 200 channels I've not seen before.
"come with me to another dimension!!!!!!"

I think I'll go and get back in my dark box and wait til tomorrow

regards and best thanks

cliff


Cliff Sinclair's 3 posts
Cliff's:
map
C's Freeview map
terrain
C's terrain plot
waves
C's frequency data
C's Freeview Detailed Coverage
Friday, 15 August 2014
A
Andrew Rae
8:51 PM
Kinross

After years without problems, I have experienced freezing of both the tv and the remote on the bbc channels for the last few months (channel 46 on the Blackhill transmitter using a loft aerial) . I installed a high gain aerial but that made no difference. Other people in the Milnathort area have found the same problem. Is there any reason for this?

Andrew Rae's 1 post
Andrew's:
map
A's Freeview map
terrain
A's terrain plot
waves
A's frequency data
A's Freeview Detailed Coverage
Monday, 18 August 2014

DE21 4PX 'No signal'
Main TV used with Techwood freeview box. Philips TV supposed to be digital but since digital switchover has never worked as digital without separate freeview box attached. Signal booster in lounge also supplies other TVs in house, none of these are picking up freeview signals at all except the BBC, very pixellated and noises, and its radio channels. Did all the usual checks, wiped channels and installed as first time installation, changed fuse in signal booster, now think I may have to have that checked plus aerial connections checked, and splitter in loft. Second time in 4 months. Normally use Waltham transmitter in order to get local news (East Midlands) as it is so annoying to get the wrong area's news. May pick up from Sutton Coldfield as well. The Derby light transmitter is no use to me even though I live in suburb of Derby (Oakwood end of Chaddesden) due to the lie of the land (hills) in between. Any suggestions please before I spend next week's pension on a professional? Already had plumber and window repairer in and no cash left!! In debt! No probs before the switchover. Plenty after.

Chrissy's 5 posts
Chrissy's:
map
C's Freeview map
terrain
C's terrain plot
waves
C's frequency data
C's Freeview Detailed Coverage

Chrissy: ' Already had plumber and window repairer in and no cash left!!' - I know that feeling! Ok - thanks to putting your postcode into the website (which is SO helpful), you should be using either Waltham (althrough there is something in the way about 3km from you), or Sutton Coldfield. Both are fine. Your getting either 'no signal' or the BBC in minimal strength - so its highly likely to be a problem with the part of your aerial system at or above the splitter. You could start by bypassing the signal booster. You might not need it anyway, and if it is the problem, you can see instantly. Assuming its happy, and bypassing it makes no difference, check that your TV/box is tuned to Waltham, and what its signal strength is (probably zero, but at least you'll have checked). I've just reread your posts - you have a splitter in the loft AND a booster downstairs which supplies other TV's? Do you need both? However, its likely your problem is either a) the splitter, or b) something above it. Check the wiring back from the splitter (if its powered, then that could be a problem right there), and look for very loose or broken connections, frayed wiring, corrosion, etc. If your aerial is in the loft, check that too. Your system is just about hanging on, so there is unlikely to be a clean break, more likely something about to fail. Aerials & TV has loads of useful info Aerials, TV Aerial and Digital Aerial , and if you do need a replacement part, new cable, etc, you can either get it from them, or at least know what your looking for.

MikeB's 2,579 posts
Select more comments
Your comment please