Freeview reception has changed?

Brian Butterworth published on UK Free TV
From time to time people find that their Freeview box, integrated set (idTV) or Personal Video Recorder (PVR) has lost many channels without any apparent changes.
There are a number of factors to consider
Freeview is broadcast on
digital
multiplexes. This means that, once broken down into a stream of bits, each television channel is combined into a single transmission of 1s and 0s. This means that
reception
is of the
multiplex
first if this is lost it affects all the channels in the multiplex in the same way.
The
signal
strength received by the box or TV for a particular multiplex from a given
transmitter
determines if the data can be received or not. So, a poor signal results in no data, an adequate signal in perfect data and a low signal in either none or all.
Poor digital signal levels do not result, as they do with old-fashioned
analogue
television, in a sub-
standard
picture or sound. Poor signals often result in a perfect data-stream, but are prone to periods of no reception. Sometimes this will be for hours, but can also be several times a minute when caused by induction from fridges, freezers, central heating systems, two-stroke scooters, baby monitors and so on.
If you have lost ALL your Freeview channels
First disconnect the
aerial
lead from the Freeview box or TV set and reconnect it and then follow
this reset procedure
to
scan
for channels again. If this does not result in
services
being restored, check the
Freeview transmitters page
to see if there are any
engineering
problems with your local transmitter.
How to check all cables, connectors and aerials
The RF connectors need to be in very good condition to work. There are two general types:
Factory-fitted connectors are very reliable as they cannot easily be taken apart, but they can be damaged by wear and tear. On the female-type the central section is often composed of two parts which can often be forced apart, resulting in a poor connection you can push them back together if this has happened with a pair of tweezers. On male connectors if the central pin is damaged, you will need a new
cable
. If there are any loose partials in the connector, remove them.
Another problem with these cables is that quite easy to sprain the connector at the back which causes little obvious external damage, but disconnects the internal connection. This happens often when a set-top box is pushed backwards into a cabinet.
Hand made cables can also suffer from similar problems to factory made ones and they are also prone to accidental damage from a cable being pulled. If such a connector is not firmly attached to the cable, the connector may need refitting.
Cables
Make a visual check of the cables. There are a few basic checks:
If the cable has been slashed or cut, it will not be very effective or reliable. If such a cable is fitted externally, this can allow rainwater to enter the cable and this will reduce the signal levels.
You can easily damage an RF cable by crushing it, for example in a door. If the outside of the cable has a permanent kink in the cable or has been very tightly looped, this could be the site of damage.
Aerial
For reliable and effective Freeview reception, a
rooftop aerial
is required. It is hard to make a visual check of such an aerial without putting yourself in potential danger.
You can make a visual check of the route between the aerial and the transmitter. Any form of obstruction will damage the digital signals. In particular trees coming into leaf, as these will leech the signal before it reaches your aerial. This applies to both trees adjacent to the aerial and at a distance.
Another common problem in cities is building work. A large crane will often change position many times during the day, and if this is between your aerial and the transmitter this can reduce the signal levels in an unpredictable way.
If your system uses a
booster
, the
power
may have failed. Check the fuse to the power to the
booster
.
Weather problems
There are two main weather problems that effect Freeview reception.
The
Inversion Effect
: please see
What is the Inversion Effect and why does it effect my Freeview TV reception?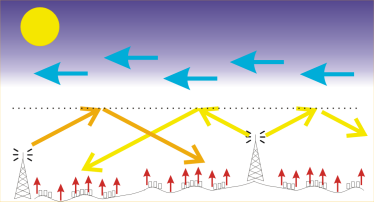 Wind: high winds sometime can dislodge the aerial this results in a poor signal.
Rain: poor or old cables can fill with water and this results in a poor signal. If this happens, the cables will require replacement.
Comments
Wednesday, 3 December 2014

michael: The signal strength is too high. Maybe the amplifier in the Panasonic is pushing it up a little more. It's akin to turning the volume right up on a hifi - the sound distorts.

Remove or reduce any amplification you have if it's for a single aerial socket (one room) or if you don't have one install an attenuator before the Panasonic box to bring the level down.

Dave Lindsay's 5,724 posts
Thursday, 1 January 2015

I got a free signal booster from freeview in the post last year,it was a great little thing that worked a treat,i move house and lost it,does anyone know how I can get another,ive looked on their site but cant find anything,,i bought one but it doesn't work.cheers

anita's 1 post
Friday, 2 January 2015

anita: Are you sure that the device you are referring to isn't a 4G filter?, as these are supplied free by a company called AT800 to households located in areas deemed as being possibly affected by a newly installed mobile phone 4G transmitter, 4G filters restricting the effect that 4G signals can have of Freeview reception.

jb38's 7,179 posts
Wednesday, 14 January 2015

I have a rather complex aerial system for reception of digital channels. I have a loft-mounted, high gain aerial, which is out-putted through two in-line boosters, the second of which has several output sockets which feed to points in my living room, master bedroom, computer room and dining room. Because I also have satellite boxes, the living room and master bedroom pass through two separate duplex arrangements (one cable through the external wall in each case). I have an 'August DVB-400' box in the living room, so the RF signal reaches my TV through a 'pass-through' arrangement.
Several weeks ago, I found that certain channels (BBC particularly) were no longer received properly (if at all) through my living room TV tuner, but there is no problem with the DVB-400 through which the TV signal passes. I have the same poor reception of these channels on my dining room TV and on my Bedroom TV.
Am I correct in assuming that the DVB-400 reception is OK because it has a superior amplifier? Or is there another explanation?

Eric Brett's 20 posts

Eric Brett: Digital reception is essentially either there or not there, there is very little in between that being the "cliff edge".

Perhaps the signal is in the region of being not usable, your DVB-400 "just" being able to use it and the others "just" not so. So, don't conclude that the DVB-400 is superior.

The first question must be what is the incoming signal like? What is your location this being preferably in the form of postcode or that of a nearby property such as a shop?

Why have you got a high-gain aerial with an amplifier and another amplifier which splits it? In many cases this would be excessive and could result in what you're experiencing.

Dave Lindsay's 5,724 posts

Eric Brett: According to the spec sheet, the August DVB400 doesn't really amplify anything, but though it does have the ability to supply 5 volts via the aerial input socket to power an aerial amplifier, if your in line boosters are self powered? then make sure that the 5 volts supply on the DVB400 is turned off.

The other thing to check is that the RF loop through on standby is set to "on", instructions for both the aforementioned on page 12 of your manual.

It would also be of assistance if your location was known, post code or one from nearby, e.g: shop / post office, as this would enable access to info on the transmitter that covers your area.

jb38's 7,179 posts
Monday, 23 February 2015
G
George Stephenson
12:40 PM
Newtownards

I have two TVs, both had good terrestrial freeview reception including SKY News, until recently. Now all other channels I watch are good but SKY News is either good, extremely pixelated or no signal.
I am located in BT22 2NH, my local tx is Divis. I have recently cancelled my expensive SKY on the strength of being able to see SKY News on freeview. Please help.

George Stephenson's 1 post
George's:
map
G's Freeview map
terrain
G's terrain plot
waves
G's frequency data
G's Freeview Detailed Coverage

George Stephenson: At your location you could potentially have difficulty with Divis' COM4/COM5/COM6 channels (which carry, ITV3, Pick, Dave, 4Music, Sky News etc) because these are co-channel (same frequencies) as those of Darvel in Scotland and Caldbeck in Cumbria. The PSB channels (BBC, UTV, Channel 4, Channel 5 etc) are not shared. As you are right against the sea then then it's possible that the unwanted signals could affect your reception at some times.

Has the signal level dropped from what it usually is? There are seven channels you should look at:

PSB1 - BBC One
PSB2 - UTV
PSB3 - BBC One HD
COM4 - ITV3
COM5 - Pick
COM6 - 4Music
COM7 - BBC News HD

PSB3 and COM7 are only available with a Freeview HD receiver. COM7 is on lower power so might not be available to you.

If the problem is interference from Darvel or Caldbeck then the strength would be expected not to have reduced but the quality would have.

If you view the signal strength/quality screen on each channel, do so for a minute or so in order to see if there are fluctuations.

Dave Lindsay's 5,724 posts
Friday, 12 June 2015

I live in CA14 area and receive transmissions from Caldbeck receiver. I have several tvs served by different aerials. For the last 9 months -or-so one of the tvs has lost channels from the BBCB multiplex.The aerial is a fairly new grid-type, my other aerial is an old, "contract" type .
Neighbours who don't have satellite dishes seem to have either Yagis or XBs
I want to change the grid aerial, which hopefully will restore the lost channels, but am confused which group aerial to buy - unless I am reading it wrong, this website says to use Group W, others say use Group A.
Which is correct?

Brian Murray's 7 posts

Brian Murray: If it's to be a yagi then it should be a Group A (not wideband) or if it's a log periodic then it's likely to be wideband.

See:

Rowridge Transmitter

All yagis have a gain curve which slopes downwards as you go to lower channels. The wider the 'band' of the yagi the more of a compromise it is. For examples to understand this, see:

Gain (curves), Again

The XB22WB , for example, has a good high gain on high channels, but not so on low, Group A channels. The thing is that Caldbeck uses Group A channels exclusively. Hence, using a high gain wideband aerial on it gives plenty of gain but not on the channels it uses. This is why you should use a Group A if it's a yagi.

The question is, is lack of gain really your issue? What's your reception of the lowest power multiplexes like?

COM7 - C32
COM8 - C35

Freeview services by multiplex listed here:


Digital UK Industry - Channel listings

Dave Lindsay's 5,724 posts
Select more comments
Your comment please