The new Freeview prediction system - includes Freeview HD

Brian Butterworth published on UK Free TV
The new Freeview prediction system - beta - is here. Finally!

If you visit Freeview reception - UK Free prediction you now get a much more detailed page to help you with any reception issues.

As before you can see this page with a postcode, the system will shortly also allow the input of national grid references, or latitude/longitude references.

Firstly, you can get a prediction for any number of dates by selecting the appropriate tab at the top.


Five different views
There are five different views
By direction: this will show the various directions your aerial might point and the services you can receive from the transmitters in that direction.
Received signal strength: this shows the information ordered by signal strength, to help you find the strongest signals.
By frequency: this lists broadcast frequencies from C21 to C68, showing the services on each. This view can be used to find potential interference or to help with digital region overlap areas.
Service names: this lists the services that you can receive, each ordered by the strongest signal.
Transmitter names: and finally an alphabetical list of the transmitters with the services listed by broadcast frequency.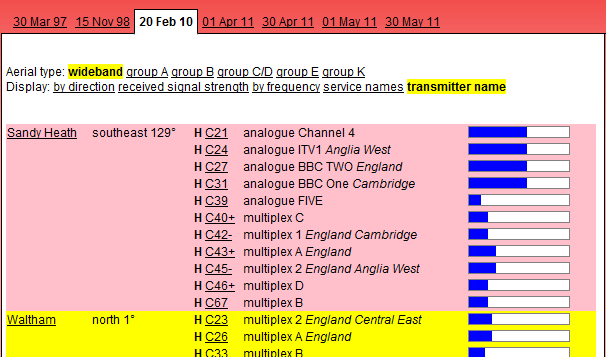 Aerial group choice
When you first visit the page you will see the services received by a "
wideband
" aerial, now you can also select the other aerial groups to see how that will effect reception.
Issues
For the moment it is not possible to resolve postcodes in Northern
Ireland
(BT) or the Isle of Man.
Apologies
for that.
Try it now
Try the new UK Free TV Freeview reception - prediction system now
.
Comments
Monday, 1 August 2011

Dave Bell: Reception predictions can never really be anywhere near 100% accurate, and this especially so in the frequency bands used for Freeview reception, as just as in the case with the mobile phones where moving a few feet away can make a signal suddenly come up in strength (or vanish!) Freeview signals can do exactly the same, this being the problem with roof aerials in many areas, as the usual mounting position of the chimney stack is not necessarily the best spot for reception, this being where gutter mounts score as they can be easily moved to obtain the best signal strength.

Another problem with predictors being that some people take as the gospel what a predictor might show as being possible, especially if its classed as a trade version, whereas in reality although it shows predictions for each individual multiplex this doesn't make it any more accurate, as all this does is to make it capable of giving a more complex version of potentially misleading information to the unwary.

This being said with particular reference to the DTG group trade prediction system.

jb38's 7,179 posts
Wednesday, 3 August 2011

Ok, yesterday I put a comment saying that I had lost 20 or so freeview channels and attempted to gain them back by following the step by step guide, including checking all the wires etc. Gave up at about 1am this morning as I could not find anything wrong. So I turned off the box at the wall and went to bed. This morning I tried again and my channel list is back up to 45 tv and 21 radio which is what I originally had before losing the signals. Checking my transmitter yesterday (heathfield) it stated a low signal on bbc2 only from 3pm to 10 past roughly...still showing the same fault this morning, so this issue was NOT the reason why I had lost my channels. Shame that some of these channels were not lost forever, programs like Rabbit,Gayrab,TVx and the like!! No reply needed thanks.

Ben's 2 posts
Ben's:
map
B's Freeview map
terrain
B's terrain plot
waves
B's frequency data
B's Freeview Detailed Coverage
Friday, 5 August 2011
M
myk eccles
9:56 PM
Sheffield

about 1 month ago my new communal aerial provided by sheffield city council came operational since then bbc4 has not been availble and itv3 and quest have been unwatchable. is this temporary until full switchover or an aerial fault?

myk eccles's 1 post
myk's:
map
M's Freeview map
terrain
M's terrain plot
waves
M's frequency data
M's Freeview Detailed Coverage
Sunday, 7 August 2011
J
jeff grundy
12:13 PM
Grange-over-sands

I get my signal from kendal and cant get many channels incl. itv3 which we got at the initial changeover 2 years ago. When can we get it back? Also during the 6pm news we get it changing between itv nw news and border news and have be getting a lot of picture breakup on itv

jeff grundy's 1 post
jeff's:
map
J's Freeview map
terrain
J's terrain plot
waves
J's frequency data
J's Freeview Detailed Coverage
Monday, 8 August 2011

myk eccles: I would wait until Wednesday, when the Sheffield transmitter starts switchover to see if you get BBC FOUR then. If it does not you may have a problem with the communal aerial.

Briantist's 38,902 posts
Thursday, 11 August 2011
G
Gordon H
12:47 PM
Lincoln

I live NE of Lincoln and tuned to the Emley moor Transmitter as Belmont is out of sight.
Signal strength is normally around 7 but since Sunday 7th Aug reception on most freeserve channels is intermittent (strength 1) making it impossible to view. I can still receive Sky 1 & 2 at strenth 7. According to the engineering report for Emley, no problems have been reported so what is happening? Presumably it is connected to the switch-over but will the Tx power be restored?

Gordon H's 2 posts
Gordon's:
map
G's Freeview map
terrain
G's terrain plot
waves
G's frequency data
G's Freeview Detailed Coverage

Gordon H: Can you please see Freeview reception has changed? | ukfree.tv - independent free digital TV advice ?

Briantist's 38,902 posts
Monday, 15 August 2011

jeff grundy: Can you please see Digital Region Overlap | ukfree.tv - independent free digital TV advice .

ITV3 is not provided on the Kendal ("Freeview Light") transmitter - if you want it, you will need to use Freesat - please see Compare Freeview Light and Freesat TV | ukfree.tv - independent free digital TV advice

Briantist's 38,902 posts
Wednesday, 17 August 2011
P
pridgeon
12:39 AM
Lincoln

i just lost all my channles

pridgeon's 1 post
pridgeon's:
map
P's Freeview map
terrain
P's terrain plot
waves
P's frequency data
P's Freeview Detailed Coverage
Select more comments
Your comment please