The new Freeview prediction system - includes Freeview HD

Brian Butterworth published on UK Free TV
The new Freeview prediction system - beta - is here. Finally!

If you visit Freeview reception - UK Free prediction you now get a much more detailed page to help you with any reception issues.

As before you can see this page with a postcode, the system will shortly also allow the input of national grid references, or latitude/longitude references.

Firstly, you can get a prediction for any number of dates by selecting the appropriate tab at the top.


Five different views
There are five different views
By direction: this will show the various directions your aerial might point and the services you can receive from the transmitters in that direction.
Received signal strength: this shows the information ordered by signal strength, to help you find the strongest signals.
By frequency: this lists broadcast frequencies from C21 to C68, showing the services on each. This view can be used to find potential interference or to help with digital region overlap areas.
Service names: this lists the services that you can receive, each ordered by the strongest signal.
Transmitter names: and finally an alphabetical list of the transmitters with the services listed by broadcast frequency.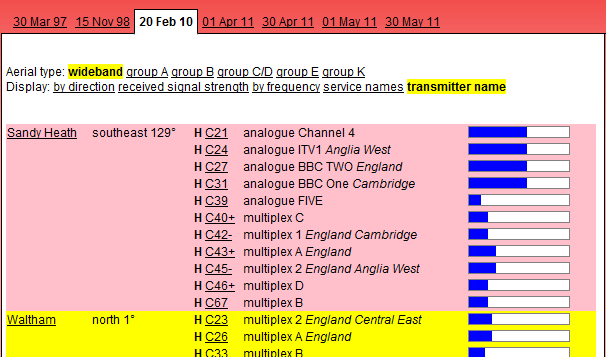 Aerial group choice
When you first visit the page you will see the services received by a "
wideband
" aerial, now you can also select the other aerial groups to see how that will effect reception.
Issues
For the moment it is not possible to resolve postcodes in Northern
Ireland
(BT) or the Isle of Man.
Apologies
for that.
Try it now
Try the new UK Free TV Freeview reception - prediction system now
.
Comments
Tuesday, 6 September 2011
G
George Buchanan
4:05 PM
Fort William

Freeview reception at PH33 6SD

Clicking om the links on this page (transmitter name, signal strength etc.) doesn't do anything for me. Page doesn't show error, just 'done'.

George Buchanan's 43 posts
George's:
map
G's Freeview map
terrain
G's terrain plot
waves
G's frequency data
G's Freeview Detailed Coverage
Wednesday, 7 September 2011

George Buchanan: Interesting, I shall add that to the list of things to look at.

Briantist's 38,900 posts
Thursday, 8 September 2011

Ray Leach. Thursday 8 September 1720.

My sound and picture are unstable on 'Yesterday' and 'Film 4'.

Raymond's 1 post
Raymond's:
map
R's Freeview map
terrain
R's terrain plot
waves
R's frequency data
R's Freeview Detailed Coverage

i live in the east midlands but i recieve west midlands channels, i want east midlands channels so i can watch bbc east midalnds local news, as i never heard of some of the places in the west midlands news

Jake's 1 post
Jake's:
map
J's Freeview map
terrain
J's terrain plot
waves
J's frequency data
J's Freeview Detailed Coverage

Jake: I'm sorry, but if you use Freeview you are only served by transmitters in the West Midlands, due to the terrain.

If you want East Midlands news you will have to use Freesat (or Sky). Which BBC regions are on satellite? | ukfree.tv - independent free digital TV advice .

Briantist's 38,900 posts
Tuesday, 13 September 2011
A
Andrew M
3:45 PM
Burton-on-trent

Still tuned to Sutton Coldfield. Retuned my Full HD TV after 5/09-Sill no HD service

P/Code DE13 8SU

What can be done??

Andrew M's 3 posts
Andrew's:
map
A's Freeview map
terrain
A's terrain plot
waves
A's frequency data
A's Freeview Detailed Coverage
R
Roger Haywood
8:52 PM
King's Lynn

We are in Kings Lynne and since the switchover we've lost channels 12 (Yesterday) and 15 (Film 4).

Anything that would help us get these back would be great.

Kind regards,

Roger Haywood

Roger Haywood's 1 post
Roger's:
map
R's Freeview map
terrain
R's terrain plot
waves
R's frequency data
R's Freeview Detailed Coverage
Select more comments
Your comment please